Marketing is an ever-changing environment. It's an industry that allows you to learn something new every day (whether you want to or not!). To some, this may seem like an uphill battle. But to us, it's a way to grow as marketers and strategists.
To help you sharpen your knowledge and level up your game, we've compiled a list of our favorite tools and resources. From podcasts and books to YouTube channels and blogs, you'll find some golden nuggets of wisdom and resourcefulness within this stack.
Enjoy!
PODCASTS
Whether you have a fancy car with Bluetooth, or like some of us, are toting the auxiliary cord to listen to your phone…your car can easily transform into a learning machine. The average person commutes 25 minutes to work each day. Podcasts are a fantastic way to make your commute more productive!
We love to learn about marketing insights, productivity tips and overall business facts. Check out our list of favorite podcasts:
Marketing over coffee is a weekly discussion of what's new in marketing with John Wall and Christopher Penn. On this podcast, you get a quick overview of the changes in the industry and the ways people are reacting.
This podcast is for entrepreneurs, small business owners and start-ups. If you're looking for inspiration and actionable marketing strategies about direct mail ideas, lead generation, lead conversion, getting referrals and email marketing, this one is for you.
Grammar Girl provides short, friendly tips to improve your writing. From formal documents to blog posts, Mignon Fogarty solves many writing challenges. In all seriousness, her "affect vs effect episode" will change your life. Trust us.
A marketing podcast by people who do it for a living: Marketers, Creatives, and Entrepreneurs. Listen in for the tips, hacks and strategies that marketing professionals share with each other...but rarely share in public. This podcast is a goldmine of information for tips and tricks that businesses like yours use to succeed on a daily basis.
This is a new podcast, but its produced by CoSchedule, which is one of our go-to marketing blogs. In this podcast, the brightest minds in marketing share their knowledge and insights.
The Growth Show is hosted by HubSpot. In each episode they sit down with a business person who has achieved remarkable growth and how they did it. This podcast is great to hear success stories and grab ideas on how to overcome day-to-day challenges in your business.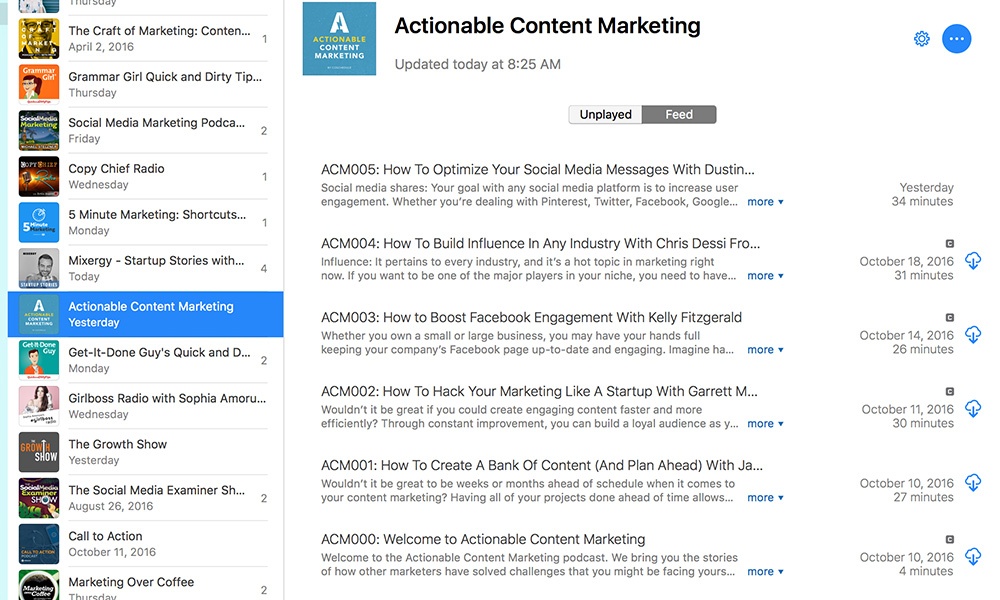 YOUTUBE CHANNELS
If you think that YouTube is only for nonsensical cat videos, you're in for a treat. You can find tons of inspiration on YouTube! Now, we don't guarantee that you won't fall down a rabbit hole and get distracted (after all, there are a lot of cute cat videos out there). But, there is some good stuff hidden in the rubble!
Google Small Business keeps you educated on what tools are available, what's free and what's new. You'll be able to find videos on how to access and use Google's features to extend your reach and simplify your online business.
This channel looks at businesses who are succeeding and what they've done to get there. The episodes range from short clips to a full 45-minute shows. This channel has great input from notable business people that you'll want to emulate.
Entrepreneur Jason Calacanis and a rotating group of guest experts bring you this weekly take on the best, worst, most outrageous and interesting stories from the world of Web companies.
This channel is definitely a feel good channel, but it also gives great insight to what makes businesses tick.
Yep, just like the magazine. Their YouTube channel delivers advice, tools, and services to help business owners like you grow their business.
No matter your industry, you've probably heard about TED or TEDx. There's a plethora of videos and topics to choose from – and we've yet to find one we didn't like.
BOOKS
If there's a predictable characteristic about the Simple Strat team, it's that we all can be classified as bookworms. Here's a short list of current reads and a few favorites that we can't seem to put down:
New York Times bestselling author and social media expert Gary Vaynerchuk shares hard-won advice on how to connect with customers and beat the competition. A mash-up of the best elements of Crush It! and The Thank You Economy with a fresh spin, Jab, Jab, Jab, Right Hook is a blueprint to social media marketing strategies that really works.
Vibrant, game-changing CEO Lisa Messenger shares an insightful account of her rollercoaster ride as the creator and founder of the globally popular Collective Hub, the hip magazine of inspiration for disrupters and innovators of all stripes—with bold ideas on how you can stay on track and remain true to whatever your passion may be.
UNthink is a book that will inspire everyone to realize that we are capable of so much more than we have pre-conditioned for. Creativity is not in one special place--and it is not in one special person. Creativity is everywhere and in everyone who has the courage to unleash their creative genius.
The Way of the Essentialist isn't about getting more done in less time. It's about getting only the right things done. It is not a time management strategy, or a productivity technique. It is a systematic discipline for discerning what is absolutely essential, then eliminating everything that is not, so we can make the highest possible contribution towards the things that really matter.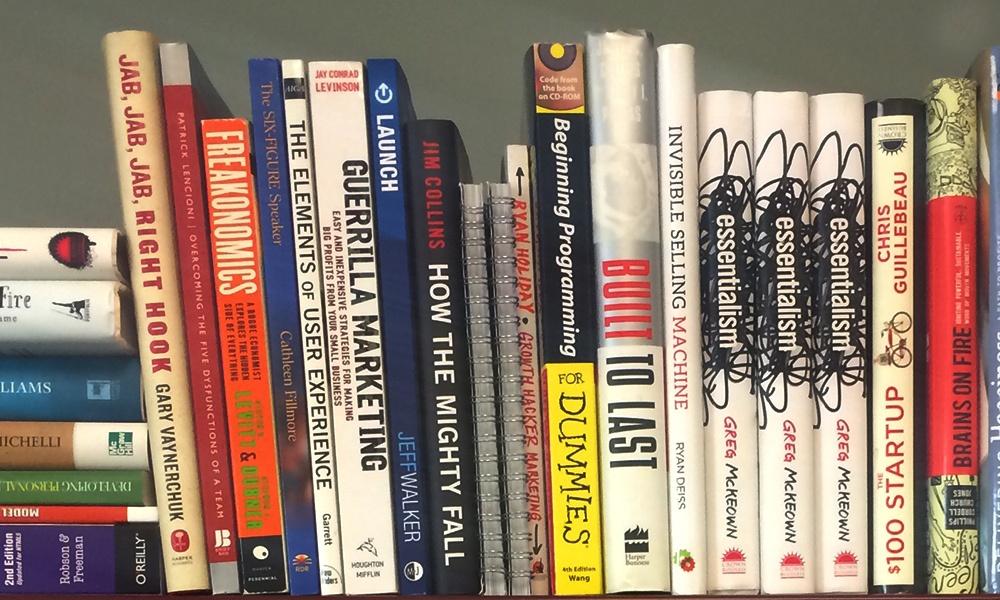 BLOGS
Want to get into someone's brain or content arsenal? Dive into a blog. With the race for good content, blogs continue to pull us in and challenge our thinking. These are just a few of the many blogs that pop up in our inbox on a daily basis:
Marketing and sales software giant Hubspot maintains an active blog in many different disciplines, ranging from marketing to sales to agency management. Their marketing and sales blogs are the ones you'll love the most, as they cover topics from inbound marketing to budgeting for digital marketing to marrying sales with marketing efforts.
As a best-selling author, marketer and public speaker, Seth's blog is a go-to read for any professional. The bonus? He rarely writes more than 100 words.
This software company practices what they preach, producing 2-3 amazing pieces of content on a regular basis. Not only does CoSchedule have great social media software, but their blogs are actionable and often contain checklists and to-do lists that make implementation of your marketing ideas much easier to follow.
This online blog is run by mastermind marketer, Neil Patel. He's helped some of the nation's top companies grow their sales and results through digital marketing, lead funnels, conversion rate optimization, and more. Plus he has several "guides" that are free to use and reference for your own marketing efforts.
Stay up to date on the latest in social media. Whether you tweet, snap, or post, their information will keep you on your toes. Their podcast was a favorite of ours, so naturally their blog is something we reference regularly as well.
Whiteboard Friday is simply one of the types of content on the Moz Blog, but it's a must-read and must-watch every week. This SEO software company breaks down the latest changes to SEO and how it will impact your online marketing efforts. Plus, they're clever, actionable, and quick to consume.
TOOLS AND REFERENCES
Sometimes we find a snippet or an article that we instantly save into our favorites bar but sadly can't find a blog or home that the article came from. So here's a list of favorite tools, references, and even a few articles:
If you work on a Mac, this tool makes it easy to record your screen so you can do demo videos, how-to tutorials, etc. Plus there is an option to record face time video as well as in-computer sound for a number of variations for applications.
Not sure what the size of the Facebook header is now? What about Twitter? This cheat sheet is a life-saver for all photo dimensions you'll run into.
Looking for marketing resources? There's no better place than the national powerhouse of marketing professionals – the AMA! If you need a whitepaper, a how-to, or anything marketing you can find it on the AMA website!
We LOVE Slack. It's our main form of communication throughout the office. This article will enlighten you to the purposes it can serve. Learn why this is a tool we value on a daily basis.
What else?
Now that you know a few of our favorite things, we hope you are more equipped to learn something new every day! Do you have a tool, link, or blog that you absolutely love? Tell us about it, we're always up to learn new things!