Video marketing is taking the industry by storm and it's here to stay. You see it in your social feed - we're not the only ones who get stuck on those cooking videos - but why stop there?
Video is a great way for people to digest information. It drives engagement on social media but it can do more. Using video in your email can boost your click rates and is an excellent way to delight your readers.
We're going to show you how you can give videos a home in your email, what the best practices are, why you should use analytics to track your videos, and how we use videos in our own emails.
Ready? Action!
GETTING VIDEO INTO YOUR EMAIL
In a utopic society, we'd be able to embed video into our emails and watch it straight from there. But, since the world isn't quite ready for that, we display the video thumbnail directly in our content for readers to click on.
Using thumbnails is the easiest way to help readers understand that your content includes a video and not just a photo.
Hold up.
What's a thumbnail?
It's that photo that you see when a video isn't being played.
We like to use Wistia, a video hosting platform, to embed links that take readers to a designated page where they can view the actual videos. Even if you don't use Wistia to host your videos, you can still benefit from this technique.
This is just the beginning of getting video into your email. Next, we'll go over how you can create custom thumbnails to help personalize your emails
STEP 1: CREATE YOUR CUSTOM THUMBNAIL IMAGES
All videos come with a generated thumbnail, it's often the first scene of your video, but sometimes that's not the picture you want to see.
To create a video thumbnail, all you need is a screenshot of the best frame from your video and a play button icon. Then overlay your play icon onto your photo and ta-da you've got your own thumbnail image.
STEP 2: LINK YOUR VIDEO TO YOUR THUMBNAIL
The next step is linking that image with your share link from Wistia or YouTube. It doesn't matter which platform you use to host videos; both can be linked to your custom thumbnail image.
No matter which platform you're in, you'll need to click the share option for your video. Once you get to the share options, click the embed option. This link is what you'll want to paste into your email.
We use the embed option because that's what allows you to use a thumbnail image as the placeholder for the link.
Wistia conducted an experiment where they tested using thumbnails in their emails. This showed an increase in open rates when using thumbnails. Readers will gladly become viewers if you give them content that is easy to digest. #yesplease
"On average in these 7 tests, we saw a 21.52% increase in clicks from image to video thumbnails—that number is hard to ignore."
Now that you know how to get your video into your email, let's talk about the data you can collect from it.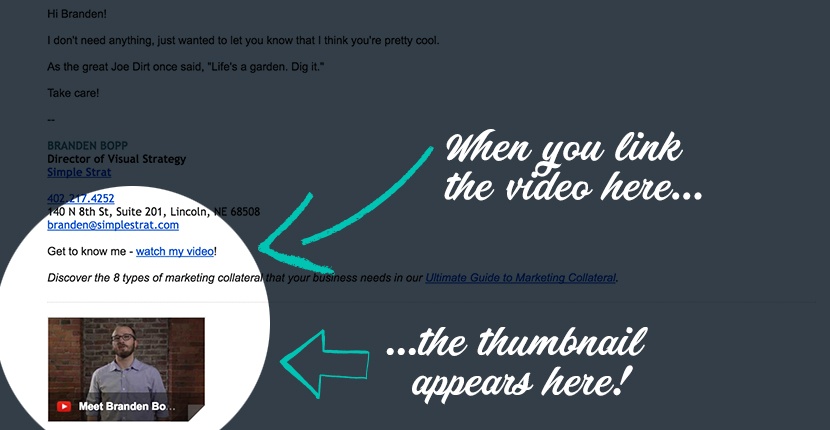 SHOW ME THE MONEY
Okay, so maybe we're not Jerry McGuire, but using video in your emails can show you results. Money does matter and knowing what's working and what's not is key to your business's success. But you already knew that. ;)
Platforms like Wistia give analytic insight on what content is best received, how long people view your content, and much more. These key factors can help you decide what products or services are working, what needs fixing, and what your customers are looking for.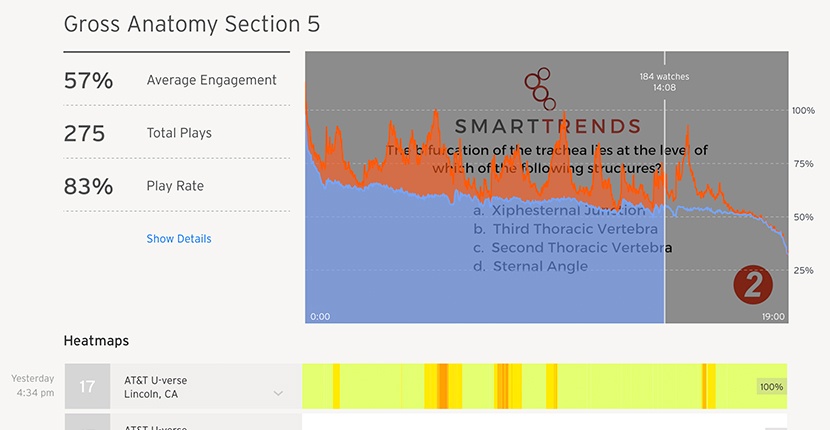 These analytics will also help you create better videos. For example, if your data shows that viewers watch your videos for about 1-2 minutes, then you know that you need to keep your content to that time.
That data also shows that you should make sure to mention any calls to action and offers in the first few minutes of any of your content. It doesn't do you much good to have a four-minute video with an end slide CTA (call-to-action) if your viewers clicked out after two minutes.
The best way to gather this data is to shoot different styles of videos. What works for one product or service may not work for another. Explainer videos and how-to videos are great ways to see what content works best for each product.
Using video in our emails has helped us stand out and communicate better. Let's look at how we utilize video in our own email strategy.
HOW WE USE VIDEO
If you've ever been emailed by any of our team members, you've seen our "Get to Know Us" videos in our email signatures. This strategy for using video helps all our contacts get to know us a little better and create a more personal relationship with our team.
These videos are linked through YouTube and added as an attachment to each email. While YouTube doesn't give us as in-depth analytics as Wistia, we can still track the effectiveness by tracking link click-throughs and from the direct feedback we hear from clients.
We also like to use welcome videos in our emails when we bring in new clients. This is the easiest way for people to put a name to a face before we have our first meeting. For this type of video, we link it through Wistia so that we can get a better idea of the type of information new clients are most interested in.
Other ways you can use video in your emails are:
Using short and sweet videos to explain a product's use
Give an update on your company
Introduce a team member
Go behind the scenes of your business
THAT'S A WRAP
From watching all those cooking videos, to ending up in a cute cat video funnel on YouTube, videos are the easiest content to digest.
Using videos in your email can boost your click through rates and get readers engaged with your content. You can use videos to help answer common questions, introduce new team members and update your readers on happenings within your business.
Do you have any fun videos or ideas? We'd love to see them- send us an email at hello@simplestrat.com.