It probably comes as no surprise that all of us here at Simple Strat love HubSpot. We use their tools for our own business, help organize the Omaha-Lincoln HubSpot User Group, and are a certified HubSpot Partner Agency.

Something we've learned is that a lot of marketers have a general idea what HubSpot is, but few are able to point to specifics of how it works. Which is okay! That's why we're here.
So here are the basics of the HubSpot tools so you can walk away with a good idea of what your company might need and how HubSpot can help accelerate your growth.
What is HubSpot?
HubSpot is an inbound marketing and sales software that helps companies attract visitors, convert leads, and close customers. You can use their tools to host web and landing pages, create blogs and email sequences, and manage interactions with your leads and customers—all while analyzing the success of campaign and tracking user behavior.
Sound like a lot? It is! And that's a good thing.
HubSpot has an extensive number of tools and the capability to make a difference in every part of the buyer's journey. The tools are divided up into "Hubs"—you can purchase them separately, but when they're combined, they work together to give you a full suite of tools across your marketing, sales, and support teams.
HubSpot Marketing Hub: All the tools you need to run a marketing campaign that attracts, engages, and delights both potential and current customers. It will help you create compelling content, get it in front of the right people, and convert visitors into leads and leads into customers.
What's included in the HubSpot Marketing Hub?
Landing pages

Emails

Blogs

Social media

SEO

Marketing automation

Analytics
HubSpot CRM: The customer relationship management (CRM) tool helps you organize and track your leads and customers. This free tool will save your team from using a spreadsheet (or multiple) to organize your contacts. Cue a round of applause!
What can you do with the HubSpot CRM?
User contact information

Activity tracking

Pipeline visibility

Syncing capability with Gmail and Outlook

Chat in real-time with customers and prospects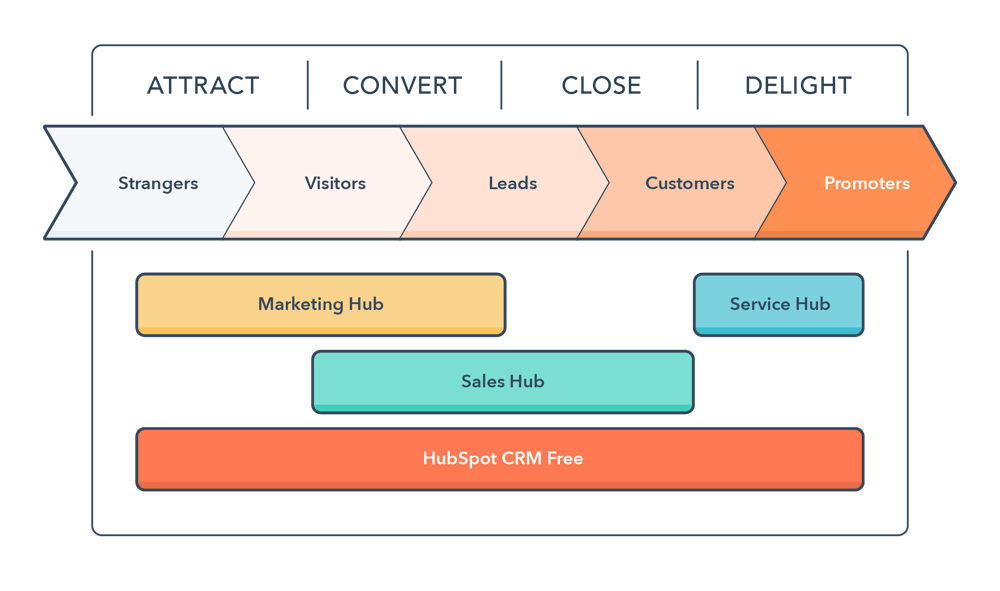 HubSpot Sales Hub: Manage, communicate with, and track your leads with the HubSpot Sales Hub. With more visibility into the pipeline, your sales team is empowered to interact with customers without spending countless hours entering data, or writing the same emails time and time again. Essentially, the Sales Hub is the CRM on steroids, giving you more tools to close more deals.
What features are included in the HubSpot Sales Hub?
Email templates

Free calling

Email sequences

Meeting scheduling

Pipeline tracking
HubSpot Service Hub: The customer service software from HubSpot makes it easy to connect with customers and manage those relationships. Because when your customers are happy, you're happy—plus it helps you grow your business.
What does the HubSpot Service Hub include?
Customer feedback

Support tickets

Live chat

Knowledge base

Reporting and goals

Conversational bots
As you can see, HubSpot has a lot to offer, and there are many ways your current or potential customers will interact with HubSpot.
Please note that as each Hub has a few different subscription levels to choose from, some features may not be available at all subscription levels.
What Can HubSpot Do? Here's a real-life example.
Let's talk about Sally, a potential customer for your business, and see how HubSpot impacts her journey:
Sally finds blog posts you've written on a subject from a Google search.

(Marketing Hub)
She wants to know more and signs up for your newsletter.

(Marketing Hub)
HubSpot tracks all of Sally's activity on your site.

(CRM)
You send her helpful emails with more resources.

(Marketing Hub)
Your sales team receives Sally's information as a potential lead.

(CRM)
Your sales team reaches out to Sally via phone and email.

(Sales Hub)

Sally schedules a demo to learn more about your company and products.

(Sales Hub)
She makes a purchase.

(Sales Hub)
Sally has a question about her purchase and how it works.

(Service Hub)
She looks on the online Knowledge Base and then chats with your Support team.

(Service Hub)
She has a great experience with your company and raves about it online.
Her friends are intrigued and come to your site to make their own purchases.
This is an example of the inbound methodology. Rather than using traditional sales methods to actively pursue your customers, inbound works to attract customers and provide value for them, which ultimately drives sales. All of a user's actions are tracked within HubSpot, helping your team know when and how to follow up.

As you can see, HubSpot is a powerful tool that can have a massive impact on your company.
Why We Love HubSpot
We know that was a lot of information about how HubSpot works and how it can help grow your business. So we thought we'd share some of our favorite parts of HubSpot while you wrap your mind around everything it can do.
Everything is in one place.
If you keep track of your customers in a spreadsheet or use different programs for your marketing and sales teams, we promise—it doesn't have to be that hard. We love HubSpot because it is the central hub (no pun intended) for everything in our company. We use it to write our blogs, track our customers' activity, and send our monthly emails. It streamlines communication for our team because we always know where things are. Spoiler, they're all in HubSpot.
It's easy to track and measure success.
One of our favorite things about HubSpot is the data that you receive. Even better? They recently updated their reports to make it even easier to find the information to track success. Everything is measurable and HubSpot makes it easy to navigate and find the information that matters most to you. You can even customize your reports or create dashboards to share across your company.
But it doesn't matter if we love HubSpot. The real question is, do you think it's the right tool for you?

How to know if HubSpot is right for you
It comes down to what you're looking for. HubSpot may the right tool if:
You want to invest in attracting and delighting your customers.

You want to equip your sales team with warm (or hot) leads.

You want to effectively manage your prospects and customers.

You want to have one tool to unite your marketing, sales, and support teams.

You want to analyze and optimize the effectiveness of your campaigns.
With all it has to offer, HubSpot is a great tool to make the marketing and sales journey smooth for your customers—and help your company reap the benefits.