Communication is key to achieving business success. Thanks to the digital age, communication tools have expanded into a wide range of possibilities.
The HubSpot Meetings tool is one that sales teams and business executives can use to not only streamline communications, but to also eliminate the friction that often leads to missed sales opportunities.
Sales associates live and breathe by their calendars. Unfortunately, those calendars often exist in silos that don't easily connect with other technologies and usually require manual management. The good news is that the HubSpot Meetings tool is designed to overcome these challenges.
As its name suggests, it is built to make scheduling meetings a breeze. Not only is scheduling meetings an easier task, but Office 365 and Google calendars will automatically sync to avoid any double-booking fiascos. Additionally, the company information, logo, colors, and other key branding aspects can all be added to the meeting invites. In short, the HubSpot communications tool is built to help sales associates convert more active leads into loyal customers.
What Are The Benefits Of The HubSpot Meetings Tool?
In a world where 74 percent of buyers who are interested in offline sales conduct online research, and customer advocacy is changing the way we interact, isn't it time that you remove cumbersome steps from the buyer journey?
Without a meeting scheduling tool, prospects and sales associates are forced to go back and forth trying to pick a time that works for both parties. In the process, the prospect will likely become frustrated if the sales associate isn't readily available. Alternatively, the prospect will become skittish if the sales associate has too much time on their hands.
A meeting scheduling tool eliminates this unnecessary and awkward dance from the sales process. It also provides the following benefits: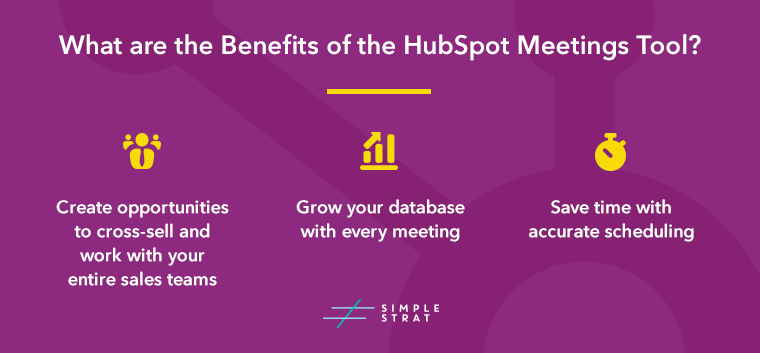 1. Create opportunities to cross-sell and work with your entire sales teams.
How often has your sales team been on a call only to discover that their prospect has a crucial question that only another team member can answer? Has the frantic "SOS please answer my chat question" been left unanswered one too many times or caused a missed opportunity, delayed sales process, or missed sale?
The beauty of the HubSpot's meeting scheduling tool is that prospects have the option to schedule time with multiple people from your company. The latter strategy ensures that a prospect feels like he or she is being given the attention they deserve. It also keeps the prospect from turning to a competitor for the answers to questions.
Finally, it helps you more efficiently understand the prospect's pain points, wants, and needs, all while positioning your company as the necessary solution. By working as a cohesive team, you can and will put your best foot forward with every prospect.
2. Grow your database with every meeting.
How often have you looked into your CRM only to discover that leads were missing or out of date? A robust scheduling tool can help you to grow your database with accurate contact information and comprehensive profiles for every lead. The meetings tool automatically creates a record for new leads who book meetings and can event be used to assist with lead scoring.
Your sales associates can worry less about adding the lead's information to the database and instead focus on providing the lead with the personalized sales and marketing content that they need to continue their buyer's journey.
3. Save time with accurate scheduling.
Nothing is worse than the back and forth of scheduling meetings. With the meetings tool you can give your prospects the power that they need to see when your sales associates are available. The prospects can then automatically schedule a meeting at a time that works for them. The best part is that you can embed scheduling links directly onto your lead generation web pages, so that new prospects can instantaneously book a meeting when they are most interested in learning more.
Whether it is sending a HubSpot meeting link or using an embedded link on your website, giving prospects the power to schedule at a time that works for them will not only save your sales team hours of unnecessary emailing, but it will also start the new relationship off on a positive note.
Now that we understand the benefits of the HubSpot scheduling tool, let's take a moment to explore just how easy it is to set-up and begin using.
HubSpot Meetings Setup 101
The first step is to connect your Google or Office 365 calendars, so that they can automatically sync with the meetings tool. To complete this step simply:
Go to your HubSpot Account.
Click the Settings icon.
Navigate to Sales > Meetings. Make sure that your email provider is compatible with the meetings tool (Office 365 or Google)
Click Connect calendar.
Finalize the connection by clicking "Allow," to give the meetings tool complete access to your calendar(s). It's important to note that you can also connect more than one calendar; however, you will automatically have one default calendar.
Once you have successfully connected your calendar, all that's left to do is customize your meetings. You can add in your company information, logo, and brand colors. You can also create and share meetings links directly with prospects. Remember, once your calendar is connected, your meetings links will automatically sync with it so that you can avoid any double bookings.
Follow These Easy Steps To Create A HubSpot Meetings Link
If you want to send your prospects or existing customers a HubSpot meeting link, all you have to do is complete these easy steps:
Navigate to Sales > Meetings within your HubSpot account.
Click Create meeting.
Select Personal.
Customize your meeting details with a photo, headline, name, type, and duration.
Then, you'll have an opportunity to set up your meeting "configuration" with the details that will accompany the calendar invite automatically sent to people after they book a meeting with you, such as the location, subject, and description.
Next, be sure to make sure to set your availability. You don't want to accidentally discover that you left Sundays open for client meetings.
Finally, you'll have an opportunity to customize the form people fill out when booking a meeting with you.

An Easy To Implement Tool
Without the appropriate meeting scheduling tool, your sales team will be left completing a time-consuming and cumbersome dance with every prospect. Fortunately, the innovative scheduling tool by HubSpot is designed to help sales associates more easily engage with prospects.
It gives prospects the power over when and who they meet, so that your team can be better prepared for every meeting. It also gives your sales associates the opportunity to schedule more meetings while saving time throughout the day.
In today's competitive sales landscape nothing is more important than creating a positive customer journey from the start. With the HubSpot Meetings tool, your sales team will not only be able to more easily connect with prospects, but they will also more efficiently build a robust database of leads, all while gaining valuable insights into the wants, needs, and pain points of each prospect.
With knowledge comes opportunity, and with the right meeting scheduling tool comes the flexibility needed to turn prospects into loyal customers.