Tired of manual data entry and cleanup in your CRM? Don't have time to follow up with all your leads? Want to get more positive reviews online? Workflows can help with these and much, much more.
HubSpot workflows offer nearly endless opportunities for automation across your marketing, sales, and customer service efforts. But with all of the possibilities, it's not always easy to know exactly what's possible or where you should prioritize your workflow-building efforts.
That's why we reached out to the HubSpot community to learn about their favorite HubSpot workflows. From simple task automation to some tricks we've never thought of, we got quite the list.
But before we dive into it, let's remind ourselves of what workflows are and what they do. (Skip to the list)
What is a HubSpot workflow?
A HubSpot workflow is a tool inside of HubSpot that allows you to automate parts of your marketing, sales, and customer service efforts. Each workflow is made up of triggers that start them and actions that they automatically perform.
There are five primary types of workflows in HubSpot: contact workflows, company workflows, ticket workflows, deal workflows, and quote workflows. Their availability depends on your HubSpot subscription.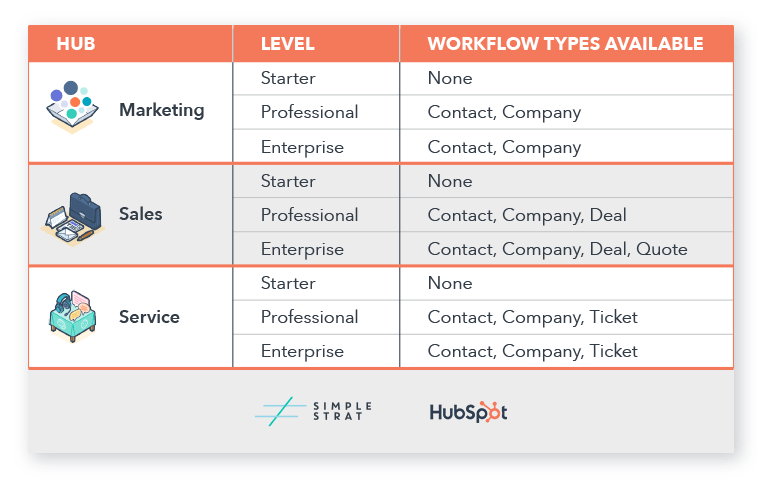 How to create workflows in HubSpot:
Here are the high-level steps to creating a HubSpot workflow. For more detailed instructions, we've included a HubSpot Hacks tutorial video below as well.
Select your workflow type
Choose a template or start from scratch
Set your enrollment trigger(s)
Set your actions
Adjust your settings
Enable your workflow
The Experts' Favorite HubSpot Workflows
Below are a variety of ways marketers use HubSpot Workflows in their own companies or for clients. Feel free to comment on the article as well and add your own!
1) Copy company fields to the contacts
A simple favorite from our team at Simple Strat!
When a new company gets added to HubSpot, fields like their industry often get updated automatically. We have a workflow set up to copy this information over to the contact record for easy reference and view-creation.
2) Cross-selling
Cara Wood, Digital Marketing Manager, ShopPad
I work in a B2B business (ShopPad) and we find that our cross-sell workflow is highly effective. Essentially, when a customer installs one of our apps, we send a workflow following our welcome workflow educating them on what another one of our apps does and then selling them on it. These workflows perform well. One of them has accounted for 1550+ installs of one our apps this year.
3) Recording feedback and gathering case studies
Datis Mohsenipour, Director of Marketing, Outback Team Building & Training
We offer team building & training services to corporations looking to host an activity or training session in North America. We regularly collect feedback by way of Net Promoter Score the day after an activity or event has been completed.
We will send an automated email to the person who purchased our services asking them to rate our services on a scale of 0-10. We have each rating listed within the email as link to the feedback form. They all point to the same form, however, each link has parameters appended to the URL which will pre-populate the form with the rating they selected.
If the person clicks on the rating but does not fill out the rest of the form, we've got workflows in place (based off the link in the email), that automatically populate their NPS rating into a field within the contact. This allows us to collect scores, regardless of whether or not someone has filled the form.
If they didn't open or click the email, we'll send a follow-up two days later
In that same feedback form, we ask if candidates are willing to chat about being featured in a case study. If they check, "yes", then we have an automated workflow set up to notify our copywriters of customers willing to be featured in a case study. Our copywriters will reach out accordingly.
4) Product education workflow
Anand Iyer, Digital Marketer
Setting up a "Product Education" workflow that triggers after a product inquiry is a fantastic way to build trust and keep your company top of mind. You can build an automated lesson plan by sending video links, product flyers, webinar recordings, and implement a curriculum-style lead nurturing strategy.
5) Segment marketing leads vs leads entered by sales
Sarah Hall, Digital Marketing Manager, Qwinix Technologies
Hubspot does not naturally segment sales leads vs opted-in marketing leads. When your sales team uses the Hubspot email integration to bring in leads, this can get messy. I always create a custom toggle property for "marketing opted-in" and ensure it's triggered with ad campaigns and form submissions. This tackles organization and compliance right off the bat. It is my primary custom property when segmenting lists and analyzing metrics too.
6) Managing aging deals
Kristopher Crocket, President & CEO, Selworthy
We use two workflows that I think everyone should use:
Deal past closed date - if a deal is still open and past the closed date, it creates a task to look into the deal.
Stale deal - if there has been no activity on a deal in X amount of days, it creates a task to follow up with the contact.
7) Assigning and updating marketing qualified leads
Damien Elsing, Founder, CLCK Digital
Create a workflow to assign a contact owner when a contact passes a certain threshold (lead score or late stage conversion), then set a task for the owner to follow up with the lead, and change lifecycle stage to MQL.
8) Content Redelivery
Allison Hott, Content Marketer, Blog Tyrant
One of my favorite HubSpot workflows to set up is to redeliver content to subscribers that haven't seen it yet. For example, if you email your subscribers a downloadable PDF guide and some of them don't download it after a week or so, you can automatically resend the content with a new subject line and new language around it. A workflow like this helps you promote your content more effectively and helps to ensure as many of your subscribers see it as possible.
9) Managing location data
Andrew Erickson, Partner, Alaniz Marketing
Copy the Country IP and State IP fields to the Country and State fields if they're empty.
10) Nurturing with valuable content + discounts
Adam Hempenstall, CEO & Founder, Better Proposals
Create a lead capture popup that offers visitors a free course in our Proposal writing university.
Add them to our mailing list and send them our most valuable content once per week.
Offer them discounts if they sign up for one of our plans through email.
If they go visit our landing pages and don't convert, send them a few more emails.
When they convert, move them to our paying customers newsletter.
11) MQL nurturing
Mark Whitlock, Marketing Manager, Golden Spiral
B2B marketers should consider building a workflow for Marketing Qualified Leads (MQLs). We developed one that includes 8 emails sent out over a 10-week period. It delivered strong open rates for us and generated 2 Sales Qualified Leads for us right off the bat. We're constantly refining the workflow and approach.
12) Ensuring compliance with data privacy laws
Allen Montellano, Marketing Automation Specialist, Appetiser Apps
If you don't have a welcome campaign yet that involves at least one email that allows your subscribers to manage their subscription preferences, then it's something you need to look at as more countries are becoming more strict about data protection and privacy policies.
----
What's your favorite HubSpot workflow?
Let us know in the comments below and we just may add it to the list!