How many emails does it take to make a sale?
While it can vary greatly, 70% of responses are generated by the 2nd to 4th email of a sales sequence, according to recent data.
That means that following up and having a strategy for your sales outreach is critical. One email simply isn't enough. Luckily there's a great tool that empowers your sales team to save time and create consistency in their outreach: HubSpot Sequences.
What are HubSpot Sequences?
HubSpot Sequences is a tool in the Sales Hub that allows you to automate messages to your prospects and opportunities, saving you time in your outreach. Choose from email templates or write your own. Then add tasks like making a call or connecting on LinkedIn throughout the sequence. You can add as many tasks as you want, but you're limited to five emails per sequence.

HubSpot Sequences integrate with your existing inbox and make it easy to personalize and send emails quickly. Once you enroll prospects in your sequence, they will be automatically unenrolled when they reply or book a meeting with you.
This tool is a great way to automate and optimize your sales emails—but not at the cost of the personalization that can make all the difference. It's also a great opportunity to get these emails out of individual sales reps' inboxes and into a place where you can track and monitor their success...in order to optimize them for the future!
HubSpot Sequence Example
Sequences can look different depending on your goal. You might have a sequence dedicated to introducing prospects to your company, an engagement sequence to share valuable content and build rapport, or a conversion sequence to get them to sign up for a consultation call. Here's a sample of a basic HubSpot sequence that incorporates all three of those: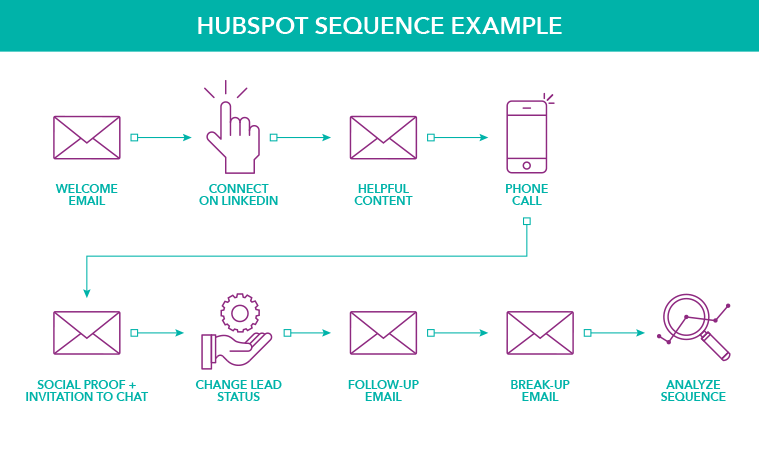 Email 1: Welcome Email

Task 1: Connect with Prospect on LinkedIn

Email 2: Helpful Content

Task 2: Phone Call

Email 3: Social Proof + Invitation to Chat

Task 3: Change Lead Status

Email 4: Follow-up Email

Email 5: Break-up Email

Task 4: Analyze Sequence
This type of sequence can provide a personalized experience for your prospects while automating some of the tedious tasks for your sales team.
How to Create a HubSpot Sequence Strategy
Sales sequences are often an overlooked piece when it comes to the communication a prospect receives from your company, but that doesn't mean they aren't important. In some cases, this can be vital, initial communication that sets the stage for this person's view of and relationship with your company.
Even though individual sales reps might have their own ideas and tactics they've used in the past, the best practice is to create an overall strategy for your HubSpot sequences based on their experiences.
Know Your Personas
The first step is knowing who you're writing to. If you don't have a deep understanding of the challenges, needs, and goals that your prospects have, it will be difficult to communicate effectively and write your sales emails in a way that will resonate with them.
Take time to figure out how you will create different types of sales sequences for these personas. If you only plan on creating one sequence for all your customers, you're missing an opportunity to tailor your content to their individual pain points. Especially when marketers have noted a 760% increase in revenue from personalized and segmented campaigns.

Talk to Your Sales Reps
Your sales team is a valuable resource when it comes to knowing what works and what doesn't. So, take the time to ask them what has been successful in the past. Consider sending out a survey asking for input or send test sequences to top reps to ask for their feedback.
This will also help to get buy-in from your sales team when you're ready to launch your sequences and want salespeople to implement them in their outreach.
Add a Personal Touch
A huge point in favor of HubSpot sequences is that you can easily personalize these emails based on data in your CRM. If you keep track of information like a prospect's biggest challenge, you can add a personalization field to pull that into your email and mention it in your outreach. This value is huge, with personalized experiences creating an average increase of 20% in sales, according to Monetate.

You can also edit the email templates for a specific contact when you enroll them in the sequence. This is another great opportunity to add a personal touch and make a bigger impact on your prospect.
Track What Works (And What Doesn't)
Set up multiple sequences and test what works. Does one sequence generate a lot of meeting requests? Does another close a large number of deals? By using HubSpot to set up your sequences, you're able to track this information and improve your outreach based on it.
What Should You Include in a Sales Sequence?
The short answer? Valuable content. It's important to use these emails as an opportunity to bring value to your potential customers and show them that you empathize with their challenges. Offer solutions to those challenges with your content at first and it will become much easier to offer your products as a solution down the road. The content you include in these emails will vary based on your products and services, but here are a few ideas to get you started:
Case studies

Webinars

Insight reports

Videos

Blogs on industry topics

Personalized surveys

Testimonials

Referrals
Ultimately, the purpose is to add value for your prospects and build a relationship they can trust. Then who knows what the future of the relationship will hold?
-----
HubSpot Sequences can be a powerful tool for your sales team to interact with prospects and close more deals, especially when they're backed by strategy.
What's worked for you? Any sales sequence pro tips or success stories from your company? Share them in the comments below!