Email isn't dead.
In fact, 59% of B2B marketers say email is their most effective channel for revenue generation.
As you look to create effective emails that generate revenue, there's a lot to consider. One piece of the puzzle? The tool you use to build and send your emails. And one of those tools is HubSpot's email marketing platform.
Email Marketing with HubSpot
HubSpot's email marketing tools give you the power to link your emails directly to your CRM, so you can track user activity in the same place that you create and send your emails. But additional functionality depends on the package you use.
Basic Email Marketing Tools
The basic email marketing tools are available on the Marketing Free version from HubSpot. This means the ability to send emails to contacts in your CRM comes at no additional charge!
You can customize the design of your emails with HubSpot's drag-and-drop editor or choose from their multiple templates. This allows you to create professional-looking emails without the help of a designer. Because your CRM and email tool are linked, you can add personalization to your emails with the click of a button.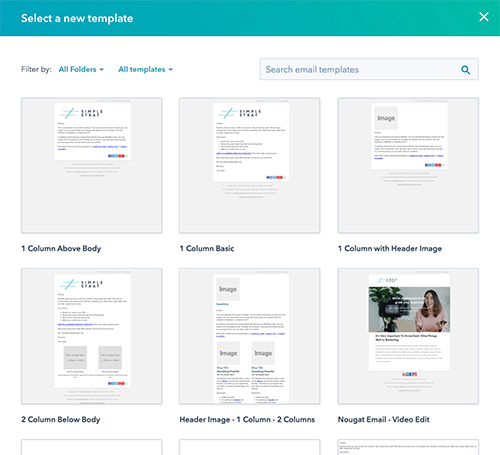 You also have basic email reporting features with the Marketing Free package. These allow you to track metrics like open rates or read time for a specific email or performance across all your emails.
Please note that you're limited to 2,000 sends per month on the free version and you won't be able to connect a custom email sending domain.
Main features included: Email templates, personalization, basic reporting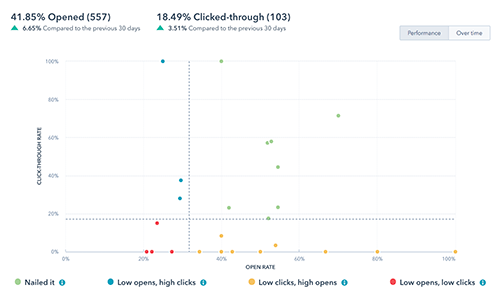 Better Email Marketing Tools with Marketing Starter
Starting at $50/month, you can get a slight upgrade to your email tools inside of HubSpot it you opt to purchase HubSpot Marketing Starter.
With Marketing Starter, your number of email sends scale up with the number of contacts you have in your CRM. Each month, you can send up to five times your number of contacts rather than being limited to the cap of 2,000 sends in HubSpot's free version.
You'll also be able to appear more professional in your customers' and prospects' inbox when you upgrade to Marketing Starter. Rather than being stuck with a generic HubSpot sending domain, you'll get the ability to connect your own.
Main features included: Custom sending domains, scaling send limits
Advanced Email Marketing Tools
While the email tools we've covered so far add a lot to your tech stack, the real value comes with the addition of email automation at the Marketing Professional level, beginning at $800/month.
This level allows you to send automated emails based on user actions and enter contacts into workflows that guide them on a journey with your company. You can also set up A/B tests of your emails to test variations on your subject lines, designs, calls to action (CTAs), and more.
These are tools that help you create a seamless experience for your customers. Once you set up a workflow for your customers, you can automate emails to add to their experience. For example, when a customer signs up to receive your newsletter, they can receive a preloaded email welcoming them to your company, letting them know you're glad they're there.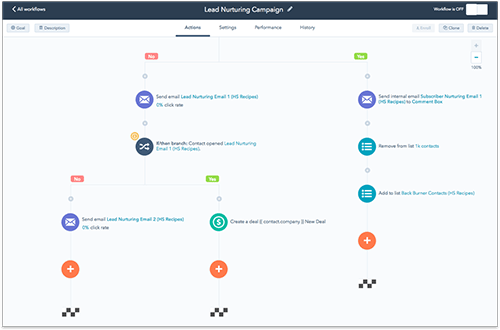 Or you can easily set up a workflow for prospects who request a resource from you. Their resource can be automatically sent, followed by future emails, nurturing them toward scheduling a call with your sales team.
Main features included: Automated emails, workflows, and A/B testing
HubSpot Email Alternatives
HubSpot isn't the only email tool out there. But as you'll see, one of the biggest benefits is having your email tool linked directly to your CRM so you can easily track user activity, opens, and click-throughs.
HubSpot vs. MailChimp
MailChimp has similar features to HubSpot in their basic email package, from an easy-to-navigate interface and templates to basic personalization. You can also combine it with other tools for automated email sends. But a huge benefit of HubSpot is that all of your customer information is right there. If you use MailChimp as your main email marketing tool, manual work or additional integrations will need to be involved to move data and user activity back to your CRM.

HubSpot vs. Drip
Drip is an email marketing tool built for automation first. It wasn't built to be a mass email tool, expand to CRM functionality, or as a sales tool. It isn't quite as easy to navigate as HubSpot or MailChimp, but it does allow you to easily tag and segment your contacts. It provides a visual experience for your workflows and allows you to drag and drop to create paths for your contacts.
HubSpot vs. Marketo
Marketo has many of the same features as HubSpot, but lacks a built-in CRM. As a historically enterprised-focused tool, Marketo can also be less intuitive to use than HubSpot. User friendliness is really where HubSpot wins out over Marketo. With that said, some large B2B enterprises that can dedicate IT resources may prefer the customization capabilities that Marketo offers.
Email Strategy: The Most Important Part
While there are a lot of email marketing tools out there, it doesn't matter what tool you use to send them if you don't have a strategy to back it up. By investing in an email strategy before you invest in an email marketing tool, you're more likely to have success with both!
Great emails start with the content you create. Make sure your emails are valuable, helpful, and interesting to your target audience. If you don't add value to people's lives with the content that you share, your strategy is missing the mark. Do the research to uncover what insights your prospects and customers need to be successful in their roles and write emails that provide those insights! Then your investment in HubSpot email marketing (or another tool) will pay off in the long run!