Facebook Messenger Instant Replies is one of the many new tools, apps and software introduced into the marketplace lately. In working with our clients, we know that many small businesses utilize Facebook to market their business. Which is why we're excited to share with you this new(ish) feature.
You'll love Facebook Messenger Instant Replies
This makes it easier to provide outstanding social customer service. Now when someone messages your page, you can automatically send an instant reply!
Not sure if you have set this up yet?
You might see something like this near the top of the page when you log into your Facebook business page:
What if you're not using Facebook Messenger? Well, you should be.
Facebook messaging is useful because you don't have to jump back and forth between platforms. Clients and prospects can be perusing your latest updates one second, and seconds later, simply and easily ask questions or provide information directly and privately.
Facebook Messenger also allows business owners to provide real-time customer support, while documenting the entire conversation.
Having the ability to private message people who comment on your page allows business owners to take the conversation private without ever leaving Facebook and handle negative situations quickly.
And, possibly one of the best reasons to use Facebook to connect to your clients is to change business relationships into personal ones. (This is why it's important to maintain some professionalism on your Facebook, but that's another blog topic!) The way (and rate) at which you respond to someone sets the stage for ongoing interactions.
Delivering Social Customer Service
One thing you can count on is that no matter the platform you are using for your business, customers do expect social customer service. They are going to have questions. They are going to have complaints (and hopefully praise too!).
They are going to need to get in touch with you easily and they are going to want to feel like you appreciate that they chose your brand over others.
Your business needs to establish a customer service strategy to fill that need. In fact, social media is becoming THE place customers go for service. Two thirds of customers who contacted a company on social media did so for customer service (says J.D. Power). And, they expect social customer service to be active, accurate, supportive, and FAST!
We'll be right with you!
(now let's talk about how we make that a reality)
This is where Instant Replies and Away messages come in handy! Let your customers know quickly that they are on your radar and how long they can expect to wait or what steps they can take to get your attention NOW. Here are examples to use these features well.
1) "Who we are" Replies
Use Instant Replies as a way of introducing prospects to your company's culture, products, and services.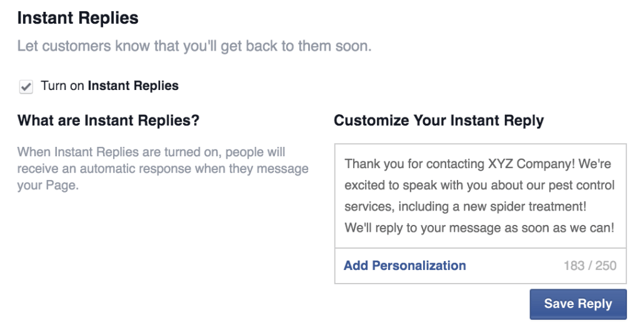 Words are a powerful tool when targeting specific audiences. Do you want to be highly professional? Are you going for a more hip vibe? Maybe you want them to see you are a fun organization or child-centered. Set the tone for communication early.
2) Instant gratification
Let your customers know they are important to you. Thank them for contacting you and let them know how long they can expect to hear from you.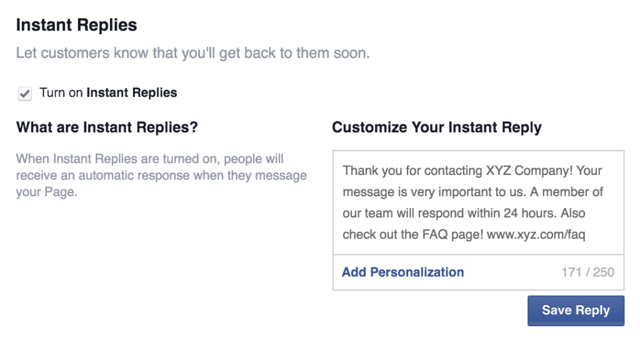 You could say something like: Thank you for contacting Simple Strat. Your message is important to us. Someone will respond to you within 24 hours. In the meantime, please visit our website for a list of frequently asked questions. (Don't forget to provide a link!)
3) Availability
Small businesses or hobbyists can only devote certain hours to their business. Let customers know you appreciate them taking the time to stop by your site. If your schedule is unique, this is the time to let customers know when you are open for business or have staff available to respond.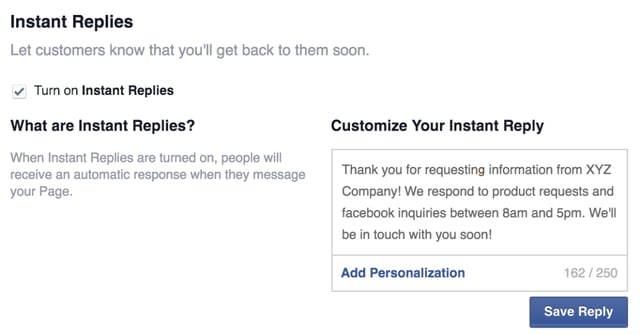 4) Different time zones
Whether you are targeting audiences all around the world or on vacation, customize your instant reply to let customers know there might be a small delay in response. Provide options for urgent requests and thank them for their patience.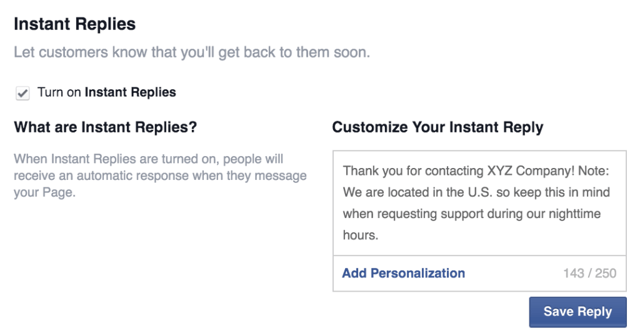 5) Missed notifications
Sometimes notifications can get missed! Remedy this with an instant reply that welcomes visitors to your page and provides instructions for the best way to get in contact with you.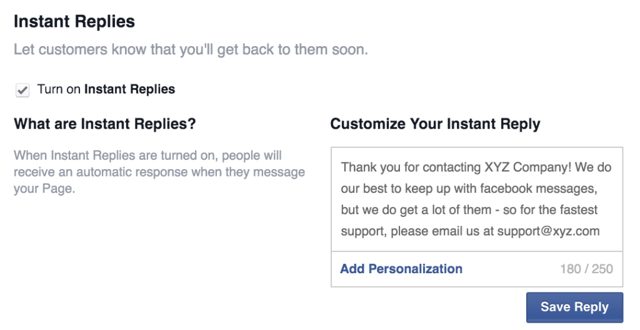 6) Emergency absences
Life happens. People understand that. You don't have to be too detailed, but if you have to be away for an undetermined amount of time, this is your chance to let your customers know. Be positive, be professional and show them that even through tough situations, you can handle their needs!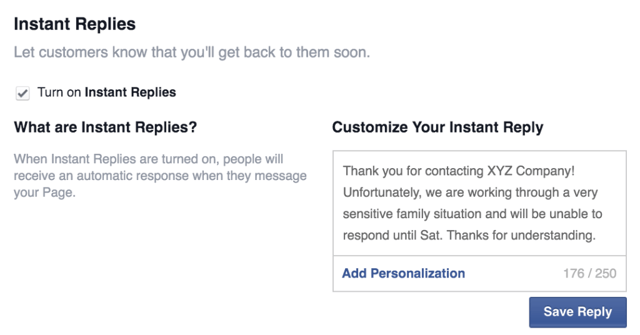 7) Redirection to website
Don't take orders through your Facebook page? Want customers to submit support tickets via the website? Provide a link for customers to purchase goods immediately.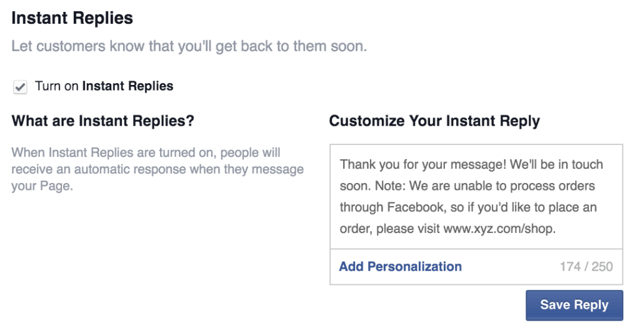 A bonus feature of Instant Replies is Response Time Display. Displayed publicly on your profile, Response Time Display shows inquirers how soon they can expect to hear back from you.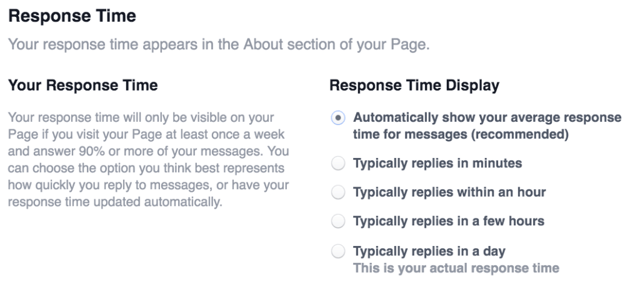 No matter what your Instant Reply, be sure to say SOMETHING so inquirers feel you are attentive. It's great for your business to have a presence on social media, it's even better to listen and see the buzz around your brand, but it's absolutely VITAL to engage your customers. Take the lead in communicating with your audience to control your brand's image, increase sales and build relationships.
Saved Replies are easy to set up, too! Here's how.
BONUS: Messenger Greeting
You know the welcome message you get when you come to McDonalds?
"Hi there, would you like to try a new bacon double cheeseburger today?"
That kind of message can be inserted into messenger when someone begins messaging your page.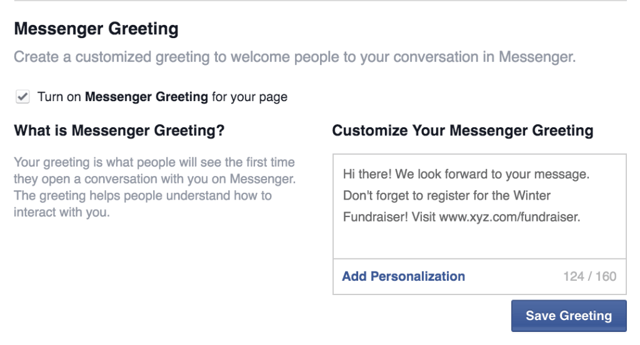 So if you're experiencing high volume of orders and you're a little behind, it might be nice to let people know BEFORE they message your page (again). Or perhaps you have a special event coming up that you want people to get involved with – you can list that and provide a link to register.
DOUBLE BONUS: Personalize it!
You can personalize the response for either instant replies or messenger greetings. This information is pulled from the Facebook account of the person submitting the inquiry, as well as your Facebook page for business.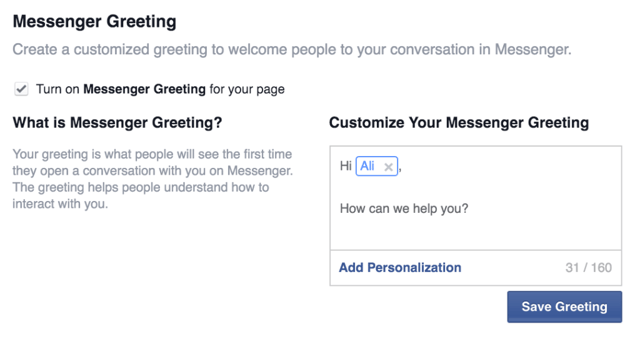 Personalization options include:
First Name
Last Name
Your website URL
Your phone number
Your address
Now you're a master of replies and greetings in Facebook messenger. Drop us a line and let us know how you're using this – or maybe we'll just stop by your Facebook to give it a whirl ourselves.