It's getting harder to stand out and build engagement online, especially as AI helps create an ocean of web content that all sounds vaguely the same. However, there's still a reliable strategy to gain influence, build awareness, and generate engagement with your content — a strategy that AI still struggles to beat, because it requires originality — and that's thought leadership.
In fact, a large number of top organizations, including GE, Salesforce, and HubSpot have demonstrated that thought leadership can lead to significant results.
They've driven conversations around closing the gender gap in STEM (GE), the true role of a sales professional in a world overtaken by commoditization (Salesforce), and redefining how companies grow by syncing marketing with other departments inside of a company (HubSpot).
And they've done this from the perspective of the company, as well as key employees, executives, and partners. That's why we created this guide: the A-to-Z run-down of thought leadership and how to use it to increase awareness and generate leads for your company.
A sneak peek of what we'll cover...
What is thought leadership?
What does "thought leadership" mean, exactly? Thought leadership is a content marketing strategy that positions a person or brand as a trusted expert in a particular field or industry. It involves the process of creating and promoting content about your industry and contributing to the conversation that's happening with your customers, prospects, and strategic partners.
Thought leadership is something that comes from the expertise, experience, and insight of the author, and can include everything from the latest research to an informed opinion that might go against common beliefs on the subject.
With a strong thought leadership strategy, a company can be recognized as an authority on a particular set of topics, circumstances, and/or industry trends and events. In doing so, you provide genuine value to your audience without the traditional hint of self-promotion.
It's helping and guiding others through specific, industry content.
What can thought leadership marketing do for your company?
Effective thought leadership can lead to:
Increased awareness among your target audience
Increased number of leads, due to prospective customers trusting you and reaching out for assistance
Enhanced credibility through social proof and engagement
Thought leadership encompasses content on social networks, speaking/events, referrals, published works, videos, podcasts, and more—we'll go more in-depth about tactics toward the end of this article—and it requires patience and consistency.
But there's one thing that thought leadership MUST do, and it comes down to the word "leadership."
By definition, leadership is the art of motivation a group of people to act.
As a result, in exercising thought leadership, you're using your experiences and expertise to think forward about an industry and lead others through what's ahead.
Examples of thought leadership content in action
To provide some context for this topic, let's look at some real-life application. Thought leadership marketing starts with putting out informative, high-quality content that could only come from an expert in the field.
Examples of thought leadership content include:
An article forecasting trends for the upcoming year
A video providing clarity on an often-misunderstood tactic or practice in your industry
An interview on a key news outlet that shares takeaways from a significant conference and what they mean for the future of the industry
An article that showcases insights and guidance on something that's negatively or positively affecting your industry
An LinkedIn post pointing an audience to key resources and strategies to make their jobs easier, more strategic, etc.
Thought leadership content can be shared by a company, such as GE, or by one of the leaders inside the company. And in the best scenario, it's both.
One of our favorite thought leaders in the marketing industry is Robert Rose. One of the co-founders of Content Marketing Institute, Robert leverages his position at CMI to share his insights and experiences in helping companies market through content.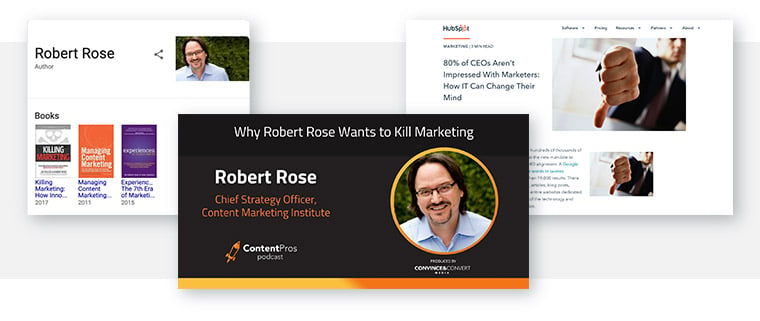 He went on to write a book, co-host a podcast, guest author on hundreds of blogs, and more. Robert is well-respected as one of the go-to experts in the world of customer engagement, educating through content, and transitioning marketing from a one-way street to a two-way conversation. And brands seek him out because of his authority and demonstrated knowledge.
Or consider another example: Before signing onto a content partnership with Simple Strat, many of our clients start with our HubSpot consulting services. They often find these services through our HubSpot Hacks YouTube channel, which is filled with tutorials and experience-driven advice to help viewers get more out of HubSpot. By using this content to demonstrate our knowledge of HubSpot (in a way that helps our subscribers), we're able to build trust, so new customers can feel safer when making their decision to hire us.
Why thought leadership is growing (Hint: it's all about trust)
Thought leadership is becoming an essential piece of a B2B marketing strategy because it works. But it's more than that.
Simply take a look at this graph dating back to 2004. This demonstrates a steady increase in Google searches for the phrase "thought leadership":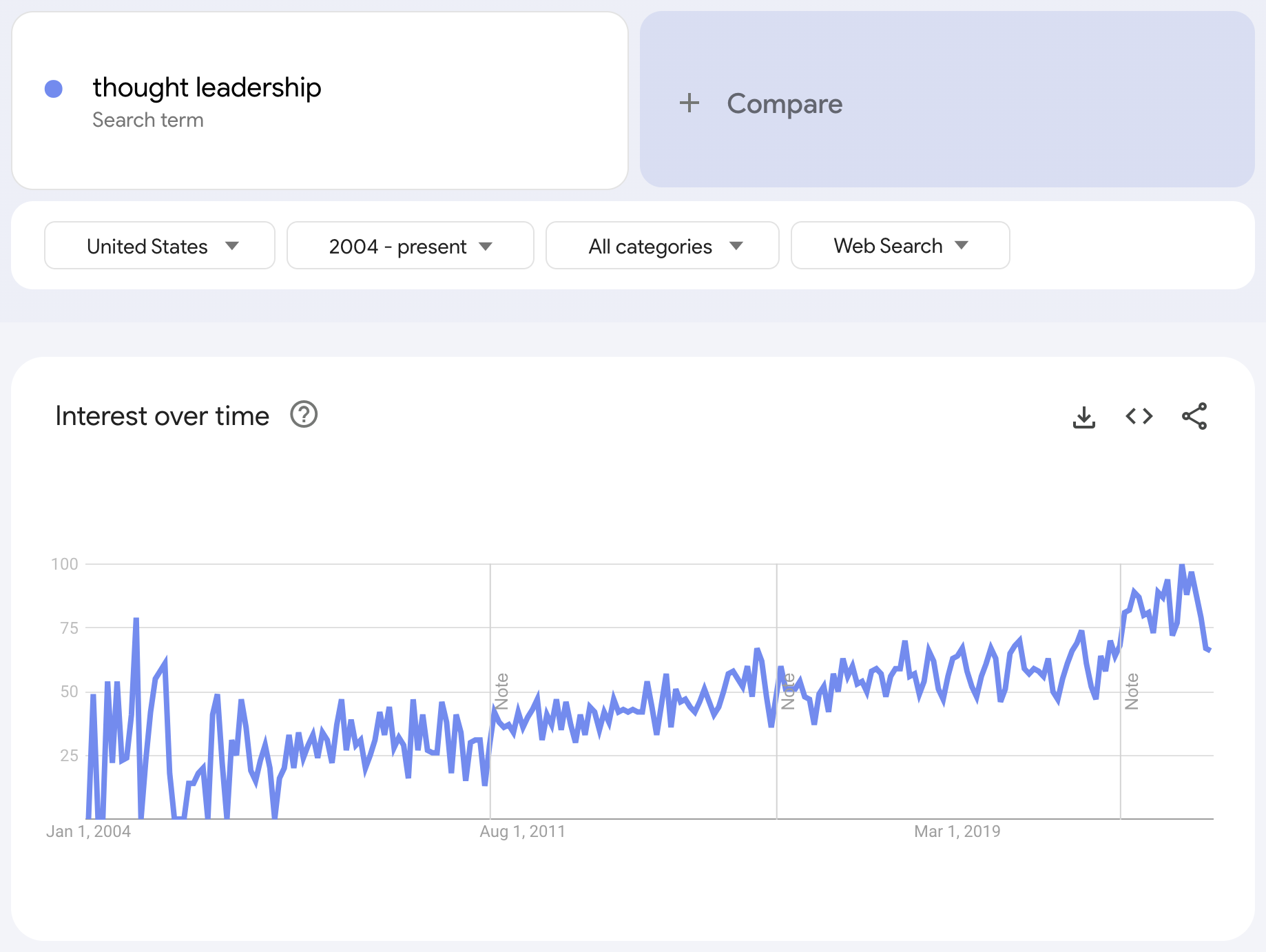 There are many reasons for the increase, but one of the most compelling reasons has to do with the decreasing level of consumer trust in brands.
According to a survey by McCann, nearly 42% of Americans find brands and companies less truthful today than 20 years ago.
Further, a 2021 consumer survey concluded that more than 80% consider trust a deciding factor in their buying decisions, though only 34% of consumers trust the brands they use. Consumers are tired of being duped or tricked by traditional advertising, or by marketing campaigns that feature actors or fictitious representations of what a product or service can do.
Notice that these surveys were done before generative AI like ChatGPT hit the mainstream. If you're too dependent on AI when writing content (i.e., if you're not contributing a meaningful amount of original, expert opinion to a blog post, for instance), you won't stand a chance at becoming a trusted thought leader.
People want to hear from humans. While the lines between human and AI might blur (especially with built-in writing assistants), the more you can add human touch into your customer engagement, the better.
You'll see this happening more and more on platforms like Twitter (or X, or whatever the platform is called next week), where executives promote their own professional profiles for connection, rather than simply using the company account: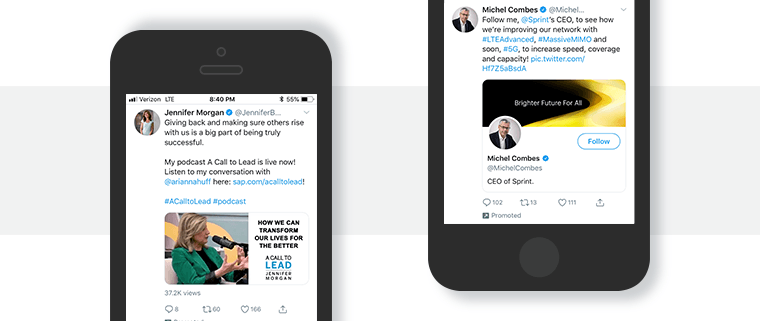 Another example is startup founders like Allen Gannett or Gary Vaynerchuk writing books and sharing insights that lead to increased levels of trust for their company as a whole.

As demonstrated by these examples, some of the most powerful ways to combat the growing level of brand distrust are authenticity and personal interaction. And both are found in a powerful thought leadership strategy.
The 3 parts of a thought leadership strategy for marketing
Incorporating thought leadership into your marketing efforts involves more than simply writing blogs and sharing content on social.
It starts with the research, and building a strategy—the building blocks of all great marketing programs!
A strong thought leadership marketing program has three critical components:
Personas—you have to know who you're targeting with your content. The answer to this needs to be focused and strategic, developing strong buyer personas. If the answer to this question is "everybody," then you're going to fail.
Point of View—to be a thought leader as a company or as an executive, you need to have a lens with which you see the world. This point of view should be clear in any thought leadership content piece—whether that is a blog on your website, a podcast you host, or a guest spot on a news interview. The point of view should be the same even if two different executives from the same company are writing thought leadership pieces.
Personality—your content needs to have a personality. As a human, your personality is what draws people to you and what you have to say. When this is blended with a company's platform, you must have a consistent personality in your content (this may also be called brand voice). If you're creating thought leadership content on a personal level, personalities can vary, but it should blend well with the overall point of view of the company.

Armed with these three Ps, take it a step further and ask questions like:
What are the top questions my personas are asking?
Who are they currently going to for answers?
What's NOT being talked about? Why?
What do people wish they knew more about?
What are the topics that get shared most on social media?
What does keyword research tell me about the search queries being used in search engines for these topics?
What is our point of view as a company? What do we believe in/stand for? What are we against?
What employees/executives/leaders can contribute or create content? What are their areas of expertise?
For tools to help you in this conversation, consider using BuzzSumo, Ahrefs, or SEMRush. Each shows you the top content shared on topics, as well as keyword research, audience networks, and/or content clusters.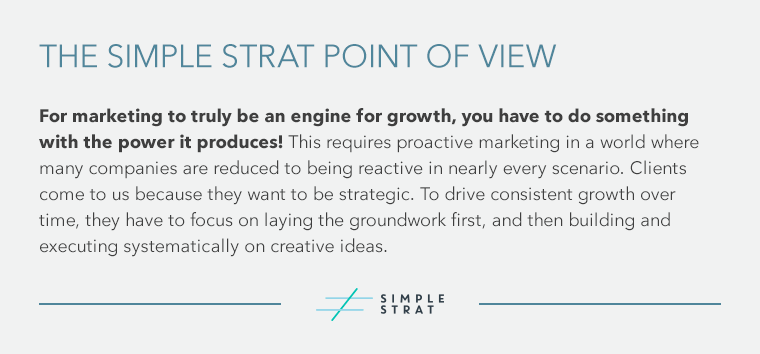 Establishing yourself (or your company) as a thought leader
To use thought leadership, you must first become a thought leader.
But labeling yourself (or your company) as a "thought leader" is not the answer. It's like someone calling themselves a visionary (ugh – don't do that!).
Being called a "thought leader" is an attribution from the outside, a compliment that is earned based on your demonstrated value. In designing a thought leadership program, that's the result that you're after—being labeled or noted as one of the go-to people in your industry.
To be a thought leader, you must:
Love your topic. If you're going to be writing, speaking, and sharing about a specific topic, it's essential that you're excited about it and your passion shows. If you're helping a member on your executive team create content, the same rule applies.
Have experience. Becoming a go-to authority on a topic requires some "war stories" or experiences that qualify you as someone who's been there. Understanding the industry is key, and the inner workings of tactics and strategies in your niche is essential.
Be authentic. One of the biggest failures in thought leadership is trying to be someone you're not or blatantly copying a thought leader that you love and admire (nothing wrong with liking their content. Just don't try to copy them). There can only be one Gary Vee! Find your own voice and share it in your content.
Remain focused and consistent. As with many marketing strategies, the temptation can be to do too much and write about a lot of topics. The opposite is true. Refine your focus and be willing to go deeper instead of wider. And consistency is non-negotiable. If you share one powerful thought a year, that hardly qualifies you or your company as a thought leader.
Share and reciprocate. In order for your content to reach the widest audience, you need to be willing to share the content on a variety of mediums. This also includes collaborating with strategic partners, media outlets, and influencers in your niche.
These five things aren't going to happen overnight, but you must be willing to accept them as essentials on your way to building an effective thought leadership practice.
Questions to ask before creating thought leadership content
Once you've determined your personas, personality, and point of view, it's time to review the ideas you've come up with in your brainstorming.
Again, these will include common questions, trends, search phrases from keyword research, and pop culture topics.
At this stage, you'll want to take an inventory of the resources you have available. This includes internal and external resources, but also the type of talent you have (for your own thought leadership) or the talent available in your company (for a company-wide thought leadership initiative).
Think about platform:

Where is our audience consuming content? LinkedIn? YouTube? Facebook? News sites? Twitter? Reddit? Association websites? Newsletters? Conferences?

Consider the type:

What type of content are we most comfortable creating at first? Written? Video? Audio?

Don't forget frequency:

How often can we commit to creating and publishing content? Weekly? Monthly?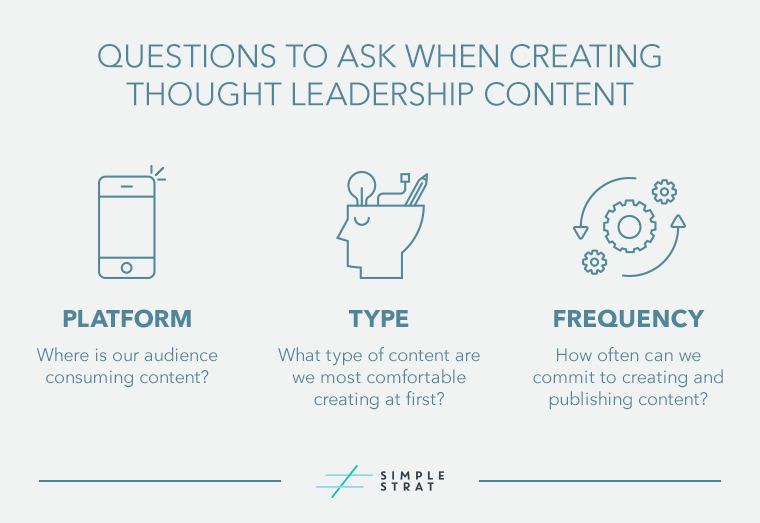 There is no right or wrong answer to any of these questions, but they do require intense review. There have been many companies who have been excited to launch a YouTube video campaign, until they realize they look too stiff on video, which does NOT convey the authenticity they were going for in the first place.
Or they tried being a guest on a podcast, but discovered they needed more media training because they were not as good at thinking on their feet as they thought they were.
If you need help looking authentic on video, check out this resource from Wistia about Educating Employees about Being on Camera.
The first couple of pieces you create are going to be an experiment. Use them to learn about yourself and your company. Then put effort into developing a more strategic calendar of thought leadership opportunities (the next section will help with that).
The top 5 thought leadership tactics
Getting eyes on your content and creating opportunities to drive engagement and generate conversations are the top goals for effective thought leadership.
And while there are a number of tactics and promotional strategies to consider with thought leadership, some of the most popular include:
1. Speaking
Public speaking positions you as an expert in your field. Period.
When you're in front of a group, sharing what you know, you're quickly seen as an authority on that particular topic. Plus, when you pair your information with examples of how this plays out in your world each and every day, you submit a strong case that you're the expert worth talking to.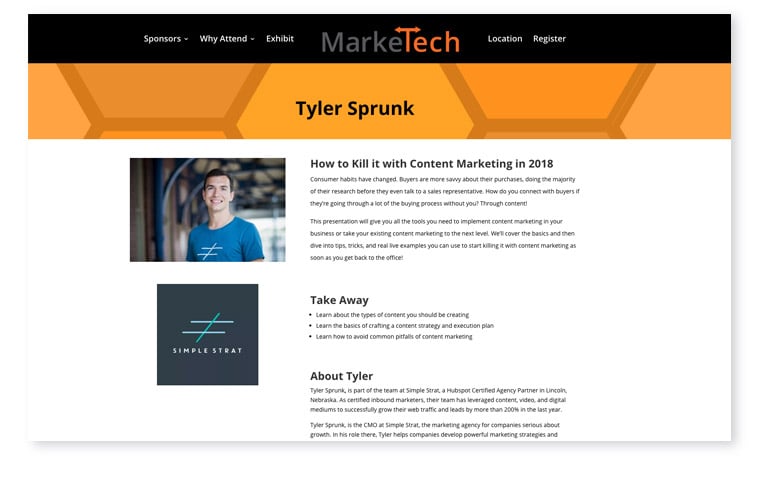 To get started with speaking, start by demonstrating that you can speak in front of a group effectively.
If this is your first time using this strategy, you may want to start by joining a local Toastmasters Group or hiring a speaking coach. The good part of speaking is that it establishes credibility fast. The downfall is that a bad speaking engagement can hurt your reputation just as much.
Once you've established a good process for delivering a quality presentation, start identifying groups, conferences, or associations who might be interested in having you come present to their groups. Do this enough, do it well, and the speaking requests will start to come to you.
2.

Blogging

While it's not required, most thought leaders use blogging as a core tactic.

It's familiar and easy to execute, especially if you have contract writers or editors to help with the process. Nothing says you can't hire out some of the content you need to create for thought leadership programs, as long as you're providing the direction of the article and the type of research or insight that goes into it. And once it's edited for brand voice and point of view, it should fit well with the rest of your content.

As a bonus, blog content can often be syndicated to other networks, such as LinkedIn articles, Medium, Quora, etc.

For example, a post about "When to Rebrand" originated on our blog with an infographic, and then became a series of Twitter posts and a LinkedIn article for our CEO.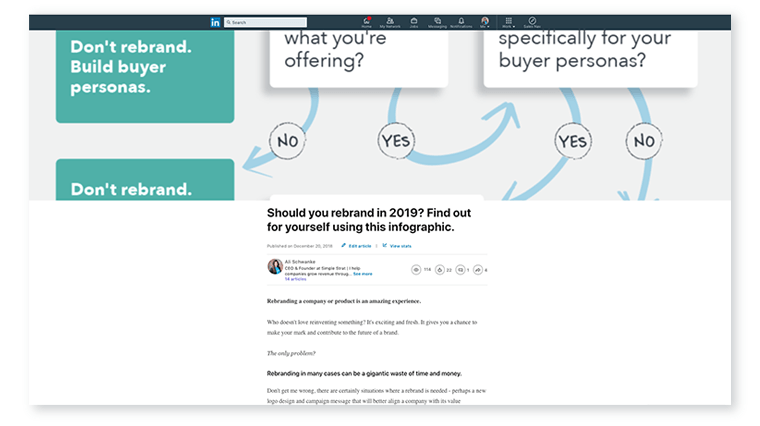 3. PR
Public relations used to be the practice of landing press coverage for your company. And while that's still the case, the lines are blurred between PR and owned media.
In other words, you have the opportunity to make news simply by creating content!
A good example of this is when a company or key leader in an industry publishes a research paper or conducts a study. That study becomes the source of interest for a large number of people in that industry, and, as a result, industry outlets write about it, and in turn, mention the company and/or thought leader.
You see this happen with companies like Buffer, who publishes the state of social media report, as well as Animoto, who recently published the state of video marketing report.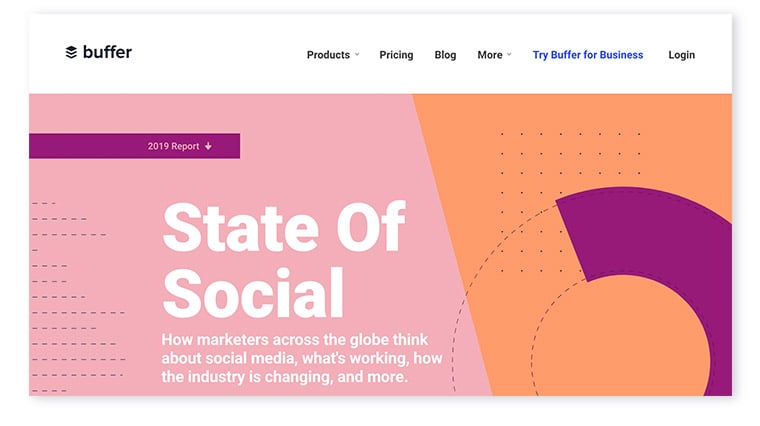 Another tip for PR is to pitch ideas to journalists that align with topics your key personas are interested in, that also match your key point of view and personality.
4. Guest opportunities on blogs, podcasts, videos, etc.
One of the most effective ways to move into the place where you're seen as a thought leader is by publishing exceptional content for your industry's largest publishers. Authoritative, trusted blogs, podcasts, and other outlets are the key to reaching new audiences.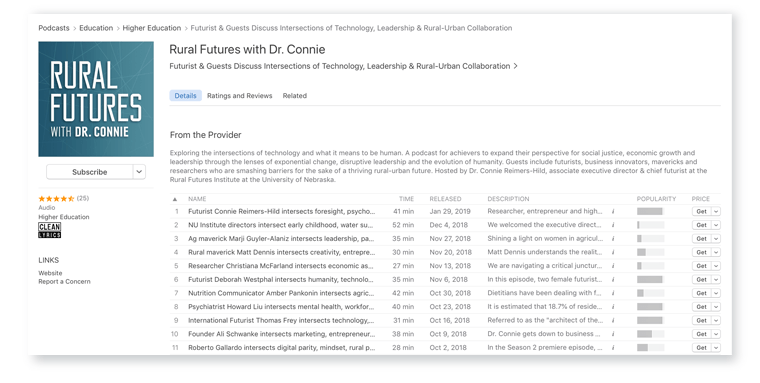 The biggest key to success here is having a few key topics that you can pitch to guest outlets. Keep in mind that it's not about what YOU want to say. It's about what the audience wants to know and can learn as a result of your content.
There is a whole methodology for finding and securing guest content opportunities, which we'll cover in a future post. If you have specific questions about those right now, feel free to drop a comment on the blog or send us a message so we can shoot some ideas your way.
5. Published works like books, products, etc.
A growing number of companies and leaders seek to boost their thought leadership position through publishing a book or printed resource.
Often seen as the "holy grail" of thought leadership marketing, it's become very common with the number of print-on-demand services, as well as ebooks on Amazon Kindle, and other less expensive "book" options.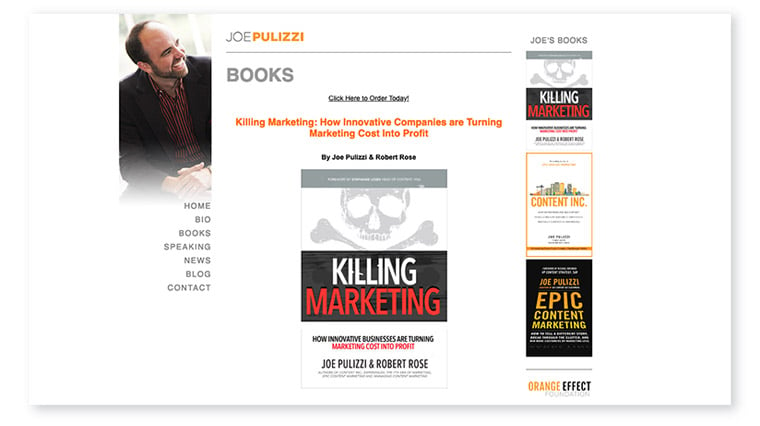 We won't go into the differences between self-publishing and going through a publisher, but it's something to consider. In the same way that a poorly written and poorly designed brochure won't boost your credibility, many self-published books miss the mark because they don't invest in refining the idea, designing the cover, or giving a compelling reason to read or buy the book.
A book can be used to open doors for writing opportunities as well as speaking. Even if it's not a WSJ Best Seller, it can be a fancy business card that leads to higher level content creation.
Getting started with your thought leadership campaign
Alright, so you have a sense for what thought leadership looks like, how it works, and reading this has hopefully given you a better sense for what it takes. Now let's go over the steps you'll need to take to get started.
Identify your organization's thought leaders: choose internal experts who resonate with your brand. Recognize the time and commitment that will be required from them, especially from busy company leaders.
Define your niche and message: focus on unique insights and align with your company's core values. This helps in creating a distinct voice that sets you apart.
Develop your content strategy: plan various content types and platforms, and create a sustainable calendar with topics you can provide your expertise on. Thought leadership is a continuous effort, not a one-time initiative.
Make the content: whether you're writing long-form LinkedIn posts or blogs, recording a podcast, or making a video, you have to actually make the content on the schedule you set. Whichever medium you choose, make sure someone can polish it up or edit it.
Engage with your audience: distribute the thought leadership content on social platforms so you can be more responsive to feedback. Adapt your approach based on audience engagement to keep the conversation alive.
Maximize your reach with multiple mediums: you can reach a wider and more diverse audience if you repurpose your content across channels. For instance, you can record a podcast or video, and then use the information and insight to repurpose across a half dozen other channels. A lot of companies will turn to a third party to repurpose existing content more efficiently.
Monitor and measure success: define clear goals and key performance indicators (KPIs). Regularly review progress and adjust strategies to ensure alignment with objectives.
Understand the challenges: acknowledge the time, effort, and consistency required, especially from executives or founders. Thought leadership demands commitment to establish yourself as a reliable authority in the field, so results won't come overnight.
Expertise matters
Thought leadership is a powerful marketing strategy that puts human expertise at the center of the customer conversation. While a number of companies are interested in using this tactic, few execute it consistently. This provides an incredible opportunity for executives and marketers to step in and educate their audience while establishing authority and credibility.
At Simple Strat, we've seen this pay off for clients, who bring expertise but may initially lack the bandwidth or process to produce such content at scale. We'e also seen thought leadership strategy lead to content marketing opportunities for our own team.
While it can be daunting to jump in and get started, we encourage you to experiment a bit in creating your first pieces of thought leadership content. And don't forget to track your results, as data (or lack thereof) will help you make better, smarter thought leadership decisions.
P.S. We hope to see your name in lights (or on the first page of Google or in an industry news outlet) in the future!