For all its strengths, generative AI like ChatGPT can't offer much originality. So as the the web floods with derivative content, it's going to take a lot more for your brand to stand out. If you want your content to stay afloat and get noticed, you need to offer something fresh. That's where thought leadership comes in.
Thought leadership is about providing unique insight as an expert in your field, sharing new ideas and opinions about the topic.

A good thought leader gives great advice, offers new ways of thinking, and can change people's opinions. In return, you boost your brand visibility, and customers learn they can trust you as dependable source of expertise, which in turn helps simplify your sales process.
Today we're digging into some of the tactics to get you there.
But before we dive in, remember that these tactics require consistency to work. If you write blogs, post on social, and speak for one month and then it's dead air for six months, you won't be building your leadership.
Create a plan with your tactics (a calendar, even!) so that you know what's coming, and have a long-term plan to establish yourself as a leader in an industry.
With that firmly in mind, keep reading.
Written Tactics
Many thought leadership tactics involve the written word. But this can take on many different forms.

Most people think of writing a personal blog as the key to thought leadership. But if you don't have traffic to your website, writing the best, most compelling articles won't get you anywhere. That's why we're giving you some additional written tactics that can help you build your thought leadership.
PR Pitches
Sharing your knowledge with the public (and press) is important to positioning yourself as an expert in your field. A quick way to get started are PR request sites—where journalists reach out for requests from experts in specific industries to feature in their articles.
These give you a chance to share your thoughts and expertise. There are some great sites out there (who coincidentally seem to love changing their names). Check out options like:
It takes a bit of time/work to manage, but a few PR opportunities can provide a strong foundation for your thought leadership. Using these sites, start sending some pitches. Just like sending out your resume for a job, sending ten specific, targeted emails is better than sending 100 broad requests.
A few tips for your pitch:
Make it relevant to the journalist and outlet — don't just produce these en masse with ChatGPT

It needs to be timely

Make sure there is an angle

Suggest a topic that has potential to get a lot of traffic
Guest Posts
While you're working on your PR pitches, work in a few guest post pitches as well. Guest posting gives you the opportunity to share your thoughts on well-known blogs in your industry, i.e. the places your target audience is hanging out online. It also gives you an opportunity to build credibility and backlinks for your own website. Remember to make your pitch about the publication or site, not about you.
Here's an example:
Hi Fred,

I recently came across your blog and think it's an excellent resource to stay up to date on the marketing trends that impact CEOs and other business executives. I particularly liked your recent post on guest post pitching.
One of our team's specialties is thought leadership and we would love to share our insights with your readers. Here's an example of our work: The Ultimate Guide to Thought Leadership
If you think this topic would interest your readers, we'd be happy to contribute a post. Please let us know the best next step!
Again, be specific in your email and request, offer value, and make sure you follow up. After all, they have busy lives too.
Co-Author Blogs
Another option as you grow your thought leadership and make deeper connections in your industry is to leverage your audience and the audience of one of your contacts by co-authoring a piece. This allows you to generate traffic from both audiences, which can build brand awareness and your credibility.
Blogs on Your Website
In the midst of all of this, it is important to develop consistent content on your own site's blog. If someone finds their way to your website, through your guest posts or PR, they need to find a helpful, qualified source on your industry and areas of expertise.
This doesn't have to mean creating a new blog every day, but maybe every week or twice a month. Consistency is key. It's better to post once a month than post every day for two weeks before you run out of time and ideas. If your most recent post on a subject was two years ago, how will visitors know you are a leader in the current space?
LinkedIn Articles
Creating articles on LinkedIn is another great way to display your thought leadership as you build your website audience. It allows you to reach a different audience and keep your LinkedIn fresh and full of insightful content. A good hack is to repurpose some of your content from your personal blog. Simply give it a new title and link back to the original post in your blog.
Driving results on LinkedIn takes some practice and persistence, but the network can provide you with some substantial payoff.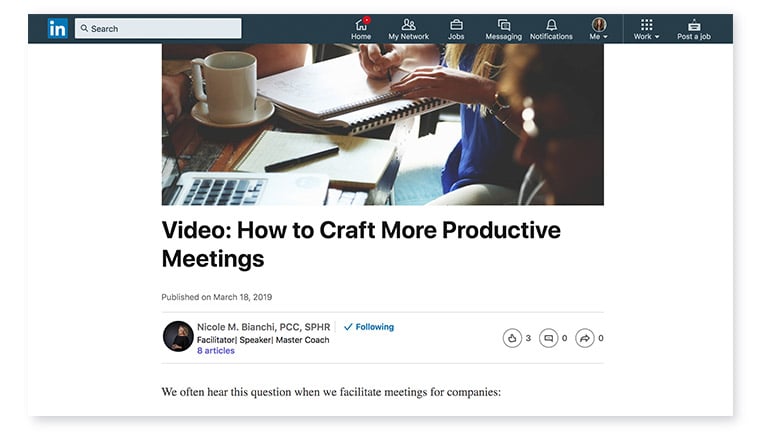 Social Media Posts
Good written content isn't valuable without a strategy to share it. Make sure you are posting consistently on your primary social media channels, sharing what you've been writing in a way that adds value to your readers and shows that you are informed and knowledgeable about the events in your industry. This includes a mix of your content and other relevant articles. Just make sure you add your own point of view when you share them!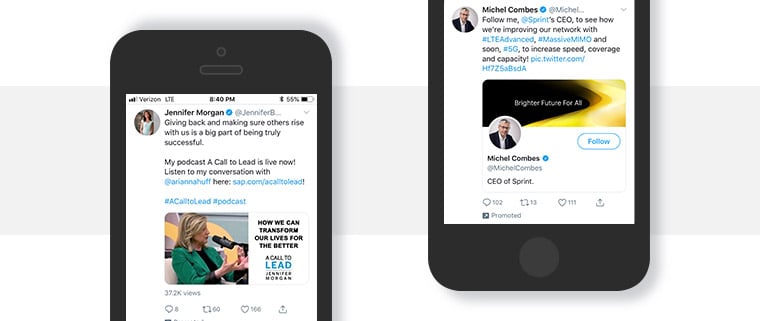 Books (or eBooks)
Finally the big one—writing a book. Nothing solidifies that you are an expert on a topic or in a field quite like writing a book on the topic. Even if it isn't a NY Times bestseller, it can be a great way to get your foot in the door for speaking events or to build network connections. There are lots of options with print-on-demand services as well as eBooks and other less expensive options.
Content Marketing Tip — you don't need to limit each content idea to a single medium: you can repurpose any piece of content (from blog posts to podcast episodes) so the same concept can be presented in unique ways across each medium. Whether you do this internally or through a repurposing service, it's an effective way to maximize the reach of your thought leadership.
Speaking Tactics
Now that we've made our way through the main written tactics to grow your thought leadership, let's start talking about….talking.
Meetups and Industry Events
This tactic isn't about sharing your expertise but simply showing up and making connections. Find groups specific to your industry or position in your area and prioritize going to them and participating.
Whenever we have local marketing or networking events, there are always a few people you know will be there. They do a great job of being present in the industry—and their companies benefit because of it. They are seen as the face of their industry and an expert in what they do, and part of that comes from simply being seen at relevant events and making connections with others in those fields.
Speaking Events
A big tactic when it comes to thought leadership is speaking at events. This can be a great way to share your insight, especially if you have a great topic and can provide a great experience for your listeners. Remember, you might start small, but it's important to start somewhere to practice, build up your experience, and catch some footage of you in action.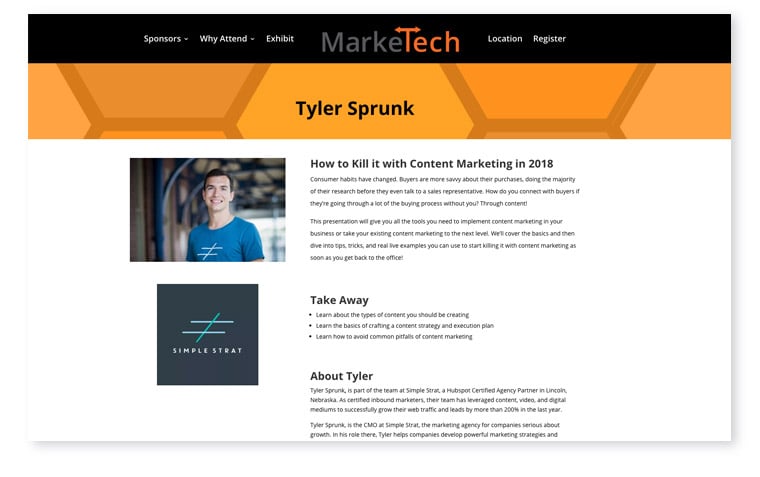 Workshops
Similar to speaking events, workshops give you a chance to get hands-on in your area of expertise and share practical tips with your audience, giving them instruction and advice as you go. These can be really fun, lively events because you get to interact with your audience and put your knowledge into practice. One of our favorite workshops was one we did on video marketing. Definitely put the audience in the spotlight!
Be a Guest on a Podcast
Similar to guest blogging, being a guest on a podcast can help in your thought leadership efforts by piggybacking off another audience. Reach out to relevant podcasts using a similar format to guest blog pitches and keep their audience as your focus. After all, they want to promote their podcast to their listeners first and foremost, so your job is to show the value you bring to their audience and how you will help them expand the reach of their work. Don't worry, we've got some tips to help you promote your interview!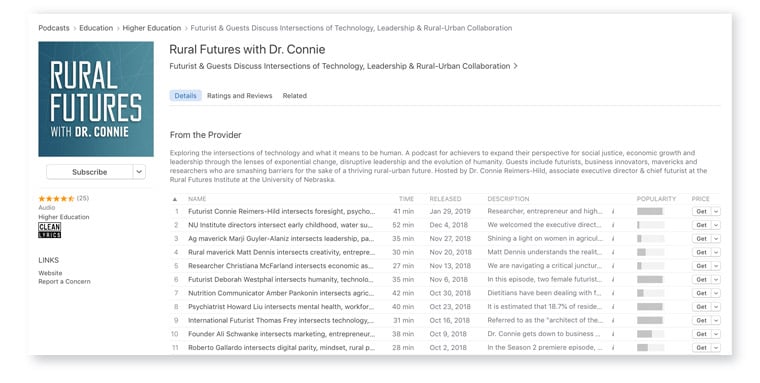 Your Own Podcast
If you find out podcasts are your thing, another tactic is to launch your own. While this can be a big undertaking, it can also be a good way to be seen as a resource in your field and build connections.
Promotional Tactics
It can be challenging to be seen as a thought leader if no one sees your content or hears you speak. That's where promotion and advertising come in. Using these tactics can help set the stage for your valuable insights, and give your visibility a boost.
Social Media Ads
Ads on the networks where your audience is most active can keep you top-of-mind as you look to build your following. With advanced targeting, you can share your insights with people who will find value in what you have to say.
Google Ads
If you have a specific topic that you know people look online to research and understand, Google Ads are a good option. You can use these to be the first thing your audience sees when they search for a specific topic. The goal? Sharing your content so that you are the first person they think of when it comes to that topic.
Whether you're using Display Ads or targeting a keyword in Search that has low buying intent, these ads will typically be much cheaper than a product or service advertisement would be.
Don't Forget: Your Website
Finally, in the midst of it all, there's your website, whether that's your personal thought leadership website or your company website. Your web presence is the central hub for all of this content, and where your target audience will likely land.
If your website isn't a great experience and doesn't display your point of view and expertise, you're missing the mark. Wow them with your website—with the design, content, and information. It doesn't need to be extensive, but it does need to create a great experience for the people who visit it.
The Bonus Power-Up: Video
We didn't give video its own category above, because we like to consider it a secret sauce you can pour on almost any tactic to give it an extra boost. Here's a quick list of ideas:
Include videos in your blog posts to help it connect with people who prefer to watch rather than read

Add videos to your social content to help break through the noise

Make quick promotional videos to help you leverage speaking engagements

Use video in your social media ads for an almost surefire way to outperform ads from the competition

To create a great experience for your website visitors, use videos to provide them with different options for consuming your content
An active YouTube channel is a great way to build the foundation for this. For instance, we created the HubSpot Hacks YouTube channel to help HubSpot users get more out of the platform. Since we offer HubSpot onboarding and consulting on top of producing content for clients, this channel allows us to put relevant video content in any channel we need to, and provides potential customers with an easy way to understand how much we can help them with HubSpot.
If you're not quite sure how to add video into your marketing strategy, this guide is a good place to start.
Overwhelmed yet? It's okay! You don't have to do all of these. Pick two or three to get started. Then invest in creating a plan just like you would for a marketing campaign and do those few tactics really well. Start building and you'll be on your way.