In a world of nearly constant emails, social media posts, and marketing messages, the idea of a conversation is often lost.
Conversations have been the key to closing sales for as long as sales has been around. There's just no substitute for talking directly to a potential customer about their needs and how you can help them.
If you want to appeal to customers, then you need to ensure that conversations are a part of your inbound marketing strategy. Luckily, smarter connections that are based on meaningful conversations and real-time insights are now easier thanks to HubSpot Live Chat.
What Is The HubSpot Live Chat Tool?
HubSpot Live Chat is a tool available to all HubSpot customers (including those using the free CRM), that allows you to have real time conversations with your website visitors. What sets HubSpot apart from other live chat tools is that it records your conversations directly in your HubSpot CRM, and makes it a cinch to create leads from visitors who want to chat.
How To Set-up HubSpot Live Chat
To set up a HubSpot chatflow, follow these steps:
Inside HubSpot, click the Conversations dropdown in the top menu, then click Chatflows.
In the upper right, click the orange Create chatflow button.
Click the Website Button.
Select Welcome visitors, then click Next in the bottom right.
Click the pencil icon at the top of the page to name your chatflow.
You are now in the Build tab, where you can do the following:

Select the user(s) or team(s) that will appear in the chat box heading.
Customize your welcome message.
Automatically assign visitors (only available to paid Sales Hub users).
Select if and/or when users will be asked for their email address.
Select your display options.

Click the Who tab in the menu on the left.
Select who you would like the chat box to appear for.
Click the When tab in the menu on the left.
Identify for which pages or URL query parameters you'd like to show or hide the chat option. You can leave this section alone if you'd like people to be able to chat with you on any webpage on your site.
Click the Options tab in the menu on the left.
Select your preferred language.
Select your data privacy and consent options.
Click the toggle switch in the upper right to turn on your chatflow.
Once your chatflow is on, it will automatically be added to your website if your site is hosted on HubSpot's CMS or if you have the HubSpot tracking code installed on your site. To add HubSpot live chat on WordPress, you can either install the HubSpot plugin or manually add the tracking code if you haven't already done so.
Top 4 HubSpot Live Chat Tool Benefits
You already know that HubSpot offers a wide variety of tools that can help you to achieve your business goals. However, what you might not know is just how beneficial the HubSpot Live Chat tool can be for your business.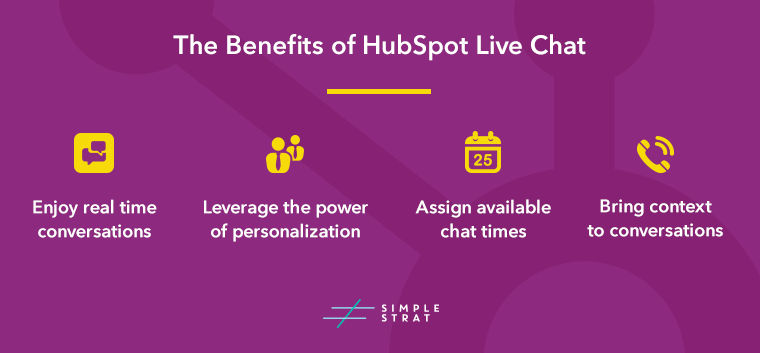 Enjoy real time conversations.
We communicate via text, social media accounts, and email throughout the day. Live chat offers an improved way to naturally interface with your potential and existing customers. The HubSpot tool offers an innovative solution that can help to connect visitors with the right sales associate or support team member. The chats can even be customized to create a memorable brand experience that supports your unique story. Finally, with the targeting options available, you can maximize your team's efforts by ensuring that they are chatting with interested site visitors and not "passerbys" who are simply browsing for information and not ready to embark on a one-to-one conversation.
Leverage the power of personalization.
The key to customer communications lies in personalization. However, the never-ending efforts to create a personalized experience can inevitably lead to sales team burnout. The good news is that the HubSpot chat box provides the assistance that the sales team needs to implement lead scoring, book meetings, and answer inquiries. Now you can enjoy seamless personalization without sales team burnout.
Assign available chat times.
It's no secret that a sales team cannot feasibly work 24/7. Unfortunately, the average customer expects a brand to be on-call 24/7/365. That demand, coupled with the belief that, "the customer is always right," has caused many brands to flounder when it comes to one-to-one messages. In fact, an estimated 21 percent of all live chat support requests are never answered. Avoid this frustrations and set available chat times so that your site visitors know when a sales associate is around to answer their unique questions. You can also use the HubSpot chatbot for those after-hour inquiries. Together, the two entities create a seamless experience that enhances communications with prospects and customers.
Bring context to conversations.
No one wants to explain their situation over and over again. The good news is that the new chat tool is seamlessly integrated with the HubSpot CRM so that anyone on your sales team will have the insights and context that they need to continue the conversation. You can also add notes to the conversation, such as "send follow-up email," or "update support ticket." No matter what you need to achieve to keep your customers happy, the chat tool delivers the real-time insights that your team needs to thrive by connecting inboxes.
The Bottom Line: The HubSpot Live Chat Tool Brings Improved Communications
In conclusion, the HubSpot Live Chat tool offers an innovative solution to the communication woes that many customers face. Brands can avoid sales team burnout while simultaneously providing the personalization and one-to-one messages that customers want to have on a 24/7 basis. Finally, the new chat tool works seamlessly with other HubSpot solutions to ensure that your sales team has real-time insights and the context needed to build meaningful relationships.