These days, most of us understand the power of video in marketing and sales. But harnessing that power is a whole other story.
But those of us that use HubSpot are in luck. HubSpot has a tool to help integrate video into every part of the customer journey and make the most of this powerful medium.
How does HubSpot video work?
HubSpot video is a native integration that's automatically included for pro and enterprise users of HubSpot. It allows you to use video through each of HubSpot's "hubs" – marketing, sales, and service – for use at every stage in the marketing lifecycle.
HubSpot partnered with Vidyard to power this integration to include video in a wide variety of HubSpot features. You can easily embed videos into webpages, landing pages, blog posts, social media channels, and support articles. This integrates your video data with HubSpot reporting so that you can track the impact your videos are making across your marketing efforts.
With the included integration, you can host up to 250 video files within your HubSpot file manager. That makes it quick and easy to add them where you want them with the click of a button.
What can HubSpot video do?
So how do you use these HubSpot video capabilities across your sales, marketing, and service teams?
Add video to webpages, landing pages, blog posts, and support articles
Adding video to your website pages can provide additional context for website visitors. 78% of people watch online videos every week, and 55% view online videos every day. By adding that additional context, you can reach your customers in the way they prefer, whether through written or visual content.
To add videos to your webpages, landing pages, blog posts, and support articles in HubSpot, click the video icon in the rich text toolbar or click the "Insert" dropdown and select as you create your content (you'll be prompted to enable the HubSpot video integration if you haven't already). From there you can upload the video you want to add or select it from the file manager.

Create forms and CTAs within videos
One of the best things about HubSpot video is the ability to add forms or CTAs into your videos. Why shouldn't your videos help generate leads? This also makes your videos actionable and creates a better experience for viewers, who can easily request more information or take action.
To add forms or CTAs:
Click the video in your content editor and click Edit.
Select Call-to-action or Form and add new or existing CTAs and forms.
Choose a display time to show the content before the video starts or after it finishes.
Note: Forms can be used across multiple videos. But individual CTAs must be created for each video.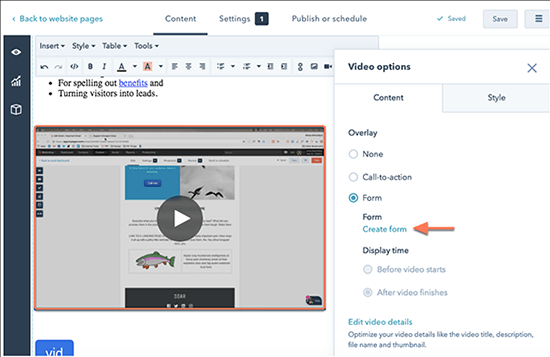 By adding forms and CTAs to your video, you can make video part of your overall marketing strategy. Use those actions as triggers for additional content like a sales follow up or email nurturing.
One-on-one video conversations
You can also create a personalized sales and service experience by adding video into your outreach and support interactions. Whether you want to explain a product or service to a customer or help them resolve an issue, video can be a powerful and engaging component to add to your emails.
With HubSpot video, you can record a message or show your screen to relay information to a prospect or customer. All you need to do is press the video icon at the bottom of the email window to get started. This added personalization goes a long way to build a relationship and impress your recipient.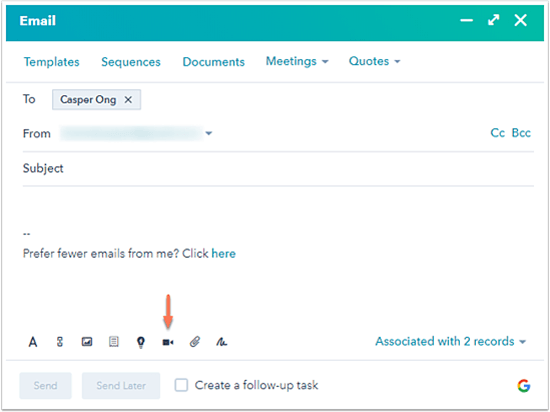 Track video engagement
The HubSpot + Vidyard integration allows you to view metrics on your videos to see how engaged viewers are with your content. This data breaks down into two categories:
Video views: the number of times your video was loaded.
Video retention: the views at a specific moment as a percentage of total views. This helps you see where viewers stop watching and see how many people made it all the way to the end.
To find this data, navigate to the reporting for landing page or blog post where your video is embedded. You'll see the data for both video views and retention in the analytics for the specific page or post. Use this data to refresh your video content, make necessary edits, and track overall effectiveness!
How do you use video in your marketing?
A video tool without an effective video strategy is a waste! Whether you're just getting started with video in your marketing or you're a seasoned pro, here are a few ways you can use video to power your marketing.
Create helpful content for customers and prospects.
Video is a great way to communicate—and it really resonates with people, with 59% of executives saying they would rather watch a video than read text! So to create an amazing experience for your customers and prospects, invest in creating videos that are helpful and informative.
Optimize for high volume keywords.
Use video to rank for competitive keywords on Google. You might have a lot of competition for blogs and web pages on a specific keyword. That's where video comes in. Optimize your video for the keyword and you might be able to rank for suggested video content on the topic to bypass all that written content and get featured high up on the first page of search results.
Promote and reuse your video.
Good video content is an investment. Don't fall into the easy trap of creating a video, promoting it once, and then forgetting about it. Instead create a strategy to continually promote and reuse your video content. Add it into your marketing workflows, sales sequences, and/or social media strategy to keep it front and center for your target audience.
------
Video marketing isn't going anywhere anytime soon. So take advantage of this medium to boost your sales and your marketing efforts. It's even easier with the help of HubSpot video. How have you used video to engage with your target audience? Let us know in the comments below.