In the wake of the global pandemic everywhere, people are no longer going into the office to work.
Just ask Google Trends.
Google Search Trends Results for "Working From Home"

The World Health Organization (WHO) declared the novel coronavirus a global pandemic on March 11, recommending fundamental health interventions like social distancing and self-isolation. That week we saw an unprecedented spike in search queries for "working from home," and related queries like "coronavirus working from home" and "working from home corona."
But we aren't just changing where we work, we're changing how we work.
Because of this, people are now – more than ever – in search of tools to help them connect.
They need new solutions to new problems.
They need HELP to get their jobs done!
SaaS companies have a unique opportunity to fill this void with online, mobile, collaborative, and scalable cloud-based systems. Think Zoom, Google Hangouts, Slack, Basecamp, and others.
In fact, many are preparing for this increased demand by scaling services, changing packaging, and just generally responding on the fly to the ever-changing situation.


SaaS marketers must adapt – and they are!
Right now, the most intuitive and ingenious SaaS marketers are cranking out content that positions their products and services as helpful solutions to the problems people are now facing.
Content marketing remains the place for companies to win, to connect, and to gain trust. But it's not all business as usual.
Content is going to be cranked out like crazy over the next several months. What that means is an increasing opportunity to be part of the conversation – but it also brings the challenges of breaking through the clutter.
Effective content marketing during the COVID-19 crisis still carries the same qualities it did before – empathy, a unique point of view, and extreme value.
But having the right message is KEY.
The Key to Producing Valuable Content Marketing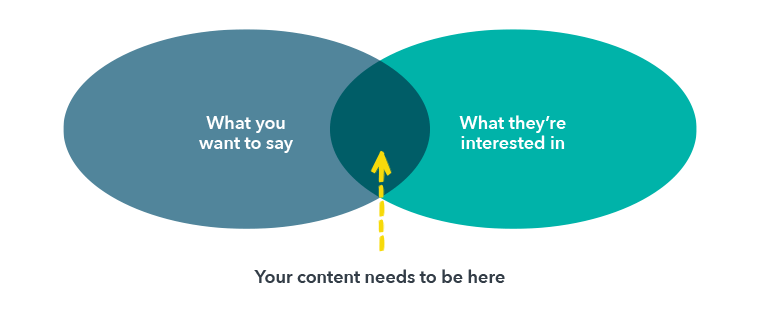 Here are a few examples of SaaS marketers that clearly get this (and why).
Example #1: Be transparent
When it comes to sharing content during COVID-19, it definitely shouldn't be all doom and gloom. But on the flip side, it doesn't have to be all happy-go-lucky either.
In fact, being transparent is good for building trust.
Share your experience openly – even if you choose to carry on as if nothing has changed. Acknowledging that your company isn't immune to the pandemic helps you come across as genuine and authentic to your audience.

This LinkedIn example from John Bonini, Director of Marketing at Databox, a business analytics platform, does a nice job of providing perspective along with actionable advice for this situation.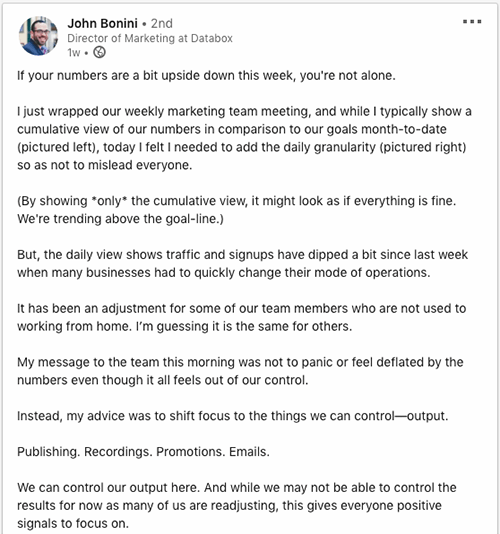 In the same sense, this post from Jeremy Donovan, SVP Sales Strategy and Sales Operations at SalesLoft, a sales engagement platform, demonstrates a straightforward way to help people understand any changes they might be seeing in their usual performance with his company's solutions.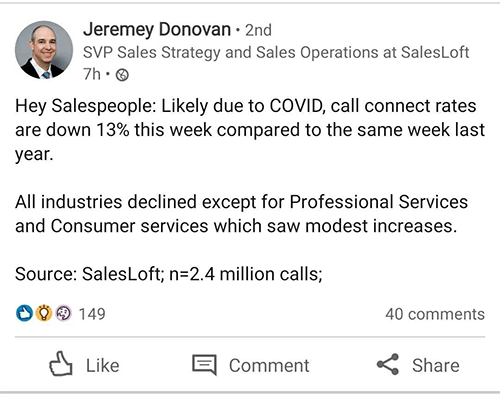 It opens the possibility for a two-way conversation (See example #2).
Example #2: Be available
We mentioned the necessity and value that comes with opening up dialogue in our current environment. Whether you aim to answer questions, dispel rumors, or help keep your customer's heads focused, here is a great way to do that.
The HOTH, which offers search engine optimizations services to companies, invited its customers to a virtual happy hour with the sole purpose of discussing the impact of COVID-19 in a laid-back, conversational format.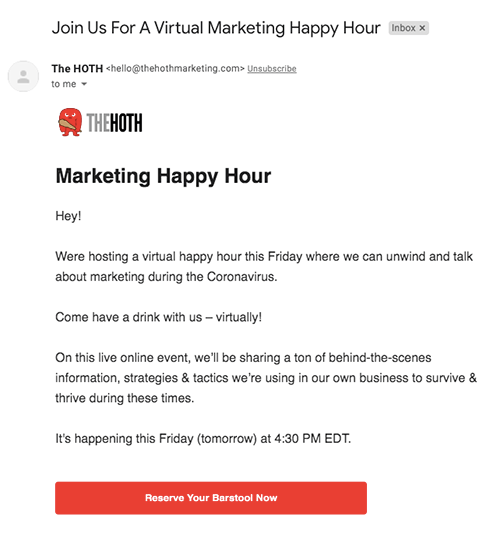 Example #3: Take it online
Just two days after WHO announced the global pandemic, Forbes Magazine posted this tweet about the increase in downloads for Zoom, a virtual meeting platform.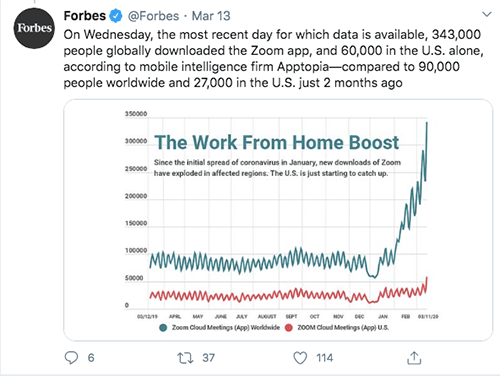 This is a testament to how people are just trying to figure out how to conduct business without the luxury of face-to-face meetings.
SaaStr, a community of SaaS executives, founders, and entrepreneurs that puts on several worldwide events each year, is taking advantage of the online approach. Channeling the momentum and thought leadership status they have in the SaaS community, they have created an ongoing series. Check out Bridging the Gap, a commentary on the current state of venture capital for cloud-based startups.
Example #4: Create something new
Unprecedented times call for unprecedented solutions. Right? We've seen a few of these kinds of approaches where companies create something entirely new to tackle the new problems our world is facing.
In this example, GitHub, the world's leading software development platform, partnered with a number of different organizations to create an online community of programmers and technical experts that centers on the goals of improving health, refining remote working, and helping vulnerable populations.
Hack</Quarantine> has given participants several ways to get involved and get working on new solutions to help solve the problems the world is facing as a result of the COVID-19 pandemic.
Hack </Quarantine> Participation Tracks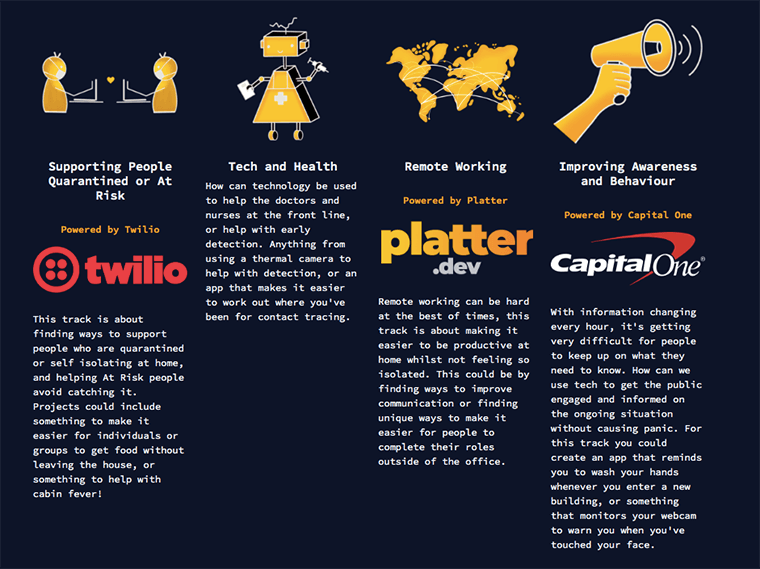 Example #5: Showcase your platform's power
Another way to use content to promote your product or service is to actually use it — and the proprietary data you collect — to provide insight amongst the crisis.
In this example, SimilarWeb, which provides web analytics services, used its software to create this white paper report on the impact of COVID-19 on consumer behavior across the world.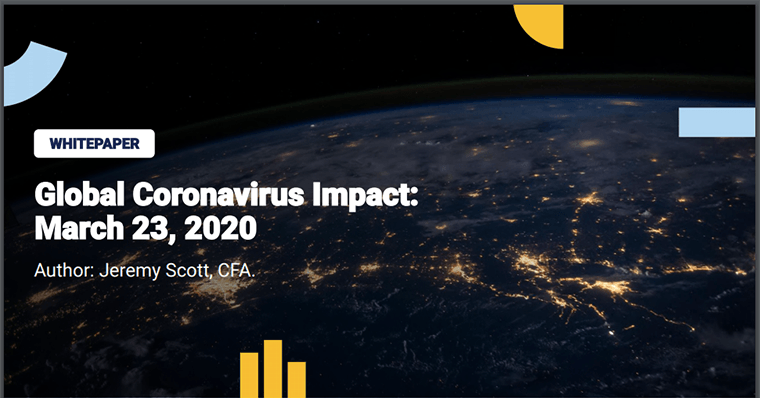 Example #6: Offer free services
One of the most well-known tactics for SaaS marketers is offering free trials and freemium versions of their software. Historically, this approach has worked well from an acquisition standpoint.
Today, it has a bit more of a humanitarian feel but it is still a great way to show the world the benefits of your company.
Here is an example from Bleeping Computer featuring a list of companies that offer free software services and subscriptions during the Coronavirus Outbreak.
This movement has been particularly impactful in the educational space – with many schools relying on remote learning to continue to educate their students. Here's a great example from loom, which offers screen recording capabilities to its users. With little hesitation, they cut prices, removed recording limits, and offered their product free to educators.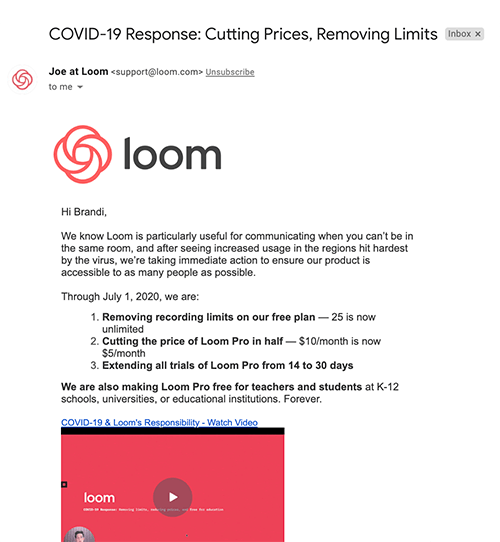 Example #7: Repurpose existing content and knowledge for its value
One of the most traditional content-creation approaches is to repurpose existing content to make it pertinent in a new context.
Demio, a webinar service, used this strategy when it pulled together relevant insights from previous content and edited it together in this podcast to be super valuable in today's context.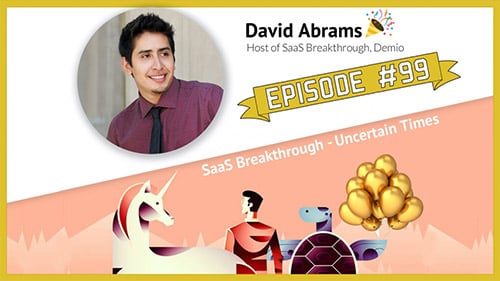 Similarly, Rand Fishkin the CMO of Sparktoro, talks about what he knows from his experience building audiences for companies in this blog about the difficulties of marketing in the wake of COVID-19.
Example #8: Just talk about it
BrightTalk, which provides professional webinar hosting for a variety of industries, already had a strong virtual event schedule, but they took this opportunity to revamp their existing content calendar to address the biggest questions their customers were facing.
At the time this article was written, their Twitter feed was full of invitations to upcoming online events and chatter about people hosting them from home. Here are a couple of posts from their Flip the Switch series – a direct response to the current coronavirus situation.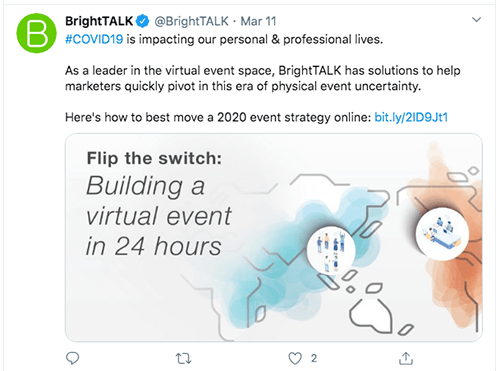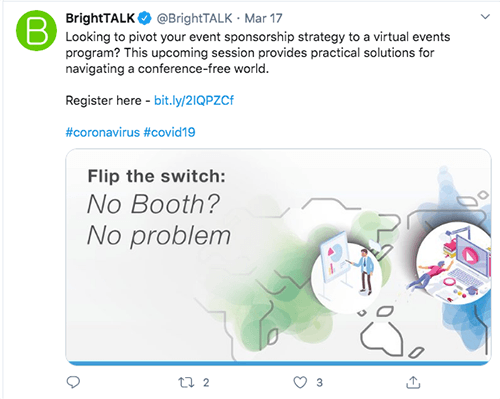 What should you do?
Whatever you do, it should be focused on creating, maintaining, and progressing these new relationships — not converting them. For example, if you're planning something, let your audience sign up to receive a notification for when it will be ready and offer special pricing or other perks to anyone who does.
Here are a few guidelines we recommend:
The Dos & the Don'ts of COVID-19 Marketing
Do communicate openly and clearly about changes and your plans for the future
Do strike a balance in the content you create with what your audience wants
Do use a helpful tone that inspires action and eases tensions


Don't talk about travel and in-person events
Don't make insensitive jokes or comments
Don't make COVID-19 the central component of everything you publish
Getting it right
As marketers, we only really need to understand two things: How COVID-19 has affected buyer behaviors and the importance of being sensitive to the situation.
Getting it right is critical. The stakes are high, but content marketing is capable of big things. It can help your prospects discover your solutions and make their lives easier.
Have you seen any examples of companies who have gotten their COVID-19 content right (or wrong)?
Need help using content to react and thrive?
Book a free consultation with a content strategist to talk strategy or how we can help your team create more high-quality content.