How many times have you heard someone complain about not being able to talk to a person when they call their cell phone company or how long they waited to hear back from a customer service email? We all know that consumers today are looking for open, fast, and personalized communication with the companies they do business with.
In a perfect world, we'd all be able to get ahold of any company right when we need to, even if that's at 2 AM on a weekend. But as marketers and business owners, how are we supposed to give that to our customers? It's not like we can all afford to staff huge, 24/7 call centers.
Well, Facebook is trying to help us solve that problem with Messenger bots. Today we're going to talk about what they are, what you can use them for, and how you can make one without spending a bunch of money or learning how to code. If you have a good understanding of what Messenger bots are, feel free to jump down to the last section.

What is a Facebook Messenger bot?
Put simply, Messenger bots were introduced to allow companies to automate conversations with people through the Facebook Messenger platform (on the Messenger mobile app or through Messenger within Facebook on a desktop or laptop computer). After they were first announced in the spring of 2016, there was a lot of hype.
People were throwing around terms like AI, machine learning, and natural language processing. Many believed that Messenger bots would be able to nearly replace humans in the conversation. All a person would have to do is ask a company a question in Facebook Messenger, and the bot could respond and continue the conversation. But the truth is that the technology isn't quite ready for that yet.
So, most bots will provide clickable options for people to choose from, and then provide a response. For example, when you begin a chat with the travel company, KAYAK, they prompt you to choose from a list of options that include, "find flights," "find hotels," "and "find things to do." Selecting one of those options may take you to the appropriate place on their website or begin a guided dialog with the bot in Messenger.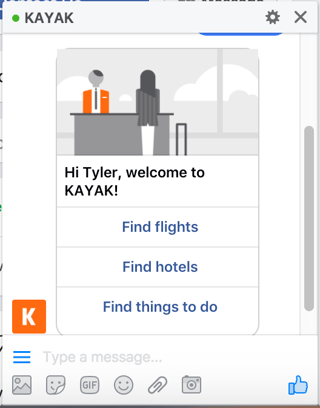 What can Facebook Messenger bots be used for?
Facebook chatbots can be designed to do a wide variety of things. Developers can design Messenger bots to do nearly anything a mobile app can do, but complex chatbots can be expensive and time consuming to create. So, for the purposes of this post, we're going to focus on some of the most common ways businesses can use Facebook Messenger bots.
Ecommerce
One of the most exciting things you can do with a Messenger bot is sell products. It opens up a whole new way for customers to buy from you and it's pushing the boundaries of traditional ecommerce. Everyone says that younger generations want streamlined, personalized, and mobile-friendly shopping experiences, so Facebook is delivering just that.
In the two examples below, 1-800-Flowers and Burberry take different approaches to selling products through Facebook Messenger. 1-800-Flowers makes it easy to browse product categories until you find the perfect product, while Burberry delivers a personalized experience that drives you towards a specific new line of products.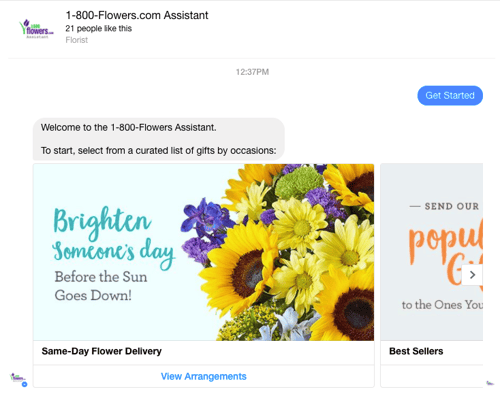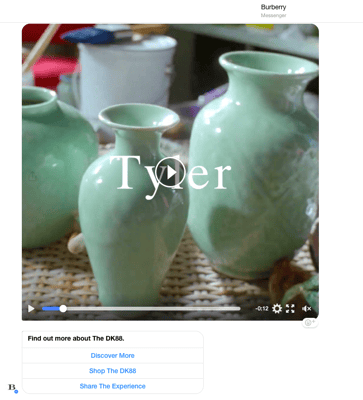 Answering Inquiries
Answering common questions from customers or prospects is perhaps the easiest thing to do with a Messenger bot, but don't underestimate its value. It can save your employees a ton of time while quickly giving people the information they want. The best way to do this is to focus on the questions you get asked most often. If a lot of people ask about the services you provide, you might add a "View Services" option to your chatbot.
Content Delivery
Another way to engage with prospective customers is to help them find content that might be useful to them, even if it's not directly related to your products or services. If you run a regular blog, for example, you could use your chatbot to direct people to a post they might be interested in.
One great example of a brand using their bot to deliver helpful content is Whole Foods. Inside of Messenger, you can use their bot to find new recipes. Once you find one you like and click on it, you're taken to that recipe on Whole Foods' website. This is a great way for them to drive traffic to their site without just relying on in-your-face advertising.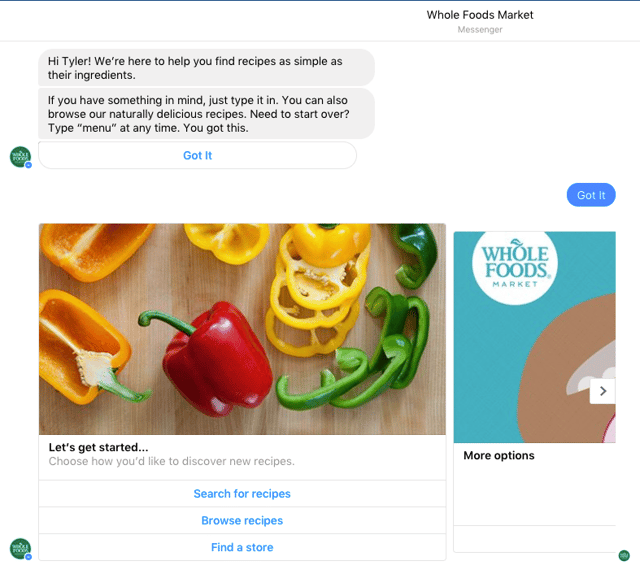 Customer Service
Similar to answering inquiries, you can use Messenger bots to help with customer service. You could have a guided conversation with your customer to direct them to a help article on your website, or even answer simple questions right inside Messenger. Be careful though, you'll always want to give people the option to talk to a real person.
Quizzes and Mini Games
If you've ever played one of those text-based, choose-your-own-adventure game, you'll feel right at home with any games built in Facebook Messenger. But just because they're simple, doesn't mean they can't be fun. If your brand is known for being casual and fun, or if you just want a low-risk project to get your hands dirty with Messenger bots, you might think about creating a simple game. If you want an example, check out the Sequel Stories Facebook Page and start messaging them.
So how do you make a Facebook Messenger bot?
Best Practices
Forbes contributor Vivian Rosenthal wrote a great post about 10 best practices for building a chatbot. They are:
Determine your use case (like one of the ones we mentioned above).
Start small. If you want to start really small just to get your feet wet, check out our post on Facebook instant replies.
Define your audience (a great tip before starting any marketing endeavor).
Decide whether to use guided responses or let users type things in (we recommend starting out with guided responses).
Establish a voice for your bot. Give your bot human qualities but don't try to trick people into thinking it is a human.
Determine the number and frequency of messages your bot will send during a conversation.
Decide what data you'll be tracking before you start.
Figure out your marketing plan. How will you be telling people that you have a Messenger bot now?
Establish goals and create a funnel. Where do you want your bot to guide users to?
Don't put off thinking about getting into the chatbot space. Your competitors might not be so hesitant.
Tools
Building a Messenger bot can be expensive and complex. But luckily, several software companies have made it easier for the average marketer to get started. The tools listed below will allow you to create a chatbot without code. While all of these tools offer free plans or free trials, they also have paid versions for more complex chatbots or bots that will get used more often.
Chatfuel
Chatfuel is a super popular and highly reviewed platform for making Facebook bots. They're trusted by some big brands like Adidas, MTV, and Buzzfeed. Best of all, it's free to use for up to 500,000 active monthly users, so the average small business should have no problem fitting it into their budget.
Botsify
Botsify is another popular bot-making platform. It will allow you to create one bot for free with up to 100 unique users. Pricing for the next levels up are also very reasonable ($10-$50/month). One advantage of Botsify is that it can easily integrate with your website, giving your customers another place to find and interact with your bot.
It's Alive
It's Alive is a bot maker that focuses solely on bot conversations that require people to click on their response to the bot (the method we recommend for companies just getting started with chatbots). It's free at the time of writing but it does sound like they'll be adding paid plans in the near future with a free plan that includes up to a so-far-unspecified amount of messages per month. Reviewers have mentioned that It's Alive is easy to use and allows you to get a bot up quickly while still including some advanced features.
Converse AI
Converse AI is the most advanced platform on this list. It allows for more complicated tasks such as processing ecommerce directly inside Messenger. You should expect a bigger learning curve and pricier options with Converse AI, but it will still be much easier than developing a bot from scratch and they do have a free trial so you can test it out before you buy.
Conclusion
While we're still a ways away from giving our leads and customers instant personalized responses for everything they might need, Facebook Messenger bots give us the opportunity to take a strong step in that direction. Whether you want to create a simple game or sell products right inside Messenger, remember to start simple and develop a strategy first. Then sign up with one of the free tools we listed and jump in. You might be surprised how quickly you can get a bot up for your brand. Once it's up, drop a link in the comments so we can check it out!