As we talk with business owners and executives across different industries, one thing is true of them all: they want measurable results, and they want them now. They also want to know where their marketing dollars go—and to see that investment drive results for their business.
One marketing strategy speaks to this desire: performance marketing.
As a marketing agency that uses performance marketing with most of our clients, we're big fans of the clarity and direct results it offers. We've seen great results ourselves! But we've also seen how focusing on performance marketing alone can cause companies to struggle in other important areas.
Let's take a look at the benefits and challenges of performance marketing and how including it as a part of a broader strategy is better than making it your only strategy.
What is Performance Marketing?
Performance marketing is the easiest way to tie marketing costs directly to results. Simply put, you pay only when the desired action takes place.
The "desired action" can take a number of forms:
Pay per sale

Pay per lead

Pay per click

Any other metric that's important to you!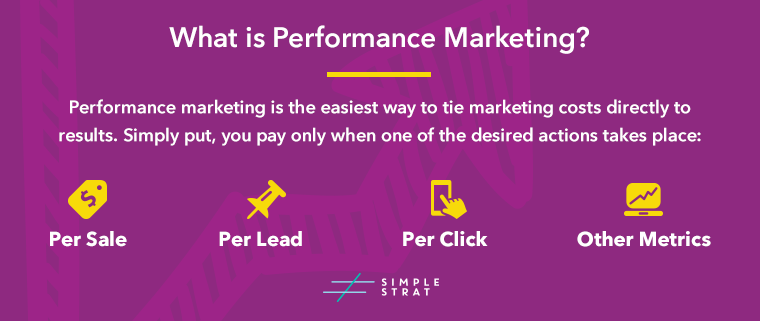 Because money only changes hands when the desired result occurs, it's easier to know where all the money goes and track your ROI. As such, it can be a good alternative to traditional advertising where money is invested without any assurance of a return.
But, like a lot of things in marketing, it's not black or white. Performance marketing has some great characteristics that can be used to really move the needle. It poses some challenges, too, that might cause a company to overlook extremely important areas of their marketing.
What's Great about Performance Marketing?
Because it's focused on driving results, performance marketing is able to create a win-win for everyone involved. Companies get to drive the results they want, and marketers get to show the undeniable value that they bring to the table! Plus there are some lessons we can all learn from performance marketing that apply to every tactic we use.
It's tied to business goals.
Performance marketing is results-driven, which makes it easier to see the connection between marketing efforts and company goals. If increasing conversions or leads is the goal, you'll be able to see the correlation between marketing tactics and those metrics.
It focuses on the data.
Metrics matter no matter what type of marketing you use. But since metrics drive payment in performance marketing, data is constantly reviewed and referenced, often to an extent that would be helpful in other forms of marketing. But that can quickly get put on the back burner with other marketing strategies.
Is Performance Marketing Enough?
Results are a good thing.
Sales are critical.
But being focused solely on short-term results and "payback" can keep an organization from realizing long-term benefits that come through other strategies.
Performance marketing backed by a foundational inbound strategy can be the perfect combination.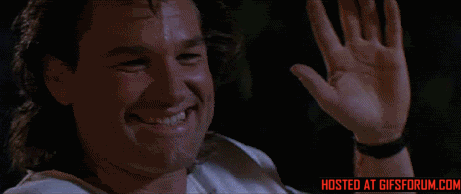 Performance marketing is like a faucet. Turn it on (by putting money into it) and you'll see results. But turn it off, and the results stop.
In comparison, an inbound strategy is a bit like a well. Once you put in the effort to dig it out, it keeps giving you the water you need. This means a foundation that includes a compelling website, SEO-backed blogs to help educate, content offers to help convert, and social media to show a consistent brand and voice.
While some tactics won't have an immediate impact on your ROI, they do make a difference in the long-term success of your marketing.
So instead of picking and choosing performance marketing tactics, support your efforts with a focused strategy. From there, you can work to find the perfect mix of tactics that support your business goals.
For an eCommerce company, search engine marketing (Google shopping ads, for example) might be a highly effective tactic to get your products in front of your target audience. But what is their experience once they find their way to your website? Do they have the information that they need to complete their purchase?
Or if you are a B2B company using PPC ads on LinkedIn, you might miss even greater results by not having an optimized landing page or a nurturing sequence to move contacts through the funnel.
Seeing performance marketing in light of your overall strategy and the entire buyer's journey can help you add the foundational pieces, strategy, and processes that will add to the impact of your tactics.
--------
Ultimately there isn't a one-size-fits-all or completely perfect marketing strategy and we need to be careful not to fall into extremes. Performance marketing isn't the answer to every marketing problem, but it can be a great tactic to use in conjunction with a good marketing foundation.
How have you used performance marketing to boost your marketing?