TBD. Rescheduled. Postponed. Canceled. Eliminated. Demolished?!?!
Whatever you want to call it, our plans to connect have been changed. With health directives calling for increased distancing and governmental recommendations changing every day, marketers are turning to online events.
It's no surprise. They're a legitimate way to deliver value and unite with your customers.
But, tell us, just how many "…but you can still join our webinar" invitations have you received over the last 30 days? Plenty, no doubt. And we bet they've really lost their appeal.
Right now, digital connection is where it's at! But… We're here to tell you that you'll need to think well beyond the traditional webinar to be successful moving forward.
Here are a few fresh ways to connect online:
Send stand-out emails

1. Create a miniature educational course
An educational email series is a progression of planned emails with valuable bite-size pieces of information that combine to teach a new skill or idea. Try connecting with your readers by breaking up a popular blog post, case study, or training information and delivering the content in a sequence that builds and ends with a strong call to action.

2. Send a quiz or questionnaire
Polling your customers or prospects is a relatively simple undertaking. To do it by email, build your questionnaire in a program like Survey Monkey, then send it using your regular email client. Surveys are a great way to connect because they help you learn about your customer's interests and issues, how they like your solutions, and can help you validate your existing knowledge.

PRO TIP: You cannot actually embed an entire quiz in the emails you send, but you can spark interest by including the first question. Once the recipients click an answer they can continue your quiz on a website like in this example from SurveyMonkey.
Get into video


3. Transform Existing Content
Every marketer knows that video demands attention. If you haven't already, try your hand at providing valuable content in this format. If you lack the resources for a professional team, we recommend looking into easy-to-use editors — like Lumen5 and Animoto — that allow you to drag and drop media to create something eye-catching.

Like this:
4. Create a Tutorial Series
Do your customers struggle to understand the full value of your products or services? Are there techniques or approaches that just can't be taught via written content?
Do your customers a favor and create a tutorial series to help them learn.
If your products are simple and straight forward and that kind of content for your own products doesn't make sense, we recommend offering up your expertise instead. Our team, for example, has created a YouTube channel called HubSpot Hacks where we post tips and tricks for using HubSpot.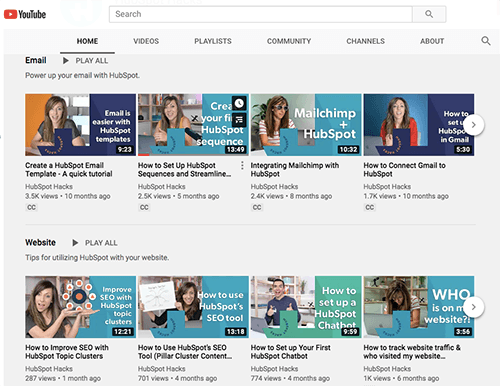 5. GoLive
Establishing yourself as a thought leader can add a lot of value to your company. Take a page from the experts and talk about what you know online. Hosting a live show like this one from Ann Handley and Marcus Sheridan on LinkedIn is a great way to stay connected with your peers and customers and also get a sense of the biggest challenges facing your industry.
6. Create personalized 1:1 videos
Video selling is your secret stand-out-from-the-crowd weapon. Nothing says "I value you" like sending a hot prospect a personalized video that walks them through how your solutions can help them solve their biggest problems.
You can use these videos both to get in the door and to close the deal. Check out these platforms for creating yours: loom, Vidyard, and Storyteq.
Not sure what a 1:1 video is exactly? Here's a great example:
Source: https://www.vidyard.com/blog/personalized-video/
Make your website more interactive
7. Add Live Chat
Adding a personalized touch to your website can help keep people on it longer. Try adding live chat support to help your customers solve their problems and get their questions answered in real-time. If your website is built with HubSpot, check out their built-in options; if not, Zendesk offers a widget that is compatible with many websites.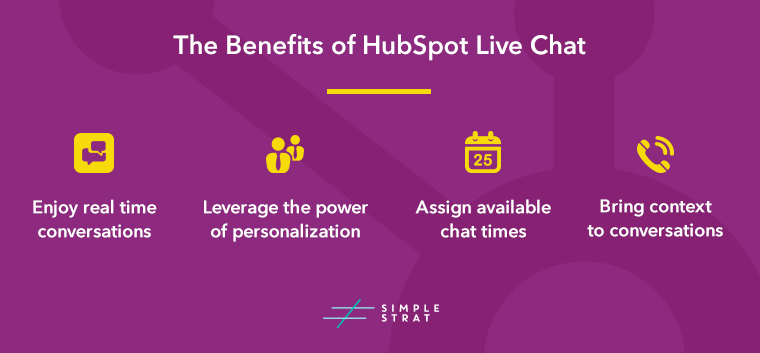 8. Start a Blog
Starting a blog — a basic content marketing move — can help you create long-lasting connections with your prospects and customers. If you do it right and publish content that hits the sweet spot, your target audience will come to you first for answers to their biggest questions.


The Blog Content Sweet Spot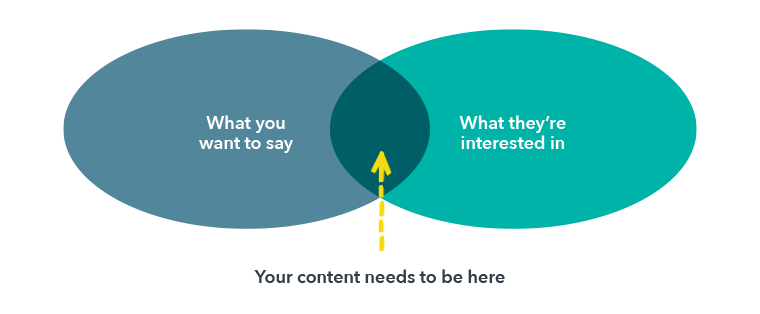 Before getting started, take the time to research relevant keywords for your audience and create content that uses them strategically to drive search traffic to your website. Try this resource from the Content Marketing Institute to help you get yours off the ground.

Create communities and followings in a unique way

9. Host a Twitter Chat
In today's world, having a twitter conversation is very commonplace. Many happen organically, but brands have started taking advantage of this impactful brand-to-customer interaction and planning them. These thought leaders are using twitter chats to generate buzz, grow a following, and build communities around their products and services. Check out this example from Mordy Oberstein, CMO of Rank Ranger.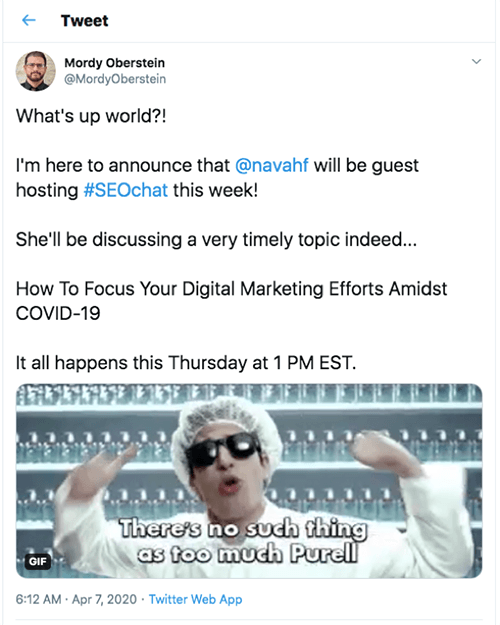 10. Try new channels
There are so many places for people to congregate and build connections today. Sometimes it seems new platforms just pop up and take flight overnight. You don't have to be on the cusp of everything new, but we do recommend trying new ways to reach your audience.
Where you post depends on what you think your prospects would like. Perhaps they'd get a kick out of sing-songy messages on TikTok. Or maybe they hang in a space that's more tailored like Dribble, a show-and-tell network for designers. If you don't like your options, you could create a community of your own by inviting your customers and prospects, for example, to a private slack channel.

Source: https://onlinegeniuses.com/how-to-use-our-slack-community/
11. Let someone do a 'takeover'
If you think your social media accounts have gone stale, it's time for a takeover! Giving an influencer, expert, or another professional from your company posting privileges on one of your existing social media networks can inject new flavor into your brand and get people to pay attention. Set a few rules, but ultimately let your influencer showcase their creativity and entertain and inspire your followers.
12. Produce a podcast
The popularity of podcasts — another way to build a loyal audience and (Bonus!) improve your search engine ranking — continues to grow. They're easy to access and can be a way for people on the go to consume your content. When planning yours, we recommend keeping it focused on your specific expertise, inviting guests that are experts in your target market, and most importantly — having fun.
Say Goodbye to Traditional Webinars
If you're still interested in using your video conferencing tools but want to break away from a traditional webinar feel, try positioning your webinar as a panel discussion or exclusive Q&A event. These spins will give your event a personalized vibe. Or, if you're really feeling frisky, try hosting a virtual happy hour.
Our best piece of advice is to get creative. Maybe try more than one of these ideas together for maximum impact: Host a Q&A webinar your record for your podcast and follow up with a Twitter chat. Then turn the most-asked questions into an infographic to share.
Whatever you do, be consistent and communicate to connect.
Need help using content marketing to thrive in times of uncertainty?
Book a free consultation with a content strategist to talk strategy or how we can help your team generate better results from your B2B content marketing efforts.