Whether you like it or not, the COVID-19 fallout will be with us for a while. So much so that even when the curve begins to drop, we will still be seeing the effects of the virus in our company's day-to-day operations.
All this to say, you can't just ignore what is happening here and now. Why?
First, you don't want to appear like you're not paying attention. Or worse — you don't want people to think that you're taking advantage of the situation by not changing your tune.
Because of this, many companies have had knee-jerk reactions, stopping their content marketing completely. Sure, the crisis at hand may be out of your control, but how you respond is not. Whatever you do, do not stop communicating.
Now is not the time to stop your content marketing program. But it IS the time to shift HOW you're doing content marketing during the crisis.

Content marketing right now requires specific actions and the right mindset. We must be empathetic and helpful with consistent content production, while boosting the loyalty of the brand, overall trust in people, and the knowing that you'll be there when this all blows over.
Let's walk through these six actions that will guide your company in doing content marketing during the coronavirus.
Start by responding immediately.
We're past the beginning stages of this situation, so you may be already responding to employee needs, customer questions, operations challenges, etc. For content marketing, the response here (if you haven't done it already) is to pause any marketing that may no longer be relevant.
However, don't leave your audience wondering. You will want to restart your communications with relevant and valuable content that reassures your audience of your plans.
The best thing you can do is to be open and transparent with your position and current plan.
Once you have done that, you can move onto things that will have a longer-term impact and allow you to ease back into a regular, value-delivering schedule.
No matter what, your first priority should be to ensure everyone's safety — both your team's and your customers'. Make sure you have a plan for what is best right now and pledge to address both internal and external issues as they arise.
To do so, you must shift your strategy.
Review your marketing and content strategy.

Your carefully planned marketing strategy that worked during the regular, business-as-usual times likely isn't the right one in the midst of a global crisis. Everything has changed.
Not only are we facing a deteriorating economic situation, many among us have uncertain futures regarding our jobs and health. However, one piece of advice that everyone can follow is to change your strategy.
Here are 5 things to consider when changing your strategy in light of a crisis:
Shift your messaging: What was once important to your customers may not be anymore. If their priorities have changed, so should yours.


Pause current campaigns: Make sure the message you are sending to the market is one that is sensitive to the current environment. If it's not, put your campaigns on hold.


Delay initiatives: If your strategy is changing, it's likely your tactical queue will not be as effective as you first intended. Suspend anything that doesn't align.


Redistribute budgets: With the cancellation of in-person events and travel, the dollars you've allocated to these priorities can no longer be used. Take this opportunity to put that money toward another opportunity.


Cut costs: With uncertain futures (and funds) it can be wise to ensure you are spending your money wisely. You should take a thorough look at your expenditures, but don't stop marketing completely.

Once you have identified what no longer makes sense in our new environment, it's time to create a new plan.
Take steps to make your new plan agile.
The "set it and forget it" approach is never really advisable in any scenario — and it's particularly ill-advised right now. At best, you should only be planning your content a few weeks at a time and gut-checking it daily.
Things can… will… and are changing quickly — a business that is fully operational today could absolutely be permanently shuttering its doors tomorrow. The trickle-down effect here can be paralyzing to other industries (like yours).
It's OK to make Plan A but understand that you may need to abandon it for Plan B (or C, or D) before you even get it off the ground. Knowing when to do that is key.
As you make your plans, ask yourself: What are the metrics, responses, and market changes that will warrant a strategic shift? Know them. Watch for them. React to them.
Here's a great example of a SaaS company that's identified an important metric: DriveSure, a customer retention product designed for new car dealerships, is sharing aggregate data on closed repair order volume for dealership service departments across the country.
As the tweet shows, they're tracking real-time effects of the crisis on their industry. This metric is not only important to them but to their customers as well.

You might consider tracking the usage of your product, purchase intervals, or traffic to your website. The key is identifying what is important and responding to changes.
The most agile marketing teams will make it a point to stay engaged and informed and use what they learn to stay relevant.
Don't forget to revisit the basics.
In crisis scenarios, it can be tempting to abandon everything you know and start from scratch. The situation we are facing, however, does not require such a drastic approach.
You can be confident that adjusting your current strategy will be sufficient in getting you through this crisis and out the other side strong and ready to recover.
As you examine your approach, we recommend sticking with the basics. Go back to your persona research and your tactical marketing plans and tweak.
Value propositions and what customers really want/need/value tend to shift during times of crisis, so it's best to revisit these 3 questions in light of the situation:
Who is your audience?
Is the crisis hitting all of your personas equally? If not, you may need to re-segment based on their adaptability and ability to thrive in the current conditions.
What do they care about?
Your goal here is to understand how this crisis is affecting your customers the most. If you don't know, ask them. Send out a survey. Search online forums for questions. Connect with your sales or support teams to find out what they're dealing with day-to-day.
How can you help?
Put your expertise at the forefront and identify the intersection of your customers' problems and your solutions, then speak to that gap.
Have the responses to any of these questions changed?
What if you think about them from a different perspective?
As the days, weeks, and months pass, the answers to these questions might be unstable, but your approach shouldn't. There's a lot of guidance coming out about what to do, but it all boils down to this: be you and be helpful.
Content Example: Archrival
Here's an example that we love from youth marketing agency, Archrival, both for the execution of the design as well as the depth of the research and insights provided.
They took an unique approach to analyze the situation and how it affects their customers customers (Gen Z):
Quarantine. Isolation. Social distancing. None of these things were part of our conversations a couple weeks ago, yet now they shape our lives and psyches. For Generation Z, a future once ripe with plans and possibilities has been put on hold. Like the rest of us, their lives have been shaken up: kicked off college campuses, cut from jobs, and now quarantined with and without family.
Check out their research profile of how the coronavirus crisis is affecting Gen Z worldwide (seriously, read it).
Ramp up your content production.
When a crisis hits, lots of unanswered questions appear. Your challenge is to fill that gap with relevant and valuable content.
Content that provide answers first (and/or best!) will thrive.
The type of content customers are looking for in a crisis like this typically stems from information such as:
Notices
Closures
Changes in operation
Cleaning practices
Service/product substitutions
Process workarounds
However, once they've gotten that information (and frankly, there's a lot of it out there already), they'll begin to look for ideas on how to move forward.
If you focus your communications — emphasizing what the customer needs right now rather than send another "we care about you" note — they will pay attention to you.
In fact, as you get your feet underneath you, you'll likely find new opportunities to build brand loyalty. Where your competitors might be in a panic, with the right planning, you can impress with a clear, confident, and cool message.
Content Example: Thousand Eyes
Thousand Eyes, a SaaS tool that solves network issues in cloud environments, changed their messaging after the world flipped the work-from-home switch.
Where they once offered a cloud technology demo, they now offer a solution for network monitoring for companies that had to adapt to remote work during the COVID-19 pandemic — for free.
Homepage Splash Image: March 6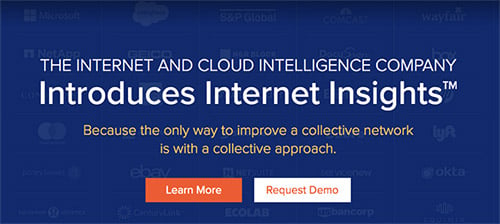 Homepage Splash Image: March 22
This is a great illustration of how your core business can become much more relevant by simply adjusting the message. Pair that change with the right marketing and you've just caught the eye of your greatest prospects.
Keep your content moving.
Your content marketing channels — from your blog to your social media — are where your customers will turn for up-to-date information. Use these mediums to their fullest advantage and stuff them full of valuable, desirable content.
During this time your focus should be on client relationships and retention — not sales. Don't worry about creating an article that's optimized for search engines that's packed with conversion opportunities.
Instead, focus on the needs of your customers and invest your future by building these valuable relationships now. The results will come.
Need help using content marketing to thrive in times of uncertainty?
Book a free consultation with a content strategist to talk strategy or how we can help your team generate better results from your B2B content marketing efforts.