Are you over seeing your closest competitors outranking you on Google? Tired of cranking out content that never gets seen in search results? Do you wish your point of view was read and shared a lot more often?
Yah. You're not alone.
From meta descriptions and link building to more technical SEO, we see all sorts of companies struggle to get it right. In fact, it's something our team works tirelessly on for SaaS companies every day.
There are thousands of articles that focus on optimizing your content for search and promoting it effectively, and those best practices essentially work regardless of your industry. But in this article, we're going to talk about the most effective approach for B2B SaaS SEO and the content that works best to make that approach work.
Focus on the right keywords
It's no secret that B2B SEO is much different (and much more difficult) than it used to be. Gone are the days where you could pick a high-volume keyword, put it on a webpage as many times as possible, and watch the traffic roll in.
Still, despite the growing number of people declaring keyword-based SEO strategies dead, you can still drive substantial results by focusing on the right keywords. The only difference between today and the early 2000s is that the bar for content quality has been raised substantially.
To see the power of keywords, simply type a term like project planning in Google. In this example, you'll see that the first two organic search results are from SaaS companies.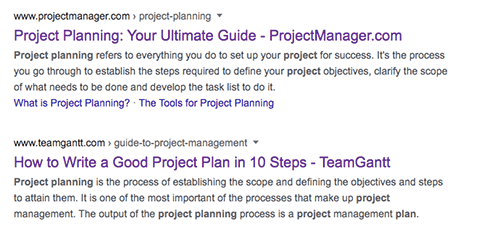 Based on the search volume for project planning and the 30%+ click rate of top Google results, that first search result is likely netting close to 4,000 visits per month for ProjectManager.com. We're willing to bet that they optimized for that keyword on purpose.
Most B2B SaaS businesses thrive on volume. Unless you're closing super-sized enterprise deals, you need lots of customers to scale. If organic traffic is one of the ways you plan to get those customers, you'll need a solid SEO strategy for getting visitors to your site.
So how do you choose the right keywords to get you that traffic?
Common sense tells us to go after keywords with high volume and low competition. But that's easier said than done. These keywords are getting harder and harder to find. Besides, all the traffic in the world is worthless if it's not made up of your potential customers.
Instead of going after those attractive top-of-funnel keywords that get tens of thousands of searches per month, start at the bottom of the funnel. You may get less traffic at first, but more of that traffic will turn into leads and customers. Plus, if you do it well, you'll lay a solid foundation that makes ranking for those more competitive keywords much easier down the road.
Find your bottom-of-funnel keywords
Already a keyword-research pro? Skip ahead to our SaaS content recommendations.
People who search for bottom-of-funnel content are likely close to a buying decision. To appeal to them, focus on the intersection between what you do well and what searchers are looking for.
Start by answering these three questions about your product:

What does it do?
Who is it for?
What features/benefits does it offer?
TIP: Think like your target audience — avoid using jargon and complicated language in your responses unless you're confident that they also use those terms.
For example, if your company has an email template builder, you might come up with a statement like this: "Our software helps marketing and sales teams build email campaigns using HTML templates with drag-and-drop features and automation tools."

From that statement, you might pull out keywords like the ones below.
Email template software

HTML email automation

Drag-and-drop email
Next, figure out what your competitors are ranking for.
Chances are good that your competition is already ranking for a good number of bottom-of-funnel keywords. You'll want to capture as much of that traffic for yourself. Start by making a list of your top competitors, then use a domain analysis tool like SEMRush or Ahrefs.
To continue our email template builder example, here's what that might look like if Stripo were one of your competitors: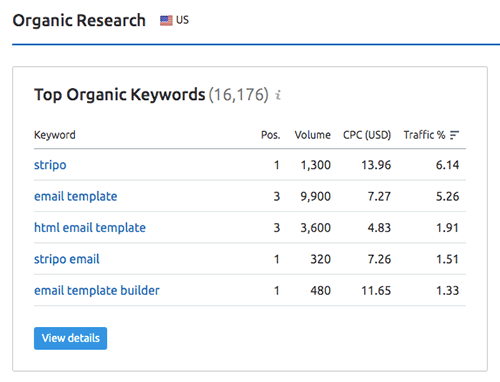 With a little digging, you'll soon have a list of terms that allow you to talk about the things you do well and that you know meet the requests of your searchers.
Finally, expand your list of keywords.
Your list of keywords from the exercises above is only a starting point. There are likely many ways people are searching for those things. To get the full picture of all the keyword variations people are searching for in Google, use the terms and phrases in your list as seed keywords in one or more of the following tools:
Now that you have an expansive list of bottom-of-funnel keywords to go after, it's time to create the content that will rank for those keywords. Lucky for you, B2B SaaS companies have a lot of options when it comes to search-optimized content.
Create the best content for B2B SaaS SEO
To make sure the content you create has a chance of ranking for your target keyword, it must be high quality and it must answer the question searchers are really asking. That means you have to understand whether you're the keywords you are targeting are:
Informational – introducing a problem:
Searchers want to know something and search using words like how to and why


Navigational – describing a solution:
Searchers want to visit a specific website and search using specific product names or terms like provider, solution, and tool.


Transactional – encouraging a purchase:
Searchers are ready to buy and search using words like compare, pros and cons, reviews,

and

vs.
The best way to discover the search intent behind a keyword is to simply Google it and review the content already ranking on the first page. What you discover will help you decide which of the following types of content is best suited to address the searcher's needs.
Product Feature Pages
Product feature pages are a great way to rank for navigational keywords when they align well with your product's features. Make sure your product feature pages are robust, providing a lot of information about the feature and how it benefits the user.
Comparison Pages
Comparison pages are key to ranking for those transactional searches when people are looking to discover which product is best for them. When someone is searching for a direct comparison between your product and another one (or even between two of your competitor's products), they're likely close to a purchase decision.
You want them on your site during this critical moment in the buyer's journey. Plus, you'll want to be the one discussing the differences between your product and the competition rather than letting your competitor control that narrative.
To do comparison pages well, be thorough and honest. Of course you want to position your product in a positive light, but if there are certain customers who aren't a great fit for your product, don't be afraid to be transparent about that. Focus on using these pages to convert your ideal customers and send everyone who's likely to churn or be disappointed to someone they'll be happier with.
Video Tutorials
If someone is making an informational search to learn how to do something that your product does, use a YouTube video to show them how easy it is with your software. This gives you the added benefit of helping current customers who may be looking for a walk-through of that feature as well.
This is the approach we've used with our HubSpot Hacks YouTube series. By simply showing how to do specific actions with HubSpot's software, we successfully reach both current HubSpot users as well as those trying to decide if HubSpot does what they're looking for.
Knowledgebase Articles
While the primary focus of your knowledgebase is to serve current customers, don't underestimate it's SEO value. Similar to video tutorials, the goal here is to show potential customers how easy it is to solve their problem or accomplish their goal using your software.
Review your library of knowledgebase articles, compare them to the list of keywords you built in the process above, and find any overlap. Then, simply make sure that the articles that overlap are optimized for the target keyword, and that those articles will have value for current and potential customers. Don't forget to throw a call-to-action on the page for a free trial or demo request.
Blog Posts
Blog posts are the obvious go-to for SEO content, so we put them last on the list to help you consider alternative ways to rank first.
The key to getting a blog post to rank is to create one that is truly more valuable than all the other blog posts about that topic. This usually means creating something that offers a novel angle and/or contrarian opinion about the topic and making sure it's packed with value. Fluffy posts, short articles, and information regurgitated from other posts don't usually stand a chance.
Lastly, don't forget to promote, promote, promote.
Moving up the funnel
Once you've laid your foundation at the bottom of the funnel, it's time to go after those higher traffic, top-of-funnel keywords. If you've done your job well so far, you've likely increased your domain authority and started to build an audience – both of these things will be helpful as you begin to target more competitive keywords.
Just remember that you should only write content that has a strong overlap between the value you provide and the topics your prospects are interested in. While you'll almost always convert less traffic to leads at the top of the funnel, you still don't want to invest resources into content that drives a bunch of people to your site who will never become customers.
The key to getting this right is to have a deep understanding of your customers. Once you truly understand their goals, challenges, the language they use, and their methods for getting new information, you can use this knowledge to create a new list of seed keywords to begin your top-of-funnel SEO strategy.
Now you'll be ready to drive that substantial traffic your boss is asking for while backing it up with high-converting, bottom-of-funnel content that drives revenue. After all, we all know that's what your boss is really asking for.
What's worked best for your B2B SaaS SEO strategy? Let us know in the comments below!