Marketers today know that content is king. We invest a lot in it, actually — because we know the value it can bring to our overall marketing strategy and the purpose it serves to move prospects through the purchasing journey.
But, have you ever stopped to think about the different kinds of content we produce and how each type affects results? What's Seth Godin trying to do with his blog that's different than Buffer's?
Every blog has a purpose — from generating top-of-the-funnel traffic with how-to articles and pillar pieces, to augmenting sales with case studies and testimonials. Knowing the purpose (or what each type of blog post is good for) will help you 1) bring more value to your audience, and 2) measure your success delivering that value later on.
We show you how it's done with these 10 blog post examples from savvy SaaS marketers.
10 Types of Posts You Should Consider — and Why
1. Pillar Content
One way to organize your blog is to create a small number of in-depth pillar articles that are supported (and linked to) by many shorter articles. This method is great for SEO and for establishing your brand as an expert on a particular topic.
Blog posts that serve as pillar content get right at intersection of the questions your prospective audience is asking and what your company does well. The topics are broad enough to pique the interest of a general target, but keep the right protects reading by delivering value via internal links.
Here is an example from TextExpander, a productivity app that uses keyboard shortcuts to automatically insert longer blocks of frequently used text. Their pillar page shows recruiters how to save time — a major benefit of their product — in their candidate search.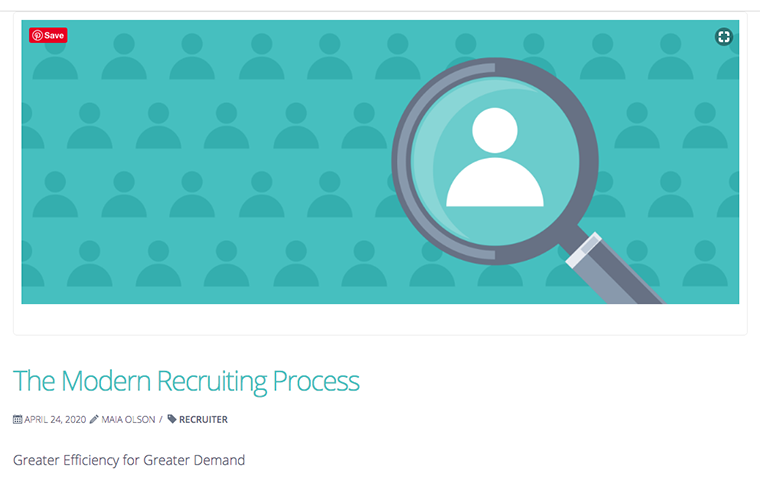 2. Research & Data
Writing an article that showcases your company's expertise and unique point of view is the perfect way to build your reputation as an innovator and thought leader. Using proprietary research and data from your own product, for example, allows you to deliver significant value to your audience that no other company can.
Using research in blog articles is a great opportunity for SaaS companies in particular, because their cloud-based products have infinite opportunity to collect valuable information. Check out this post from Smartly.io, a Facebook ad optimization solution. They surveyed consumers about social ad perceptions in the midst of COVID-19 then wrote about their findings.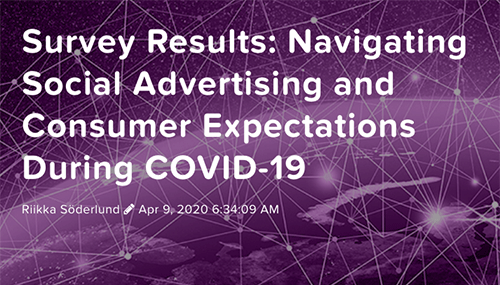 3. Case Studies
Case study posts help you zero in on your ideal customers by sharing how your product solves real problems. These posts are also great for conversion. If your prospects can see themselves in the story, it automatically ups your credibility.
In this blog post from DocuSign, a cloud-based document management system, the company introduces the problem and how they helped their client solve it, then asks the reader to click for the full story.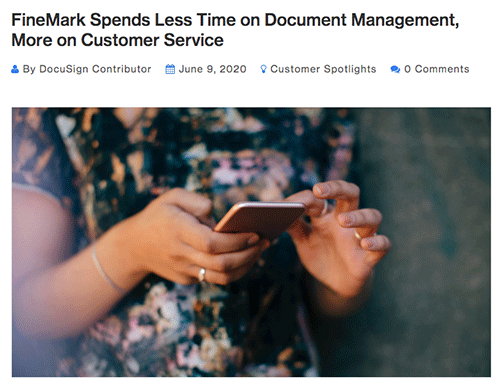 4. Interviews
Another way to boost the credibility of your company is to post the opinions and thoughts of people from outside of your organization. Testimonial and interview blog posts give you the opportunity to leverage the expertise of others to build your own company's authority on a topic.
In this example from Wisita, a video software company, they interviewed Harvard Business Review video expert, Sarah Green.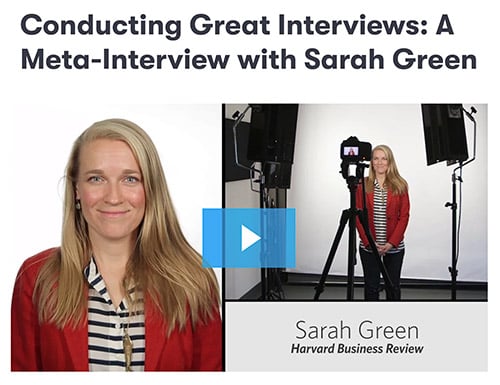 5. Listicles
Listicles provide helpful content that helps your readers do their job better or more efficiently (like this article!). These posts deliver information that readers find useful enough to save and revisit time and time again. The value they provide keeps your company top-of-mind at critical buying moments.
Rever, a continuous improvement software platform, delivers in the form of eight tips for manufacturing companies who prioritize organizational safety.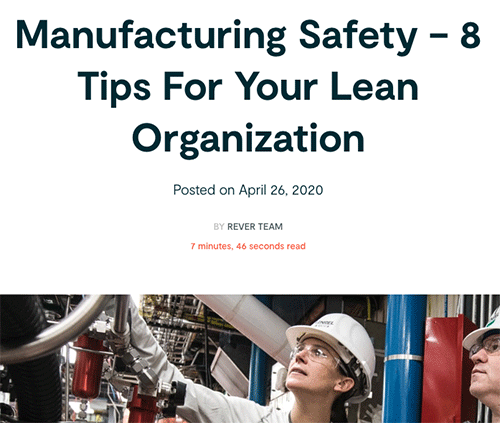 6. Infographics

Infographics are a fun and interesting way to communicate. Not only are they easily sharable, they're memorable and full of valuable bite-sized information.
Annex Cloud, which delivers customer loyalty, referral marketing, and UGC platforms, has a page full of useful infographics. One of the ways they promote them is to write a blog post about them like they did here.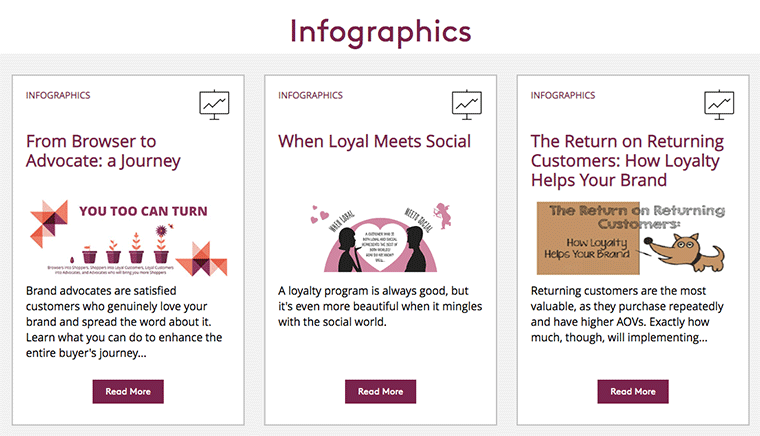 7. Round-ups
Round-up posts are another way to establish yourself as resource and leader in your field. By bringing together ideas on a particular topic, you save your readers from doing their own research.
GetResponse, an email marketing platform, pulled together a list of ebook templates for its readers in this example.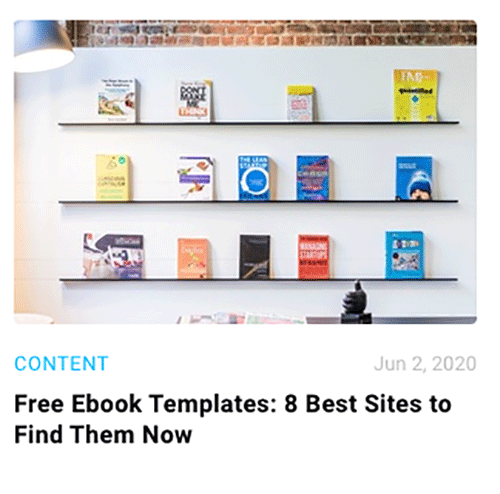 8. Announcements

Announcement blog posts can do a couple of things. First, they can serve your existing audience by keeping them up-to-date on product changes and upgrades. Additionally, they can trigger a prospect to buy if you've announced a feature or integration they've been waiting on.
Here's an example from Nosto, an e-commerce plugin that delivers personalized shopping experiences.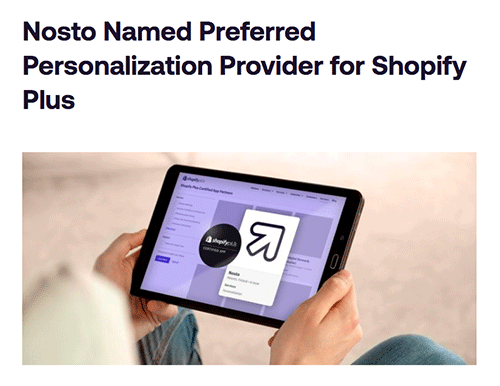 9. How-To Guides
Writing a how-to guide is another way to serve your existing audience. You can use posts like his to teach them how to use your products or introduce new or rarely considered use cases.
These kinds of articles are great for your existing audience too. They can serve as a learning tool that answers questions or solves challenges for your prospects. Here is an example from CoSchedule.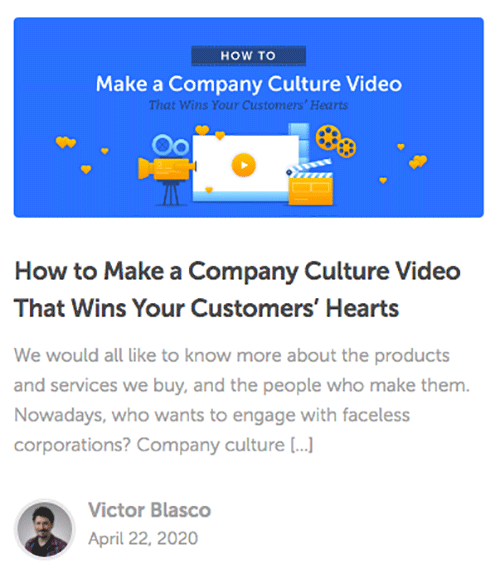 10. Guest Posts
Guest posts can be one of two things: You writing for someone else's blog or someone else writing for your blog.
The first helps your digital presence with backlinks and brand exposure. If you're looking for opportunities to submit your thoughts to someone else's blog, you can submit your content to mainstream content engines like Mashable or Business Insider, or try for something more niche like VentureBeat or StartupNation.
Allowing well-known industry experts in your industry to post on your blog, on the other hand, brings in traffic and is mutually beneficial. It allows you to leverage each others networks: The people who already know and trust the thought leader will come to your site to hear what they have to say and your readers will gain exposure to a new, relevant voice.
Here's an example from Claire Newton, a Marketing Executive at DesignWizard, a graphic design software. She wrote a post for Outbrain that talked about video marketing campaigns which gave her the opportunity to backlink her company's blog.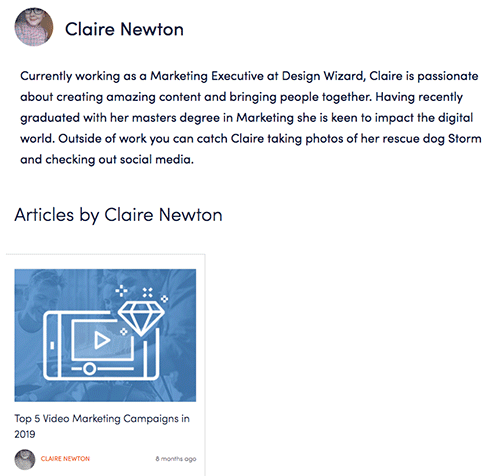 Pick a post for your plan
Knowing what your goals are for your blog and which types of content will work best to achieve them them is essential. Not only does it help you write better content, it brings more value to your audience and supports a loyal, ever-growing relationship between you and your readers.