In talking with hundreds of business owners over the years, there's one question that continues to come up. Especially in today's world where it feels like marketing is changing so fast, we're having to react to situations like COVID19, the never-ending election, and economic fallout, consumers are in the driver's seat, and it's easy to pour money into things that fall flat.
The question is: "How can I help my marketing team be more strategic?"
If you've ever found yourself asking that, you're not alone.
When people study marketing in college, they usually encounter the 4 P's – product, place, promotion and price (we believe there are a couple more). However, there is a big difference between simply knowing what the elements of marketing ARE and weaving them strategically together to create a compelling, competitive, and superior marketing approach.
>> How can you help your marketing team be more strategic? Grab a copy of the free ebook here.
For some individuals, seeing the bigger picture comes naturally. For others, the ability to be strategic with marketing application is a skill that needs to be developed.
Whether a marketer has innate skill or they've built it over time, a marketing team that is working strategically functions very differently than one that does not.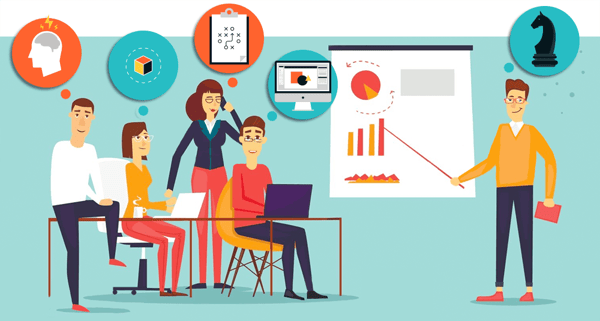 The list below will begin to help clarify whether your marketing team is filled with "Doers" or is made up of "Thinkers AND Doers."
Once you've identified under which heading your team currently performs, we'll show you how a strategic marketing department looks and acts. We'll also run through what they need to do and how to shift a team of order-takers to a team of strategic minds that propels your business forward.

Signs Your Marketing Team Is Not Acting Strategically
They agree with everything you say without any push-back
They chase all kinds of ideas (shiny object syndrome) and jump on every trend
They don't deliver what they said they would in terms of results, even though they seem to be doing a lot of work
They focus too much on the creative (executives often say it feels fluffy)
They don't ask for company goals and have no idea how marketing supports those goals
They don't back up their ideas with rationale or reason
They fail to prioritize
They rely on themselves for insights rather than seeking input from the sales team, customers, product dev teams, etc.
They don't track results
They don't collaborate across teams
Why Strategy Is Important, Now More Than Ever
The amount of change in marketing in the last decade is intense, to say the least. Marketing "stuff" has become a commodity.
With the plethora of platforms that exist and sheer number of ways to promote a product, it's rarely the tactics, the design, or the posts that make it successful. Successful marketers in today's business environment need to think and analyze as much, if not more, than they "do".
Strategy in a marketing department is the power of knowing you can accomplish what you need to, with less. (This doesn't always necessarily mean less budget, but less fluff.) It means knowing how all the pieces work together and what can be left out, because each piece is leveraged to its fullest potential. It means building in efficiencies and saying no to distractions.
To get to this point you need a marketing department that looks and acts like the following:


A Strategic Marketing Team Will…
Ask for a seat at the table

Demand a strong company vision

Want access to numbers

Push back and ask why when you suggest a new tactic

Vet new platforms thoroughly and watch trends closely

Know when a point of contention is important enough to stand their ground or when to let it pass

See the big picture instead of getting hung up on perfecting every small detail

Challenge the other "P's" of marketing (product, place, promotion, price, people, process), including how they may be positively or negatively affecting the business' success


Things Marketers Need To Be Strategic
If you're wanting your marketing team to be more strategic, the first steps start with executive empowerment. Your marketing team does not exist in the bubble of promotions alone. They need access to key information and people first.

Marketers Need P&L Information
Access to financials, specifically the profit and loss statement, is key. This allows marketers to see how their marketing and advertising investments and expenses impact the company's growth. Strategic marketers will review this information and look for solutions that address problems like flat sales in off-season months or offer pricing options that better affect cash flow issues.

Marketers Need to Know How Sales is Performing
Sales is the number one indicator of a marketing team's effort. While knowing how many marketing qualified leads they pass on is helpful, everything that comes after tells a marketing team what is working and what isn't. Access to sales data directly informs how the message should be tweaked, if different channels need to be utilized to reach a certain audience, if advertising promotions match up with the sales cycle, etc. When marketers know how sales is performing, they can also address any issues of misalignment that commonly plague these two departments.

Marketers Need to Know What Questions or Objections Arise in the Sales Process
Key insights such as objections or questions help clarify product messaging. This information helps determine hierarchy of features and benefits. It also gives insight on whether or not marketing needs to reevaluate the targeting or campaign for a specific product or service.

Marketers Need a Budget
Having a well-defined budget allows a marketer to make strategic decisions on how and what to use when it comes to promotion. It directly affects the marketing mix chosen, specifically the media/vehicles prioritized and reach/frequency projected. It's not fair to tell a marketing team something like, "Tell me what you could do and I'll tell you the budget." Smart companies will look for public information related to their industry and for benchmarks for sales and marketing spend, such as 5%, 10%, or 15% of top line revenue. Numbers vary but you should be diligent about putting together a marketing budget for your team.

Marketers Need the Authority to Work with Other Departments
Marketing teams that work in a silo fail to gain the information necessary to best promote the product or service for sale. Each of the departments listed below holds valuable information that influences how the product is marketed.
Marketers need to work with the leadership team to understand and conceptualize the vision and core business.

Marketers need to work with the sales team to ensure true alignment with messaging and processes.

Marketers need to work with the customer service team to ensure that what customers are saying is integrated into how the product/service is delivered, to learn more about the audience psychographics, etc.

Marketers need to work with the production team to understand how the product/service works, its limitations, why it was built a certain way, etc.

So What's Next?
One of the biggest challenges a business leader can face is knowing when your team needs you to step in.
If your marketing department is made up of doer's, they could appear to be an incredibly high-performing team when it comes to productivity. However, at the end of the day, it's about getting more strategic results from your marketing efforts.
Take a quick review of what you've allowed your marketing team access to.
A team of doer's doesn't necessarily mean you don't have strategic marketing professionals working for you, it might just mean they've never had the information and access necessary to implement the strategic insights you're now looking for. Once you enlighten them with the right data, permissions, and processes, they may blow you away with their strategic capabilities.


Start with a conversation.
Have a conversation with your marketing team. Start with questions like:
Looking forward to next year, what do you think our strategy should be?

How do you think we could be more strategic with our marketing?

What strategies do you suggest to help marketing better align with sales?

Are there new ways we can win against our competitors?
Look for answers that don't include a specific tactic like new brochures, a fresh logo, or updating your website.
Next, ask for a plan. A strategic marketing team is going to want to put some time into researching, analyzing and developing a marketing plan. Ensure they have all the information they need to understand how marketing fits into the bigger picture and their role in reaching company goals.
These are the first steps to ensuring your marketing department is doing more than just crossing items off a to-do list, but really driving growth.


Conclusion
If you're still left wondering whether or not the marketing talent in your organization has what it takes to be strategic, it may make sense to get an outside opinion. When something is so close, it can be hard to see it in the right light.
At Simple Strat, we can help bring strategic marketing to your organization, or we're happy to provide insight on how to maximize the team you already have in place.
Get started with a free consultation.