The success of your marketing efforts is dependent on a variety of factors, including resources, skills, money, etc. However, one of the factors that is actually within your control is your productivity. From your leadership team to your individual contributors, getting all of your tasks done and keeping everyone on the same page can seem like an uphill battle. This short list of concepts and ideas will help you dominate your to-do's and create marketing wins every day!
Use Biology to Tame Your To-Do List
Every day when you get to the office, it seems like your to-do list will never end. As a leader in your company, you've got the skills to be successful and efficient during your day but how often do you find yourself getting lost in certain tasks? From delegating tasks to prioritizing projects something more important always pops up. A simple interruption can crash your outline for the day.
Begin by listening to your body. The way our bodies work is one aspect that always seems to be put on the back burner, or drowned in caffeine (no pointing fingers here, we're just as bad as anyone else out there!).
By learning to understand and use your circadian rhythms, you can focus on the hardest or most brain-draining tasks when you've got a maximum amount of energy.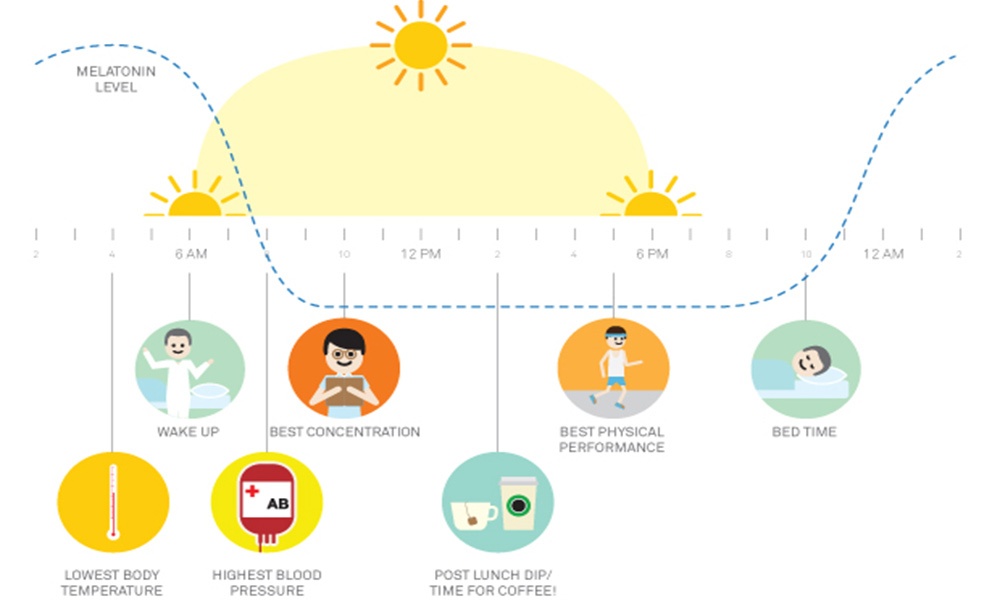 Unless you're a blessed soul that thrives in the early hours of the day, most people take a few hours to reach their peak levels of alertness and energy — and that peak does not last long (Wah!). This gives you a window around 10-11a.m. to block off on your calendar to schedule your tough tasks.
If you're ready to roll as soon as your feet hit the floor, God bless your soul. You're a perfect candidate for the tactile idea of "eating that frog."
Get your hardest tasks done ASAP and then use the rest of your day to finish out the rest of your less-taxing projects. If not, the chart your personal energies for a week, and you'll soon see a pattern emerge that you can use to your advantage.
Be Mindful of Personal and Organizational Leadership
If you're constantly changing your mind, your team doesn't know what's a priority and what's not. Set schedules and processes to establish which tasks take precedence over others and stick to them!
To delve a bit further into this topic, we sat down with Jessica Langenberg, a leadership consultant and resident thought leader at Leadership Resources, to discuss how effective leadership planning affects marketing outcomes. Leadership consultants and coaches at Leadership Resources rely on the RESULTS TRIANGLE as means of helping a leader plan and focus on the right things.
When a culture is established and the core values are well-communicated, the team can set short and long-term goals that are aligned with the company's direction. The intentional progress towards the accomplishment of these goals will drive shorter-term (monthly and weekly) goals and action steps, which will ultimately help determine daily planning and activity. We highly recommend documenting those goals and the actions you're goint to take in a marketing plan. If you need some help getting started, check out our marketing plan template and guide.
All of those pieces working together is what drive results.
When there is no strategy that everyone agrees upon, you'll have a constant goal graveyard - goals are half-started and half-forgotten. We've all been in this situation at one time or another, so if this is affecting your productivity, that's ok. It's just time to take action.
When you're deciding on which goals need to be completed ask yourself, "Will accomplishing this goal or project get us closer to accomplishing our mission and living out our vision?" and "Is this goal in alignment with our core values?"
If you can't say yes to these questions, then leave that project in the past and move onto a higher priority project.
It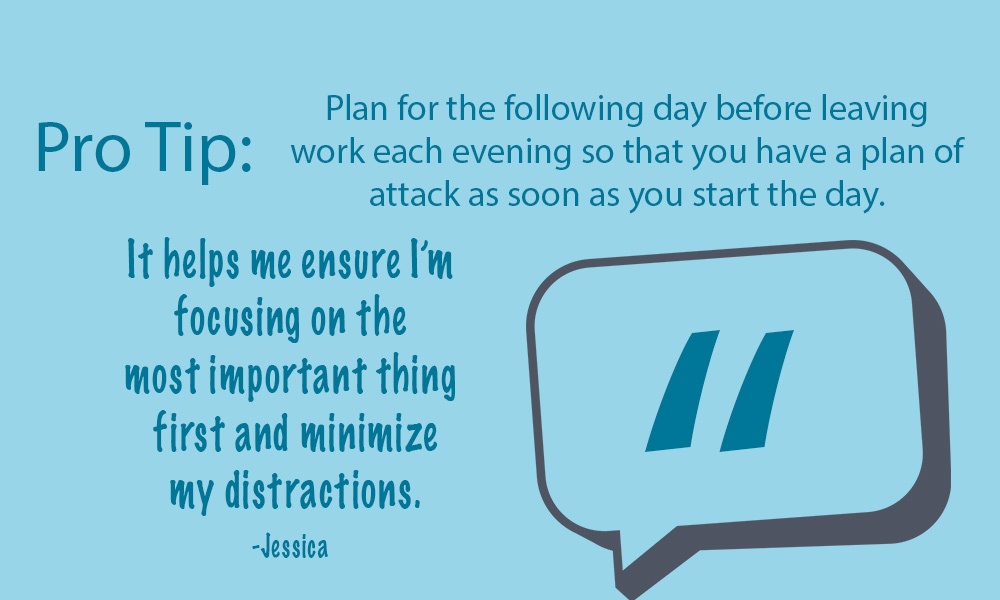 Delegating Requires Planning, Not Just Dumping!
Success and efficiency require more steps than we can fit into this blog post, but delegation is one we can't skip. If you're a high-level member of your executive team, your plate is always full, but you want to remain in control or at least in communication of what's going on within the company. Despite your best intentions, if you want to be successful, you'll have to delegate some of what's on your plate.
When you delegate tasks make sure you know how your team works before divvying tasks up between them.
At Simple Strat we focus on our strengths and figure out how each person works best. Gallup's Strengthfinder 2.0 is a staple in our office because it shows you what each person does best and can help you pair tasks with strengths.
You can even go as far as to categorize your team members.
Are they a prioritizer, planner, arranger, or visualizer? Give your prioritizer your research and analytical tasks- they love data and are highly efficient. Your planner is your go-to for project planning, meeting scheduling and maintaining repetitive tasks. Networking, sales and communication are your arranger's wheelhouse. Give them the tasks that require you to get out of the office and meet with clients. Your visualizers are your creatives, give them one or two tasks to focus on and let their creativity run free.
You need to maintain a level of awareness about your own productivity preferences as well as your team's. As soon as you have a level of understanding regarding everyone's productivity preferences you can put a plan in place to utilize strengths and recognize potential challenges to address them in advance and streamline your productivity.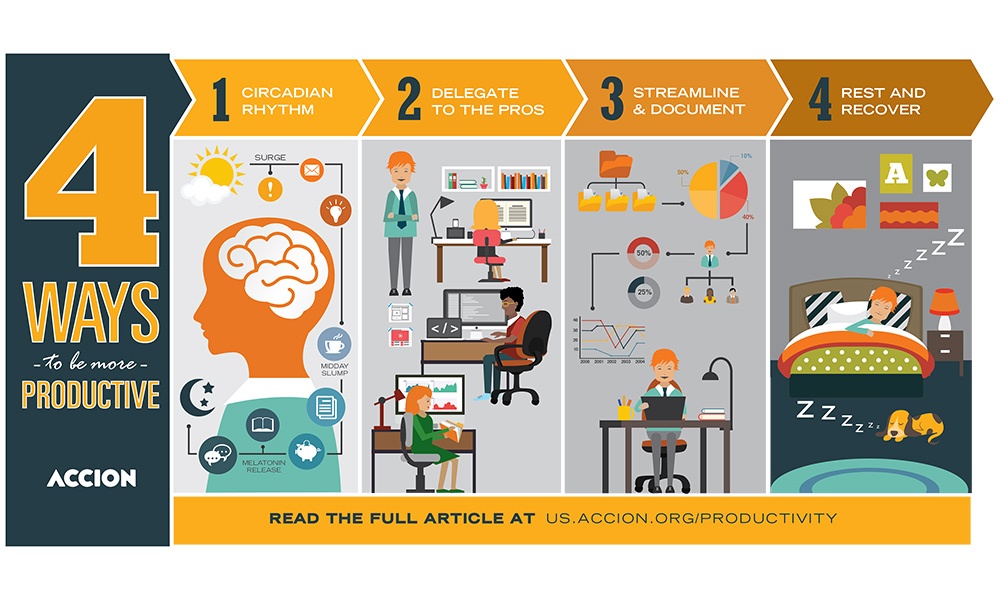 Simple Solutions
Having issues delegating your tasks? Make a list of everything you do on a daily basis. Figure out what you can afford to lose in a day. Experts often point to the 4 D's - do it, delegate it, defer it, or delete it.
Outsourcing may be a better use of your time if you're not proficient at a particular task or project; or perhaps you could get it done more effectively and efficiently for less money (such as data entry, list building, on-page SEO, etc). For example, if you need to write a blog post but can't find the time, companies like ours help with that!
Not a pro in the design realm? Send your project to a graphic designer, they'll be able to meet your project deadlines better than you solely based on their experience and efficiency. Even though do-it-yourself design tools exist, it's easy to get caught up in a flyer design that could take a talented designer an hour and a half to create, instead of having you tinker with some design program for hours on end.
Social media is a huge time-eater, not just the time you spend distracted by it, but the time it takes to create content. Outsource this task and let the professionals worry about creating, scheduling, and analyzing your social media content.
Do you have any productivity pro-tips or advice for knocking our your marketing tasks? Share away- we're always looking to learn more!! While you're here don't forget to sign up for our newsletter, its chock full of productivity tips, marketing marvels and even a few jokes.