Adding pictures to any of your social media posts is a must. Getting the right size for all of your pictures can take time and if you're like the rest of us, there's not a whole lot of that lying around. Sprout Social is a norm in the marketing world and they are about to make your life even easier when it comes to social media sizes and cropping.
With Landscape from Sprout Social you can resize nearly any of your photos to the correct proportions. You no longer need to open up Photoshop and spend your afternoon resizing one LinkedIn photo. You can do it all from this one handy-dandy website.
Get Started: Upload Your Photo
Getting started is quick and painless. All you have to do is pick which photo you want to resize and upload with their fast uploading link. Sadly, you can only upload one image at a time but that's ok. The 30 seconds this process takes will allow you to resize millions of photos. Okay maybe not millions, we might need to talk if you're using that many profile pictures!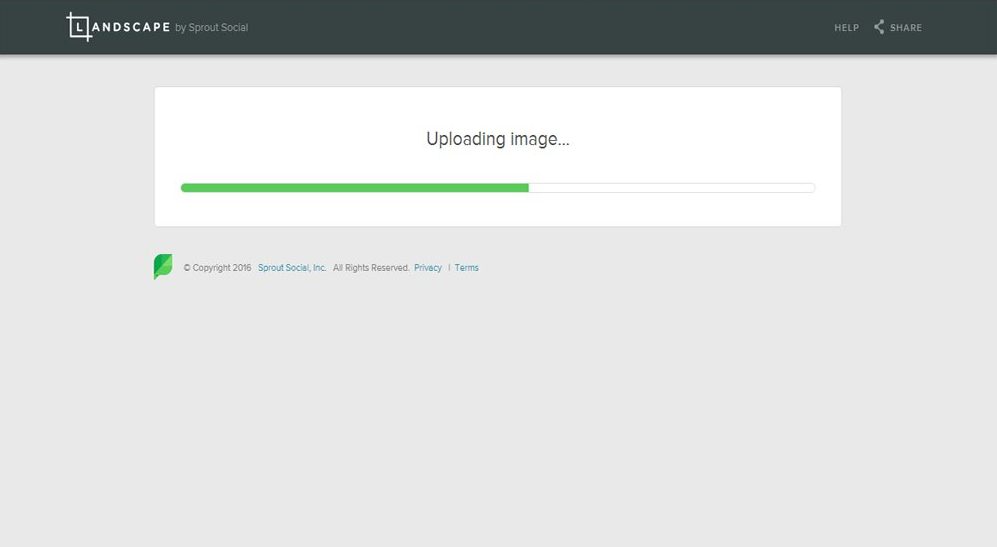 Choose Your Social Media Sizes and Platform
Once your photo is perfectly uploaded, you get to choose from the seven social platform options that they provide.
This includes
Twitter
Facebook
LinkedIn
Instagram
Pinterest
Google+
YouTube
There's even a custom option that allows you to pick the pixel height and width. We tend to favor this option when needing to resize a blog header.
It never fails when we've spent all day getting everything ready to go, and then the size of the photo is off by a few pixels. Instead of going back into Photoshop, you can resave the Photoshop file and re-export the photo. Then all you have to do is upload your picture into Landscape and let it do all the work. Seriously, you can save yourself hours of time just thinking about it!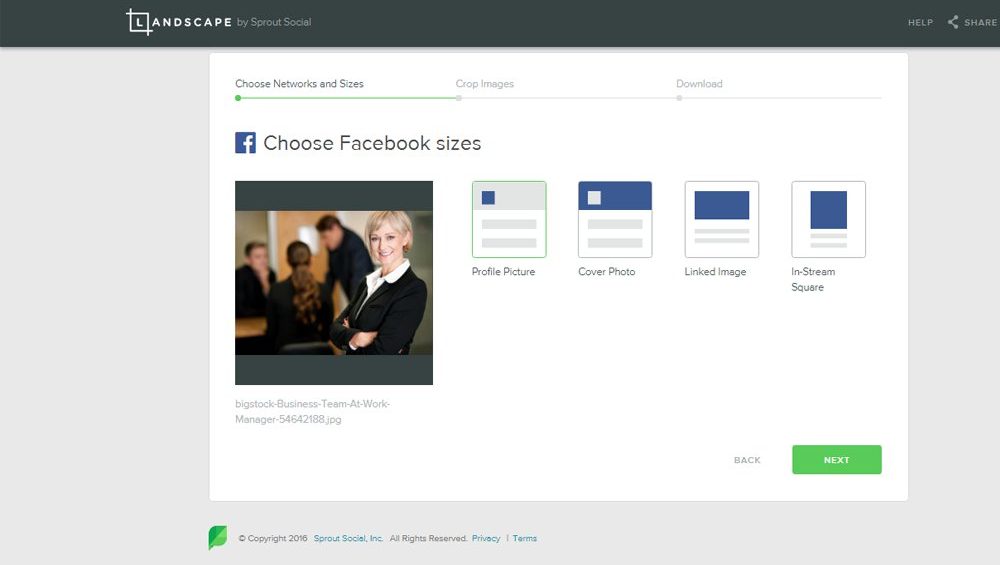 Another great use for the custom option is trimming down headshots for your company website. With Landscape, you can get your whole team to have the same size picture without spending an entire day editing all those files. Yes please!
Make Your Choice and Download Image.
Not only does Landscape let you pick the social platform that you want to use, but it gives you the option to pick between all the different photo layouts that you would normally upload.
No more fuzzy, awkward cover photos! You can choose all four size options for Facebook and it will create four different pictures for you to download.
The same goes for when you're picking which platform to use. You can choose all eight options and edit them individually. Now you don't have to upload the same picture 43 times to get more than one version of it. Thank you Sprout Social!
Once you choose your size and crop it do your desired alignment, all you've got to do is click download and your job it done!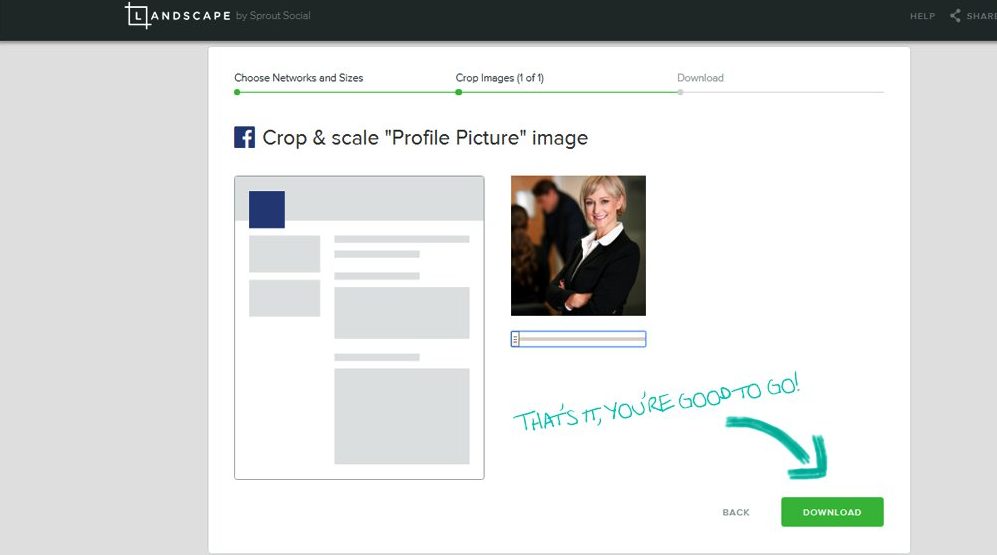 A Few Things to Note . . .
We love this website and all that it does for us, but like any good relationship it's got a few quirks that can make you feel a little crazy. But we're here to help and let you know about them so you can avoid them. Now these tiny issues aren't anything serious like a fear of commitment or inability to load the dishwasher, just a heads up for usability.
Click happy
If you're anything like us and something doesn't load the instant you click on it, you've already clicked 72 more times – just in case. With Landscape, you could find yourself doing this if you don't realize that clicking the icon won't move the screen along, you've got to click "next." What a nifty transitional word.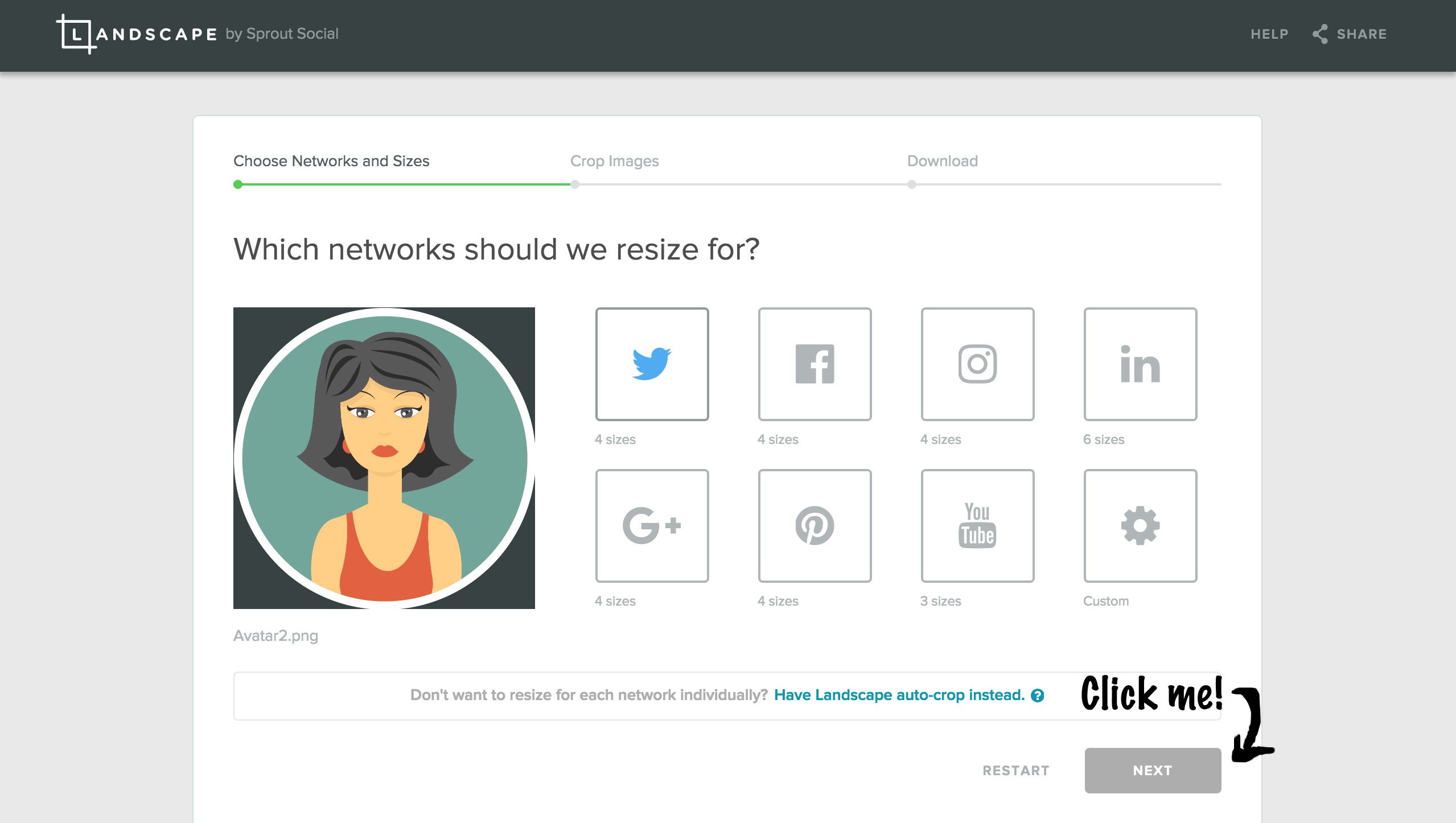 Clingy
Everyone can appreciate a little extra attention every once in a while, but sometimes enough is enough. Landscape can be a little clingy. If you click any of the icons once; you've got to click them again because if you don't deselect it, it'll think you're in for the long haul.
Have you ever used Landscape by Sprout Social, or maybe something similar? Tell us about it!
While you're here, don't forget to sign up for our monthly marketing updates. We'll send you the latest and greatest in the marketing world with some humor and how to's.