As a business, it can be hard to interact and collaborate with others.
We're all busy. Not everyone has time for workshops, meetings, or even a quick phone call.
You may find yourself saying, "If only there was a way to interact with other organizations without having to wade through all the other social media posts and market my company at the same time..."
In fact, there is.
Facebook Groups.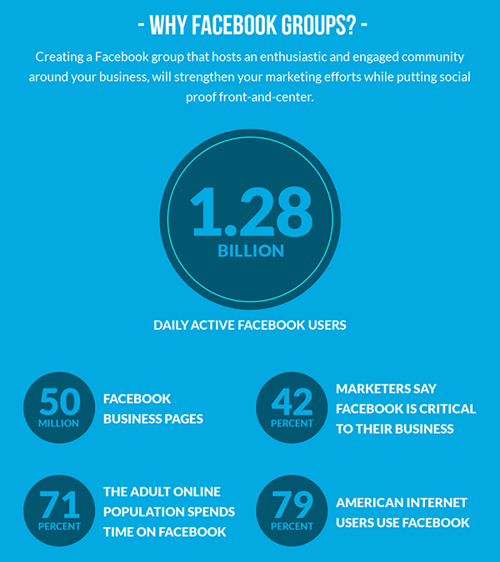 Graphic Source: Digital Information World & Performance Marketer
As the graphic above shows, it's very likely that your audience is on Facebook. But why are Facebook business groups one of the best ways to reach that audience? We've put together a list of reasons to answer that very question, let's get to it!
Promote a two-way conversation with your audience.
Good! Groups shouldn't be treated as the end-all-be-all for your business, but should be used as a strategic part of your marketing.
With over 50 million business pages on Facebook, your posts can easily get lost in the timeline with the thousands of other posts. Especially since the Facebook newsfeed algorithm has made it almost impossible for you to reach people at all with unpromoted posts.
Groups allow you to share targeted content with a specific audience - and give them a notification when you do!
It's not just about sharing though; think of groups as two-way streets for your organization. You share content with others, and they share content back with you. It's a conversation that promotes participation, networking, and spreading knowledge.

Create exclusive tips and information sharing.
Facebook groups allow you to quickly share trends and insights from your industry - which can easily create an insider or exclusive type of feel for those involved.
Did you find a great new app that others would benefit from? Share it.
What about a service you weren't using that will soon be the industry standard? Let others know!
Sharing best practices and promoting networking among group members a great way to get people talking about your company in a positive way. It also demonstrates your dedication to success in your community.
Ask for feedback or input from your audience.
One of the easiest ways Facebook Groups can be used is simple: asking and answering questions.
You don't know everything (don't worry, we don't either), so don't be afraid to ask others.
Examples of the types of questions or posts you could generate that ask for feedback include:
Polls
Fill in the blanks
AMA (ask me anythings)
Quizzes
Industry trends can change in the blink of an eye, and asking questions demonstrates you're dedicated to staying on top of everything happening in your industry.
Demonstrate that you're an industry leader.
Groups can be used to market your business by showing you're a leader in your industry.
Creating a group dedicated to a specific industry topic will show others your company is the real deal.
Use this as a way to separate yourself from the competition and establish your group as the go-to for answers and solutions.
As an example, at Simple Strat, we created a group called "Nebraska Marketing and Sales Automation". This Facebook group is a place for people who are interested in or using automation tools to share information and build relationships.
As a Certified Hubspot Agency Partner, this is a great space for our team to share our expertise, stay on top of best practices, and establish relationships with potential customers. We also seek to connect individuals who would benefit from the introduction and share relevant industry information that educates and entertains.
Think about some ways you could do the same!
Promote clients & gain referrals.
Have you considered starting a Facebook business group with your current clients? This is a great way to gain referrals, build relationships, and promote good will. By participating in discussions and continuing to add value, you'll be top of mind which is likely to lead to referrals.
If your company has a formal referral program, you can also promote this in your group. Tread lightly, though. Spamming and soliciting for business, even in your own groups, is frowned upon on social media and it won't be long before people leave the party. So, be careful and always help before you promote.
To keep it top of mind but in a less obtrusive way, consider linking your business page to the Facebook group(s) you are a member or admin of. This allows any other members or potential clients to have quick access to your business page where they can learn more about your company and services.
Bring on the business!
Easily share events.
Find it difficult reaching everyone you want to through the various social media channels your business utilizes?
You're not alone.
Not only is it hard for your audience to wade through the hundreds to thousands of posts that appear on their multiple social media feeds to see yours, but it can be a challenge just to get your posts in front of your target audience.
Using Facebook groups for business allows you to easily post to a large number of people in an instant.
This is a great way to promote upcoming speaking engagements, events you will be attending, or a webinar you're a part of.
Give it a shot!
What to avoid:
With all of the great opportunites Facebook groups provide to market your business, there are some things to avoid when using groups.
1. Don't use it solely to market your business.
What we mean is treat it more like a conversation and less like a lecture. Posting blogs or other content for easy clicks all the time will only put others off and cause them to leave the group. In the same vein, don't allow other to use it as a place to solely market their business, either. Be ready to delete posts you feel are irrelevant.
2. Keep spam out.
If you have an open group, it will be easy for spammers and trolls to post whatever their heart desires. Be sure to remove this as quick as possible to keep the group's theme and purpose on track. If it continues to happen, considered making it a closed group (others have to request access) or add additional admins to help monitor posts.
3. Ask AND answer questions.
Only asking questions will lead others to tire of your endless unknowing. On the flip side, nobody likes a know-it-all. Be a part of as many discussions as you can, but be sure to let others have a chance to contribute too.
Conclusion
Facebook groups should be a part of every business's marketing process.
According to Social Media Today, "Facebook has been putting increased emphasis on Groups of late - last year, Facebook reported that over a billion people use Facebook groups every month, and that it was an 'under-appreciated' product which deserved more focus." (source).
It's a great way to market your company in a variety of ways while promoting collaboration and networking. Sounds like a win win to us.
As a parting gift, here's a graphic with some great tips for getting started: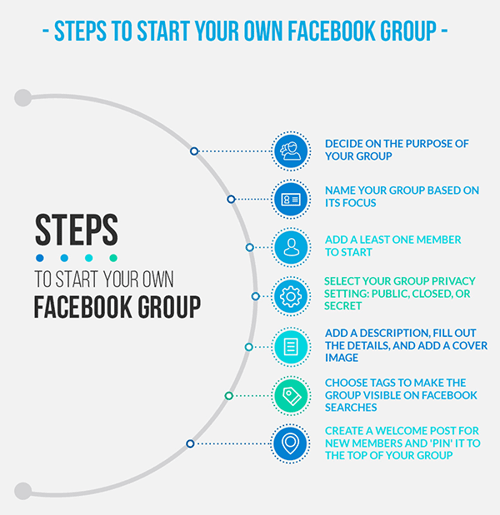 Graphic Source: Digital Information World & Performance Marketer
Let us know what groups you're a part of in the comments below!