Instagram has finally leveled up their story game. What has been a fun and different way to show off your day to your followers has just become an awesome tool for reaching new people and growing your audience.
How? With the relatively new ability to add locations and hashtags to your Story posts, it's now much easier to get more Instagram Story views from people who don't already follow you.
Today we're going to walk you through how to do this and what it looks like to your audience once you do. But first, let's talk for a minute about why this even matters.

Why Should We Be Excited?
Instagram Stories have become a window into the daily lives of the people and brands we love. We get to see more authentic content and, with the 24-hour time limit, we see that content in nearly real time.
Because they're more timely and authentic than regular posts, but more frequent and less nerve-wracking to make than live video, we see Stories as a sort of halfway point between regular posts and live video. This gives Stories great potential, but the downside has always been that it was hard to get new people to see what you post in your Stories.
With Story hashtags and Story location tags, this downside has disappeared. Just like with regular Instagram posts, hashtags and locations help your Story posts get discovered more easily. And, like we discussed above, those search results feel more timely and authentic than regular post search results. Let us show you what we mean.
How to See New Stories Based on Location or Hashtag
When you open Explore (i.e. the magnifying glass at the bottom of the screen), you'll notice a series of circles at the top. These are the Instagram Stories that Instagram thinks you might be interested in based on your Instagram activity and the activity of the people you follow (minus the far left, which is the top live videos you'd likely be interested in).
Until recently, these stories were all chosen for you based on the people that posted them. In other words, if you followed a bunch of people that all follow a particular person, that person's Story might show up there regardless of what they were posting about in that Story. Now, that isn't always the case.
To find Stories based on a location: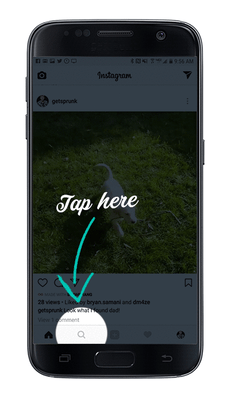 Tap on the word "Search" at the top of the Explore page.
Type in the location you want to search.
Tap on your location from the list of search results, then you'll see a feed of posts from that location.
At the very top of this feed, you'll see a circle – that's the story for that location. Tap on it to see a collection of Story posts that used a location tag from that location in the last 24 hours. If you search for a city for example, you'll see some posts that used the city's location tag as well as any other location tags within that city.

We've found that if you do a search for your city a couple times, Instagram will add your city's location as the second Story on your Explore page.
To find Stories based on a hashtag, you'll follow the same process listed above. But, instead of searching for a location, you'll search for that hashtag.
Now that you know how to find other people's Stories, let's get to our guide on how to add hashtags and location tags to your Stories.
How to Add Locations and Hashtags to Your Instagram Stories
Click on the camera icon.

Snap your pic or video (we got one of Taz, he lives for the spotlight).
Click on the smiley face sticker icon up top.

Choose "Location" then either pick from the list of locations or search for a location. Once you choose one, your sticker will appear. You can then move it, resize it, and rotate it if you'd like.

Now, add a relevant hashtag. Click on the smiley face sticker icon up top and choose "Hashtag." From there, enter a relevant hashtag.

Then click on the "Your Story" icon at the bottom or tap "Next" and choose "My Story."

You've got it! Now get out there, get creative, and watch those Instagram Story views come pouring in!
Huge shout out to our expert social media contractor Doug Fraser and his friend Taz for writing the client instructions that inspired this post!