Is your value proposition a clear reflection of what your company does and the benefits you offer? Or is it nothing more than a vague statement that could apply to your company….and ten other companies, too?
This is especially common when it comes to software companies. It's easy to lead with the benefits you think that you offer. But the real purpose of a value proposition is the unique value that you offer.
So while you might save time, increase communication, offer an easy solution, or build collaboration—you and almost every other software company are boasting the same thing.
Using a value proposition template can ensure that you have a value proposition that truly highlights the benefits that you provide in a way that clearly displays what you do and the way you do it in a way that's completely unique to your company.
We are firm believers that a value proposition is more than a tagline—it's a deep understanding of your product, your customers, and what you do that no one else can. It's a promise to your customers of what they can expect from your brand.
It's no small task. So buckle up and join us for a journey through a few value proposition templates and examples of SaaS companies that do it well.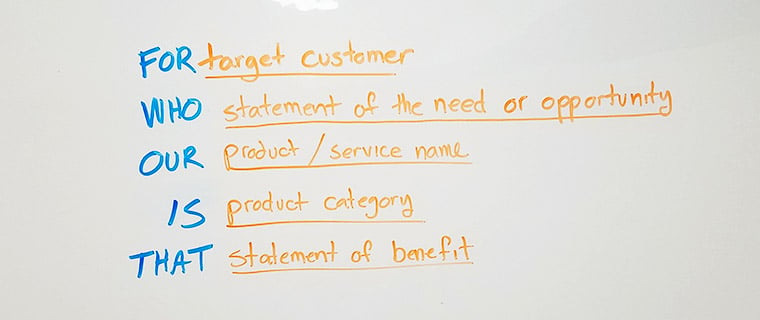 Geoff Moore's Value Proposition Template
This winning value proposition template gives you the framework you need to create a winning value proposition. It goes like this:
For [target customer] who [statement of the need or opportunity], our [product/service name] is [product category] that [statement of benefit].
For [Target Customer] Who
This first section shows that your brand has identified a specific target customer. In many ways it's easy for software companies to believe that their products can be used and adapted by an endless number or variety of customers. While this might be the case, it doesn't mean you can avoid defining your audience. If you try to market to everyone, you end up creating broad messages that don't resonate with anyone.
Define your personas, emphasize the value you bring to them, and target your marketing content accordingly. This template helps you do that.
[Statement of the Need or Opportunity]
Your product or service will only benefit your target customers if it solves a problem they face or creates an opportunity they desire. While this might be a basic need such as, "not enough time in the day," take the time when you're creating your value proposition to really insert yourself into the lives of your customers and their daily struggles. What problem do they pay you money to help them solve?

Don't just build a software or start a business. Solve a problem. Your value proposition helps you dig deeper and identify this problem and the solution.
Our [Product/Service] is [Product Category]
This is where many value propositions fall short. They might show the benefits of a product, but they don't define what their product is. If someone who is totally unfamiliar with your products or services encounters your business online or at an event, with one look at your value proposition are they able to understand at a high level what your business does?
This begs the question: Can you clearly define what your business does?
What do you do—and what do you not do?
This is a key area that separates a tagline and a value proposition. A tagline might be quick and witty but not clearly state what your product does to accomplish that. Invest in clarity over cleverness and make it clear to your target audience what your product is and what it does.
[Statement of Benefit]
This section is the fun part—what benefits does your product/service bring to your target audience. This is the unique value that you bring in a way that no other company can. What sets you apart?
Note: Remember this benefit statement is about your customers, not about you. The best ones are specific, clear, and unique.
A Few Examples
Sometimes, it's easiest when you can see the value propositions in action. Here are a few from top SaaS companies with a breakdown based on this value proposition template.
Dropbox
Dropbox is a modern workspace designed to reduce busywork—so you can focus on the things that matter.
What it does well:

Dropbox clearly states the problem that their audience faces (and probably hates): busywork. They offer a solution to that problem in their value proposition and with their product.

What's missing:

There isn't a clear target audience in Dropbox's value proposition.
Intercom
Only Intercom gives you a totally customizable messaging suite to drive growth at every stage of the lifecycle.
What it does well:

This value proposition does a good job of showcasing what the product does and the results it drives for customers.
What's missing: They don't mention a target audience and only hint at a potential problem that their customers might be facing with a lack of customization in a messaging suite.
Zuora
Zuora creates cloud-based software on a subscription basis that enables any company in any industry to successfully launch, manage, and transform into a subscription business.
What it does well:

When you read their value proposition, you have a clear understanding of what their product is and who it is for.

What's missing:

Zuora focuses more on what they do than the value they bring to their customers.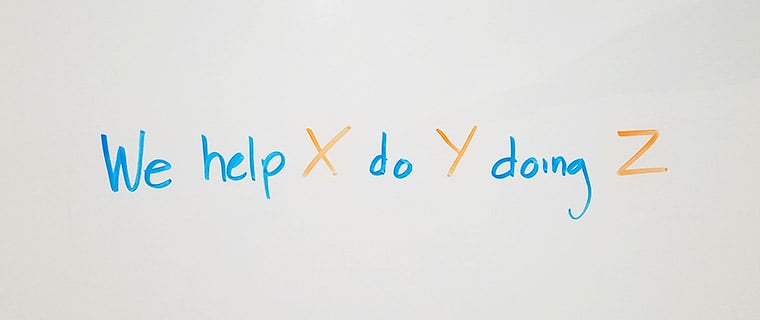 Steve Blank's Value Proposition Template
This second value proposition template is even more straight forward. It sets the stage for your company to determine who you're helping and how you do it! It goes like this:
"We help

X

do

Y

doing

Z

".
Like Geoff Moore's template, it identifies the target audience and your product before highlighting the value that you bring. Here are a few examples and how they break down within the template.
Zapier: Zapier helps your tools work better, together—so you can save time and money.
Omniconvert: We help e-commerce websites increase their sales through A/B testing, surveys and personalization.
Square: Square helps millions of sellers run their business—from secure credit card processing to point of sale solutions.
Mint: We help you effortlessly manage your finances in one place.
Workday: Workday is helping enterprises around the world solve their biggest challenges.
Evernote: Our note taking app helps you capture and prioritize ideas, projects and to-do lists, so nothing falls through the cracks.
Pagely: We help the world's biggest brands scale and secure WordPress.
The biggest piece missing from most of these value propositions is a clear definition of their target audience. It's very possible that some of these companies know their target audience and have clearly defined personas that just aren't reflected in their written value propositions.
Having this clear definition can give you the boost to make the tough decision about who you are targeting and what your messaging should be.
Using These Templates
Creating a value proposition that's more than a catchy tagline takes a lot of time, effort, and conversations with your customers. Do the research to see what value you can offer to them and use what you learn to build your value proposition and ultimately your marketing plan.