The beauty of LinkedIn compared to other social networks is that people are there to network. So, when you're looking to build your personal thought leadership and make important connections, LinkedIn is the perfect place to start.
If you're looking to practically get the most out of LinkedIn and make truly valuable connections, you need to explore LinkedIn Groups.
But there are some general guidelines to follow to ensure you bring value and don't turn others off by your behavior. Check out these eight quick tips to use LinkedIn Groups effectively and easily build connections.
1. Be yourself—a person
LinkedIn Groups are made of people who have specific expertise and skills. Sure, you're there to represent your company, but remember to lead as a person and not as a company mouthpiece. Be sure to introduce your perspective on specific topics, news, and posts, and keep it tailored to you as a professional. In the process, you'll be representing your company as well.
2. Participate first. Post later
If you're the first to the party and you immediately start talking about your ideas and thoughts, you're going to turn people off from what you have to say.
You need to earn the right to participate in the conversation—which means the first few actions you take inside any community need to be reviewing the content posted there, getting the general vibe of the group, and liking or commenting on current posts.
As you provide value, you can begin to introduce posts of your own, but keep this to a couple of times a month at best. You don't want to be seen as someone trying to dominate the group with your own content.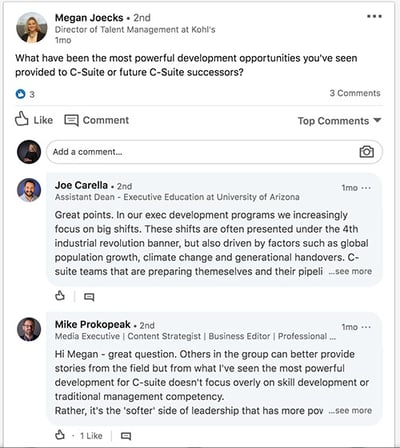 3.
Start with industry content (external)
When you're new to a group, it's important to establish credibility. The easiest and most straightforward way to do this initially is to borrow credibility from industry sites.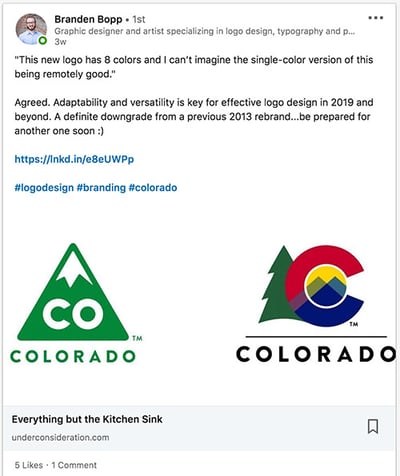 If you find a magazine, YouTube channel, news outlet, etc. that has a great article or valuable piece of media posted, share that first. Don't start by posting self-authored or branded posts. This could mistakenly be seen as self-promotional if you haven't first established yourself as a valuable and objective contributor—and external content helps you do that.
4.
Have perspective and a point of view
When you post a news item, include a brief overview of your take on it. Some people choose to add in a bit of controversy to encourage engagement, such as "Do you agree with this article? I've found the opposite to be true based on my work in industry XYZ. Would love to know your thoughts."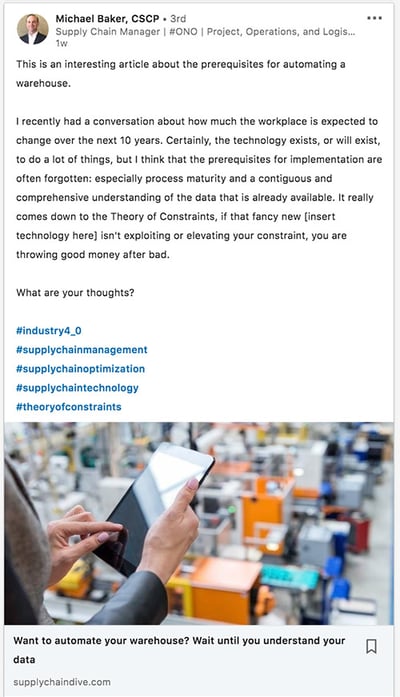 Just saying things like "Great article" or "read this" misses the point and could result in crickets (aka, no engagement!).
5.
Don't be afraid to share visuals
Because it's easy to grab a link and post it, that is what many people do. So, you'll want to go beyond the status quo to earn eyeballs on your content.
When you take extra effort to post a visual, such as an infographic, an ebook, white paper, video, etc., it stands out among the rest of the content. Plus, visuals tend to get shared more than written content in many scenarios.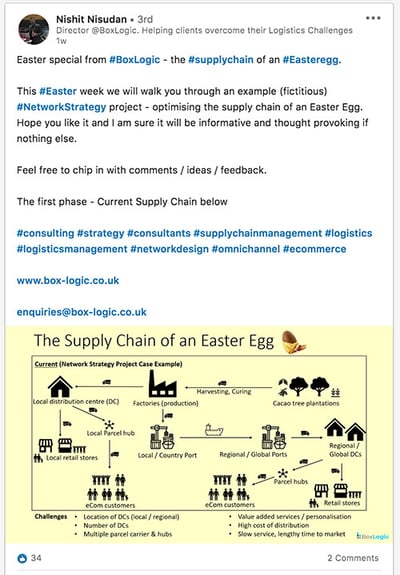 6. Beware of cross-posting in different groups
If you post the exact same post/content in a number of groups, you need to be careful. Many people are members of multiple LinkedIn groups.
If you do adopt this practice, you'll want to vary the text about the post and the posting schedule. Otherwise, it comes off as lazy and promotional. Nobody likes someone who spams several groups with the same post.
7.
Be polite
Thank members for their feedback and comments on your post. Also make sure to respond to questions or comments as you get notified on your LinkedIn account.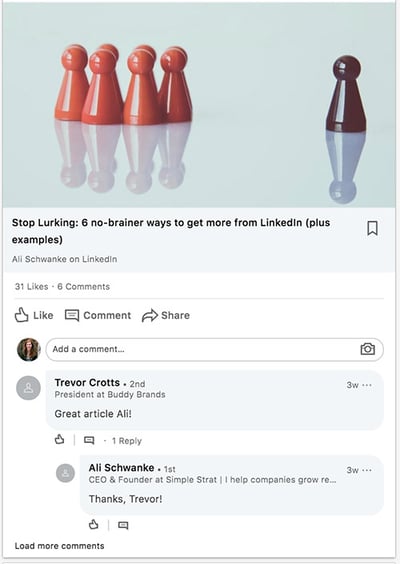 8. Connect with members through LinkedIn
Being part of a group is a natural way to build relationships. And it makes sense to reach out and ask for a connection with someone who is in the same group as you.
Here are some good times to reach out for a new connection:
After someone has commented on one of your posts (thank them for their comments in your LinkedIn invite)
After you've had a quick conversation on their LinkedIn post in the group.
BONUS TIPS!
To give you a few more tools in your toolbox, here are a few final hacks to master your participation on LinkedIn and in LinkedInGroups.
Use a tool like Feedly to keep an eye on relevant industry news that you can share.
Don't forget to spruce up your profile—make sure it's an accurate representation of you to the groups.
Choose groups that represent what you stand for and are passionate about—your groups show on your profile and say something about your personal brand.
Find a good mix of groups that showcase your personal, professional, and social interests.
Add visuals to your posts with easy-to-use design tools like Pablo by Buffer, Canva, or Visme. Again, this can have a huge impact on overall engagement with your content.
Share quickly to your groups from your LinkedIn feed. When you click to share a post or article within LinkedIn, click "Public" and you'll see a dropdown menu to share it in your groups. But remember to mix up your posts to keep it original. Don't just cross-post!
Make time to engage with your LinkedIn Groups. Set a reminder on your calendar and spend 5-10 minutes each week commenting on others' posts or sharing industry insights. It doesn't take long to have a big impact. Check out Ali Schwanke's LinkedIn marketing routine that can be done in just 15 minutes a day!
You're ready to get started! Choose 2-3 LinkedIn Groups in your area of expertise and join the conversation. Use these tips, do it consistently, and watch your credibility and connections grow!
Any other tips you think we missed? Let us know in the comments below.