To grow your business, you need a marketing plan. This includes information about your audience, visuals, messages, products or services, goals, strategies, and tactics.
In this post, we'll give you a basic marketing plan outline. If you want a more detailed guide to writing a successful marketing plan, we've got a full marketing plan template and guide available as well.
Part 1: The Executive Overview
The executive overview is a brief summary of the company, why it exists, and how marketing will contribute to helping the company achieve its vision.
The executive overview may contain:
Vision, mission, and purpose of the company
The role of marketing and how it's defined in your organization
A brief introduction of the critical pieces of the marketing plan
Part 2: The Brand
A brand encompasses the overall experience a customer has with the company. In the marketing plan, this includes:
Visuals

Logo
Colors
Fonts
Photos/images used

Message

The brand story
Brand promise or unique selling proposition
Brand voice and personality

Part 3: Your Target Audience(s)
Your target audience helps you narrow down WHO you're selling to. You likely have more than one target audience.
At a basic level, each target audience should be profiled to outline:
Demographics - these are the hard numbers you can use to segment, such as age, income level, education, geographic region, family size, etc.
Psychographics – these are more values-based, but could be generalized with other categories such as age group (millennials), location (love beaches), or experiences (skydiving enthusiasts)
Triggers – what types of events this audience encounters that prompt them to take action and either seek a solution to their problem or buy your particular product or service
Influencers – individuals/groups who influence the purchasing decision of this audience
To take this a step further, we recommend the creation of buyer personas.
According to Hubspot, a buyer persona is a semi-fictional representation of your ideal customer based on market research and real data about your existing customers. When creating your buyer persona(s), consider including customer demographics, behavior patterns, motivations, and goals. The goal here is to craft a "personality" to which you can tailor your content, resources, and strategies.
Personas will also help you determine where to focus your time, guide product development, and allow for alignment across the organization.
Part 4: Outline the Buyer's Journey
The buyer's journey is the process buyers go through to become aware of, evaluate, and purchase a new product or service. The journey is a three-step process:
Awareness Stage: The buyer realizes they have a problem.
Consideration Stage: The buyer defines their problem and researches options to solve it.
Decision Stage: The buyer chooses a solution.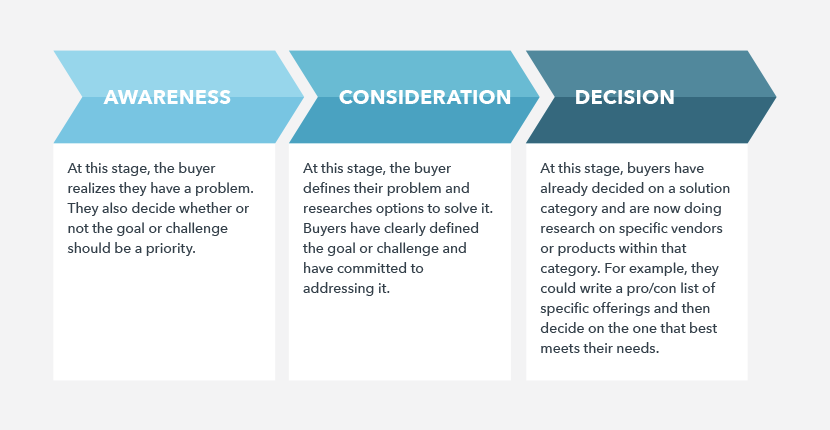 The buyer's journey is essential in mapping out your marketing plan. The goals, strategies and tactics you create need to map to specific stages for maximum effectiveness.
Part 5: Goals
When writing goals for your marketing plan, you first need to consult the goals of the organization. If your company has a strategic plan, it's imperative that the marketing goals be linked specifically to the organizational goals.
Examples of goals for your marketing plan:
Increase sales by [date]
Increase the number of leads by [date]
Increase website traffic by [date]
Increase number of referrals by [date]
Generate X number of impressions on social media by [date]
If you're not sure what to establish as goals, keep the metrics out of it in the beginning. Start simple and choose 1-2 things to work toward. You can always expand to work on more goals at a later date.
Part 6: Strategies and Tactics
If goals are the destination – the place you want to go – then strategies are the ways in which you can get there, and the tactics are the fuel that will drive the car.
Let's consider a strategy example that's linked to a goal, something like:
"We want to increase sales by 15%."
Next, you'll need to expand on that goal. Begin by asking yourself these questions:
Increasing sales of what?
Within what customer segment?
By when?
To do this, what will we have to make possible?
Then begin identifying strategies that will lead to the achievement of that goal. Out, of those strategies, come tactics. Tactics are the executable things, such as posting on Facebook, sending out postcards, or doing a calling campaign.
Think of it in this order:
Goals
Strategies
Tactics
When thinking of tactics, be sure to revisit your buyer personas – what channels make sense for them? Remember...just because you may not like a specific channel (for example, some people hate direct mail), that doesn't mean it won't be effective in reaching your target audience.
The reason why many businesses have trouble extracting an ROI from their marketing efforts is because they select the tactic (Facebook for example) and then they think, "What should we promote today?"

Part 7: Outline the Calendar
A calendar-type format helps you visualize the plan. With our clients we use a tool called the "Big Rock Calendar" – based off of Franklin Covey's idea of putting the big rocks in first. If you don't, they're hard to fit in later.
These activities are the ones that serve as a cornerstone for your marketing efforts. These could include big rock activities such as:
A quarterly PR campaign
Monthly blog
Tradeshows
Weekly email
Strategic outbound campaigns
Events
Customer appreciation activities
Once you have this, then you can fill in around it with things like posts on social media, lunch and learns that come up on a moment's notice, Facebook ads for an award you won, speaking opportunities, and more.
Part 8: Allocate Resources
Putting your marketing plan into action requires resources! This includes money, time, talent (people), and tools. This may also be where you look at your marketing plan outline and determine you have way too much on your plate!
Questions to consider when you're looking at your resources to achieve your marketing goals:
What can be done internally?
What needs to be outsourced?
What am I willing to pay to acquire a new customer? (note: if you don't know the lifetime value of a customer, this is a very hard question to answer!)
What can I do, but be more worth my time to hire someone to do?
How will I manage the daily/weekly/monthly workload?
A few tools that may help:
Another thing to consider when identifying resources is the type of talent you need in order to execute on the ideas you've outlined. These include:
Graphic design
Data management and analytics
Content creation (writing, video production, editing,)
Email marketing
Web design
Social media advertising
Media buying
Smart business owners know what they're good at, and they identify skills and talent (internal or external) to help them with the other pieces.
Part 9: Establish Metrics
You need to figure out what metrics you should track, especially when starting out.
Basic metrics we'd recommend tracking include:
Leads generated
Website traffic
Clicks through to website from social media
Sales
Impressions

Part 10: START!
From this marketing plan outline, put together a short action plan and commit to working IN your plan for the next 30 days. Be realistic about what you can accomplish.
If you'd like to grab all of this information an easy-to-use template, we've got a copy of that for you too!