The world of manufacturing is extremely competitive and ever evolving.
Yet, while many manufacturers have leveraged technology in the manufacturing process itself, relatively few have transitioned their marketing into the digital realm.
But that's changing quickly.
Manufacturers Need to Demonstrate Expertise Earlier in the Sales Process
Savvy manufacturing executives realize that customers want to see the product. They want to understand the process. They want to meet the people.
Customers demand a manufacturing partner who can get the job done right, as well as on time and on budget. They're also looking for a manufacturing partner with connections, knowledge, and understanding of their key challenges and goals.
Many manufacturing professionals find that they can demonstrate their expertise once someone gets in the front door, talks to their staff, and/or tours their facility. Once they get onsite, they nail the sales meeting and close business at a high rate.
Where many struggle is getting people to the door, and that's likely because they aren't demonstrating their expertise where their prospects are beginning their buyer's journey.
According to a recent B2B Buyer's Survey Report, 68% of B2B buyers stated that a web search is one of the first three resources that informs them about their purchases. Only 20% said the same for vendors and sales reps.
To be successful, you need more leads earlier in the sales process. To do that, you have to demonstrate expertise online.
But how might you do that?


Introducing the Research Report Concept
A research report is an informative and authoritative document that presents the results and findings of a specific area. It may be conducted through surveys, personalized interviews, an observation of forums, social media interaction, and more.
It typically involves going after information that your prospective audience will find helpful in solving their problems, understanding best practices or accepted practices for their industry, and benchmarking specific activities or strategies.

Here's a quick example:
Company XYZ manufactures specialty automobile parts. One of the topics their customers would be most interested in is automobile safety. As a result, they conduct a survey with their customers asking them to answer a series of 10-15 questions about the performance of their product, which aspects of automobile safety are most important to them, and more. What the company emerges with is a one-of-a-kind piece of content that contains valuable information for their target audience.
They can then publish the report online and promote it through digital advertising and SEO best practices to attract traffic. To convert that traffic into leads, the company could either ask people to fill out a form to gain access to the report or create an additional, relevant lead magnet to accompany the report.
In addition to publishing and promoting the report on line, the company's sales staff can send it out as an opportunity to start a conversation.

Note: While a research report is fairly straightforward, it's not a simple undertaking. It does require significant planning, execution, and summarization of the data. Plus, it can be repurposed in many different formats – from print (pdf) to a one-page website to a video.
Despite the work involved, when leveraged correctly, it can be very effective in attracting leads and demonstrating your company's expertise long before your prospects are willing to talk to a salesperson.


How to Structure Your Research Report for Lead Generation as a Manufacturer
The process of generating leads with a manufacturing research report starts before the research even begins. It's all about what your potential customers would find valuable.
For example, in our industry (marketing) we often get asked, "How many people should we have in our marketing department?"
That's a loaded question. And there really isn't any solid answer backed by data, which creates the PERFECT opportunity to create a research report.
In structuring the survey, we might include questions such as:
How many team members do you have in your marketing department?
What is your annual revenue?
What are the core responsibilities of your marketing team?
This would allow us to categorize the information and present findings to help executives and directors benchmark themselves against their peers. This type of report is one that presents crowdsourced data in the absence of data completely.
If we were to act on this opportunity, we could survey all of the marketers in a particular industry. There are 2 ways we could do this:
Conduct research on our own.
Conduct research through a partnership with a particular industry association where the marketing director may be a member.
For Option #1, there are less hoops to jump through, but you could be faced with the challenge of generating a long enough list of people to survey. And, getting those people to actually complete the survey is a challenge itself.
Pro Tip: If you are going to do your own survey, offer an incentive to the people who complete it and be prepared to follow up with people many times to ensure you get enough responses.
Option #2 is more straightforward as an association will likely have sizable contact lists and good engagement with their members. However, it may be harder to secure since not every association wants to leverage their membership in this way.
Whether you conduct your own survey or work with a partner, the important part is that you gather enough data to have conclusive results.


Building Blocks for Research Report Success
Once you have the topic nailed down and the method in which you want to gather the research, there are a few things to keep in mind.
A research report needs to be clear, concise, readable, and understandable - even to those who are not intricately familiar with the business proposition. Additionally, make sure your final report covers these 4 areas, which could be framed as "building blocks" of your report:
The Method: A research report should always provide transparency as to how the information was gathered – the methods you used. This includes sharing how many people participated, how they provided the information (survey, social, phone, groups, etc.), and whether or not it was anonymous.
The Sources: A research report should also cite any sources utilized in the write-up, such as industry blogs, external sources, other reports, etc.
The Reasons: A research report should point to the reason for sharing specific information. Every bit of the report should have a purpose.
The Takeaways: A research report should be structured to offer the reader a specific set of takeaways to consider after reviewing the information. This is essential in its use as a lead magnet, as your company should be able to help the reader through products or services that correspond with the key takeaway.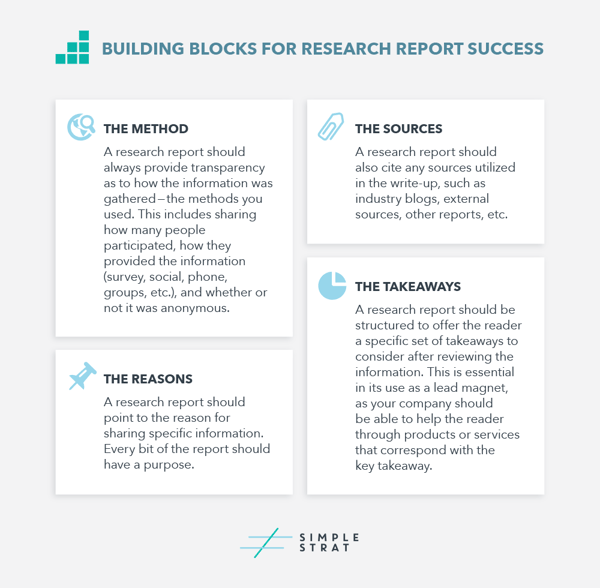 Conclusion
If you're looking for more strategic opportunities to position your company as the expert AND generate leads in the process, it's time to consider a research report for your company.
When executed correctly, it can be shared as multiple pieces of content across a variety of digital and offline channels. It can also be an excellent opportunity to get back in front of cold or lost leads.
______
Interested in creating a research report, but don't have the internal bandwidth, resources, or expertise to make it happen? Our team can help. Request a free consultation today!