Marketers play an important role in influencing and advising technology adoption in the sales and marketing departments – including the "growth stack" or set of tools designed to work together to achieve a desired result. In this case, you're looking for increased performance and better results for sales and marketing.

According to LinkedIn's State of Sales 2016 report, the tools that a salesperson uses is highly correlated to their sales performance. Despite evidence like this, many sales professionals struggle to adopt technology at the level their company, customers, and team members need.
Why embrace tech in sales?
Reason #1 - Speed
A survey by HBR found that only 37% of enterprise companies responded to leads within an hour, and the average response time for B2B companies was 42 hours. About a quarter of the leads never even got responded to. Technology can help you scale your responses to common questions or route them to a person who is available for a conversation.



Reason #2 – Brand Consistency
A consistent experience is one of the pillars of a strong brand. One of the ways to ensure this is optimized is a consistent process, message, and tools used in the sales process. According to Forrester, 74% of B2B buyers do research online before making an offline purchase. Having consistent language in the marketing and sales process will ensure they're reading and processing the same message throughout their buyer's journey.

Reason #3: Personalization and Customer Understanding
Customers want to buy from companies that understand their needs. A study from Accenture found that about 2 in 3 consumers are more likely to make a purchase from a retailer if it sends them promotions that are relevant and personalized. The same goes for the sales process, but must leverage tools to bring machine learning into the fold so every interaction can be an opportunity to learn more about the individual and what they prefer.

Now let's talk about the tools needed in the sales process.
Tech-driven sales tools for modern sales professionals
Customer Relationship Management (CRM)
Every salesperson needs a CRM to reference and report interactions with past and current prospects and customers. This is a non-negotiable for a modern and effective sales team.

CRMs allow sales teams to access prospect and customer information, inspect deals, forecast sales, track conversions at various stages in the pipeline, and provide accountability for sales behavior inside the organization.

As a marketer, your success to tailor marketing communications and advertising is dependent on the accuracy of the data. When a sales team has a good CRM tool and a GREAT methodology for using it, your job is much more effective.

CRMs that sales professionals will love include:
*Tools marked "free" in this article offer a free version that includes at least some of the functionality mentioned.
Calendar and Meeting Scheduling Tools
Stop playing tag! The days of going back and forth to schedule a meeting are over. Top performing sales professionals recognize that they have better things to do with their time than play email tag for meeting availability.

Thankfully, there are a number of tools available to help with this problem – and many of the modern CRMs like HubSpot are building this functionality directly into their tool. Several of the calendar and meeting scheduling tools also automate the follow up of sending the meeting invite and reminders days before the event!

A few meeting scheduling tools for sales processionals include:
Tools for Managing and Responding to Email
Email can quickly sideline even the most productive people. Batching email management is an excellent move to allow more time to focus on revenue producing activities. However, if a sales professional is sending multiple emails at off hours or all at once, that's not going to be effective either.

With email management and sending tools, you can process email or schedule emails to be delivered at the times you choose. Other tools like HubSpot have this feature as well, but they also utilize some smart scheduling functionality to analyze past email open behavior for the contact you're trying to reach – and will then recommend a time to send based on optimal open percentage.

Sales email tools to consider include:
Tools to Learn More About Your Prospective Customers
Personalization is hot because we all want to feel like a company, person, or campaign truly understands us! By the time a prospect gets to the sales funnel, the customized attention a sales representative gives them is essential for success. The best way to do this is to learn more about who you're talking to. Tools like Crystal will analyze LinkedIn data, along with email correspondence history to help you learn about the communication style, motivations, and behavioral tendencies of an individual. Simple chatbots like GrowthBot integrate with popular tools like Slack and discover answers about your prospect in response to questions.

A few modern sales tools that help you learn more about prospective customers include
Tools to Maximize the Time Sales Professionals Spend Writing and Sending Emails
There are a number of things we say or do repeatedly when working with a prospective customer. These include introduction emails, follow ups to requests for more information, responses to common sales objections, etc.

While you can copy and paste these from previous emails, it's much more efficient to utilize templates within your email or CRM tool. These also allow marketers and sales professionals to balance the need for a consistent brand message and the need to personalize parts of the message to individual leads. Plus, sales teams and marketers can track the effectiveness of specific templates over time.

Tools to save time responding to prospect inquiries and questions with email templates include:
Tools to Create and Send Proposals
Proposal creation can be a challenge for even the most experienced sales professionals. Even for marketing companies like ours as well!

We've heard multiple stories of sales departments that have beautiful proposals, but the time needed to create them is dragging down the rest of the staff. In a productive sales environment, teams should have a standard list of items that are included in proposals, including the items needed to sell specific products and services.

By using a proposal creation tool, you can standardize and streamline the creation process, customize the deliverables, and then send it off through email. Most proposal software services will also track opens, views, and allow your prospects to add comments to request clarification or address concerns.
Incorporating these tools into your sales process
Now that we've run through these tools, it's time to embed this technology and these specific tools into your sales process.

But first, a caveat. >>

Whether you're a marketer or engineer, the temptation can be to set out on the quest to find the absolute best, perfect tool.

But what we've found in analyzing how companies implement sales and marketing technology is – a tool is just a tool. Yes, functionality is important, but you won't be able to truly maximize a piece of technology if the strategy and plan of how you'll use it isn't determined in advance.

So let's dig into how to incorporate these tools so you can get the highest amount of ROI, regardless of which ones you choose.
5 Steps to Integrate Technology Into Your Sales Process
Step 1: Map out your current sales process.
Spend some time mapping out how the process works now, whether it's working or not. This allows you to focus on the process rather than the technology. Pro tip – map it out on a whiteboard, and then put it on paper!

As an example, you may find that your process looks something like this:


Once you've gotten the basics down, then add in the details and set some standards such as where a prospect becomes an opportunity, and what to do with them if they are disqualified at any point during the sales process.

For example, this is what our process at Simple Strat looks like: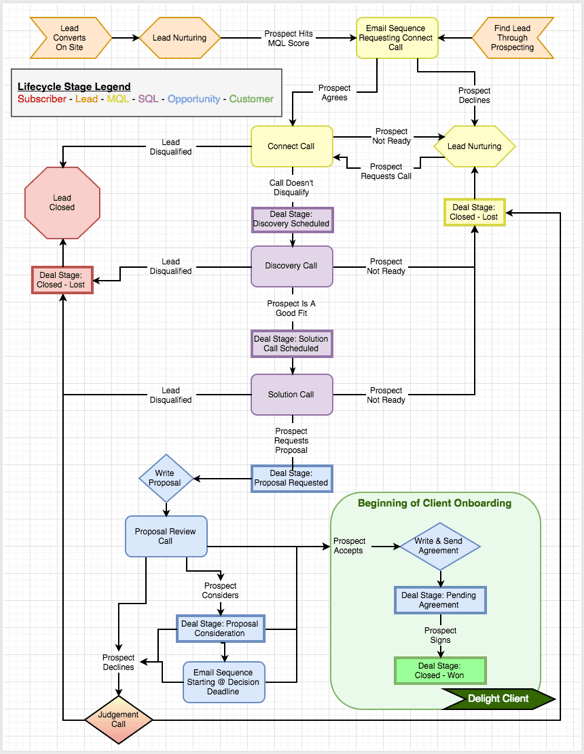 Step 2: Classify each step in the process by complexity and frequency.
Use the following matrix as your guide. Don't think software yet – this is simply to classify the actions happening in your sales process.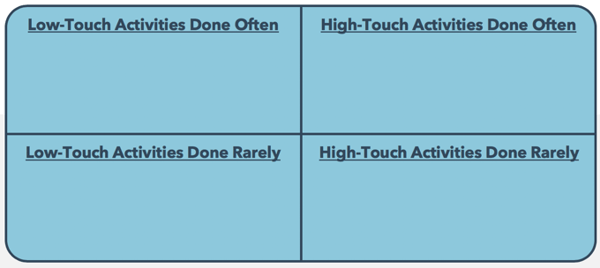 Step 3: Add tools and automate where it makes sense.
Now you can get specific on the tools and technology utilized for each step and action in the sales process. The matrix below helps you identify what type of technology fits best for each quadrant.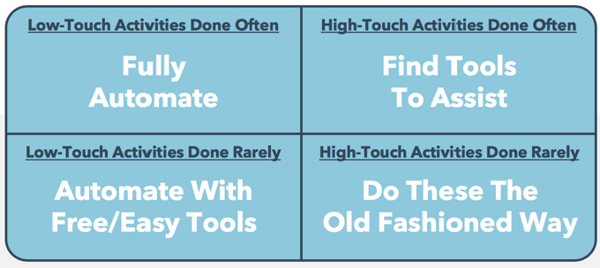 Step 4: Get buy-in from your team/company
The realistic part of this step is….in order to generate buy-in quickly, the executive team at the highest level need to be in support of the initiative. In addition, the sales team should be involved during the sales process mapping and matrix exercises in steps 1-3. If you wait until after this stage to get them involved, you run the risk of basing decisions on unvalidated information, or encountering significant resistance to change.

Even if you do include sales team members in steps 1-3, you will likely still need to work on generating internal buy-in and user adoption.

Ways to do this include starting with a beta group of sales professionals to pilot tools, having a strong onboarding program, establishing accountability partners, etc.
Step 5: Spend the time to learn the tools
Learning of the tool Is never done! Software and technology are ever changing fields, and with time comes changing feature sets, new user interfaces, new integrations, and more. Even as a partner agency with popular software solutions in the marketplace, our team is constantly learning and increasing our overall knowledge of the tools' capabilities, use cases and applications, and more.

Make it a point to leverage knowledge and success stories internally. Marketing and sales team members who are knocking it out of the park can share the functionality they're finding useful in their own process, or they could serve as the internal "Q&A" expert for others who may be slower to adopt the tools.
Conclusion:
Technology has the potential to revolutionize the modern sales department. Marketers have incredible potential to help their coworkers in the sales department strategize, analyze, and select software tools that match their desired outcomes. Regardless of tool, however, a good place to start is mapping out the sales process and then identifying the technology that will help you maximize your efforts.

Are there any specific technology tools or insights we missed? Let us know in the comments!