"Do it for the 'gram!" While some social media Story posts may not have started as the best idea, there are some that really catch on. It's not always easy coming up with unique AND engaging content for marketing your business (especially when there's multiple ways to share it), and social posts are no exception.
That's why we've put together a quick review of the differences between the social media platforms, and a few ideas you can use for your next Story!
Let's get started!
Differences Between Social Platforms
The three platforms that currently have a Story feature are Facebook, Instagram, and Snapchat. Each social media platform is different in how your audience interacts with the content you post. What works on Instagram, might not work on Facebook. Remember, just because each platform is considered social media, doesn't mean you should share the exact same content.
Facebook
It's important to note that Facebook is the most recent platform to join the Story party. At the time of writing, Facebook Stories are only available for personal profiles, not business pages.
When creating content for Facebook, keep in mind that people frequent this platform for updates, relevant information, and entertainment. For example, you can post a Facebook Story to let your audience know that you have big news coming out later that day or that you have an upcoming sale in the next couple days. Think of it as a you would an Instagram Story.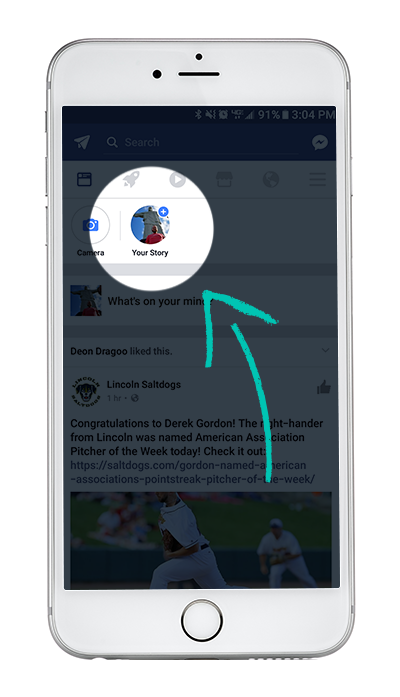 Some people even tend to use Facebook to gather information about your products or services. With the ability to now book appointments and buy straight from Facebook, you should always make sure you have up-to-date information available for your audience. Keep your audience engaged by running contests or giveaways that make them feel like they have a stake in your brand.
Facebook posts, whether they're Story updates or organic posts, should be a mix of polished and authentic content. You don't want all your posts to look "corporate" or stuffy but you also don't want everything to be memes or unpolished content.
Instagram
By technical definitions, Instagram is a free, online photo-sharing application and social network platform.
Instagram should show the culture of your business and provide an inside look into your company and brand. Instagram is all about the visual content of your post.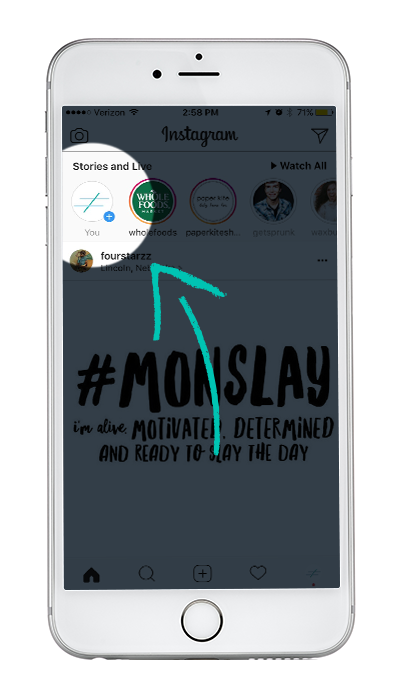 Your Instagram audience is often looking for high quality or polished-looking content that provides inspiration and entertainment. Some accounts (verified accounts & business accounts with more than 10,000 followers) have the ability to add links to their Stories, but the rest of us don't have this feature yet. This means the focus is truly on your image, so you'll want to take advantage of that.
Snapchat
This platform is the most laid back of the three platforms we're discussing, but it is also keeping pace with the big dogs. With recent updates that allow for links and other filters on any Story, Snapchat is looking very similar to Instagram and filling gaps that Instagram is leaving behind.
The content you post in Snapchat should be exclusive-feeling, behind-the-scenes content. Feature your company culture in ways that are more laid back than Instagram. Snapchat audiences are looking for in-the-moment content that is very casual.
Sure you can upload polished and professional looking videos and photos to your Snap Story but that's not what viewers come to Snapchat for. This is your chance to snag adorable photos of the office dog or give a shout-out to your intern for showing up with coffee on Monday mornings.
Now that we're refreshed on what type of content goes where, let's get into some ideas!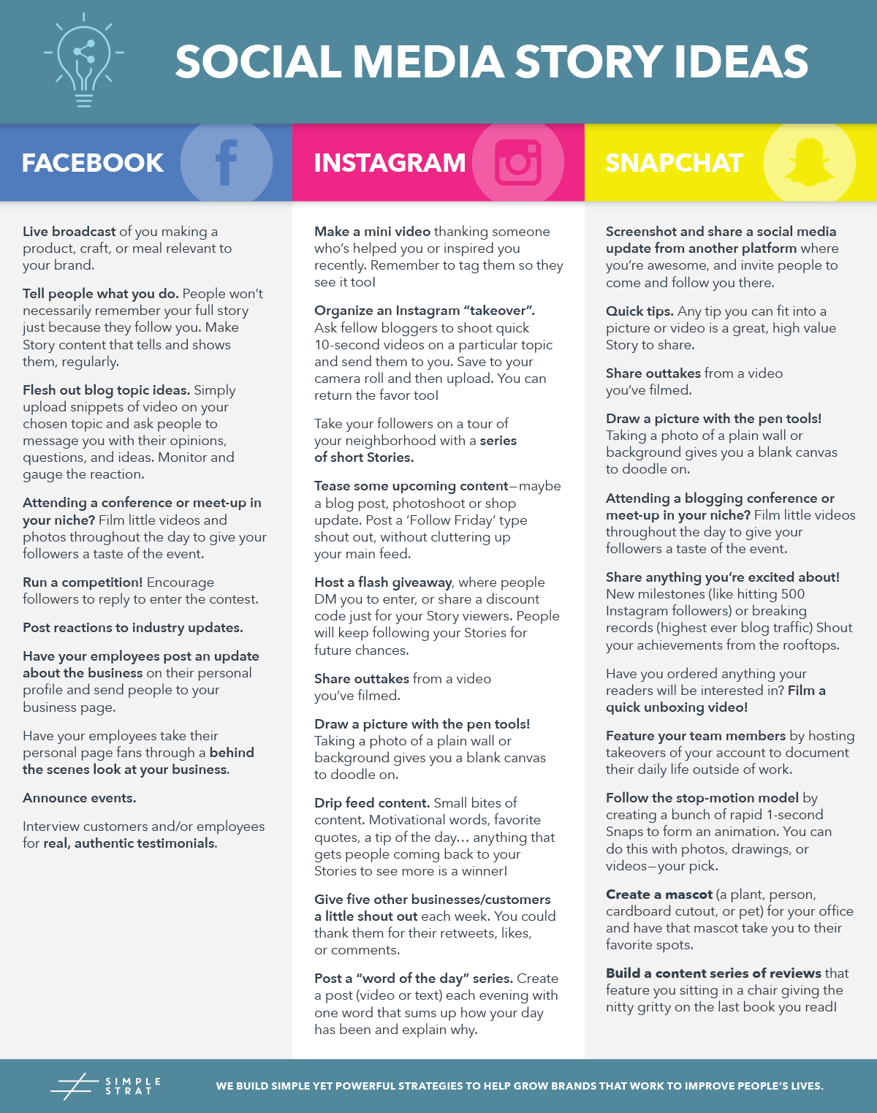 Facebook Stories
Facebook Stories are modeled just like Snapchat and Instagram Stories. They differ in the fact that only personal accounts can use them and that, because they were the last on the scene, they are less likely to be noticed and are used by fewer people.
Your Story is featured at the top of your newsfeed for your friends to see and will have a blue outline around your circle when you have a new Story to share. Like its counterparts, Facebook Stories allow you to add stickers and effects to your posts.
Since your business page can't have a Story post, have your employees feature business updates on their personal profiles. An added bonus to Facebook Stories is the ability to reply via direct message, which means your employees can answer questions and send links to their audience all day long!
Stories are a great way to share ideas and content without having to upload a status. You can always tell people to check out your Story in your status but most often your Story updates will be quick tidbits of information that are only relevant for the 24-hour time limit. Stories are also a way to post as often as you want without cluttering up your timeline or your friends' newsfeeds. So go ahead and post all 100 photos of your new office puppy!
Let's check out some more ideas!
Facebook Story Ideas
Live broadcast of you making a product, craft, or meal relevant to your brand.
Tell people what you do. People won't necessarily remember your full story just because they follow you. Make Story content that tells and shows them, regularly.
Flesh out blog topic ideas. Simply upload snippets of video on your chosen topic and ask people to message you with their opinions, questions, and ideas. Monitor and gauge the reaction.
Attending a conference or meet-up in your niche? Film little videos and photos throughout the day to give your followers a taste of the event.
Run a competition! Encourage followers to reply to enter the contest.
Post reactions to industry updates.
Have your employees post an update about the business on their personal profile and send people to your business page.
Have your employees take their personal page fans through a behind the scenes look at your business.
Announce events.
Interview customers and/or employees for real, authentic testimonials.
Instagram Stories
Remember, your Instagram audience is looking for visually interesting content that provides inspiration and entertainment.
Instagram Story Ideas
Make a mini video thanking someone who's helped you or inspired you recently. Remember to tag them so they see it too!
Why not organize an Instagram "takeover"? Ask fellow bloggers to shoot quick 10-second videos on a particular topic and send them to you. Save to your camera roll and then upload. You can return the favor too!
Take your followers on a tour of your neighborhood with a series of short Stories
Tease some upcoming content – maybe a blog post, photoshoot or shop update. Post a 'Follow Friday' type shout out, without cluttering up your main feed.
Host a flash giveaway, where people DM you to enter, or share a discount code just for your Story viewers. People will keep following your Stories for future chances.
Share outtakes from a video you've filmed.
Draw a picture with the pen tools! Taking a photo of a plain wall or background gives you a blank canvas to doodle on.
Drip feed content. Small bites of content. Motivational words, favorite quotes, a tip of the day… anything that gets people coming back to your Stories to see more is a winner!
Give five other businesses/customers a little shout out each week. You could thank them for their retweets, likes, or comments.
Post a "word of the day" series. Create a post (video or text) each evening with one word that sums up how your day has been and explain why.
Pro Tip: Live Stories
Something that is often overlooked is using Stories to promote other aspects of your business as they're happening. Live Stories are a great way to engage with your audience, but you'll want to make sure that your audience knows what's happening.
Here is a great article from the Social Media Examiner that goes into detail on what Instagram Live is but, in a nutshell, it's just like Facebook Live. You can directly engage with your audience by reading their comments to your live broadcast as you're filming.
One thing that you'll want to make sure to do is promote your live story. Some people will get a notification that you're going live, but others may have that turned off. You want to give your audience a heads up about your live story so that they can tune in just in time to catch the action!
Keep your audience engaged by asking them questions or prompting them to comment on your post during the live broadcast. A new feature of Instagram Stories is now your Live videos will save to your Story for the 24-hour limit instead of instantly disappearing. Woot! Your saved content will appear in your story with a notation that says "recorded live." Now your audience can check out your content just as if it were a regular story!
Before we get to Snapchat ideas make sure you check out our post about how to optimize Instagram Stories so that they get more views!
Snapchat
Remember, your Snap Stories should be entertaining and exclusive content that really connects with your audience. These are the posts that your audience loves to see because it makes your brand more "human."
Snapchat Story Ideas
Screenshot and share a social media update from another platform where you're awesome, and invite people to come and follow you there.
Quick tips. Any tip you can fit into a picture or video is a great, high value Story to share.
Share outtakes from a video you've filmed
Draw a picture with the pen tools! Taking a photo of a plain wall or background gives you a blank canvas to doodle on.
Share anything you're excited about! New milestones (like hitting 500 Instagram followers) or breaking records (highest ever blog traffic) Shout your achievements from the rooftops.
Have you ordered anything your audience will be interested in? Film a quick unboxing video!
Feature your team members in a fun, engaging way by having them host takeovers of your account. Have them document their entire day to show your audience an inside scoop of their daily life!
Create a mascot (a plant, person, cardboard cutout, or pet) for your office and have that mascot take you to their favorite spots in and around the office
Follow the stop-motion model by creating a bunch of rapid 1-second Snaps to form an animation. You can do this with photos, drawings, or videos – your pick
Build a content series of product or book reviews based on your company. These are the nitty gritty reviews that feature you sitting in a chair talking about your latest read or purchase!
Streamlining social in business
Stories and live updates are a great way to go the extra mile in communicating with your audience on social media. We've covered the different types of content that your audience is looking for on each platform: Facebook – news, updates, and entertainment, Instagram- high quality photos and entertainment, Snapchat- exclusive, in-the-moment content. Now that you've got nearly thirty ideas, you can get out there and start posting!
With scheduling and automation tools, social media marketing (and content marketing in general) becomes a lot easier for businesses using HubSpot. That's why we tend to recommend it to clients when we're helping them with content marketing. With all the options to choose from though, we decided to make a guide to help you out if you're considering HubSpot: