Instagram themes are a great way to stand out from the rest of the feeds on Instagram. They give all your posts a cohesive look and feel, helping you to create a cohesive personal brand aesthetic. While a theme isn't always noticeable in your followers' feeds, once they click on your awesome photo, they'll get to your profile and go, "Whoa."
Of course you still want strong content to post, but adding a theme to your Instagram strategy is one way to stick out from the rest of the Instagram crowd.
We'll go over how you can choose the right theme for you and we'll give you eight Instagram theme ideas that you can choose from!
Now let's get to choosing a theme.
Picking your theme
While it might seem like you can just pull a theme out of a hat and start with that, your followers may have already picked a theme for you. If you have a business profile – which you should, click over to the analytics icon and click the "see more" option.
You'll be able to see your top performing posts based on metrics such as impressions, reach, engagement, likes, comments, and saved posts. You can filter the range by week, month, year, or up to two years prior.
Once you've got your metric and time frame picked, you can see which posts performed the best and analyze those to see if there is anything in common between posts. Now, it might turn out that there's not a whole lot in common, but it is a great baseline to see what your audience reacts best to.
If it's clear that there are certain styles or photos that work well, see if you can't incorporate that into a theme. If not, no need to worry, that's what the rest of this post is for!
In the next section we'll go over 8 different theme ideas for Instagram you can use for inspiration.
Theme Ideas
Each of these Instagram feed theme examples are relevant to their account and are maintainable, which are two major factors you should consider when you're picking your theme.
Filter
This theme idea is the perfect place to start if you're thinking of adding a theme to your feed. All you have to do is use the same filter on all your posts. Your filter can then become your trademark style.
This helps people recognize your photo straight away and makes your overall feed look cohesive when someone looks at your feed for the first time. The filter will give an overall mood to your feed, so choose wisely based on the type of photos you take. Best of all, using a filter for your theme is super easy to implement and maintain.
Example:
Marianna_hewitt is a blogger and Instagram guru! She uses filters, but in blocks of 9,12, or 15 so she can go between a few different styles but not so many that her feed is all over the place!
Psst..Here's another 25 filters you can use with VSCO!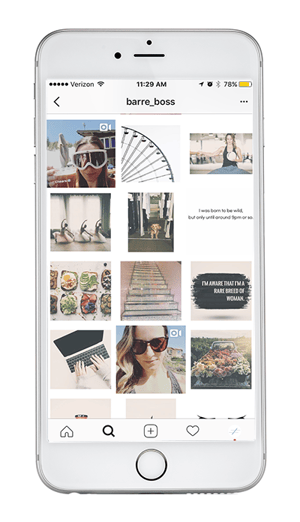 Borders
Borders are an easy and quick way to add a theme to your feed. It's pretty easy to maintain, but will require you to edit every photo you post - which isn't a biggie since there are a bazillion apps out there, like Ripl, Canva, and Typorama to do that for you!
Example:
Barre_boss is a fitness inspiration account that uses a white border on all its posts to frame their photos. When you scroll through your feed and come across one of their posts, you're instantly caught by the different size of the photo and the attention the white border calls to the post.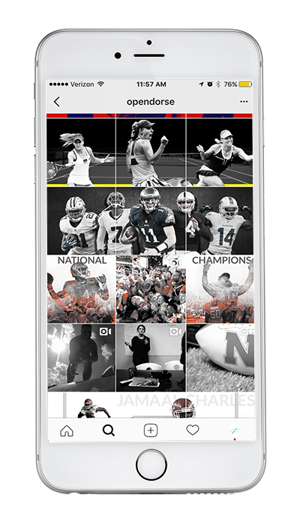 Spread/Grid
A grid theme is a great way to tell a story with your posts. This is a bit trickier though because your photos still need to make sense when posted individually.
Another aspect of a grid or 3-across theme, is that each line can have its own theme. For example, you can have 3 posts that are in black and white while the next 3 are full color and so on. This won't look strange because your entire feed is chunked into sections or lines of three posts in a row.
Example:
Opendorse is a social media influence company for professional athletes. They post 3 photos in row that are bound to a similar theme, whether that be content, filters, or photo styles. They have perfected this theme and are able to post photos in a way that make sense when seen alone as well as being cohesive in a line.
Photo Orientation
This theme is another way to really stick out from other photos in your followers' feeds. You can crop your photos so that they're always tall and skinny (portrait) with a border on the sides or crop them horizontally (landscape) so that there's borders on the top and bottom of all your posts.
This will make your photos look different than the default square photos causing your followers to stop a second and see what you've got to say!
If you're going to go with this theme, it's going to require you to take a bit longer when taking your photos and planning your posts. It could limit what you can and can't use for a subject, but that's not a huge battle as long as your brand/product is easy to portray in unusual layouts.
Example:
Nuvibelnk is a smoothie and coffee bar in Lincoln, NE, that uses the photo orientation theme. They do go back and forth between portrait and landscape but it's still an effective way to make a statement!
Backgrounds
Using a consistent color for the background of all your photos also makes a bold statement. The most common way to achieve this look is by using a photo box and placing your products or subject items in there for your photo.
Example:
Feyacandles, a candle company in Nebraska, is a feed that uses a white background in all of their posts. It calls direct attention their subject and is very eye-catching!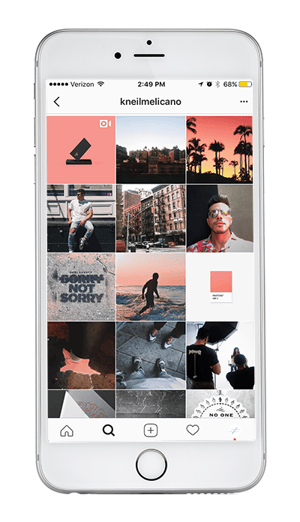 Color Pops
Picking a color or two to highlight in every photo is a great way to include your brand in your feed, but also an intriguing theme to use. You can choose any colors you want, but using a few of your brand colors makes perfect sense and adds a subtle touch of branding to your page.
This theme works well as long as you give plenty of thought to the color(s) you choose and are aware of how it'll look in your photos. Don't let this theme scare you by thinking it's difficult to find the right color each time. Just keep your colors in the back of your mind while you're out and about and in no time you'll have plenty of photo ideas! You won't believe how many ideas you can come up with when you've got Instagram on your mind at all times!
Example:
kneilmelicano is a designer that builds his feed around different pantones. He picks a pantone and uses that color as his inspiration for 9 or so posts, which creates a very cohesive and interesting feed!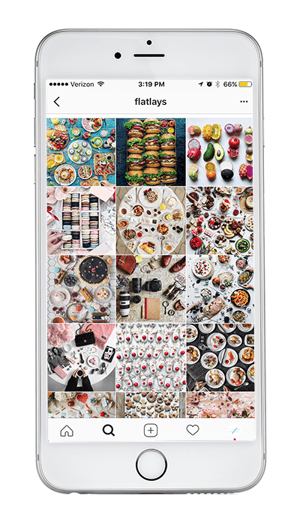 Flatlays and Angles
Flatlays are the art of taking pictures from above your subject. How many times have we all stood on a chair for the perfect shot?
This layout is the perfect way to tell a story or showcase multiple products in one cohesive shot. It's a great way to get influencers to share their routines or their favorite product. There is no perfect way to display your items, but you do want to make sure that your photo doesn't look cluttered or messy.
Example:
Flatlays is an that its sole purpose is to repost flatlay posts that it finds all across Instagram. It's a great account to follow for inspiration because it has so many different examples of how you can pull off the perfect flatlay!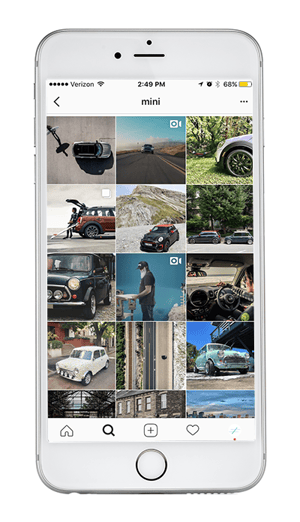 Your Brand/Product
Using your brand, beyond the colors or design elements, is a great way to set your feed apart from your competitors. Use your product or brand as a way to show beauty of photos with subtle yet enticing placement of your product.
This theme will require you to use real life applications of your product(s) to generate content. So, if you're a service-based company, this probably isn't the theme for you. When done well, this theme should give your audience an experience they can only have with your brand.
Example:
Mini uses their cars in all of their photos. But while they may be the biggest subject in the post, you're often drawn to the high quality photograph and surroundings. They do a great job at creating the impression that you can experience this feeling if you have your own Mini.
Conclusion
Picking an Instagram theme isn't just a stab in the dark, but should be a thought-out process that fits with the rest of your brand. After you've got a sound strategy, then you can get to the fun stuff. From Instagram feed ideas like flatlays, color pops, product placement, to borders, filters, and more, there are plenty of different themes you can use to set your feed apart from everyone else's.