Advertising on Facebook is more than just boosting a post. Just boosting posts is like getting a brand new iPhone but only using it to make phone calls. What we'll focus on is taking your social media ads to the next level with these Facebook ad recommendations.
Facebook isn't free-game anymore. To be successful on Facebook today, ads have to be a part of your strategy. And, if you aren't careful, you'll end up wasting money on ads because you used the wrong objective or didn't target the right audience.
So, we collaborated with our social media ad strategist, Doug Fraser, to put together a few recommendations to get your started on the next level of Facebook advertising.*
We'll go over getting the right goals and objectives defined, how to get the best creative pieces for your ad, the copy you should focus on, and a few of our favorite tricks to top it off!
Let's get started!

Goals, Objectives, and Audiences
The first step in any campaign is making sure your goals are clearly defined and you know what you're optimizing for. Facebook gives you options for your ad objective such as awareness, reach, conversions, lead ads, traffic, video views, and more. After you determine your objective, Facebook automatically chooses people, placements, and times when you'll get the most results for you objective at the lowest cost.
Below we put together a list of what you can use each objective for:
Awareness – use this objective to increase the number of people who will see your ad
Conversions – get people to complete a purchase, lead form, or other type of conversion on your website
Traffic – drive people to an online location outside of Facebook (like your website) or to Facebook messenger
Video Views- get more people to watch your video for at least 3 seconds
Lead ads – get people to fill out a form within Facebook to do things like join your mailing list or request a piece of premium content
Audience
Determining your audience should take you some time. This step shouldn't be overlooked or thought of as just a necessary evil. You'll want to make sure your audience targeting is specific, but also gives you a large enough audience to work with.
You can create audiences based on Facebook's demographic and interest options or use Facebook Pixel or customer/lead lists to create custom and lookalike audiences (more on this below). By putting some thought into how you create your audiences, you can even segment them based on where they are in the buyer's journey, which should really help your ROI.
Spend time and really analyze what you're going for with your ad to help define your audience. Keep in mind, your audience doesn't need to be, nor should it be, the same for every single ad you run.
Custom and Lookalike Audiences
A custom audience comes from a list (of customers, leads, business, etc.) so that you can create an audience made up of your desired audience. You can also create custom audiences based on your web traffic using Facebook Pixel. You can target ads to this audience you've created on Facebook, Instagram, and Audience Network.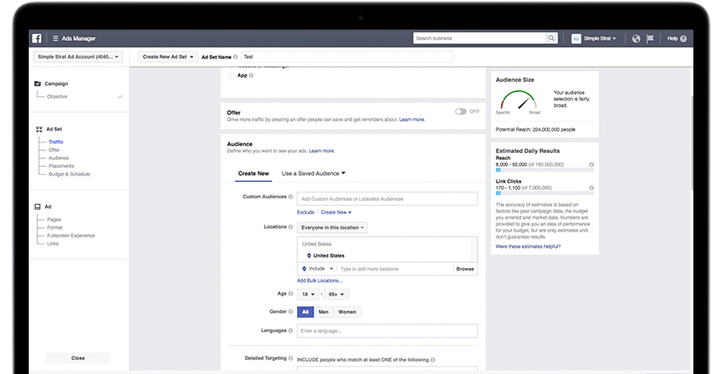 It's pretty simple to create a custom audience. To do it with a list of customers or prospects you already have, all you need to do is import that list, in CSV or TXT format, into your Ads Manager and wait for it to generate. This can take up to 30 minutes since Facebook is going through your list and finding all the data points about your clients.
A Lookalike Audience is a way to reach new people who are likely to be interested in your business because they're similar to your desired audience. These audiences are created based on either custom audiences, website visitors, or page fans. In Ads Manager, when you go to the Audiences tab, you have the ability to generate a lookalike audience right from the platform using either of those options as the source.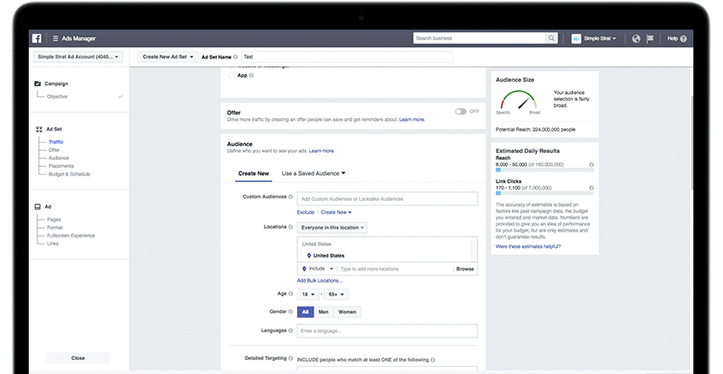 Now that you know what your goals are and who you're sending this ad to, let's get to the fun stuff!
The Copy
We'll start things off with the copy for your ad. It's much easier – and more powerful – if you have strong copy that is then supported by or conveyed in your image or video rather than trying to reverse the roles. Remember you don't always have to literally have text on all your ad images or videos.
Tone
Whenever we're writing copy for an ad, we try to focus on the tone and the length of the post. The tone should always align with your audience. Try to avoid sounding too pushy or "markety." Depending on your audience and industry you can be as formal or informal as you want. Some industries are a harbor for fun relaxed content, while others are strictly an extension of professional communication.
If your audience is a fan of emoji's, then use them to your heart's content. Facebook is full of emoji's and they truly are becoming part of the language. If you're unsure if your audience would be receptive to emoji's, just test it out. Try a few organic (non-paid) posts with emoji's and if you get good reactions, then you'll know that your fans are receptive of them!
Length
Short and sweet. We could leave it at that but we'll give you a little bit of reasoning behind our choice. People's attention spans are not very long, and when they're scrolling through social, they're even shorter.
If your ad objective requires a longer text section, make it as easy to read as you can and interesting for your audience. That's where emoji's can come into play!
The best option is to use short copy on your ad and direct people to a landing page that has all the information you need on that page. Get viewers interested in your ad and encourage them to click through to read all the details on the destination page.
Recommendations
Remember: less is more
Avoid discriminatory language

Don't call out gender, age, race, or income
Avoid calling out users directly. For example, "Do you need to lose weight?" might not get approved by Facebook

Have a conversation with your audience
Use emoji's or slang language when the platform AND audience allow for it
The Visuals
Again, think about your audience when choosing your creative piece. If you're targeting women for a women's only fitness center, don't use a photo with a man lifting weights. While that seems obvious, this kind of thing happens more than you think.
If you can, get as close to visually representing your target audience as you can. If you're going after stay-at-home moms who need healthy food options, use a mom and her kids as the subject of your video or photo.
Keep in mind that quality is better than quantity in this application. If you want to do a slideshow ad and you get ten photos but only three of them are really what you're going after, try switching over to a carousel ad. Then you'll be able to focus on just those three photos instead of getting lost in bad creative. For inspiration, here are some examples of ads that actually worked.
Recommendations
Your image can have more than 20% text, it will just cost you more to deliver your ad so do some testing to see if the results are worth the added cost
Show real life application of your product or service
Spend time and money on good images and videos
Tip and Tricks of the Trade
While it may seem like we've covered quite a bit, there's so much more out there. These next few points are some of our favorite insider tricks to Facebook advertising.
Call-To-Action
Experiment with your calls-to-action (CTAs) depending on the objective of your ad. All of your ads should provoke some sort of action, and some are optimized with a button and an obvious CTA. Run some A/B tests by keeping the same image and copy but switch out your CTA to see if your audience reacts better to one or the other.
Facebook Pixel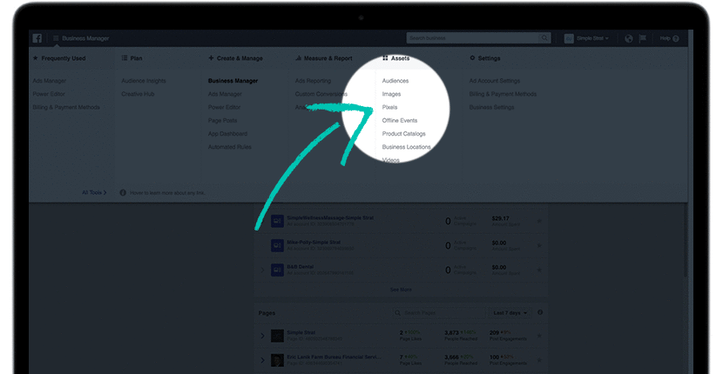 A Facebook Pixel is code that is placed on your website to help track conversions from Facebook ads, help optimize future ads based on collected data, build targeted audiences, and retarget any qualified leads you've generated.
It uses cookies to track your users as they interact with your site and your Facebook ads. Creating a Facebook Pixel isn't as scary as it might sound. Start by opening Ads Manager, clicking the three bars at the top , slide over to Assets, and select Pixels. From there it will ask you to create a pixel and take you through 3 quick steps to get your code generated and ready for you to copy to your site!
Facebook Creative Hub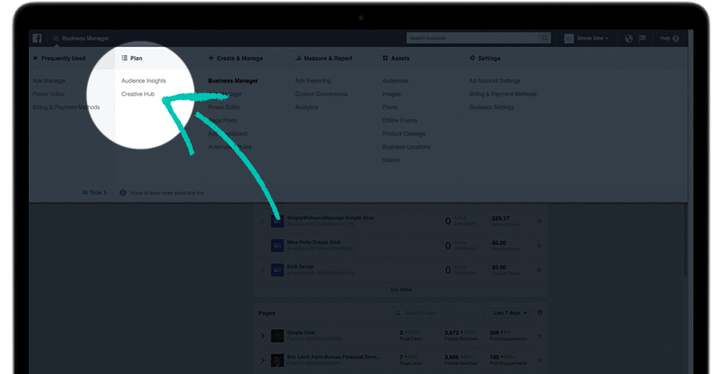 The Creative Hub is a great tool to use if you're working with other people to approve your ad. You can create mockups of the exact ad, including all types of ads from carousel to videos, and allows you to watch the actual video instead of just seeing the thumbnail.
This is also a great way to test out different styles of ads without having to clutter up your Power Editor or Ads Manager.
Audience Insights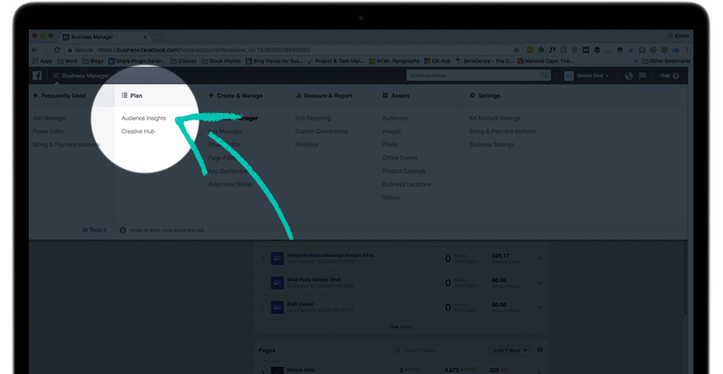 In Ads Manager, you can go to the Plan section and select Audience Insights. From there, you can upload all your audience lists, custom, lookalike, or saved, and get detailed data points about your audience. The data points are broken down into demographics, page likes, location, activity, household, and purchases. Each section then has its own set of data points that it collects and lets you analyze.
This will allow you to really narrow down and target specific sectors and groups in your audience and customize ads directly toward them.
Conclusion
There's a lot more to Facebook ads than clicking the Boost Post button, but it is pretty easy to get started. By taking your ads to the next level, you'll be able to spend your budget more efficiently and get more out of each dollar.
While we covered a lot, like objectives, audiences, copy, and creative recommendations, there's still more out there when it comes to Facebook ad guidelines. Send us a few Creative Hub links of your next campaign and we'd love to see where you're at!
*At the time of writing, these recommendations and best practices were relevant and successful, but as we all know social media marketing is an ever changing place. If you find new or updated recs when reading this post – let us know, we'd love to check it out!