Without question, B2B video is the latest hot item in the marketing department. Brands like HubSpot, Slack, and Simple Strat (yes, shameless plug) are touting their success – and their results. But to be fair, we've been predicting this for a while. Why the buzz right now?
"87% of video marketers reported that video gives them a positive ROI" - HubSpot
Why Video is Still On Every CMO's Radar
In light of the global pandemic, video has surged in the B2B marketing space largely due to the absence of live events. But it's also been put on the hot seat because it can do one thing that written content often cannot -- and that's build trust SUPER fast.
On this note, our CEO, Ali Schwanke, recently spoke at a VidYard event about "Pairing B2B Content Marketing with Video: How to Get More Customers Faster." Vidyard is an online video platform for business which allows you to increase leads, accelerate your pipeline and delight your customers.
While their rise to fame came through driving the 1-to-1 video/sales video trend, the greater lesson here is that people and customers are hungry for real human interaction, and because you can't easily "outsource your face on a video" like you can with a blog (at least not yet) - it packs a bigger believability and trust factor.
And that leads to a bigger pipeline and ultimately more people buying.
But isn't video hard to do?
Ok, so that's all great - but B2B video is hard. Or many may think...and that's because we're conditioned to think of video scripts, intense lighting, sets, producers, and editors. But what marketers won't tell you is that a lot of the time, it's not the super polished videos that perform the best. It's the ones that were shot on an iphone, or over zoom. Which nails our point - it's not as much about the production as it is about the CONTENT .
Yes, you'll still need some of those components (bad lighting or audio will kill any message), but let's dig deeper into the video vortex to understand why video is a great tactic for inbound marketing. Plus, we'll cover five steps B2B brands like yours can take to launch your own B2B video content strategy.
Is Video Really That Different for B2B Marketing?
On the surface, no. All people want to be educated, entertained, and inspired. However, if you dig a big deeper, most B2B brands can't afford to simply generate a million views on YouTube for example, with no hard lead numbers to back it up.
As a result, B2B video content is unique in the fact that it's usually tied to building trust and solving problems, working in tandem with your other content pieces to drive tangible results for your organization. And by results, we have to drive some sort of conversion in the end.
At its core, B2B video content connects the customers and their pains with the solutions you provide, all while speaking to the human at the center of it. This can range from quick information snippets on social media to in-depth webinars and interviews integrated into an organization's resources section.
Here's an example that our team uses to generate our own leads and expertise through our HubSpot consulting services!
The Real Reason Why Video Matters
For a B2B organizations, trust is EVERYTHING. Beyond product or service, what you're selling is a trust in your organization and trust in yourself as the salesperson. Historically, your inbound leads have followed a path that looks a little something like this:
Lead discovers your brand, maybe through your blog or your trending social media post.
They begin to do their own research
They read more articles, download an ebook or two, attend a webinar, etc.
These are all critical for establishing trust in the overarching organization. It's at this point (after having made some kind of conversion) that the potential customer is contacted by a salesperson, who now must go through their own trust exercise. Now it starts all over again at the individual level. Sure, they may trust the company, but now they have to trust the person.
But what if it didn't have to be this way? Spoiler: It doesn't!
B2B Video Builds Trust in Companies and People
With B2B video content you truncate the entire process by building trust with both your brand and your salesperson from the outset.
The reason video has proven time and again to be such a powerful medium is all down to human nature, and our ability to recognize and remember faces.

By putting a face alongside your content, you make yourself memorable. And beyond that, you become a trusted expert that your lead will now automatically associate with whatever product or service your sell. The speed of trust brings you closer to a conversion in a logical, natural way.
So, that sounds good. But how exactly do you do that?
5 Steps to Great B2B Video Content
Creating effective and compelling video content requires more than just an iPhone camera and a quick Google search. While you don't need to be a Hollywood producer, you need to have a clear strategy and directional purpose.
And like most things in marketing, it all starts with the customer.
Step 1: Think Like the Customer
We've all seen those annoying how-to recipe videos that start with an hour-long intro on the person doing the cooking. How many of those videos have you actually stuck with?
Welcome to your customer's point of view. No lead wants to sit through a 5-minute video about why your company sells the products it sells. They just want the answer to their question.
Find out what your customers are really talking about and create videos that answer their questions or solve their problems. Not sure what the conversation topics of the day are? Start here:
Talk to your sales team - they know the words your customers use and what they speak about most often
Read through comments on YouTube channels (either yours or your competitors)– this will give you some insight into what questions customers still have or where they are having challenges
Review common objections – beat your customers to the punch by putting out videos that answers their questions before they even ask them
Review the competitor's video content – find out what they are talking about and, more importantly, what areas they haven't explored
LinkedIn Groups, Facebook Groups, Reddit, Quora – talk about a goldmine for questions and comments
Check out books on Amazon and read reviews – a little off the beaten path, but this trick can give you great insight into topics most relevant to your audience base
Step 2: Do Your Keyword Research
Now that you have your broad list of "what your customers are talking about," you can start to narrow down your focus through keyword research. The purpose of this step is to:
Make sure you're not writing your topic/title in a way that means no one will ever find your video.
Establish the core search intent that this specific video will answer.
For those of you not overly familiar with keyword research, we have a few different tried-and-true tactics that we use when doing this for our own videos:
Find out what's ranking in Google SERP – using an incognito window will show you the most accurate results without any influence from your previous searches
SEMRush or Ahrefs – these tools will give you the full analysis of any keywords along with how many people search these terms and how hard it might be to rank. Plus, you will get insight into the questions associated with these search terms
TubeBuddy – this tool will show you specifically what's ranking on YouTube. Watch those videos and see what they are talking about and where they may be missing the mark
Once you've done your research, make a master topic list and then share that list with your marketing and sales team for feedback.
Step 2b: Website Ranking
Should you be lucky enough to already be ranking for specific (relevant) topics, grab those ideas and run with them. Do not pass go, do not collect $200.
Just make sure you are presenting those ideas or topics in the same way your audience is speaking and asking about them.
Here's an example of how this appears on Google search as some search engine results pages have "video results". Even if your article about Importing to HubSpot for example may rank, the video ranking opportunities in the search results is still green pastures for many companies!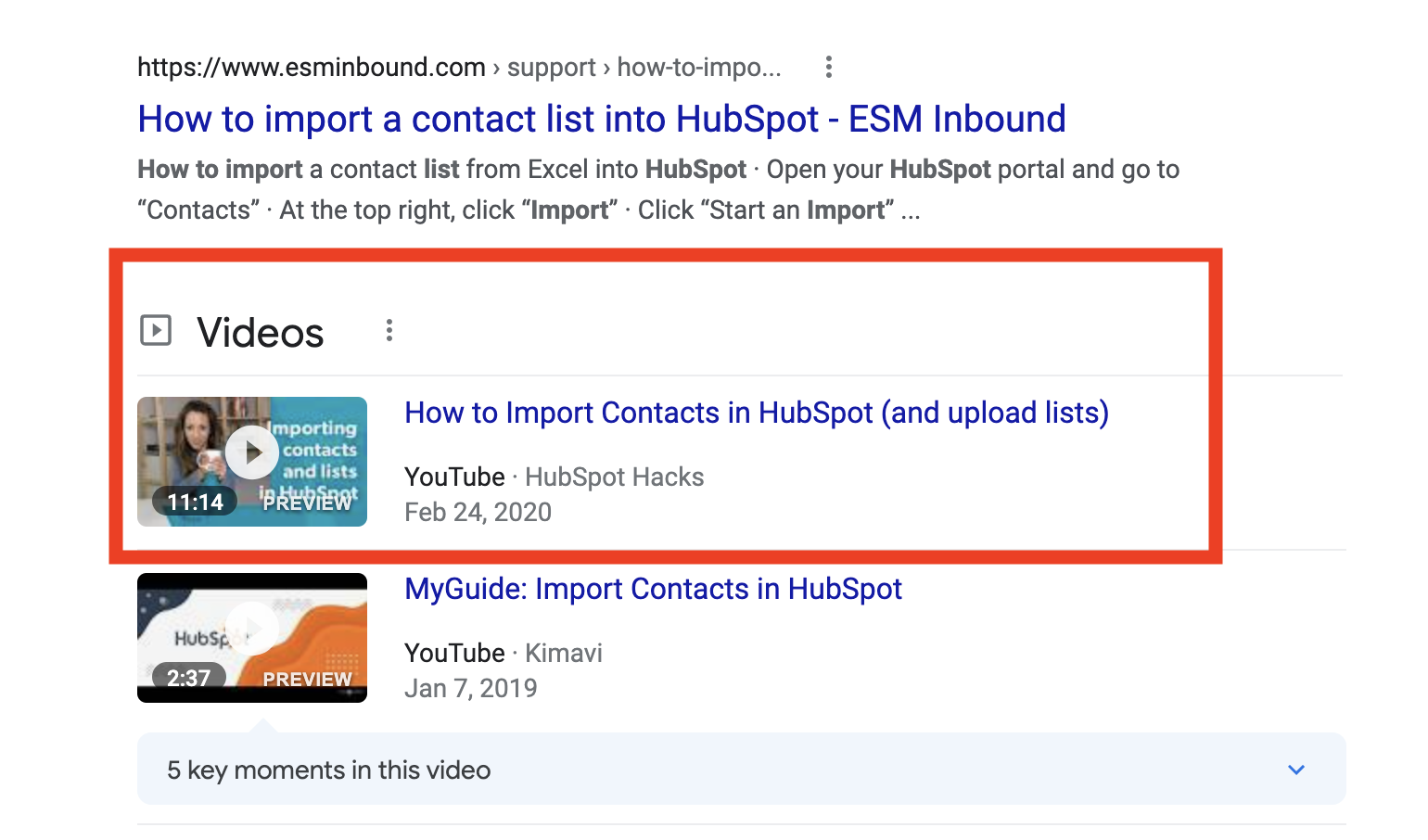 Step 3: Chart out the inbound journey
Your video is not a stand-alone entity. The idea should always be that this video serves a specific purpose within your inbound journey. Mapping out that journey – and seeing what purpose your video plays within it — will ensure you never make a video "just because."
Some things to ask yourself as you map the journey:
Search intent – what is the viewer after?
What is a logical next step?
What content do you already have that you can point people to after watching a video?
What content will you need to create?
Step 4: Determine Your Toolset
Whether you use HubSpot, Pardot, or some other automation tool, the backbone of this entire process will be the toolset that captures and converts these leads, scaling your process to feed into your overarching inbound content strategy.
A few things to consider:
What platform will you use to drive an initial conversion?
How will you nurture the relationship?
What other tools do you need to make a frictionless journey? Because in the world of CS, it should always be frictionless.
Step 5: Launch and Relaunch
When it comes to video (or really any content), nothing is ever finished. Your videos will need to be continually refreshed and repurposed, expanding your reach beyond a single channel.
Bonus: The more videos you have, the better your "inner linking" between videos. And the better your ranking as your audience spends more time on your channel.
Put your videos out there!
Ready to press play on your video content strategy? Subscribe to our YouTube channel to see how we've translated these practical steps into video success.