Companies using video see 41% more web traffic from search than non-video users. This alone proves that businesses that use online video see results.
Getting these results is easy, if you have the right software. Knowing which platform to use can be a challenge in itself, so we did the research for you.
We'll go over what good video marketing software should include and review a few of the most popular options on the market. Let's go!

What Is Video Marketing Software?
These are software platforms that allow you to run video campaigns from start to finish. They can help make content creation an efficient process because you can host your editorial calendar and drafts in the platform.
You'll also effectively manage video editing with searchable libraries and customizable access based on team roles. Lastly, these platforms are able to help with video optimization and analytic tracking from A/B testing, audience identification, and mobile responsiveness.
Higher priced and more extensive platforms may also offer video hosting, integration with your CRM, and in-depth analytics. You can even go a step further and integrate your platforms with video ad networks and get extra return on your investments.
Benefits Of Video Marketing Software
One of the greatest benefits of video marketing software is its ability to reach more people, on more devices, through more channels. Taking your video from YouTube to Facebook, over to Pinterest and responsive to mobile makes it even easier to get your videos in front of more people.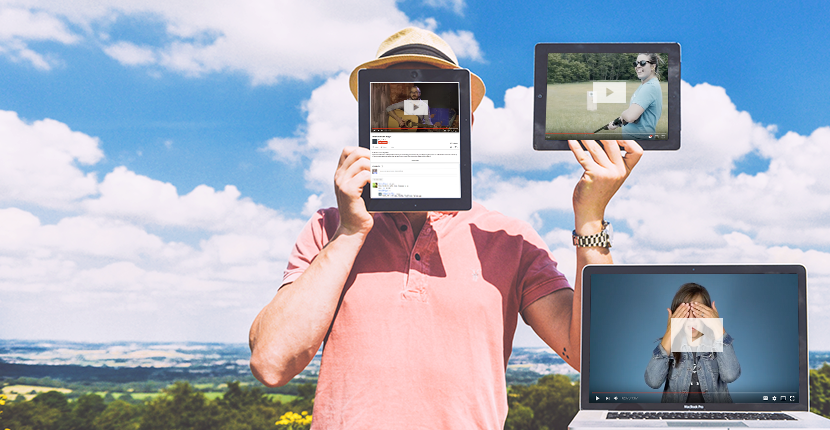 Every CMO likes to hear about search engine optimization (SEO). These software platforms make it easier to properly tag videos and improve your search engine rankings, click-through rates, and conversions. Don't forget that YouTube is the second-largest search engine, which is conveniently owned by Google. That's why SEO should be such a high focus.
Like any other software, it will save you time and money in the long run. You'll be able to have a full suite of video options in one location and will be able to streamline your production and promotion processes.
Now that you know the what and the why of this type of software, let's look at a few of our favorite platforms and tools.
Platforms and Tools
Wistia is an all-in-one software platform for video marketing. It provides users with the ability to host, share, build, and analyze their videos.
Wistia's developer APIs allow users to easily upload, embed, and track videos within the application, which makes it incredibly easy to get your video out there! This is one feature we love most about using Wistia. We can embed our videos into blogs and share on social knowing they'll be responsive to screen size and device!
Hosting your videos on Wistia is incredibly easy and smooth. With guaranteed smooth playback on any device, with no ads, your viewers will have a great experience with your video.
The Wistia platform also provides in-depth analytics that help you create video content that your viewers actually want to watch. Users can secure videos for private sharing with password protection, gating, and domain restriction so you have control and can track who's watching what.
Wistia offers a free plan that allows you to do everything the platform offers, but you have a 3 video limit. This is a great way to test out the software and see if purchasing one of their other plans is a good fit for you.
If you're interested in learning more about Wistia's platform shoot us a note! We are a Wistia agency partner and would love to chat with you about all the benefits of their platform. One of our favorite features about Wistia is their integration with Hubspot, this makes our content marketing a breeze! Check out our eBook on using video with marketing automation to get an idea of the power this integration provides!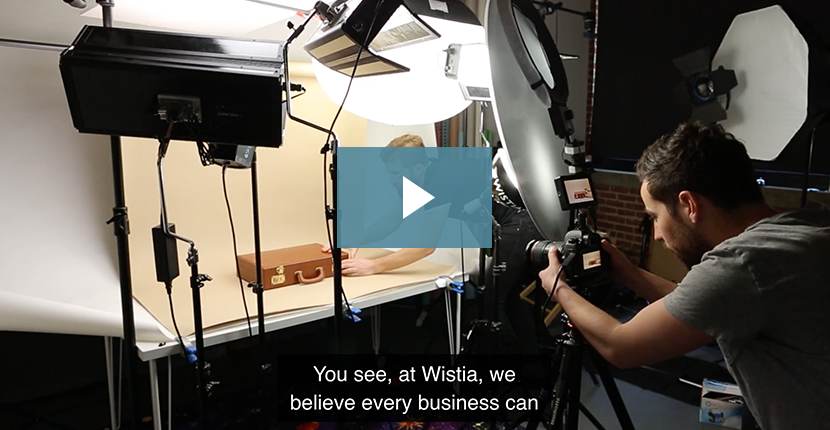 Vimeo offers video hosting, collaboration, marketing, and analytics tools. With up to 5TB of storage, your business can host all of its videos with ease and peace of mind. Inside the Vimeo business platform, you'll be able to organize your library and even set privacy settings for your videos.
Creating videos is an easy and efficient task inside Vimeo. You'll be able to add team members to your account and work seamlessly from any location that you have internet access at.
Sharing videos is also really easy with Vimeo. Social sharing is exceptional with their customizable embed codes, especially since you can add interactive CTAs into your video. Another sharing capability we use for client videos is that you can send your video and allow collaborators (clients) to add comments edits directly to the video.
Vimeo uses Google Analytics to track performance and engagement that viewers have with your videos. It's user friendly and simple to use inside the interface. Any great software also allows for integration between other platforms that will improve a user's experience, and Vimeo is no exception. With over ten different platform integrations available, you'll be able to run a full-scale video campaign.
Vidyard is a video software data dream house. Talk about #goals when it comes to the video tracking that Vidyard provides. The creation platform is equally advanced and will bring your video game to the next level!
One thing that really sets Vidyard apart is Vidyard Live which gives you the ability to live stream anywhere, including from your website or social channels, so you can reach - and impress - a greater audience.
Vidyard Analytics insights can also be pushed into marketing automation platforms and CRM systems to help your business make smarter decisions based on stronger intelligence. You can utilize A/B split-testing and SEO maximization easily by your video URLs to the Add to Video Sitemap" feature, and Vidyard will automatically create a sitemap to make sure search engines properly index your video.
Lastly, the pricing aspect is a key factor when considering Vidyard for your platform of choice. They offer customized pricing plans specific to the tools that your business will use instead of just giving you blanket options that cover all the available tools. One thing to keep in mind is with higher customization does come the opportunity for higher costs.
Wideo is a video marketing creation tool that focuses on the creation of animated videos. They also have the ability to share and download your company's videos, but there's not a whole lot of perks besides that.
Their biggest selling point is their templates and easy-to-use builder with drag-and-drop technology. Wideo gives you the option to personalize your advertisement, presentation, tutorial, or product demo by letting you add your logo, images, or even background music. With a selection of templates, you can create and share your video in just minutes.
The pricing plans are built around the length of videos you can create and download. This is a great tool to kick off any video marketing campaign but it's definitely not as full scale as a few of the other options listed. If you're looking for a video creation tool, this is definitely a great option for your company!
Viewbix is a video platform that allows you to create video campaigns in a quick and easy way, that are also easy to track and analyze. Viewbix breaks their platform into three subcategories, Viewbix Studio, Ad Units, and Analytics.
Each of these units is specific to different tasks but allows you to run full video campaigns from one central location. The Viewbix Studio is simple, intuitive, and requires no video editing experience. You'll be able to enhance videos by adding brand assets, interactive applications, and calls to action that create engaging videos for your viewers.
Videos enhanced by Viewbix are compatible with existing ad serving, measurement, and analytics platforms that make it easy to launch your next advertising campaigns.
Lumen5 is an online video maker that turns text into social media videos in minutes. It does this automatically by analyzing the text through AI and putting the best music, video, and images together accordingly. It's perfect for re-purposing content in multiple formats, all while saving you a ton of time.
If you haven't tried VEED yet, you're missing out! VEED is a simple but powerful online video editor that has free, advanced, and pro options - which is great since many people who are getting started with video want to pilot it first! Veed's free video maker lets you add subtitles, music, trim, crop, add effects, images, filter and so much more! It easy to use. In fact, most users find that they can dig in immediately without training and start creating video content that effectively grabs people's attention.
Bonus: Veed has a pretty great YouTube channel as well in case you need additional tips and insights with their tool, or repurposing/creating video content in general.
Pikwizard is an excellent resource for high quality, free stock videos. Right now, it holds over 100,000 stunning images with 20,000 that are completely exclusive to the site. It currently has thousands of videos which are being added to daily. Search by keyword, or simply browse through the popular tags as you find visuals to illustrate a blog post, social media post, email header, and more.
What makes Pikwizard stand out is its high-quality images of people, which are few and far between on the best stock photography sites. Users also have the opportunity to utilize images or videos from the site and edit them directly on the graphic design tool, Design Wizard.
Promo is a business video platform that is hosted by and built from Slidely. What makes Slidely stand out is that it's a social network where the community can share and view each other's work.
You can create and directly post your videos onto Facebook, Twitter, Instagram, YouTube, and Pinterest. Thereare also widgets and plugins that make embedding your videos into your blog or website a breeze.
Promo gives you access to millions of premium video clips and hand-picked music, complete with lifetime licensing. Personalize your videos by simply adding your logo and text and, literally, in seconds you have a professional, attention-catching video.
WeVideo is a software platform that is made to create and share your videos. This platform doesn't dip into hosting or analytics but it is very good at what it does do.
You'll be able to personalize your story with custom graphics, text, and narration. WeVideo takes customization a step further with special effects, audio editing, and Hollywood-style features (like green screen and picture-in-picture.) The easy to use interface makes it possible for anyone to start creating and even allows for collaboration on projects with multiple users.
Social sharing is easy with social integrations for popular sites like Vimeo, YouTube,and Facebook. You also have the ability to download 4K video and share your videos offline.
WeVideo is completely cloud-based so there's nothing to install, no expensive hardware to buy, and you always have massive video processing power on pretty much every Windows and Mac laptop or desktop, even Chromebooks. Plus, they have an app that makes it possible to create your next campaign from the road!
Conclusion
Video marketing software is an efficient way to get your video marketing to the next level. Since most platforms offer A to Z solutions, it makes your job so much easier. No more worrying about where all your videos are saved and upload or if they're in the right sharing formats. Once you find the platform that works best for you, you'll be off to the races.
Make sure your choice of platform includes a full suite of tools that allow you to create, share, and analyze your videos' performance. Our review of Wistia, Vimeo, Vidyard, Wideo, Viewbix, Promo, and WeVideo show that there are plenty of options out there.
Did we miss your favorite platform? Let us know in the comments below!