Think back to a time when you didn't have all of your facts straight. Maybe it led to an awkward foot-in-mouth moment, an argument, or being late for an event.
Life can be challenging when you don't have all of the information that you need or aren't prepared with all of the facts. The same is true when it comes to marketing. Yet how often do companies build their marketing decisions and strategies based on opinions and not facts? More often than they should.
Something is missing from their marketing plans: the research.
Why is marketing research important?
Without marketing research, campaigns are driven by personal opinions and experiences, not real interactions with customers. While those have value, they don't always give you the insight you need into what your customers want.
Even if you have a room full of marketing pros, they can't sell or grow without a deep knowledge of their customers (current and potential). Without this research, you miss opportunities to understand why your customers buy your products and what they hope to accomplish. This knowledge can help you build brand messaging that uses their language. You might also uncover new insights or even customer segments! Walk through the steps with our infographic: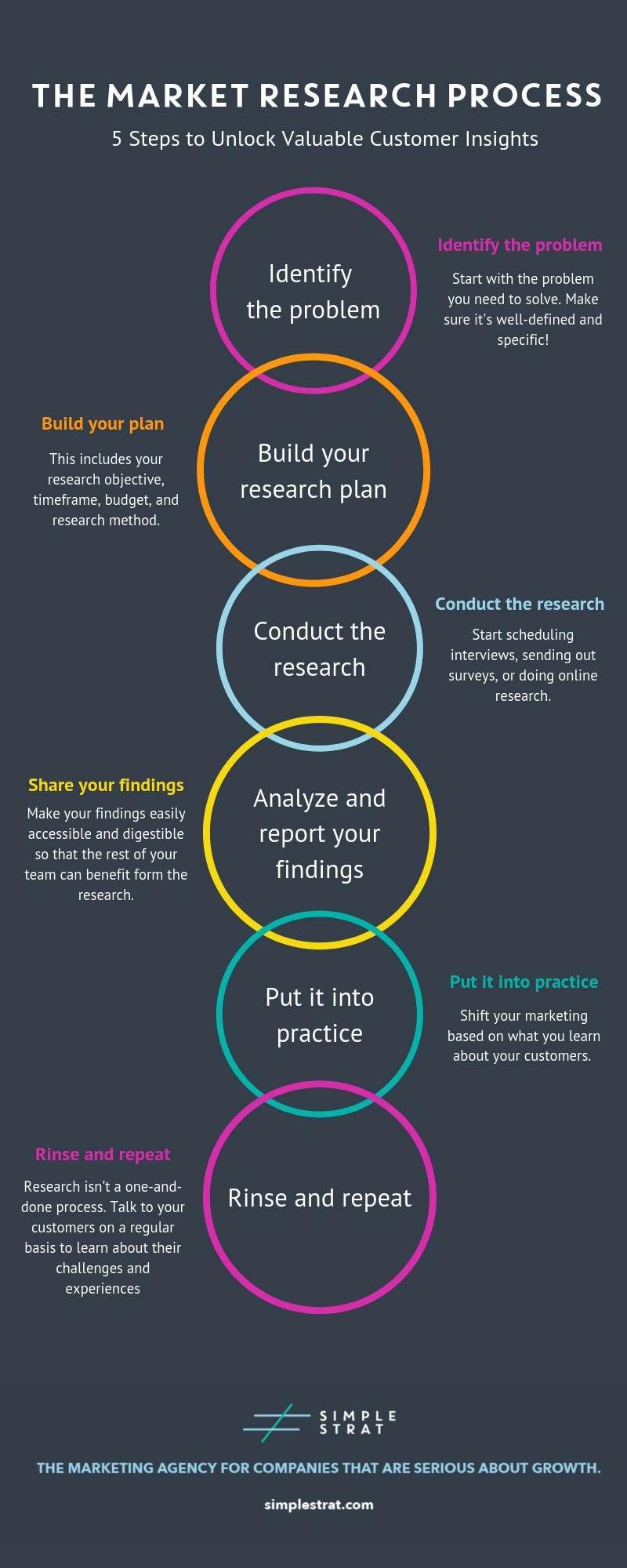 Step 1: Identify the problem
First up, you have to start with the problem that you need to solve. Make sure your problem is well defined—otherwise you might end up going down a never-ending black hole of research only to find that you have no tangible results.

Example problem: A wide variety of people buy athletic shoes from Company X. But since it's such a wide range, they have trouble crafting a powerful marketing message that will resonate with each customer. They want more information around what people hope to accomplish when they purchase these shoes.
Step 2: Build your research plan
Once you have determined the problem you're trying to solve, start to build your research plan.
It starts with the research objective. Just knowing the problem you're trying to solve isn't enough. Start with the problem and build the objective, aka how your research will help you solve the problem.
Example research objective: To determine the various motivations of individuals purchasing athletic shoes from Company X in order to create messaging that clearly communications the value they find in the shoes.
This research objective can then lead to multiple hypotheses such as:
When customers purchase shoes from Company X, their main goal is to use them practically, for running or other sports.

When customers purchase shoes from Company X, their main goal is to make a fashion statement.
From there, you'll also need to make decisions about the timeframe (when you need the research by), budget, and best research methods for your objective.
Some of the most common research methods include:
Surveys

Interviews

Focus Groups

Online Forums

Online Reviews

Heat maps

Product testing
Determine which methods you have the resources and bandwidth for. From there, start formulating the questions, finding the lucky interviewees, and setting up the tools.
Step 3: Start researching
Once you've laid out your research plan, it's time to start rolling with the research! This means scheduling interviews, sending out surveys, or doing online research. While the specifics will depend on the methods of research you're using, here are a few tips to help you get started:
Choose a leader.

If you have multiple people involved in an interview or focus group, pick one person to lead the conversation. This makes it easier for interviewees to follow and guides the questions.

Don't ask leading questions.

This can be one of the biggest challenges of the interview. Ask questions that open it up for the interviewee to share their thoughts without being guided into their answers.

Offer an incentive.

When we send out large surveys, we will often make it into a contest. "Fill out our survey for a chance to win an Amazon gift card!" Sometimes a little incentive is all it takes!
Step 4: Analyze and report what you find
This might be the most important step—but often the most overlooked. Especially if you are in a larger company where this data might be useful for more than one person, you need to make sure your findings can be accessed and used in a way that makes it easy to make decisions.
If you do all this research and 1) nobody knows where to find it or 2) nobody can read the information, you will have spent a lot of time and money for no good reason!
This first step to handling this problem is posting your research somewhere that everyone has access to and looks on a regular basis. This might be an intra-web or even a physical bulletin board. Just make sure that your research doesn't get lost in a dark hole, never to be seen again.
The next step is making sure your data is analyzed and easy to understand. A good way to do this is by creating a summary of your research, whether as a whole or by specific tactic. Try adding a first page of "findings" to some of your research so that, at a glance, someone can understand the main takeaways from that interview or study.
Again, don't miss the opportunity within your research process to make sure the valuable research you've done doesn't get lost in the chaos.
Step 5: Put it into practice
All this research holds no value if you don't put it into practice. How will you shift your marketing campaigns based on what you learned about your customers—their likes, dislikes, and buying triggers?
Take your findings and build them into your campaigns and your tactics. If you learned that your customers rely on specific websites or newsletters for their information, then dig in! See how you can provide similar value. Or maybe some of your customers had similar goals. Tailor your messaging to your insights. It's amazing the impact you can have when you build your marketing campaigns around your customers, using the research that you've conducted.
Rinse and Repeat
Because people (and the world) are always changing, research isn't a one-and-done process. Make it a priority to talk to your customers on a regular basis, learn about their challenges and problems, and ask these same questions! A planned marketing research process is the key to unlocking the wealth of information about your customers and building effective marketing plans.

You'll start to see a shift in the way that you make decisions, run your marketing campaigns, and talk about your customers in general. Research shows that research helps!