One of the most important goals for a SaaS company is acquiring new customers. In fact, a study from Reply.io showed that new customer acquisition was the highest priority for more than 89% of SaaS companies – followed by existing customer renewals and upsell/add-on sales.
Before we dive into the tips, let's first revisit the 3 ways most software-as-a-service (SaaS) companies acquire customers.
Reviewing Different SaaS Sales Models
1. Customer-Driven Sales Process (Low-touch)
Some software products sell themselves.
In this case, customers seek out solutions to very focused problems, such as scheduling their social media content (think solutions like Buffer.com or HootSuite.com). They don't need to talk to a sales rep to make a $25/month purchase. It's very low-friction to get started, onboard effectively, and find value as a customer.
Low-touch SaaS products usually require customer success teams but do not require the input of a dedicated sales development team. Most SaaS companies selling products and solutions that are low-touch are offering month-to-month solutions that can be transacted for less than $200 or so.
Additional examples of companies like this include Teamwork or Shopify.
2. Sales Development Representative (SDR)-Driven (High-touch)
For software solutions that are higher-priced, more complex, or require special configurations for larger deployment, SDRs are a must. In these scenarios, customers need help deciding whether or not the solution is the right fit for them.
SaaS companies who use this model typically need the SDR to help the prospect understand the full business case for the product, rally team members or influencers to adopt the product, onboard effectively, and fully integrate the solution into their tech stack.
Examples of SDR-driven SaaS Sales include Salesforce and ZoomInfo, among hundreds of others.
SaaS sales driven by SDRs are supported by marketing teams running advanced marketing operations – driving leads from inbound and outbound campaigns, with SDRs following up on leads that match specific criteria.
Nearly all of the companies that use SDRs in their sales efforts are selling to other businesses (B2B SaaS Sales) and succeed by learning their customers' specific market needs and marrying that with product benefits.
3. A Blended Approach
For some companies, their product spans entry-level solutions all the way to enterprise setup. An example of this would be HubSpot.
HubSpot recently adjusted their model to allow businesses to create a free CRM account and get started in minutes. Once a customer creates their free CRM account, HubSpot can monitor that activity and begin marketing inside of their own product to showcase features that the user may eventually want to use. Once the user expresses interest through specific activities (such as hitting their limit for email campaigns or clicking on a "locked feature"), the HubSpot SDR team would follow-up for an SDR driven sale or upgrade.
This hybrid approach can also be seen in products that have a 1-person user model as well as an enterprise model, such as Sprout Social.
Powerful Tips for Selling SaaS B2B
For the sake of this article, we're going to focus on tips for increasing sales in your B2B SaaS company, which is most likely a high-touch or blended approach.
Again, this assumes your company has a team of SDRs and a product that is higher value and/or requires assistance to determine customer value and fit.
Tip #1: Have a ridiculous understanding of the customer
Today's buyers are smart. They can sense inauthenticity from a mile away. Genuine interest in the buyer, their company, their pain points, and their success (regardless of whether they buy your product or not!) is essential.
Building a strong relationship with a potential customer means strong interpersonal skills, using email, phone, video, and social media to remain engaged. You must know the customer inside and out – from the way their industry works to what's important to that individual person.
Using 1-to-1 video is becoming a popular way to humanize the sales process and build authentic connections with customers and prospects (example below from Vidyard).
If you're in SaaS Sales, review your buyer personas on a regular basis and compare that to the actual experience you're having in the field. Review any discrepancies with the marketing team to ensure both teams have an accurate view of who you're selling to, what motivates them, where they get their information, and what's critical for their success with your product.
Finally, spend time in the field with your customers.
What they do and what they say are often two different things. The only way to truly understand behavior and what drives customers is to observe! Check out this McKinsey article for more insight on understanding customers.
Tip #2: Change up the way you do product demos
In a traditional demo, the prospect watches the sales representative run through the product on screen. Whether on a shared video call or in person, this puts the sales person in the driver's seat and forces the prospect to watch.
Traditional demos also rely heavily on a "test" environment (often done as a time-saver) where they can show a variety of things, but don't have to worry about customizing the demo each time. Unfortunately, that can backfire in today's world of personalized expectations.
______
As Emily Bauer from Propeller CRM writes:
"A generic sales pitch won't stir up an emotional response. It's both forgettable and slightly rude, since it shows you didn't care enough to conduct research and customize your slideshow to the prospect's company."
_______
For better results, an SDR should create a demo that caters to the needs and specific environment (as much as possible) of the prospect. By loading in some of their key data points, the demo can go from a 'show and tell' meeting to an actual use case demonstration – creating buy-in and social proof for the prospect.

First Round Review tackles this topic in this killer post about product demos, including this powerful quote:
"Good demos don't have to be perfect for the product. They have to be perfect for the audience."
Learn what pain points your prospect has before the demo – then design your demo to address those pain points so they can visualize the results.
Tip #3: Offer tools that invite customers to get value before they buy
This strategy requires coordination with the marketing and product teams, but it can lead to significantly higher conversions than traditional content offer downloads.
Lead-generating tools provide immediate value for free or a price so low that it's practically free. Examples include WordStream's Free AdWords Performance Grader or Ahrefs Backlink Checker Tool.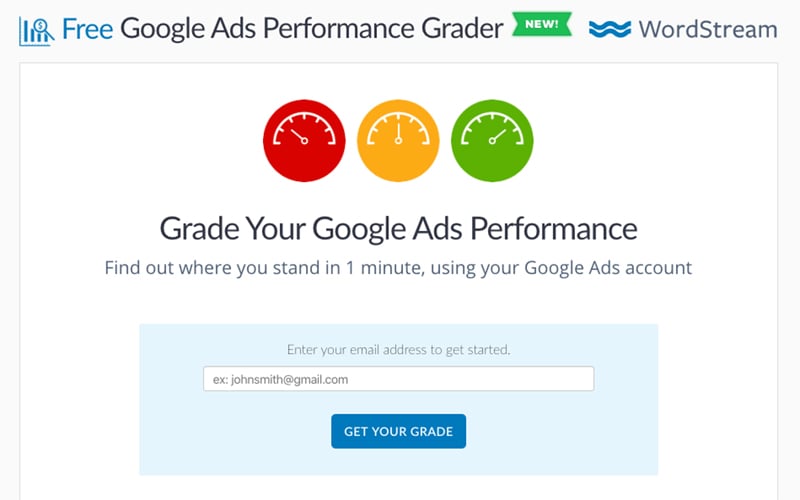 When it comes to increasing results in SaaS sales, tools help generate better qualified leads. This is because the target audience who finds the tool helpful is the same audience that would be buying your product.
When they use your free tool, they get a sense of the value they can come to expect from your company. According to Neil Patel, for a lead-gen tool to be effective, it must:
Address the problem for the user
Create the need for a solution
Position your company as the solution
Provide instructions for next steps
Invite them to take action to close the deal
You'll notice that Ahrefs backlink checker does all of those things. If you need help building out your SEO strategy, you'll need to know all of the backlinks in your profile. You can purchase their product to help you do just that.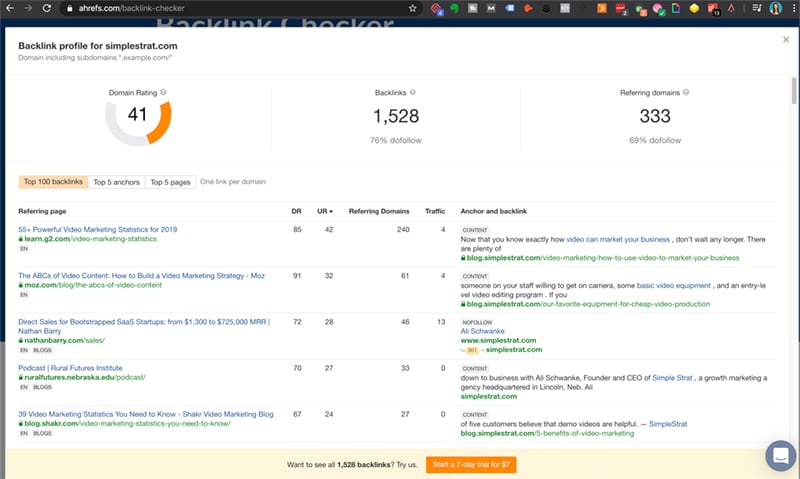 When prospects use a lead-gen tool like this one, the SDR now has access to their website domain and most likely knows what person/role in that company requested the information. Armed with this insight, an SDR can follow-up with a targeted sales conversation.
Tip #4: Call every free trial signup - immediately
This is a tip that gets tossed out at conferences, masterminds, slack groups, and reddit threads. But it's still missed by many SDRs!
If you call within minutes, the odds of converting a customer go up dramatically.
According to Close.io:
"Call within 5 minutes and your chances of reaching a lead will be 100 times higher than calling after 30 minutes of sign up. You also have a 21 times higher chance of qualifying that lead."
If you're looking for what to SAY when calling that lead, Close.io has some excellent suggestions in this article about follow-up times and how to call a customer who just booked a free trial.

This tip is geared toward SaaS companies that have free trials, but works the same way for demo requests. Whenever a prospect takes an action that demonstrates they're actively looking to buy a solution like yours, every second counts.
Talk to your sales and marketing teams to determine if there is some other action that warrants an immediate follow-up as well. These may include:
If a prospect views the pricing page or a specific page on your website
If a prospect opens an email several times in an hour
Just don't be creepy about it. Refer to tip #1 and make sure you're providing value.
Putting These SaaS Sales Tips into Practice
SaaS sales do not exist in a vacuum. Whether you're learning about customers, walking through a product demo, pitching an idea for a free tool, or following up on a hot lead, you'll need to work closely with marketing teams, product teams, and customer success teams to truly acquire customers long-term.
Start by selecting one of these tips and experimenting with the results in your own company. If you have additional tips you'd like to share with fellow SaaS SDRs, please drop a comment below and share your advice!