What do you get when you take a week in Boston, add 26,000+ marketers and over 200 speakers?
Lots of marketing insights to share!
This week-long conference was nothing short of exceptional. Headliners like Elizabeth Gilbert, Jennifer Garner, Katie Couric, and more shared their thoughts. Our team attended sessions with speakers like Alexis Ohanian, Larry Kim, Margo Aaron, and Harvard's Mark Roberge.
We came ready to learn and grow—and left with pages of notes, big ideas, and inspiration to share! That's the best part. These insights aren't limited to our team. Hopefully they can inspire you, too!
Thinking long and hard about the customer experience.
Inbound 2019 gave us a framework to talk about customer experience and start thinking about how we implement it in our companies. The sessions got into the nitty gritty details of how customer experience impacts how we sell, the content we create, the emails we write, the ads we run, and so much more.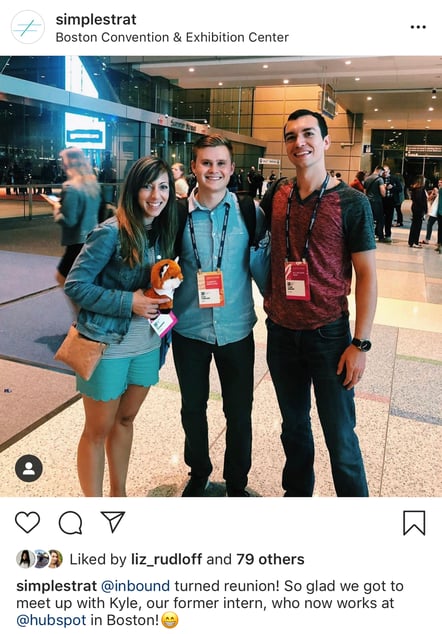 We got to see our former intern, Kyle, who now works at HubSpot!
Speakers like Dan Gingiss reminded us that, "The #1 most important factor in a customer's loyalty is reducing customer effort."
Others, like the Harmon Brothers said, "Your customer is the hero in their own journey. You are the guide, not the hero."
Keynote and breakout session speakers challenged us to ask questions like:
How do we help customers?

How do we make customers' lives easier?

How do we honor their requests?

How do we create an experience they rave about, in turn, doing our marketing for us?
HubSpot added their own insights on the customer experience process but put it into practice with a few innovative changes to their products and services. (You can find those here). By investing in these updates, HubSpot leads the way to better align the whole customer experience and make that flywheel spin!
This theme of customer experience came up over and over again. But that's only because it's a message we all need to hear and remember. And it led to some of our main takeaways from Inbound 2019.
1.
How companies sell is why they win.
Brian Halligan, CEO and co-founder of HubSpot, spoke in his keynote about moving from searching for product-market fit to searching for experience-market fit. While a product-market fit is still important to our businesses, it's not enough to reach our customers and give them what they need. According to Brian, how companies sell (and the experience they create) is why they win.
When it comes to experience disruptors: "How they sell is why they win." — @bhalligan pic.twitter.com/6DQBK3ABIo

— HubSpot (@HubSpot) September 4, 2019
This key idea of "experience-market fit" showed up in other sessions and the other insights we gathered from the week.
2.
Stop creating safe content.
Content is still king, but producing it is not good enough. It must stand out, it must be consistent, and it cannot be safe. More than 6 million blogs are published every day, which means your company needs to create a remarkable experience for your customers so they keep coming back! Rather than chasing down prospects with content that you think they need, show up week after week with content that is worth their time and will get them excited.
One breakout session said that every piece of content you write should feel like an inside joke with your audience. It's about building relationships and sharing insights they care about! If our audiences have the attention span to watch hours of Netflix or 3+ hours of a Marvel movie...they have the attention span for our content.
The problem lies with what we create, not with our audiences.
That hits pretty close to home for us, too.
3.
The world is data-rich and insight-poor.
There is so much data at our fingertips. But the data isn't enough. If you're trying to show the impact of your marketing efforts purely through numbers, you're missing an opportunity to foster emotions and create lasting change through stories.
Your audience (whether internally or externally) is full of humans, not robots.
We hear numbers but relate to stories.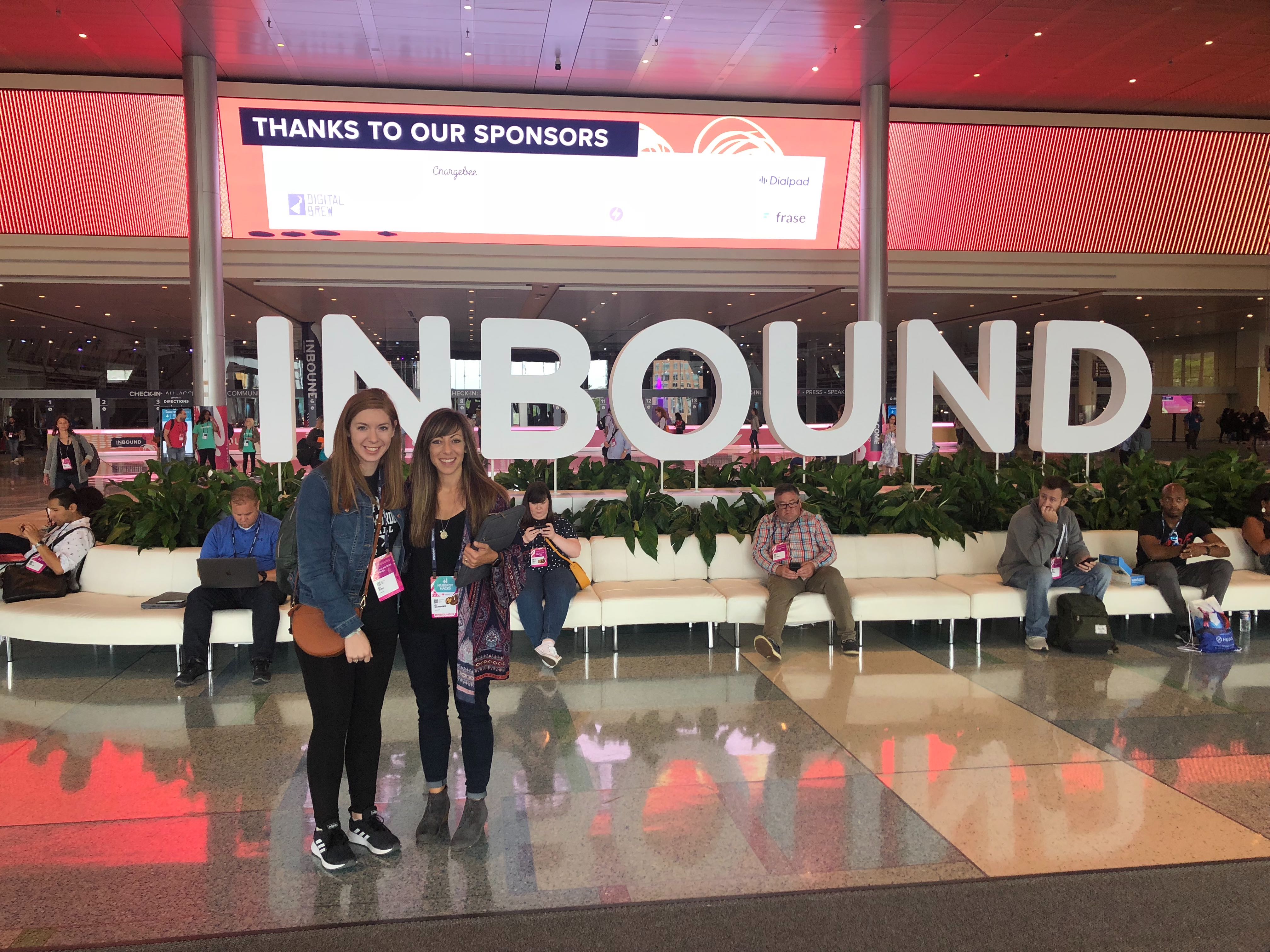 Ali and Ali on the last day of Inbound 2019!
4.
When in doubt, test it out!
It might sound a little cheesy, but this was the theme of multiple breakout sessions. Growth comes from experimenting and identifying what you can change to get a better result. But it requires a dedication to a growth experiment framework where you test one thing at a time, track your progress, and optimize based on the results.
We plan to bring this idea back to Simple Strat and try something new with our content at least once a month! We'll experiment, track our results, and then use any insights we find with our clients. It's a great testing ground for big and small ideas. Look for new opportunities to test something. Who knows? The reward might be huge!
5.
Treat your employees like customers, too.
Customer experience wasn't the only focus when it came to outstanding experiences. Inbound speakers also focused on creating a great employee experience. Employees are an extension of your brand and it's so important to attract and retain good talent for marketing (and company) success. After all, your employees are adopting a product: your company culture.
This insight was supported a few weeks ago when chief executives from the Business Roundtable stated that the purpose of corporations now goes beyond increasing shareholder value. They must also invest in employees and deliver value to customers in order to truly be successful.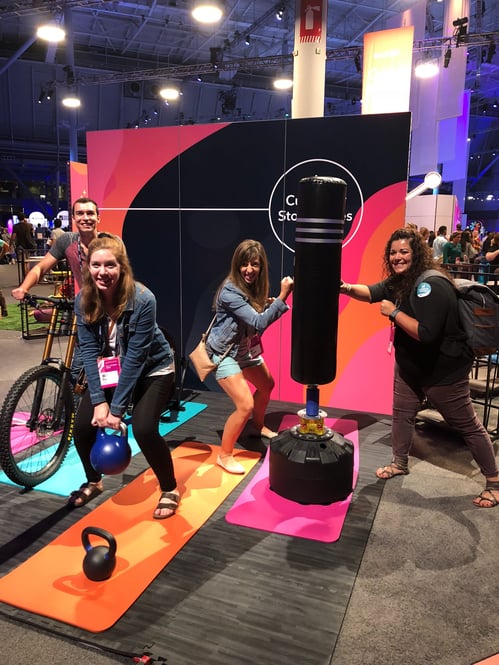 The first night at Inbound 2019!
It's not enough to focus exclusively on shareholder value anymore. While that's still an important piece of business success, if your employees and customers aren't getting value from your company, you aren't living up to your company's potential.
Bringing It All Together: Customer Experience
Ultimately, the root of all of these conversations is the customer experience. How do your customers feel after interacting with your brand, company, and employees?
While there were sessions about "growth hacking" or focused on "the one or two tips to make your ads succeed," the underlying idea at Inbound 2019 was about consistency and hard work: putting customers first and creating a great experience for them and for your employees.
So what's next?
As the Simple Strat team looks ahead at the next few months, we can't wait to test new ideas, push our creative boundaries, and continue to be obsessed with customers.
Here's what we plan to put into action:
Have biweekly brainstorms about one of our clients to test new things, track what worked, and brainstorm creative, unsafe content we can create!
Look for new ways each month to delight our clients and their customers.
Focus on the employee experience by giving out weekly props based on our company values.
Take the time to turn data into stories, both for Simple Strat and for our clients!
Stay tuned!