What do new features, fireside chats, marketing debates, virtual meetups, and Oprah have in common?

They were all at HubSpot's INBOUND Conference 2021!

Thousands of marketers joined HubSpot for its annual INBOUND conference this year. The content and connection did not disappoint. After an event the size of INBOUND, it can be tough to boil down the key learnings and themes – especially when you weren't able to attend every single session.

That's why we got together on the most recent episode of Marketing Unboxed to combine key takeaways. Check out the conversation below and then read through our top five key takeaways from INBOUND 2021.
#1 Intentionality as the Main Ingredient
Key Takeaway: Be deliberate in your decision-making.

Who better to deliver a keynote than Oprah? In her INBOUND session, Lessons Learned on the Road to Success, Oprah talked about the big-picture topics only Oprah could effectively address. For us, intentionality was a major theme of her message. Intentionality is about deliberate decision-making and doing (or NOT doing) everything on purpose. While we can't relate to Oprah saying "no" to Stevie Wonder – a story she cited at INBOUND – we could all benefit from saying "no" more often. Sticking with the big picture, Oprah also talked about legacy and our relationships with the world – citing a conversation with Maya Angelou and Newton's third law of motion.

Much like the HubSpot platform, the INBOUND conference has a lot of features and moving parts. Our team concluded this kind of talk by Oprah was the perfect way to bring it all together with a pure, whole-person message.


#2 Scaling Thought Leadership

Key Takeaway: Consider thought leadership as a practical and measurable marketing strategy.

How to Scale Thought Leadership, presented by Ashely Faus from Atlassian, was a clear favorite among Simple Strat team members. We spend so much time as B2B marketers discussing "thought leadership" as a theme. But what if it were a scalable marketing strategy? Spoiler alert: it is.

When we say Ashley's INBOUND presentation was actionable, that's not just "marketing speak." Ashley gave attendees the literal framework with handouts for scaling thought leadership. We're not going to share all the information presented within Ashley's 50+ pages of provided resources, but here's the entry point:


Thought leadership is confined to knowledge workers, not celebrities.
Thought leadership requires a new or original thought.
Thought leadership is external influence; it does not mean being good at your job.
INBOUND speakers featured in this recap:

#3 The Rise of Marketing Operations
Key Takeaway: As your marketing organization matures, the need for an operations strategy increases.

The HubSpot marketing world has gone from mostly inbound in the early days to marketing operations now. And that's because it had to. As HubSpot's platform expands, customers are entering their system from more and more sources. Once those customers discover the capabilities of HubSpot, they often start piecing together the solutions they want. More solutions can be a benefit or a curse, and which one they become depends on how they are managed. That's where marketing operations enters, to help wrangle these otherwise-disparate solutions into a unified system.

As teams add new tools and organizations expand, marketing operations becomes a must-have function.

The rise of marketing operations is nothing new to most marketers. But our team noted the INBOUND conference in 2021 demonstrated a strong shift with its talking points and schedule. Not only were there sessions related to operations and alignment, such as the case study with Seth Waite, Chief Experience Officer at United Van Lines and Mayflower Transit, but the diversity of topics alone supported marketing operations' place in strategies and budgets.
#4 Audience-Generated Content Ideas for B2B Marketing
Key Takeaway: The best content ideas live in your comments, questions, and conversations.

B2B content doesn't have to be boring, and most organizations overthink the ideation process. If you attended INBOUND this year, you noticed the chat section of each session. In some sessions, the conversations happening in the chat section were goldmines for content marketing ideas. In fact, our team took screenshots during the LinkedIn Organic vs LinkedIn Ads debate. We found the difference in opinions and each side's supporting insights wildly valuable.

This takeaway serves as an important reminder: the best content ideas come from your audience.

What questions do you get asked most often? What are your customers' biggest complaints? What do they love? What are they talking about to each other? Immerse yourself in the comments – like we did in the INBOUND chat sections – and you have a content idea machine.
#5 Be Where Your Audience Is
Key Takeaway: Meet your audience where they are.

In the Growing Better With Audio session, John Lee Dumas (Founder of Entrepreneurs on Fire) stated the seemingly obvious when he said, "Podcast listeners listen to podcasts." As a team that produces podcasts, we immediately felt this point. When it comes to growing any channel, you must know your audience. For example, if you want to grow your podcast, promote it on other podcasts – podcast listeners listen to podcasts.

This brought up another reminder along the line of knowing your audience. You don't have to be on every channel. You only have to be where your audience is. In John's example, he cites the fact his podcast is audio only, because he knows his audience doesn't have time to sit and watch a YouTube version of the episodes. Know your audience, and then meet them where they are!

The Future of B2B Marketing
As you'll see on the INBOUND 2021 content library, the future of marketing (especially B2B marketing) covers many topics. And the range of these topics is exciting. From content marketing and marketing operations to the metaverse and web3, we've got a lot to look forward to.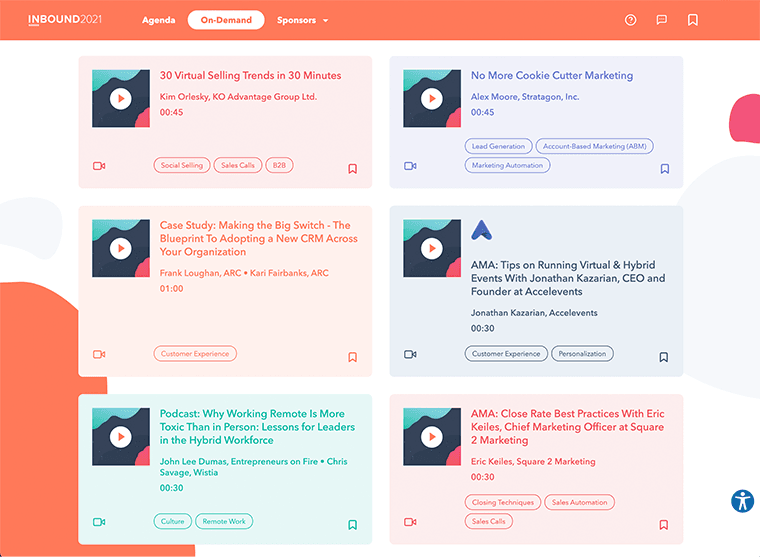 It may be tempting to jump into every new tool or strategy, but heed Oprah's lessons about intentionality. We can't do it all at once. We're going to have to tell some shiny new opportunities "no" for now.
Have a question about HubSpot?
We've got you covered. Learn more about our HubSpot consulting services.