How B2B buyers make decisions is changing quickly. Rather than spending their time on the phone or meeting in person, according to a report by Forrester, 68% of B2B customers prefer to research independently online.
That means the landscape is shifting when it comes to the B2B marketing strategies you use to market yourself as a manufacturer.
These six strategies can give you a basis to handle the move online and continue to promote your company in this new age of the B2B buyer.
Research
Your marketing strategy is only as good as the research you do. It gives you objectivity as you develop the strategy that will make the biggest impact on your prospective customers. Additionally, it provides an opportunity to create content that will resonate with the people you're trying to reach, which will ultimately drive more leads and sales.
Start by talking to your current customers and asking detailed questions to learn more about their priorities and goals. Your research should include a few different components. Make sure you know:
Who your target audience is

Their goals and obstacles

What they expect from you

What types of content they consume regularly

How they talk and interact with other companies
It can be tempting to think that your target audience (and list of prospects) is really broad. But a lack of focus on a specific audience is one of the biggest reasons for mediocre return on marketing investment. It makes it hard to streamline your marketing efforts and create significant results when you're trying to market everything to everyone.
Website
Does it look like your website was launched at the same time as the Internet? When it comes down to it, many manufacturing companies have websites that are behind the times and aren't the valuable resource they could be in your marketing and sales efforts. Even if your products and services require a phone call to fully explain all the details, that doesn't mean you can get away with a website that doesn't show what you have to offer.
Your website is often your first impression for prospects. In an industry where the buying process takes multiple touchpoints, your website should help overcome the barriers to having a conversation with your team and create a great experience every step of the way.

Content Marketing
Once you know your target audience and what they want to learn on a deep level, create content that helps them accomplish their goals and solve their problems.
This content can take a variety of different forms, but the main goal is to communicate clearly with your target audience in a way that makes sense to them and answers their questions! The Content Marketing Institute shows the types of content manufacturers created in the last year and how it's changed over that period of time. While the popularity of certain types of content might shift, the importance of offering valuable content for your prospects isn't changing anytime soon.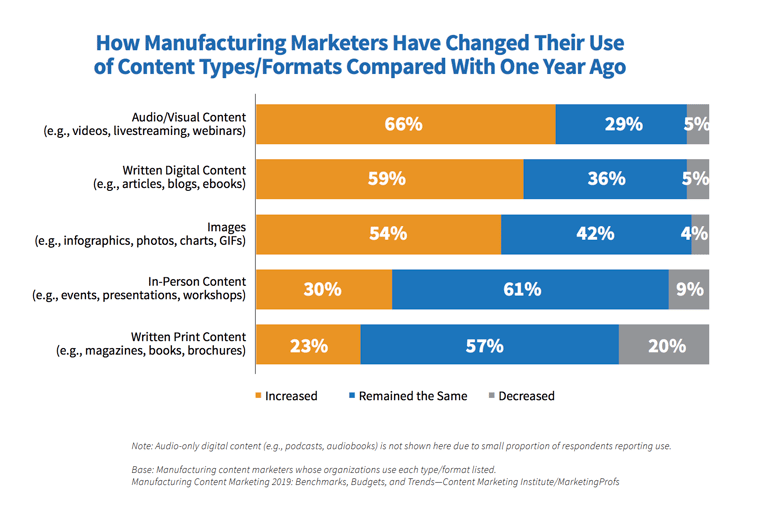 Here are some ideas of content that you can create:
Blogs about topics that your audience is curious about

A research study on manufacturing in your industry

eBooks that provide a deep look at a specific industry topic

White papers that share important industry insights

A webinar that discusses a process like private labeling or your design process

PR & Thought Leadership
Another prominent strategy for B2B companies is to use current events to build your company's presence in the industry. Making the most of PR can set you up as the expert on a specific topic. Provide commentary on tariffs or new regulations that impact you and others in your industry and show your unique viewpoint. This allows others to see that you are a thought leader and can offer valuable insight, not only into pressing topics, but also into their business.
Additionally, bring awareness to what your company is doing through a PR strategy of your own. Publish and share press releases for company product releases or new information that your target audience cares about. For example, Apple always holds major press conferences to announce their new products. You might not have a following quite like Apple's but do what you can to share insights that your audience finds interesting.

Advertising and Content Promotion
Advertising allows you to get your content in front of the right people (or people searching for the right terms). For example, LinkedIn ads can target individuals with certain job roles so that you can directly target a purchasing manager or category buyer. Or if your target audience is searching for your products or services online, you can use Google search ads to make sure your webpages are at the top of the search results.
Promotion is always an essential step in creating content for your business. If you just launched a new ebook, make sure you share it on your social media channels and promote it, whether in an ad or by sending it to influencers/media outlets that would find it interesting. Use these methods to promote your company and your content, optimizing them as you go!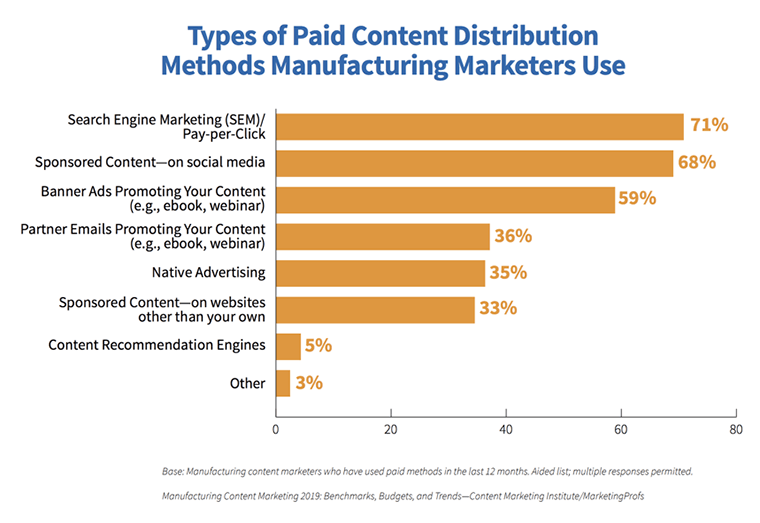 A few ways to promote your content:
Social media ads

Google ads

Retargeting visitors to your website

Email newsletters

Sharing with industry experts and influencers

Video Marketing
There's a reason we love the "How I Built This" podcast and "How It's Made" videos on YouTube. We love to see the full story of the products that we love. Just like we enjoy stories of people and their lives, products can produce a similar thrill, especially when the people and process are interesting to us, too. Video marketing isn't exclusive to cool, flashy products. It's an amazing tool to explain difficult concepts to your audience or provide a fresh perspective.
Plus it makes a difference. According to Vidyard, a leading video marketing platform, 72% of B2B buyers and researchers are watching videos to help them make their buying decisions.
Why not leverage this valuable tool to help them choose to work with your company?
Videos can take a number of different forms and there are many different types you can create as a B2B manufacturer. Here are a few ideas:
Explainer videos

Unboxing videos

Product videos

Behind the scenes videos

Testimonials

Put your B2B marketing strategy to work!
While there are a variety of strategies you can try as a manufacturer, remember that none of these are the golden ticket. The ones that work best are targeted at a specific group of customers. This means making the hard choices at the beginning to determine who your customers are—and who they are not. Start with the research to determine your personas and create marketing strategies that will help them see what your business has to offer!