Are you in charge of improving your ROI and looking for the best tools for the job?
Have you looked into several tools already and need a more guided approach?
Do you want to drive growth, but aren't sure whether HubSpot vs Marketo is right for you?
Digital marketing – that is, the email, mobile, social, and web aspects of marketing – is increasingly important for businesses. Having the right tools Coucan make all the difference in the world when stacked against your competitors.
We've put together this comprehensive comparison of two popular marketing tools: HubSpot and Marketo. Keep reading to learn about important HubSpot vs Marketo features, who each tool is right for, and how much you can expect to pay depending on the services you need.
HubSpot vs Marketo: What You Should Know About the Two Marketing Tools
The first thing we want to cover is the differences in the core of each marketing tool. While they cover several overlapping features and services, each product is unique.
HubSpot is a software solution that enables customer service, marketing, and sales, and includes a free CRM. HubSpot offers flexibility in which solutions you choose to work with – you can choose to use all their "hubs", or you can choose to use just one or two.
Marketo is another software solution with its focus on marketing automation in digital channels, like email, mobile, social, and web. Marketo has nine "engagement applications" that include various features that we'll cover later on. Like HubSpot, Marketo offers flexibility in choosing the right applications for your needs.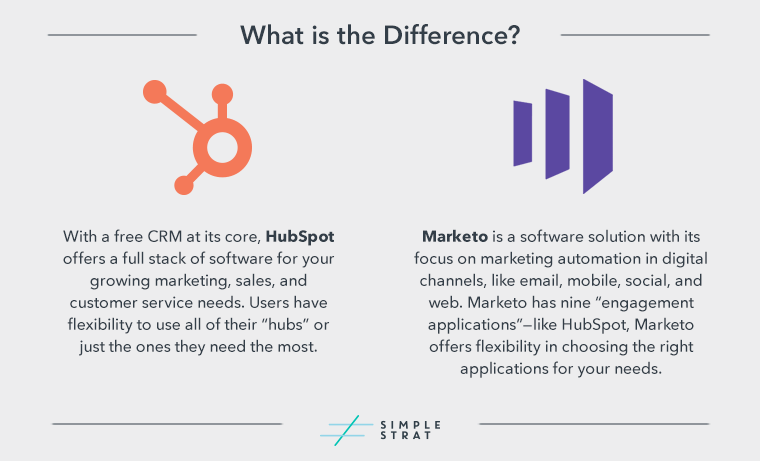 HubSpot Features and Pricing
One of the most prominent features of HubSpot is their free CRM. This tool, combined with their other paid services, can improve customer acquisition and retention. Its features include company insights, deal tracking, email tracking and notifications, live chat, meeting scheduling, pipeline management, prospect tracking, and a reporting dashboard.
HubSpot Features
HubSpot offers services within its "hubs" – each of these hubs has a different set of features, and pricing will vary depending on a few different factors.
HubSpot's hubs and the features for their professional packages include:
HubSpot Marketing Hub: In addition to premium versions of their free tools, the marketing hub includes analytics dashboards, blog and content creation tools, landing pages, marketing automation, multi-touch revenue attribution, partitioning, SEO tools, social media tools, plus 30 other features.
HubSpot Sales Hub: The sales hub includes customizable reports, multiple deal pipelines, predictive lead scoring, prospect visit tracking, sales automation, smart send times, and almost 30 additional features. This includes premium versions of free tools, as well.
HubSpot Service Hub: Along with premium versions of free tools, the service hub includes custom support from fields, customer feedback, customer service automation, goals, knowledge base, multiple ticket pipelines, video creation, and 10+ additional features.
Each of these hubs is comprehensive and includes everything necessary to drive your marketing, sales, and customer service plans. However, there are different levels of service available for companies that don't need a robust marketing tool.
HubSpot Pricing
The HubSpot CRM is always free, so that's automatically included with all these plans. Plan prices vary based on the included features and number of users.
HubSpot Marketing: The starter package starts at $50/month, the professional package at $800/month, and the enterprise package at $3,200/month. These packages vary based on the included features and number of contacts.
HubSpot Sales: The starter package starts at $50/month for one user, the professional package at $500/month for five users, and the enterprise package at $1,200/month for ten users. These packages vary based on included features and the number of users.
HubSpot Service: As the sales hub, the starter package starts at $50/month for one user, the professional package at $400/month for five users, and the enterprise package at $1,200/month for ten users. These packages vary based on included features and the number of users, as well.
Additionally, starting at $300/month, you can get HubSpot CMS, which includes everything necessary to create engaging websites that convert.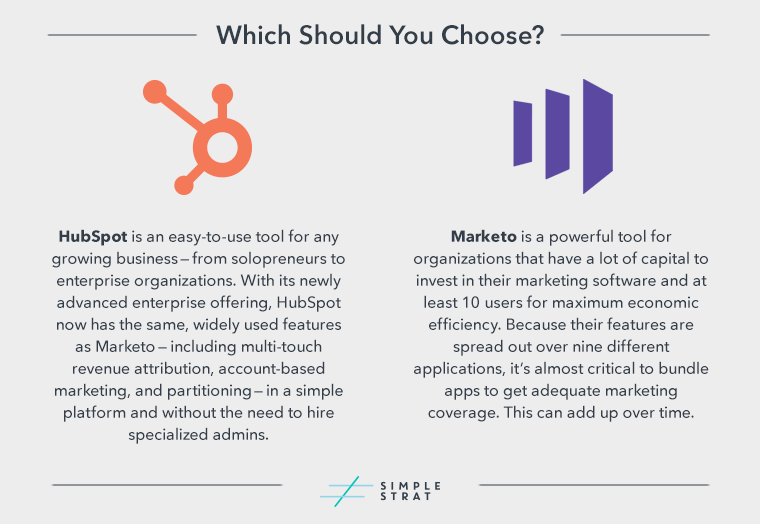 Marketo Features and Pricing
While Marketo doesn't actively offer a free tool as HubSpot does, they do have a vast array of marketing automation tools that will round out any toolbelt.
Marketo Features
With Marketo, you get to choose the "engagement applications" that you think will work best for your company's marketing plan.
Marketo's engagement applications are:
Account Insights and Profiling: Using AI-powered technology, you can predict customer fit, intent, and engagement with automated ranking.
Digital Ads: With data gathered from digital channels, you can segment your customers by interests, preferences, or channel to offer personalized display ads.
Email: Marketo allows you to create personalized email campaigns that are targeted and sent based on customer activity – or lack thereof – driving company growth.
Marketing Analytics: Offering comprehensive reporting and analytics, Marketo helps improve your ROI by showing you where to funnel your marketing investments.
Marketing Automation: Automation gives your company the ability to drive the right customers to the right channels, helping you create long-lasting relationships.
Marketo Sales Connect: Not only does this empower sales reps to be more productive, but it gives your company a streamlined approach to prioritizing the best prospects.
Predictive Content: This powerful application takes blog posts, case studies, e-books, and videos from your website and serves them to customers using predictive analysis.
Web: You can personalize website content for anonymous visitors, changing anything from the content to the call-to-action that is displayed to them.
Each of these applications offers a unique set of features useful to most businesses, but they are most powerful when used in combination with other applications.
Marketo Pricing
While Marketo doesn't share their pricing as transparently as HubSpot does, we were able to pull together some pricing estimates on their different tiers.
Basic: This is $895/month and includes 10 users and a certain number of contacts. There are no limits or caps on the number of emails you send.
Pro: This is $1,795/month for 10 users and a specific number of contacts, but it includes everything from the basic plan plus additional features.
Elite: This is $3,195/month for the users and a specific number of contacts, and it includes everything from both the basic and pro plans, plus additional features.
If you need to pay for additional users, you can do that, too.
HubSpot vs Marketo: Which Should You Choose?
Choosing HubSpot vs Marketo isn't a light decision. The right marketing tool for your organization depends on several factors. Those factors include everything from the number of users your organization has for each tool, to what features your company needs to build out a successful marketing and sales strategy.
Marketo is a powerful tool for organizations that have a lot of capital to invest in their marketing software and at least 10 users for maximum economic efficiency. The costs can add up over time — because their features are spread out over nine different applications, it's almost critical to bundle apps to get adequate marketing coverage. Additionally, the implementation and maintenance of Marketo often requires hiring a specialized admin who can learn how to manage the tool for your specific needs.
HubSpot, on the other hand, is an essential tool worth trying for businesses that only need 1-5 users or want to start with a smaller package, then work up to a more robust marketing plan. However, HubSpot has also improved their enterprise offering over recent years. With just a few hubs, features are grouped so that businesses receive the most out of their purchase – and everything is centralized in a portal making it easy to use.
HubSpot, on the other hand, is a great choice for growing businesses that want to remain agile while creating remarkable customer experiences. Its recent feature releases in its enterprise package, assure that you'll never outgrow your platform even as your business grows and your marketing becomes more sophisticated and complex.
Whichever you choose, be sure to evaluate what features will serve your marketing plan best, how much your company is willing to spend, and how you will use the features to drive growth and improve ROI.