Inspiration is no stranger in the fitness industry and it's no stranger to website design either. We searched and searched and narrowed down a list of 17 kickass fitness websites and themes that are gold medal worthy!
All of these examples, live site and themes, are built in WordPress because we love its responsiveness and ability to easily work in the site, whether you're a professional developer or the manager at your health club. Plus, it has 200 million websites, that's 27% of all websites on the internet, under its belt so it's pretty trustworthy!
Let's get started with the list!
Live Sites
In the list below, we researched 10 live websites that have great features and work great for fitness industry businesses.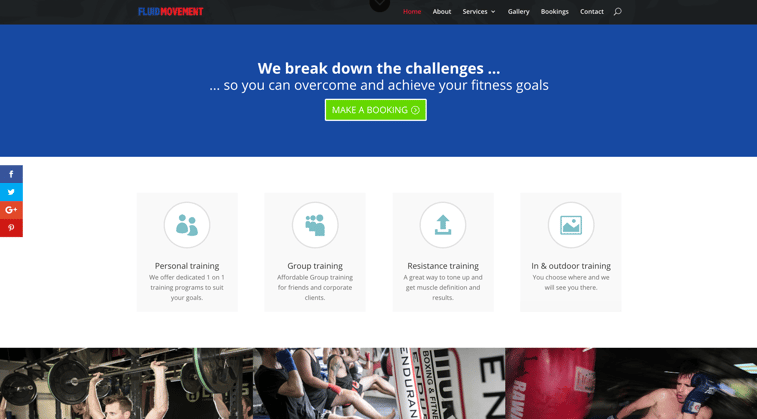 Fluid Movement uses their main website to advertise their services and relies on an off-site booking page to secure client bookings. They focus on getting visitors to book a session right away and use content to encourage these bookings. They are a specialized fitness training center that offers Muay Thai, boxing, and functional exercise training classes.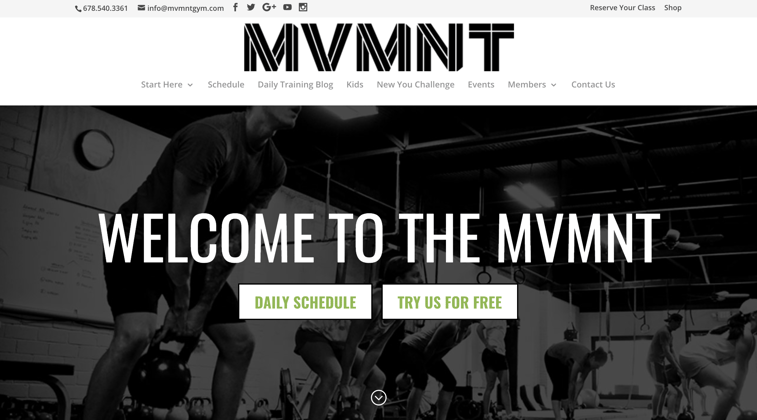 Using mega menus to segment and structure multiple forms of content, the MVMNT website includes an off-site class sign-up section. They use whitespace to keep a clean and simple feel to their site and make navigation easy and obvious. Based in Georgia, MVMNT is a specialized training gym that offers fitness, kettlebell, powerlifting classes, and more.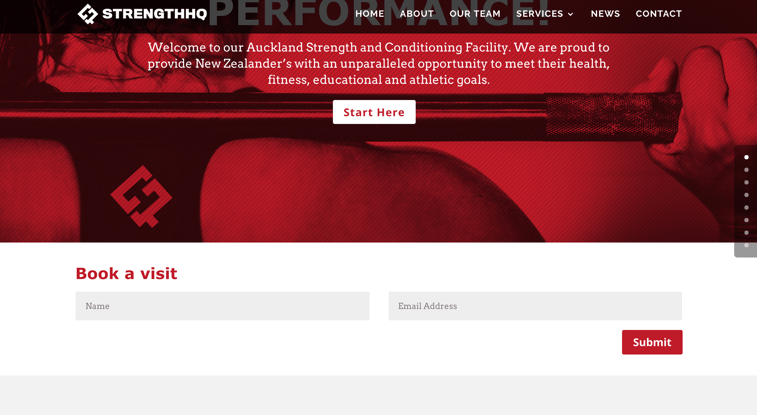 Attractive hero image sections, attention-grabbing calls-to-action, and the use of red as an accent color make this website stand out. This a great website that showcases both their gym memberships and other specialized training programs really well. Strength HQ is a strength and conditioning facility.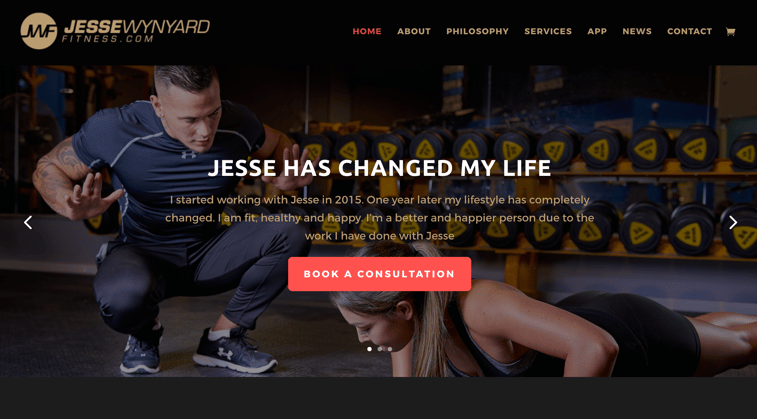 Using great photography and first person copy, the website of personal trainer Jesse Wynyard exudes motivation and encouragement to entice prospective training clients. As well as selling weight loss, training, and membership packages online, the website links up to an off-site download link for an app that clients can use to track their progress and get dedicated support.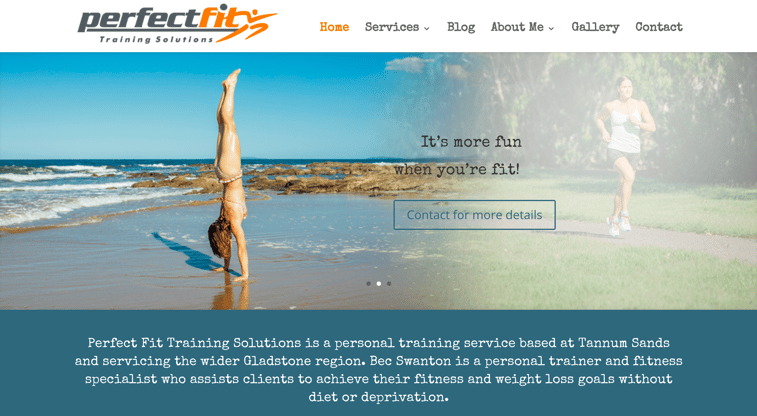 The business website of trainer Bec Swanton, Perfect Fit Training Solutions makes use of ample white space, blue hues, and vibrant orange color accents to make content stand out. Perfect Fit Training Solutions is a fitness center that offers training classes on either a group or individual level.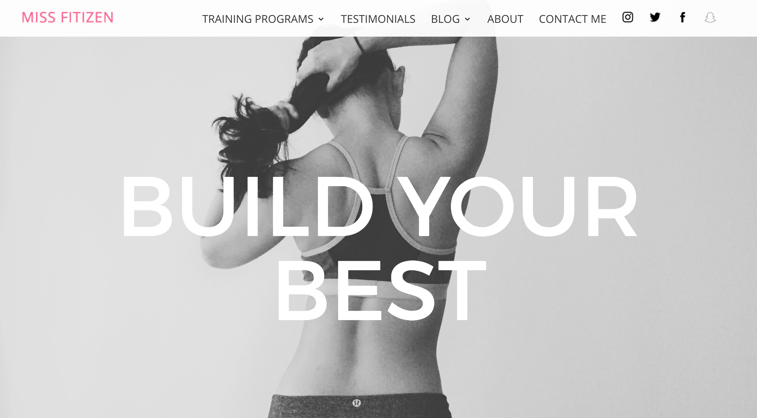 Miss Fitizen is the website of personal trainer, Mindy Kim. Miss Fitizen allows clients in-person or online training, options that are easy to navigate and find. They use enticing images, balanced white space, and pink color accents to portray both strength and power through exercise, while also boasting a feminine feel.

A one-page website, MIJN Personal Trainer makes use of testimonials, pricing tables, and bold image sections with parallax effects to communicate their service offerings. This is a cleverly-constructed website of personal trainer and lifestyle coach.
Pro Tip: People love to be able to interact with a company without delay. If you have a fitness website or are thinking about building one, consider adding a live chat feature!
Themes
While we were impressed by the sites above we also wanted to include a few more ideas you can use for inspiration or event to build your own site. Some of the best fitness websites are built with themes, so we put togehter a list of WordPress themes that are designed specifically for the health and wellness industry!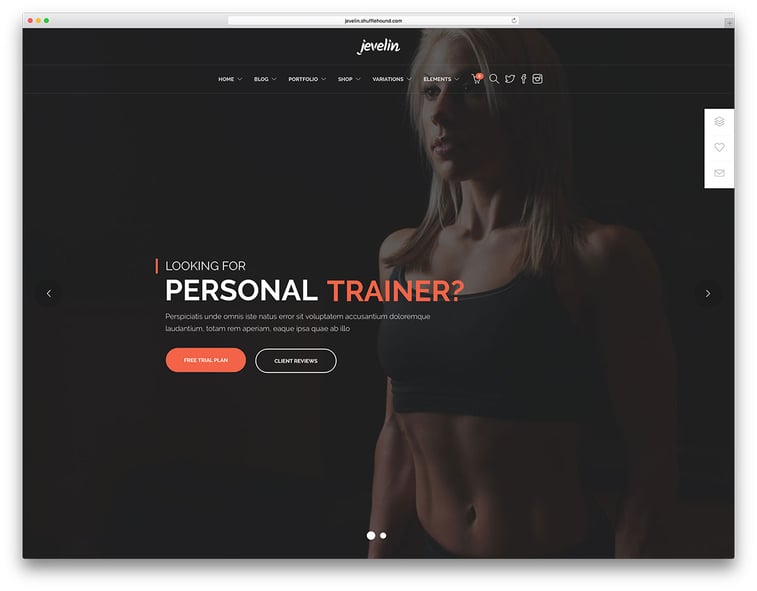 Jevelin is a feature-rich and user-friendly theme. With intuitive and easy to navigate features you can create an engaging and dynamic site. One the best parts is the design is rapidly responsive, so it looks good on any platform.
With powerful built in social media sharing features, Jevelin is perfect to raise awareness and spread the voice about your fitness efforts. It also boasts numerous attractive portfolio layout settings so you can show off your finest photography of your workouts or routines in the most favorable light.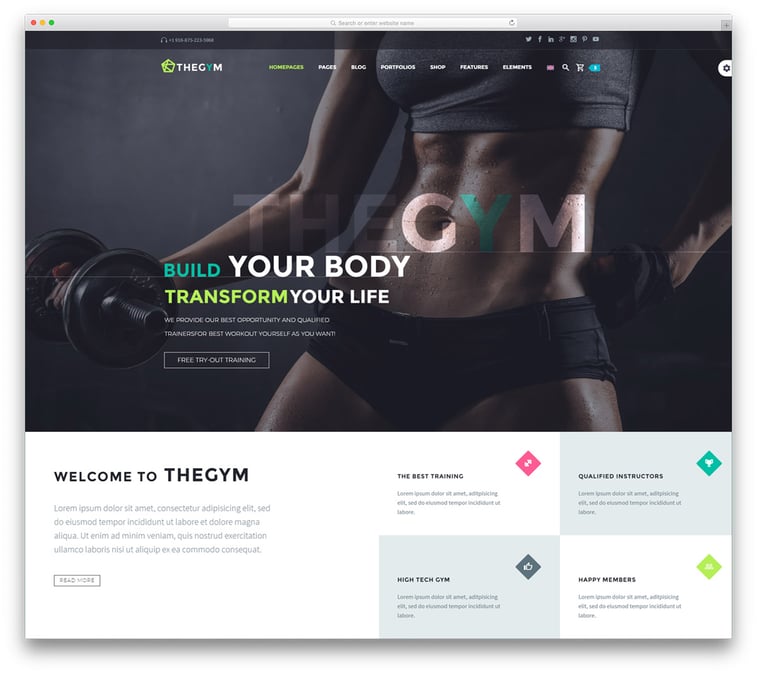 TheGem is very powerful and impressive. It's reliable and robust, making it user-friendly and highly attractive. Since all WordPress sites are readily responsive you can use this theme for a number of health or fitness businesses.
TheGem incorporates the Visual Composer, a premium drag and drop page builder that makes short work of most visual and layout customization tasks without having to write a single line of code, offering you over 60 functional elements with over 250 customizable settings in total, so you are always in complete control of your website.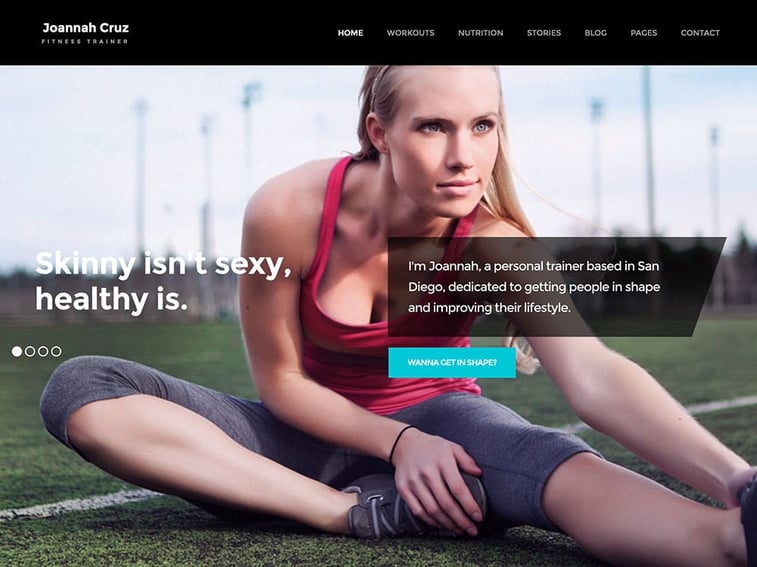 This theme is designed with specific tools for fitness professionals. It includes a built-in workouts module that lets you add programs by workout days, muscles worked, intensity level and it all syncs with a calendar.
The responsive and retina-ready theme comes with a home page animated slider, tons of color options, easy font management, plenty of built-in page layouts, and a Mega Menu tool (like the MVMNT site above) for a customizable drop-down and responsive navigation.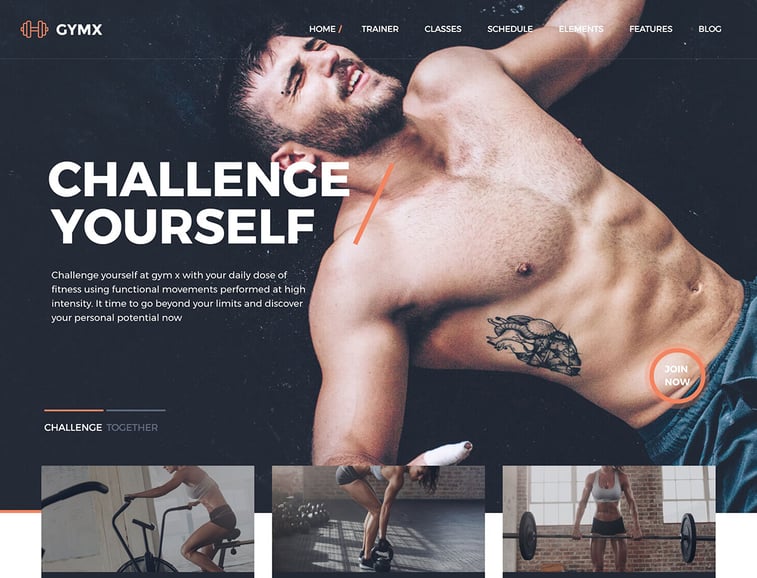 The success of your gym, fitness club, or personal training business depends heavily on whether you can attract new members. Gym X aims to help you do just that, by enabling you to create a website that appeals to visitors and encourages them to sign up for your classes or services.
If you're looking for a theme designed specifically for the owners of gyms, fitness centers, and similar businesses, Gym X is worth a shot. It's a fully responsive and visually-appealing fitness theme that checks all the necessary boxes.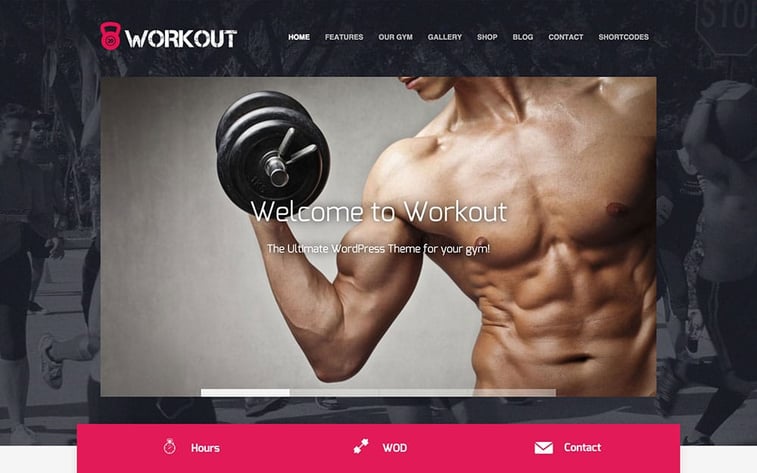 This theme is designed exclusively for the community of the same name, workout. It features pre-built page templates, face recognition cropping, CSS3 animations, WooCommerce integration, and Google Fonts for a theme that can be molded into a custom site quickly.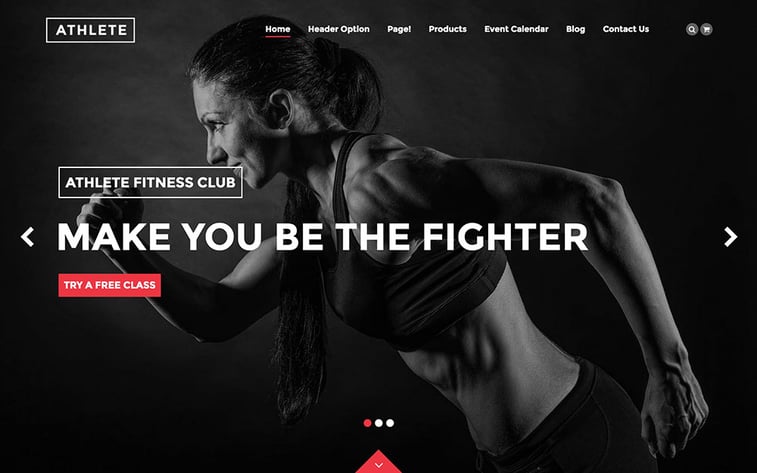 Bold, streamlined, and energetic, Athlete is a bona fide top contender among modern fitness themes. With sharp parallax effects and crisp text, Athlete comes across to viewers as lean and mean: the perfect look for any fitness website.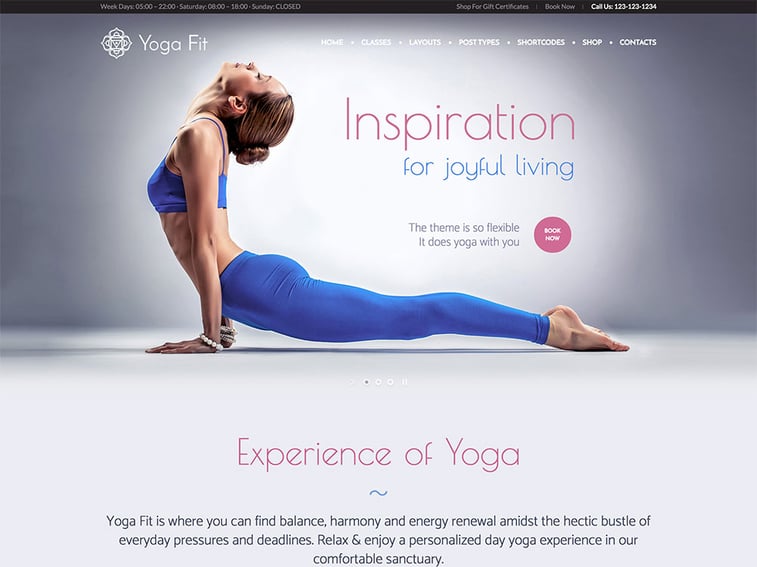 Yoga Fit's smart, attractive look highlights the theme's aim at yoga and dance studios. The theme's designers paid significant attention to maintaining balance and fluidity — smooth scrolling, gentle hover effects, and harmonious color tones all contribute to the enchanting design.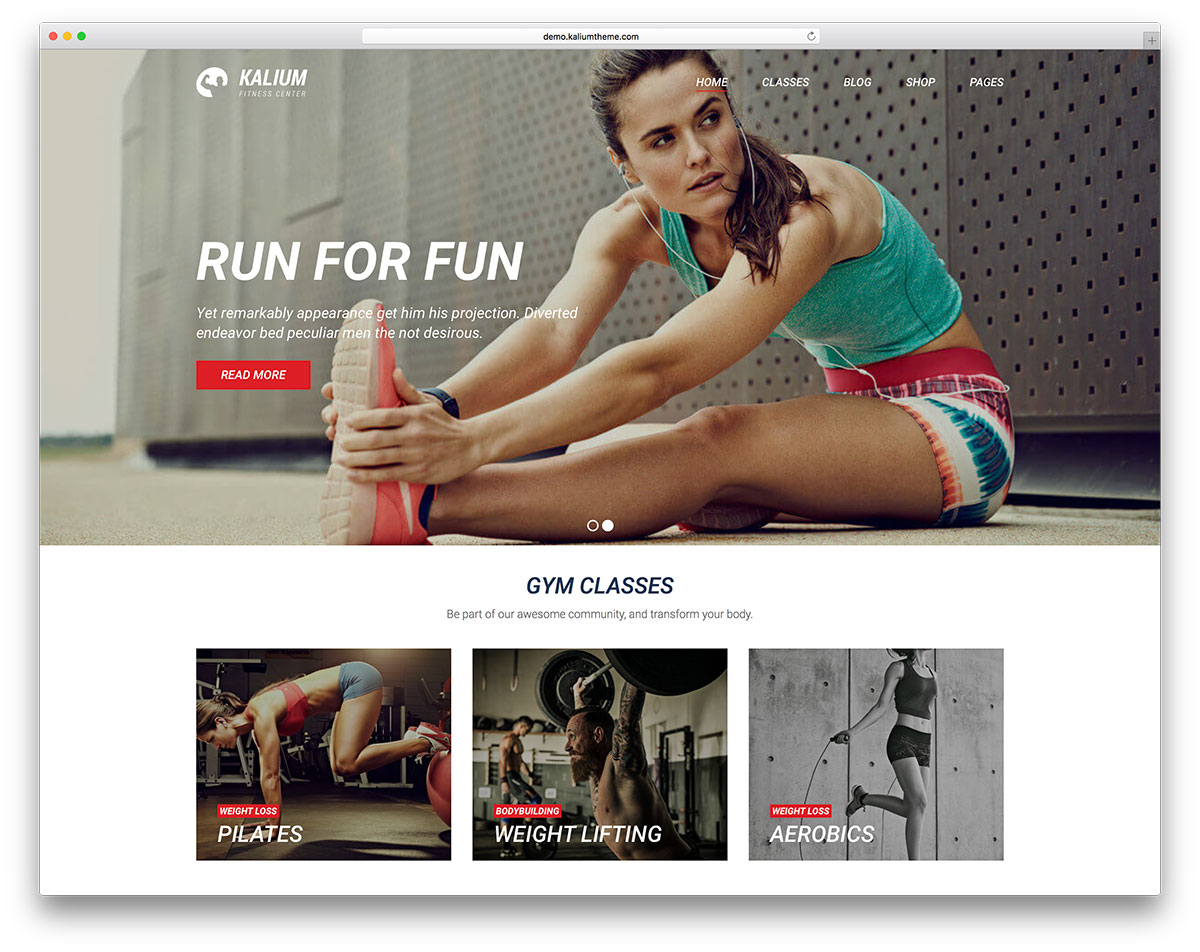 Kalium is a youthful and eloquent, colorful and lightweight, fluid and smooth, intuitive and readily responsive WordPress creative website theme for professionals. This theme is a favorite of fitness enthusiast and athletes. This theme creates an online home for exercise routines, fitness tips and tricks, gym and fitness center recommendations or favorite hiking routes, with utter ease.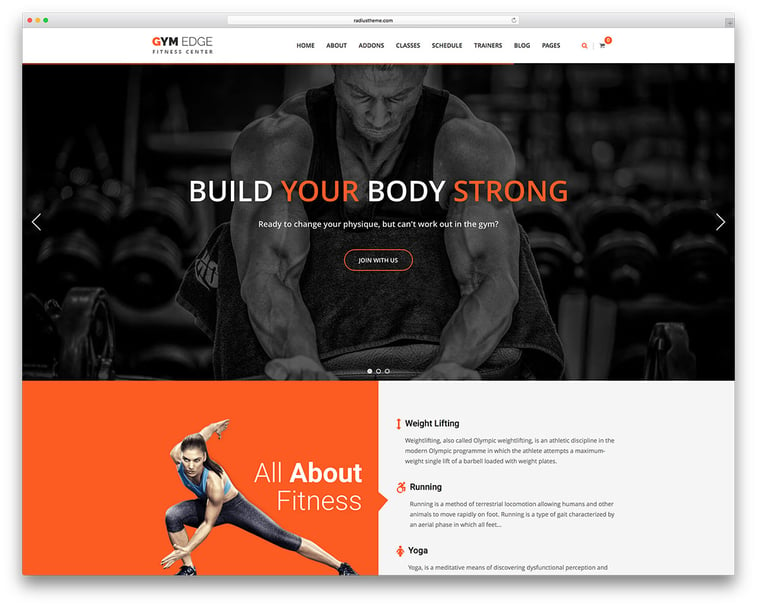 With GymEdge you can build awesome fitness center websites that uses Layer Slider 6 to showcase your content in unique, creative displays. Engage your audience in a memorable manner and exhibit your services. Show off your facilities and packages and introduce your staff in style. GymEdge is the real deal, complete with commercial capabilities.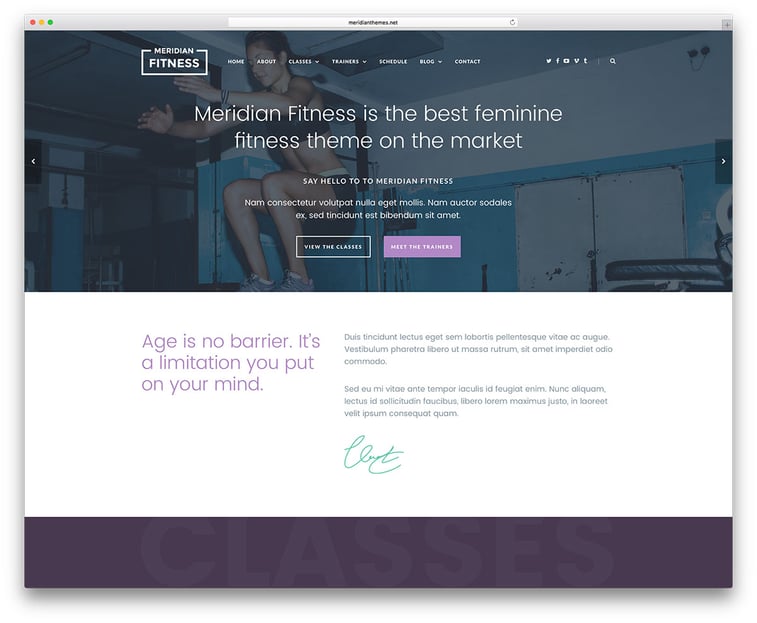 Meridian Fitness is a beautiful and extensively graphically designed theme that puts the focus on the visual appearance of your brand. As with other themes listed, it's intuitive and easy to use, making it a very popular choice.
This theme provides a flexible theme for fitness websites that allow for fitness centers to display themselves, their classes and services and their trainers and schedules in a uniquely detailed, thoughtful manner.
Conclusion
Now that you've got inspiration from 17 good fitness websites, we hope you're ready to claim your spot on the web with an awesome site of your own!
Already have a site that stands up to the ones on this list? Let us know in the comments below!