We've all set an auto-reply on our email when we go on vacation, and truly, who could survive without it? You don't have to worry about people wondering why you didn't reply or people sending you repetitive emails, but mostly it cuts back on confusion. And best of all, you can enjoy your vacation stress-free.
Now if only you could do that with other aspects of your business, too. Well, you can with marketing automation tools.
We're going to go through six marketing automation tools that help make your life easier and your marketing more effective. Just a heads up, we are an affiliated HubSpot Agency Partner but that's only because we REALLY like their software. If you have any questions about it, shoot us a message and we'll be happy to help!
Before we get into the tools, we want to make sure we're all on the same page about what exactly marketing automation is.
What is Marketing Automation
Marketing automation refers to the software that exists with the goal of automating marketing actions.
Many marketing departments need to automate repetitive tasks such as emails, social media, and other website actions so that they can focus on client work and communication. Remember when we talked about lead nurturing? The technology of marketing automation makes these tasks so much easier.
Marketing automation can be a front-heavy process, but once you get all of your templates, content, and workflows in order, your business will start to see the benefits! Good marketing automation takes into account the evolving needs of your leads, and the behaviors and interactions they have with you across all of your marketing channels, not just email.
The most effective marketing automation collects data from multiple channels and uses those various channels to send their marketing messages. This means the success of your campaign relies less on email, and fully utilizes all various channels that influence a buyer's decision.
Alright, let's check out the tools!
Automation Tools
1. HubSpot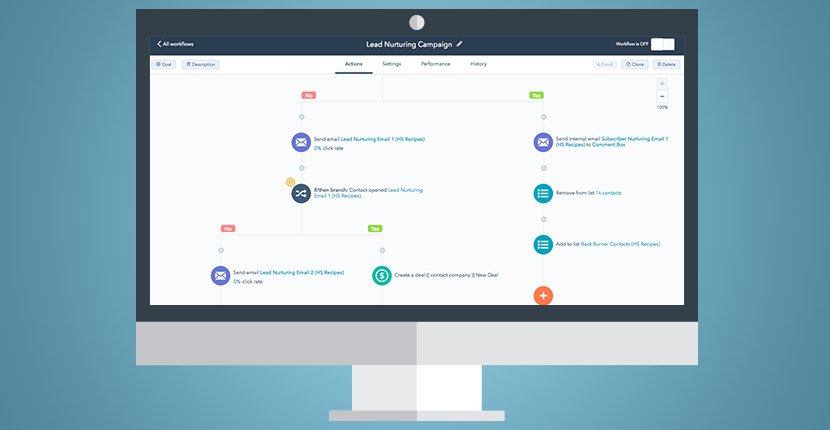 HubSpot sets itself apart as one of the leading software platforms because they offer nearly every tool you need for a successful campaign. Included in their platform is an elaborate CRM tool, email marketing tool, social media and content publishing, website builder, and an extensive sales dashboard.
We're clearly fans of HubSpot since we've partnered with them to offer their services to our existing and new clients. We also use their software to power our marketing automation. We've sought out reviews about the software as well and found that most people who have used the platform are genuinely happy with their results. An added bonus is that HubSpot offers extensive educational resources, as well as sales and strategy consultation.
HubSpot is on the pricier side of things but offers a few different tiers of pricing options. One thing we want to note is there are quite a few add-ons that don't come in the lower pricing package that can cause some frustration if you're looking for an introductory automation option.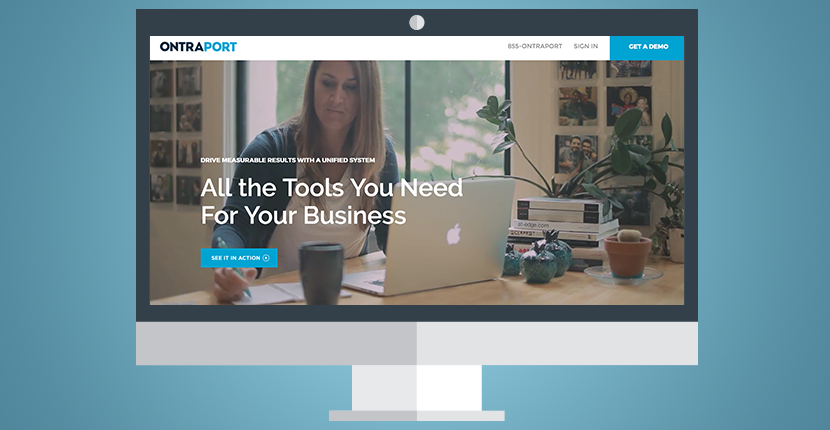 Ontraport's platform includes an email system, a CRM database, and a landing page builder. All of these tools and your customer data are conveniently located in one place and work seamlessly to personalize customers' journeys.
Ontraport has a large range of impressive e-commerce features including automatic credit card payment collections and the ability to add upsells, cross-sells, cart abandonment, and credit card expiration notification automation.
A few things we found in the software that weren't as favorable were the reports dashboard and the sequence creator. While you can create virtually any metric you'd like, their reporting dashboard isn't particularly visually appealing as it doesn't have graphs and charts. One of the most powerful features of Ontraport is the ability to create automated sequences that are triggered when leads complete a certain action. While their sequence creator is powerful, it's not quite as intuitive or fun to use as some of Ontraport's competitors.
The price point for Ontraport is definitely an added bonus to the software. With three different pricing options, you can pick a plan that fits your budget. As the price goes up you do get additional coaching and instruction that will help with the rollout of the platform.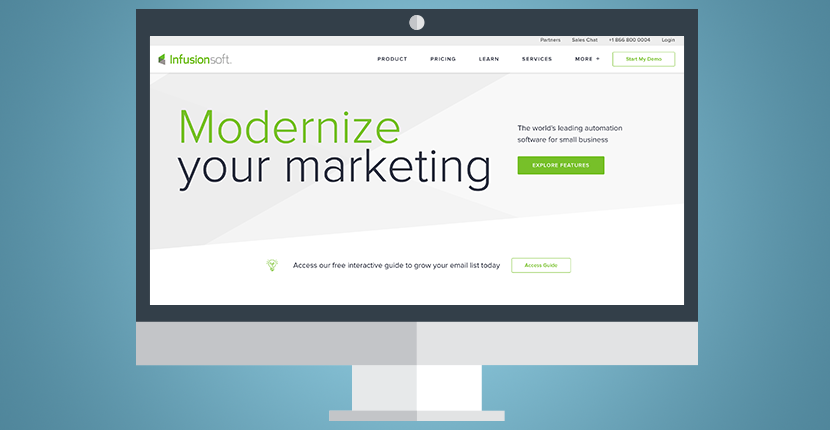 This software platform boasts a CRM, email builder, landing page builder, and data and analytic tracking. While there is a full suite of tools, Infusionsoft does have a focus on e-commerce capabilities and user-experience.
Infusionsoft is a good way to kick off an inbound marketing strategy. They're not as intense or full throttle as HubSpot but if you're looking for an introductory software, this should be your choice.
Infusionsoft has multiple aspects to its platform, which can cause a bit of a headache for some companies. While having multiple options can seem beneficial, it's also fairly overwhelming. A few reviews we found mentioned that the learning curve is very intense and follow-through from Infusionsoft support wasn't always reliable. If you have someone on your team who can dedicate their time and resources to rolling out the software you'll be setting yourself up for success, but if not, you may find it to be a poor investment.
While more expensive than Ontraport, Infusionsoft is still cheaper than HubSpot. There are multiple but pricing options ranging from $99/mo to $379/mo. Of course the more you spend the more options and customization you'll have access to inside the platform.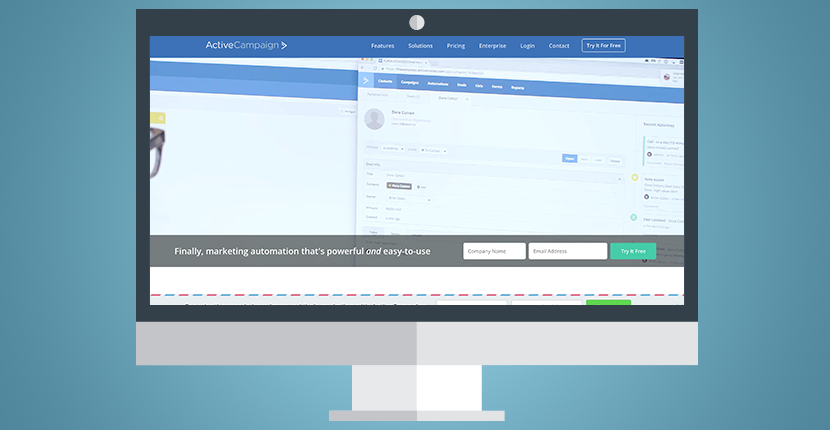 Active Campaign's platform includes the basics you need for a successful automation campaign, but outside of that it's a little lackluster. There are multiple integrations you can add to the software because its main feature is its email capability.
The email builder and site messaging tools are the perks of the software and will serve as a great way to reach customers. The platform is fairly straightforward and simple to use, making it a smooth implementation for your team.
The price is the biggest benefit to this platform. You can purchase the full version of Active Campaign for less than $200/month, which is a steal compared to other platforms. However, keep in mind that you will need a few integrations to meet all the needs of your campaigns which can turn into added costs.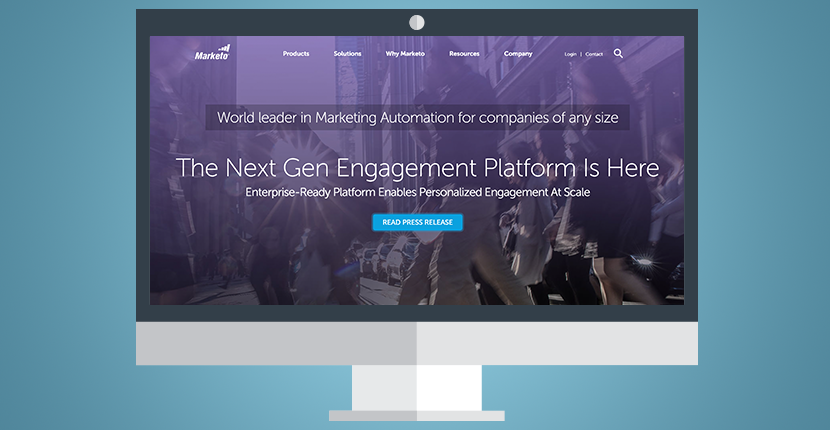 Marketo and HubSpot are on the same wavelength in terms of product offerings and capabilities. Included in the software is an email builder, web analytics, social publishing, digital advertising capabilities, and mobile communication efforts.
With a focus on lead generation and account-based marketing, this platform is made to reach new clients. Inside this software platform is access to continued education courses and coaching from Marketo professionals.
Marketo offers detailed list and segmentation options, which can, unfortunately, turn into slow load times for those smart lists. While this is a small con, it does hold some weight when it comes to building and setting up campaigns. In the same breath, reviews showed that if you rush your setup and onboarding when it comes to tagging and categorizing you could end up in a world of confusion when you actually try to access those lists.
Pricing for Marketo is also parallel to HubSpot. There are different bundles you can select based on your goals and expectations of the software. They don't list specific pricing options on their site so you will have to go through a salesperson to get a quote or demo of the platform.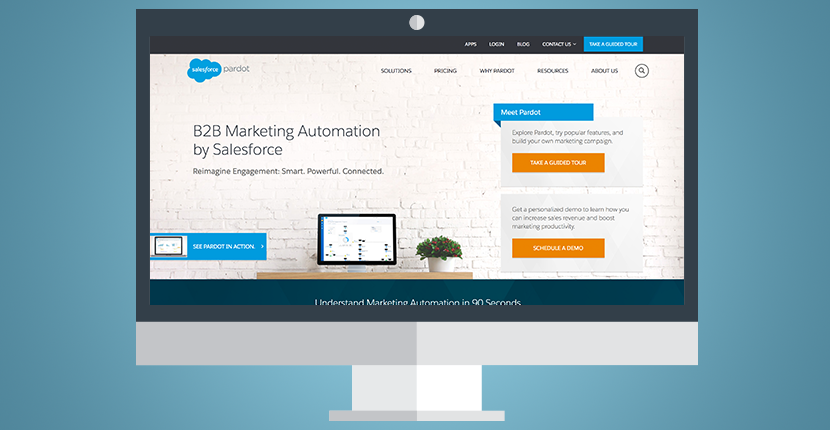 Pardot is the marketing automation platform created by Salesforce. With seamless integration between Salesforce and Pardot, you'll be to access all your information from each platform in one place.
Pardot focuses on lead generation and moving leads through the pipeline, all while engaging buyers along the way. Included in the software is email marketing, CRM integration, social profiles and coaching for the higher price points.
The biggest selling point, and setback, to this platform is it's integration with Salesforce. If you're already using the CRM you're going to find this to be a great automation tool. If not, you'll be spending money on the automation tool and the CRM. This platform is higher priced, but does start out with more features per price point.
Conclusion
There are multiple platforms but these six were on the top of our radar: HubSpot, Ontraport, Infusionsoft, Active Campaign, Marketo, and Pardot. As we mentioned, we like HubSpot best for its full suite of capabilities, support quality, and ease of use. Active Campaign is a great option if you're just looking to get your feet wet, and Pardot is worth a look if you're on SalesForce.
Did we miss your platform of choice? Drop it in the comments below and we'll be sure to check it out!