Interested. Going. Buy tickets. You're probably thinking, "Where else have I seen these options?" On your Facebook timeline.
These options show up when you're scrolling through Facebook and an event pops up. Inevitably you click one of the options.
But then again, you might be thinking, how did that event even pop up on your timeline? And how do you get people to do that with your events? Don't worry we've all been there.
We'll take you through the process of promoting your event using Facebook events. Follow these simple steps and you'll get your event in front of the most people you can.
CREATE YOUR EVENT
The first step in creating your gym event is to make sure you're on your business page. At the top of your screen, you'll see eight icons at the top. Choose "Create Event" and we'll get off to the races.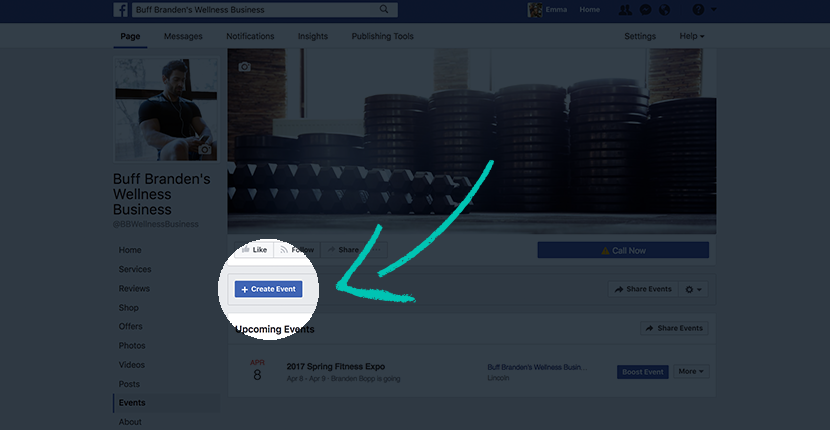 Part 1: Basic Info
Once you're into the event dialogue box, you'll see all the boxes of basic information that you need to fill in.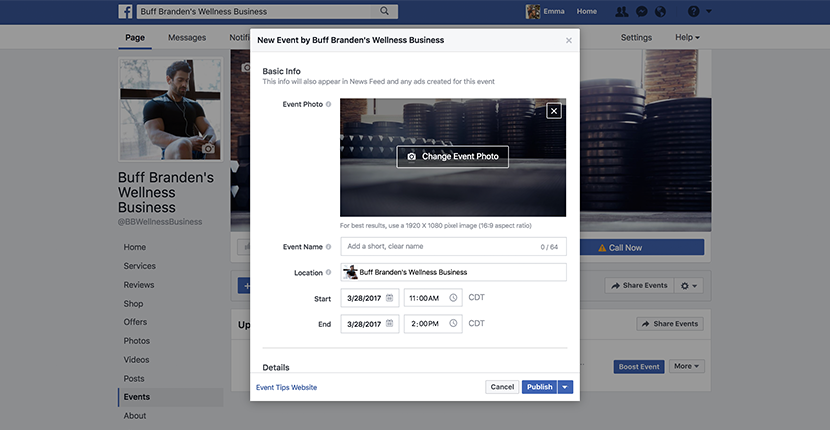 Make sure you've got a valid event name chosen, feel free to get creative so that you can catch the attention of your audience. You'll want your location determined, and start/end times established.
Make sure to create a high-quality cover photo. The dimensions for this photo should be 1920 X 1080 pixels. In your photo, you'll want to catch your audience's eye and make them engage with your post. Facebook is great about making your page responsive to mobile, but this means the image may appear slightly different on a desktop vs. a phone screen. So, be careful with placing important text or icons too close to the edges.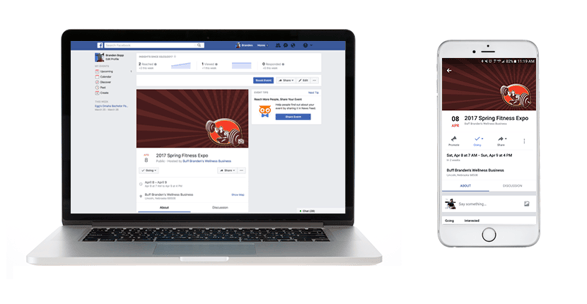 Once you have your photo added and your basic information uploaded to the event, you'll start filling in event details.
Part 2: Event Details
The first option you'll see is the event category. Your gym events will likely fall into the "Health-Wellness" or "Sports-Recreation" categories. Make sure that you don't skip this step because it will help people find your event while searching.
Next up is your event description. This is where you'll hook your audience.
Include all the vendors and partners you'll be working with in the description to help broaden your audience. Someone interested in a certain supplement brand may not be a member of your gym but if they're familiar with that brand, they'll be more likely to attend.
Part 3: Tickets
If you are charging an admission price or requiring tickets, make sure to include your ticket URL. If you're selling tickets to your event through Eventbrite, check out their article on how to sell tickets directly on your Facebook event.
Part 4: Options
Don't overlook the options! That would be like skipping leg day and nobody wants that.
This is where you add co-hosts, which is the easiest way to grow your reach. By adding co-hosts, you'll gain access to their networks. Leverage your personal trainers, vendors, and venue as possible co-hosts. The more networks you can connect, the better.
People will often have questions about your event, so we recommend allowing anyone to post in the group. If you're worried about trolls or innapropriate content, you can check the box that requires your approval for all posts.
Lastly, it's a good idea to show the guest list in the group. Attending guests will show up on the right hand of the screen and can act as encouragement for people who are undecided on whether they want to attend or not.
Now that you've got your event created, let's get people there.
SEND OUT THE INVITES
First things first, grab the low-hanging fruit and invite all your friends who might want to go. If one of your friends is an avid powerlifter and shares your event to his or her news feed, that will promote your event (for free!) to all of their friends.
You also have the option to invite your friends by groups that you're both a part of or friend lists you create. If you are a part of your personal trainer's Facebook group, invite all your friends from that group. If you know you'll be creating similar events in the future, create a friends list of the people who might be interested in the events and envite that whole list when you create the events to save time.
In all of your gym events, you should encourage other attendees to invite their friends as well. You'll also want to share your event in your news feed. This step is often forgotten, but if you don't share your event in your news feed, people won't see it unless they're invited.
Pro tip: Make sure to invite all the people who engage with your posts to like your page if they haven't done so already.
Now that you've invited all your friends and networks, you can use paid ads to get your event in front of even more people.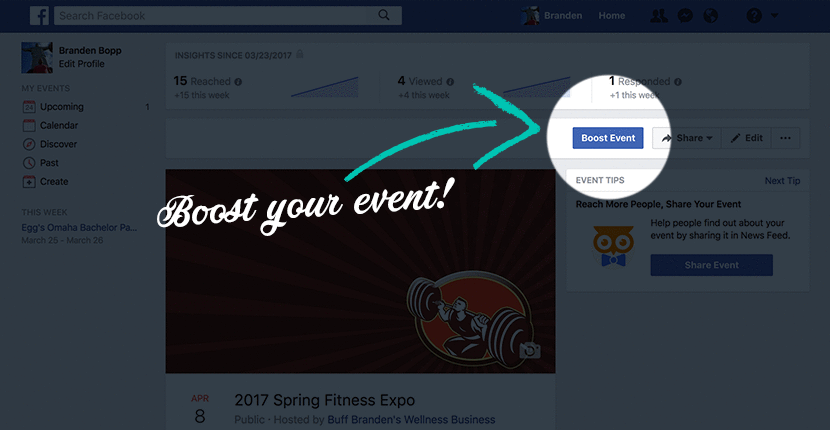 PAID PROMOTIONS
To boost your Facebook event, click on the event from your business page. On the event page, you'll see a blue box right at the top of the event that says "Boost Event."
Click on that button and the world of paid promotion will be shown to you! Once you're into the boost event dialogue box, it will pull in the information that you entered when you created your event.
First up, you'll pick your audience. If you've created a unique audience for your page, then all you need to do is select that audience. We've got you covered if you still need to create a new audience.
Create A New Audience
You want to have the right audience to show your ad to, otherwise, the money you spend won't be worth it. The following steps show you how to create that audience.
Name Your Audience: Give your audience a name so that you can reference it in future promotions. Then you won't have to guess which group of people you were trying to reach when you run an ad in the future.
Select Gender: You can choose to target men, women, or all. For most fitness events, you'll be good with selecting all.
Determine Age: Broaden or specify your range by shortening the difference in your age ranges. While 65 year-olds may be rocking it at the gym, an ad for a lifting competition may be more effective targeting a younger demographic.
Pick the Locations: Make sure to include your general area. You can include a radius of up to 50 miles around your selected location. Want to cover more ground? You can add multiple locations to target as well.
Select Interests: This is super important. When you start typing into the field, it will auto fill options to help you select certain interests. The more interests you select, the bigger your audience will be. After you select an interest, hovering over it will also give you an estimated number of people in that audience! You want to find the sweet spot between showing your ad to enough people and paying only to reach the people who might be interested in your event.
Save your audience!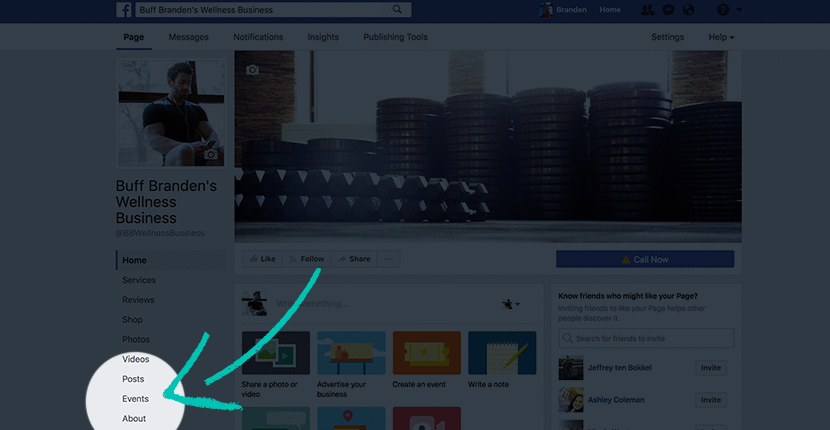 Now that you know how to create the best audience for your ad, you'll select your budget and the amount of time you want the promotion to run.
You'll want gym members, fitness experts, and nutrition nuts all around your area to see your event as many times as possible so if you've got the budget run that bad boy for two to four weeks leading up to your event date.
And that my friends, is how you "Boost" your event.
CONCLUSION
Using Facebook to promote your fitness event starts with a solid foundation, if you need tips on how to pump up your page check out this article.
Promoting your event on Facebook can be done in three simple steps: create your event, invite your guests, and pay for promotion. Of course, there are a few more details that we covered to step up your game, but that's where it starts. Now, switch tabs back over to Facebook and get to work promoting your next fitness event.
What's the catchiest event title you've ever seen? We love to hear creative ideas, leave your answer in the comments below!