When the printer asks you what type of paper you'd like for your business cards, the typical reaction is something like this: "Oh, I don't know. Something thick that feels nice when you touch it."
While that doesn't mean much to the average person, to a printer, this is an entry into the world of papers, weights, and finishes. And this is the kind of thing that lights our fire.
Why do we geek out on paper and finishes?
Because it elicits emotion. When you pick up a brochure, or a business card, the way it feels contributes to the overall experience. It either supports or detracts from the brand authority and credibility.
If your business name is something like "Cornerstone Bank" or "Foundational Consulting" and your business card is a weak and flimsy, the message and the experience don't line up. This is also why you'll find that businesses who are eco-friendly often print on eco-friendly paper. It sends a statement to their audience.
Meet Matt Ashmore. Printer Extraordinaire.
To drive this point home and give you a glimpse into the world of printing and marketing, we sat down with a local expert.
Matt Ashmore is the owner of Eagle Printing and Sign, and a long-time advocate of the right paper for the right job. He gave us some tips on the in's and out's of printing. He also disclosed a few life-saving printing tips.
Read on…
Q: Did you always know that you wanted to be a printer when you grew up?
A: I don't know if anyone ever knows what they want to be when they grow up! But truth be told, it was pretty much the first job I ever had.
My parents originally owned the business. As soon as I could run a press, I was in. But as soon I went to college - the first time, I changed my career path towards education and science. I taught science for 7 years in New Mexico and decided that wasn't enough school, so I went and got my law degree. And I learned one thing from that experience: that I don't want to be an attorney!
After teaching and going to school, my parents were ready to retire and naturally I was ecstatic at the opportunity to take over the business. So long story short, that's how I got involved.
Q: Clearly you love school and furthering your education. Has the variety in your career experience helped you become better at your job?
A: Oh, I think it's a huge bonus. I've got at least one more degree in me! (My wife isn't excited to hear me say that!) Having such a broad background allows me to be able to think of how I would want something to look if I was the teacher reading the brochure. Or I more deeply consider a specific type of paper for a print piece for a law firm as opposed to what works best for a mom and pop shop. It gives me a plethora of knowledge and perspectives.
Q: Some people say print marketing is declining because of the rise of digital outlets. How has this impacted the printing experience?
A: Any business has to account for change in their industry, so that just comes with the territory.
In our business, we have noticed a stronger push towards our digital offerings. Our biggest challenges tend to be with the change in processes -- going from a press to a digital printer is the biggest change in the last few years. But we also notice that most people don't go to school to be a printer anymore. We get great design talent but finding people who know how to work the machines is a challenge. I guess that goes with the push toward digital and the perception that there can be less of a need to educate about printing machines and processes.
Q: We love our paper samples here at Simple Strat. Do you think its beneficial for businesses to understand the different types and qualities of paper?
A: Yes, 100%. Knowing the difference between paper types and finishes can take a huge chunk out of the design process. Most of the time, printed pieces are a replication of something you have seen in the past. We tend to form ideas based on a previous experience. If a customer has a booklet of paper samples to help you make decisions, the process is much more simple and straightforward. They could just touch and feel the samples – and hold them in their hands to know what the different weights and finishes actually feel like in the end.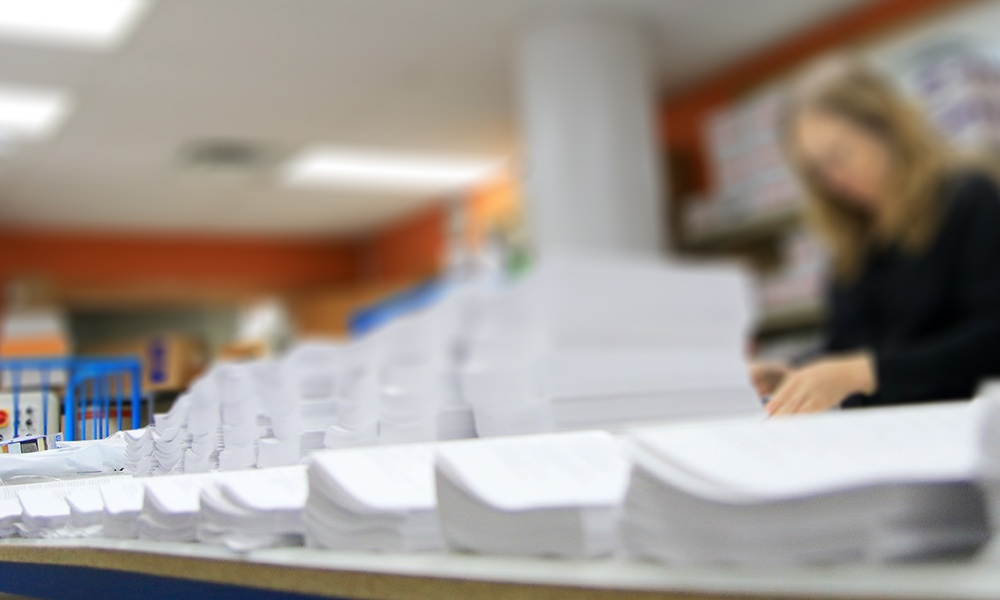 Q: Sign us up, we want one! Are you guys looking into creating a sample "booklet" of sorts?
A: We sure are! There's obviously logistics to consider with creating a book of all different types of paper. Paper types are one of the most frequent questions we receive. When you're creating a design piece, most people tend to look over the paper type. This is a big mistake as the paper type is an essential element to the design piece.
We usually have clients come in to feel and see how they like the look of certain paper types. We would love to be able to offer a booklet from the get-go to provide marketing directors, business owners, agencies, and other companies a hands-on reference for the different offerings we have.
Q: Since you're so full of knowledge, and we love to learn, can you tell us some of the common paper types you see as "standard" for business pieces?
A: Sounds like I need to create my own "education" about this, huh? Okay here is breakdown of the most common types of paper and when we use them.
Typically coated sheets holds pictures better and uncoated have a smooth finish.
If you want to write on a piece, an uncoated sheet will give you the best results.
We print most business cards on 110-120lb card stock, that has 10-12pt thickness.
Brochures are standardly printed on 100lb gloss text weight paper.
Letter head- uncoated txt 60-80 lb
Cover stock just depends on the cost involved. We can add a soft touch finish or keep it the same as interior pages and use a glossy finish, it just depends on budget.
Q: Do you have any money saving tips or tricks to share?
A: The biggest one I always think of is the size of what you're printing. Most pages are 12"x18". That means if you're going to print 5"x7" cards and your design can handle being made smaller, think about switching to a 4"x6" card. Why? Because you can get more cards on one sheet. Little things like that can really add up. Also, it depends if you use a digital machine or a press. The press will usually be more expensive just because of the operational costs associated with those machines.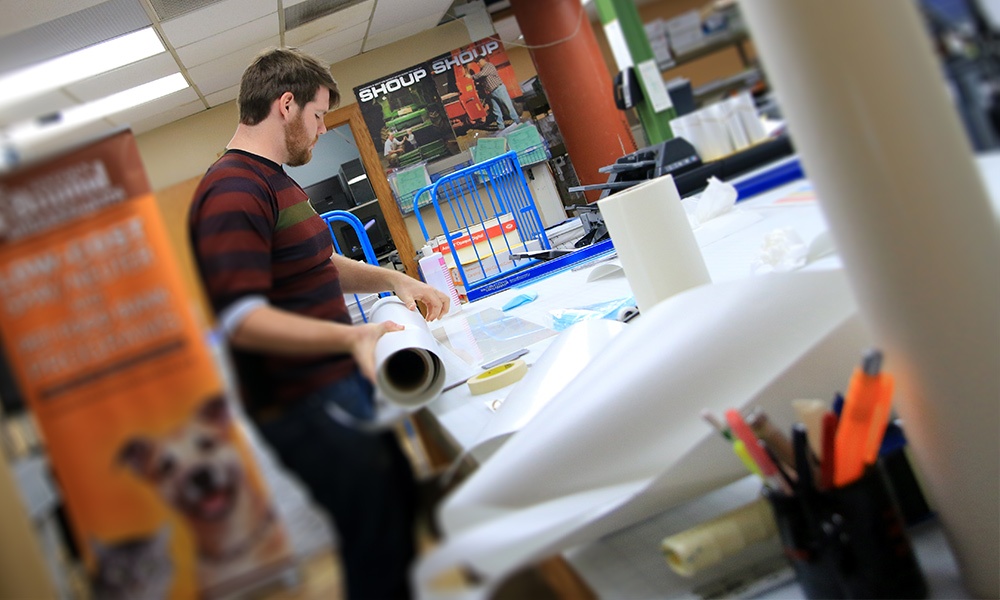 Q: Time to brag Matt, what makes Eagle Printing and Sign different than other printers?
A: Well, we pride ourselves on being humble and letting our pieces do the talking. But since you asked so nicely, I guess it would be that we aren't your typical "drop a file, print overnight, and walk away" company.
We fill a gap for some of our clients who don't have the funds to hire a marketing agency, so if something doesn't look right we will propose suggestions for them. We offer design services but we go beyond that and look at what they've done in the past. We care about each design and don't just want to push out as many pieces as possible.
Can you tell us more about Eagle Printing and Sign?
Eagle Printing and Sign is a Lincoln-based printer we work with on many client projects, and we enjoy learning tips each time we have the opportunity to meet with Matt and his team. While you might not get as excited as we do about paper samples and printing tips, we hope you enjoyed our interesting interview with Matt. Check out everything they can do for you at their website.
Now it's your turn.
Do you have any printing tips and tricks up your sleeve? Or even a story about a print job gone bad or amazingly well? (We have those too! Maybe we'll have to share in a future post).
Send 'em our way. In the meantime, let us know if we can help with a print project, or geek out about paper over a cup of coffee!