These days, our Android phones can do just about anything with the right app. But when you're trying to find the best video recording app for Android, the Google Play store can get overwhelming.
There are a ton of video apps to choose from. Some have ads, some cost money, some are free but require an upgrade to their pro version to access most of the features, and some are just flat-out terrible to use. So, we took some time to hunt through the app store and find our favorite video recording apps in hopes of saving you time and frustration as you create content for your video marketing.
We included a couple apps in each of three categories:
Camera Apps
Screen Recorders
Video Editors
We'll start with your basic camera apps. But first, a disclaimer:
Most Android phones come with a default camera app already installed. Most of the time, this camera app is more than enough for recording great quality videos on your phone. Sometimes it's even better than the third-party camera apps you can find in the Play Store. We recommend starting with your default camera app and then moving on to a different app if you don't like it or need additional functionality. The first app on our list, Camera MX, does have some special features not found on most default camera apps.
Camera Apps for Android
Camera MX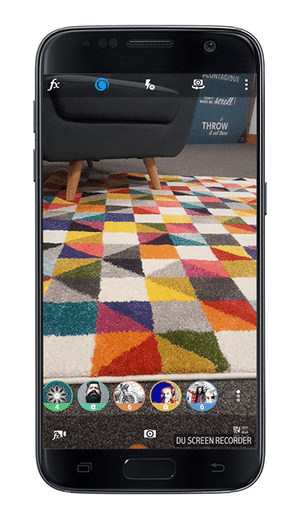 Camera MX is one of the few third party camera apps we tested that gave us new features we could actually see ourselves using. The app is free and won't bother you with ads, but there are in-app purchases available.
Camera MX includes basic camera settings such as video quality, flash, exposure, and aspect ratio. However, it is missing a few of the advanced features that can be found in the manual modes of some camera apps, such as manual focus, ISO settings, and white balance adjustments.
Where Camera MX excels is with two unique features: filters and what it calls "Live Shot". The filters that come for free with the app offer some great ways to make your videos stand out in a social newsfeed. You can do things like add frames around the video or make the entire video black and white except for one color as shown this gif.
Live Shot is technically a photo mode in Camera MX. But what it actually does is take a very short video (just under three seconds). Then, from the gallery, you can save that Live Shot "image" as a gif or video. The only thing that's tricky is that it records the few seconds prior to when you hit the button to take the video, rather than the few seconds after. For that reason, and because the gif is so short, you'll want to use it to capture something that's already in motion. Alternatively, you could use it to take a "photo" that has just a little bit of movement. For example, you might have a photo of a stationary person with the trees subtly blowing in the wind behind them.
Open Camera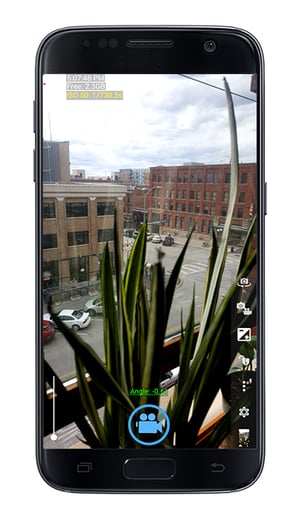 Open Camera is a great alternative to your phone's default camera app. It gives you a wide range of functionality (especially if your phone supports Camera2 and you activate the "Use Camera2 API" setting in Open Camera). Surprisingly, the Open Camera is free from the Google Play store, asks for no in app purchases, and has no ads – a super rare and awesome combination for third-party mobile apps.
The app gives you full access to just about any camera feature your phone will let you control. This includes flash setting, ISO, focus modes (including manual focus with Camera2 API), resolution, white balance, color effects, and exposure.
In addition to those core features, it includes a couple that your default camera app may not have. One of our favorite is the information overlay on the screen, which you can set up to include available remaining storage space on your device, battery level, camera angle, ISO, and more. The wide variety of grid overlays can also help a lot with composing the best shot.
This app may not be the best choice for the people who just want to point and shoot. It can be pretty easy to get lost in the settings if you're not sure what you're doing. However, you can set everything to auto if you want to.
HD Camera for Android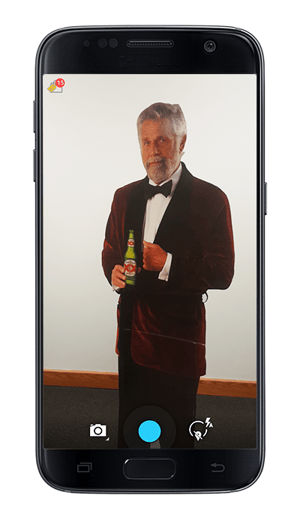 HD Camera for Android is another highly rated third-party camera app. This one has a much cleaner and simpler UI (user interface) than Open Camera, but doesn't give you access to as many settings. It is also free but is supported by advertisements that can get a bit annoying.
With that said, the app is great if you want an easy-to-use simple camera. It does let you adjust your white balance, video quality, and flash, but only allows you to use auto-focus when you're in video mode. This can be problematic in some cases.
HD Camera does have some unique features that can be useful. First, you can get to your photo and video gallery simply by swiping right, making it super easy to see what you've already captured. You can also tap on the screen during a video to take a picture, which can be much easier than trying to grab a frame out of the video for a still image later on. Finally, like Camera MX, there is an option to create a time lapse.
Screen Recorders for Android
We were blown away with how well this free screen recorder worked and how many features it included – all with no annoying ads or in-app purchase requirements. Like all screen recorder apps, the primary purpose of this app is to take a video of what's happening on your phone's screen. But the DU Recorder goes way beyond that.
First, it has a wide variety of options for its screen recording function. By adjusting the settings, you can have the app show your touches on the screen, record audio during the screen recording, show the front or rear facing camera in a resizable box on the screen, and add drawings during the recording.
Once you've finished recording, the app also allows you to add subtitles, trim the video, and save the video as a gif. But it gets better.
Where DU Recorder surprised us most is with its suite of built in tools, all of which can be used with screenshots and videos taken with the app or normal media files saved on your phone. These tools allow you to edit videos, merge videos, transfer files over wifi, stitch images together, blur images, and crop images.
While you may – and should – download DU Recorder for its screen recording features, don't be surprised when you find yourself using it to work with the other photos and videos you take with your phone.
AZ Screen Recorder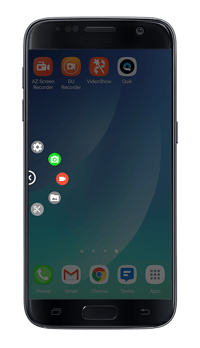 AZ Screen Recorder is a highly rated alternative to DU Recorder. It's also free but it does feature unobtrusive ads and in-app purchases.
The app is super easy to use and offers features like showing your taps on screen, adding a text or logo overlay, and recording audio. However, to get more advanced features, you'll have to upgrade to the $2.99 pro version.
With the pro version, you can also edit your recordings, show your front or rear facing camera, and save your files as a gif.
Video Editors for Android
VideoShow offers an easy way to shoot and edit photos and videos, all on your phone. The app is free and ad-free, but does require in-app purchases for some features.
In VideoShow, you can shoot new video and photos, or select ones you have saved on your phone. From there, you can trim clips, adjust their speed, reverse them, add transitions, overlay filters, draw on them, and add special effects. You can also use premade themes, add music, and save your video as a gif.
The app does have a watermark on the video, but that can be removed by purchasing the pro version. The pro version will also add more filters, effects, and themes.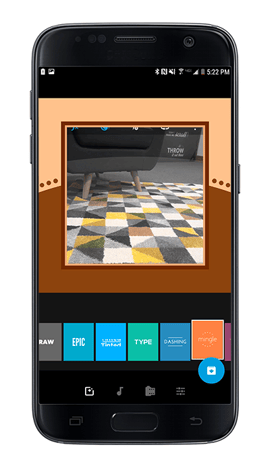 Quik doesn't allow you to record video in the app, but it does allow you to edit your videos super easily. It's also one of the best apps for combining photos into interesting slide shows. Best of all, the app is free and won't bug you with ads.
The app features quite a few video templates. Simply select the photos and video clips you want to use (the app pulls media in from your phone, Facebook, Google Photos, and even your GoPro), select your template, and Quik does the rest.
Each template features transitions and music. It even syncs up video "highlights" (which you can select) and transitions to the music. Quik doesn't allow for much customization, but you can modify some settings within each template and select from the app's many music tracks or upload your own.
Quik is best for people want to combine multiple video clips and photos together very quickly and for those that aren't comfortable with their editing skills.
Conclusion
While there are a ton of video recording apps for Android out there, we found that these seven rose to the top. Use any of these, and you'll quickly be churning out high-quality video with ease – look out Hollywood!
Do you have a favorite Android video app that we skipped over? Tell us about it in the comments!