Marketers everywhere are talking about COVID-19. Let's be honest, who isn't talking about it?

We all know why. Obeying our social responsibilities is wreaking havoc on the way we operate our businesses and go about our lives. With sudden restrictions on face-to-face interactions, limited resources working from home, and skeleton crews in the office (or nobody in the office at all), marketers have had to Apollo-13 together new strategies to keep business moving.
One of the things still well within our reach, however, is content creation. Not only has our time been freed up to write but travel and conference budgets have been reallocated and approved to spend in other places.
Now, marketers are finding both the time and resources to invest in its creation. This is so important in our current environment. Not only is there's a lot to communicate, but digital content is one of the only — and, honestly, it's the most effective — way to do so.
The other benefit is that creating content now will also have a longer-term impact on your more foundational marketing activities. In fact, if you play your cards right now, you could be the last company standing when this is all over.
So, what's an isolated marketer to do?
We predict that over the next three months we'll be seeing a lot more content creation. And, as the other channels dry up, standing out will become much, much harder.
That's why we've compiled some best practices for handling your content right now, and some thoughts about what you need to do to be successful as we emerge on the other side of this experience.
Should you talk about COVID-19 in your content?
You probably have a lot of questions:

Should you talk about coronavirus, or shouldn't you? If so, when and how?
What kinds of information should you share? What should you avoid and why?
What are the risks of carrying on "business as usual"? Are they big enough to ensure all of your content on all of your channels is presented through a "coronavirus lens"?
The short answer is that your content does need to reflect the realities of coronavirus. Let's dive deeper into how to do that.
Here are 3 things you can do now

Right now, content marketing is the place to win. For the foreseeable future, persuading your buyers to buy might be difficult, but you can enrich your relationship with them through content marketing. The key is to make yours more relevant and more valuable than your competitors and to deliver it consistently. Here's how:
1. Communicate to Connect
One of the most important things you can do at this time is to connect with your customers. Many of them are undoubtedly worried about their relationship with your company.

Keep them in the loop as you make changes to accommodate the ever-changing social distancing recommendations and the state of the nation's health.

To stay relevant, the key is to keep your messages short and to the point. Before you send one, remind yourself to THINK.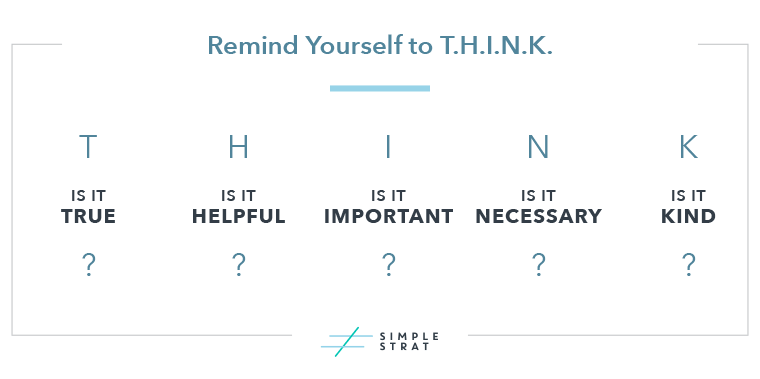 Here's the kinds of information your customers might be looking to know:
Are you reducing hours?
Have you implemented a pick-up/drop-off policy?
Do they need to change the way they get ahold of you?
Are you expecting any delays or changes in product or service?
Are there any safety concerns they should be aware of?
2. Strike a balance
As you've likely noticed, the proverbial flood gates have burst wide open with corporate COVID-19 updates. That's likely because consequences for overreacting are small but downplaying the severity of the situation can be harmful to your company.
Although the temptation to "send it" is high, be careful not to overwhelm your audience with doom and gloom. Yes, we are in a particularly volatile situation but that doesn't mean all your content needs to talk about it.
So, what should you talk about?
After clearly communicating any business changes that affect your customers (like in the above example), start answering their questions and showing them how your solutions can help ease the burden of the transitions and changes they are facing.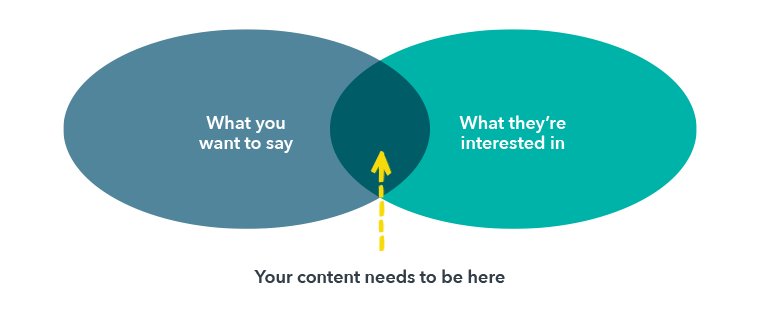 We recommend focusing your messages on the value you provide. It might help to revisit your company's value proposition and use that to guide your future content.
3. Avoid these topics entirely
It's important to be sensitive to the situations people are facing right now. Companies that don't are quick to face scrutiny. Log onto any social media community — from reddit to Slack — and you'll quickly be able to find an example of a company that got it wrong (but there's a lot of "got it right" stuff too).

So, what boundaries should you set? We recommend avoiding topics that include talk of events, travel, and in-person interaction especially. Posting an article on face-to-face sales best practices, for example, would not be useful in our current environment. But hosting a virtual event about how to become a better email marketer from your couch would.



One great example that puts all of these ideas into work comes from Adobe Summit, an annual conference that typically hosts thousands of individuals from around the world. The organizers of this event not only decided to make it virtual, they have a nice FAQ that goes into detail about this decision and others. And, if you pop over to their blog, they have several helpful articles on some of the hottest topics.
How to plan for what's to come
If we told you things would continue like this forever, we'd be wrong. The truth is, no one really knows the impact COVID-19 will have on businesses. Some predict an immediate bounce back and others say we will be dealing with the effects for years to come.
There are some adjustments you can make and some things you can proactively manage. Here's our top 5:
1. Uncertainty
Your editorial calendar has likely taken a temporary vacation. Right now, the best thing to do is to figure out how to plan your content incrementally. Ask yourself: What will your new planning process look like? How will you implement it with a remote and possibly smaller team?


2. Desensitization
People will get tired of COVID-19 headlines. Consider how to address the new challenges your audience is facing without making the disease your only focus. This is where your ability to find the intersection of your value and your audience's problems is key. If you aren't sure, don't be afraid to ask your customers how their needs are changing.


3. The virtual shift
As the go-to backup plan for events, trainings, and gatherings everywhere, virtual events (like webinars) will begin to pop up everywhere. We predict that webinars specifically will quickly begin to offer diminishing returns.

Our best advice is not to put all of your eggs in that basket. The most successful companies will stay competitive by figuring out additional ways to connect with their audience.


4. Carrying the load
Many traditional sales and marketing tactics are already taking a back seat. With a greater focus on content marketing, prepare to meet greater scrutiny from your superiors.

Don't wait to communicate how it can help meet your organization's goals. We recommend getting agreement on the most important KPIs moving forward. Establishing buy-in from leadership now can really set you up for success.
5. A big job
Bridging the gap that is now between you and your customers won't be easy. That's why delivering valuable content to customers will become more important than ever before.

With uncertain futures, every dollar your customers spend will be questioned. Your content will help guide them through a customer journey that will make sure they realize as much value from your products as possible.
Onward: one day at a time
Whether you're well-prepared with a content strategy that was already seeing returns, or you aren't, we are all facing the same challenges.
The good news is that those who adapt now have a far greater chance of succeeding for their customers, employers, and investors.
Remember:
You can't just ignore the impact of COVID-19. So be clear in your plans to move forward.
Be truthful, but don't scare your customers. Assure them you have everyone's best interest — health, safety, livelihood, etc. — in mind.
Reevaluate your content creation and curation often to match the current state of the crisis.
Need help using content to react and thrive?
Book a free consultation with a content strategist to talk strategy or how we can help your team create more high-quality content.