The world of marketing is moving so quickly, it can be difficult to keep your finger on the pulse of the industry. But that's exactly why our team hits the pause button every once in a while to attend events like AMA Marketing Week Live in Las Vegas.
This yearly conference features key insights and information from thought leaders at innovative organizations like Spotify, Intel, NBC, Chobani, and more.
Our founder, Ali Schwanke, was asked to help as a member of the AMA National Practitioner's Council, which put us in a front row seat to the trends and insights discussed at the national level.
And we're bringing those insights to you. So, what were the top takeaways and things marketers were talking about?
1. Knowing your audience (and their behaviors) is mission critical.
As marketers, we've been talking about this for quite some time—but the topic has started to spread throughout new areas of an organization.
Why? Because the audience and their habits, behaviors, preference, values, etc. are the basis for strategy, regardless of your department. Think about this—what if your entire marketing strategy is based on assumptions? Or what you "think" customers want?
One session at the conference featured Ivy League business school professors sharing their book called "The Organic Growth Playbook." And the insights from the book drove home this point.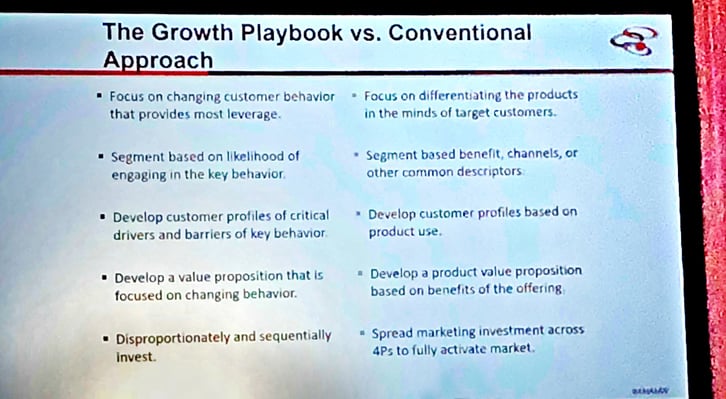 In an nutshell, it's essential to build marketing strategies with your customer in mind. At Simple Strat, that's been a focus from day one, and we've gotten some push back at times (yes!)—but it's no longer good enough to just "say we're better" and create pretty graphics to support that.
There must be a concerted effort to understand the triggers, motivations, and habits of your customer and potential customers, and build a process and strategy that engages them in a journey.
2. Look strategically for growth opportunities that exist inside your own company.
There are many ways a company can grow, but it comes down to three things—more customers, higher spending from current customers, or more frequent spending from current customers.
Each of these scenarios demands more than just amping up the advertising spend or talking louder or more frequently at your current customer base.
To achieve organic growth, you must think of the company as a whole. In one of the breakout "collaborative sessions" we spent time mulling over these six questions: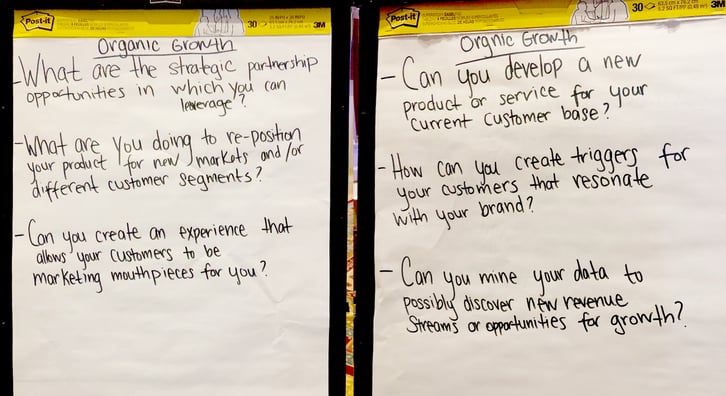 These are questions you should be asking as well:
What are the strategic partnership opportunities that you can leverage?
Can you reposition your product for new markets and/or different customer segments?
How do you create an experience that empowers your customers to do the marketing for you?
Can you dig deeper into customer pain points and identify a new product or service opportunity for your current customer set?
How might you mine your data to discover new revenue streams, customer habits, or opportunities for growth?
Organic growth requires more than the creative thinking power of the marketing team. It involves pulling in people from all ends of the company—people who are interacting with customers, fielding requests (or complaints), and observing what's happening on the periphery of your industry or even different industries altogether.
3. Creativity is a skill every employee needs—not just the marketing team.
With the increase of technology and automation in the workplace, the need for creativity is skyrocketing. In fact, a recent article from McKinsey cites that demand for higher cognitive skills, such as creativity, critical thinking, decision making, and complex information processing will grow through 2030, by 19 percent in the United States and by 14 percent in Europe, from sizable bases today.
Many times it seems like the word "creativity" is reserved to those in marketing or the creative department, but that couldn't be further from the truth. Creativity is not something that some people have and others don't. But as Allen Gannett, author of The Creative Curve, shared, creativity is within all of us. We just have to figure out how to go get it.
In his research, he interviewed famous creative people and those who are known for "shaking things up" in their industry. What he discovered was this:
"Creative geniuses are constantly consuming content within their niche." - Allen Gannett
This goes for all professions, not just the "creative" marketing type. Accountants become consumed by the beauty of a well-structured spreadsheet or P&L. Developers spend hours on GitHub reviewing others' code and thinking of how they might tackle another problem. Content creators spend time watching, engaging, and reposting content from sources around the world.
The tip? Become obsessed with consuming content in your niche. That level of observation and learning makes it a habit—and you'll find yourself with a heightened level of creativity that will manifest itself in random places (when your left brain has a chance to rest), such as a run, the shower, or a long drive across the country.
4. Marketing is an always-on engine. There is no start and stop.
Gone are the days of "turning on a campaign" and hoping it drives leads and sales. Do companies still run campaigns? Yes. But they're part of an ongoing set of experiments designed to help identify the strategies and tactics that will drive the business forward.

This last session of the conference was delivered by Mayur Gupta, the VP of Marketing and Growth at Spotify. In his presentation, he emphasized the importance of properly defining marketing and growth goals at different stages of a company's lifecycle. Along with that, marketers need to realize what stage they're in to set effective metrics for their activity.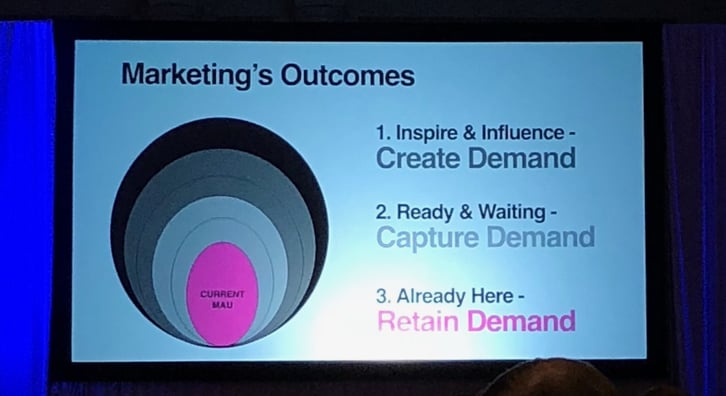 Having a strategic marketing conversation now means creating demand and capturing it, and continually driving value for your customers.
Growth is what companies are looking for—or should be. And this message is exciting for us at Simple Strat because we started this company to redefine marketing as a center for growth.
Want to talk about all of the takeaways from the conference?
There are several other nuggets of wisdom that we can't fit into this post, so feel free to comment below or drop us a line. Let us know what questions you have, or how you plan to implement these insights at your own organization.