#hashtag
We had to. #sorrynotsorry Okay, that's out of our system, now onto the good stuff. Everyone is familiar with hashtags and using them on their Instagram posts. But they go beyond throwbacks and calling out inside jokes, they're also a great way to connect with new followers.
In the fitness industry, using hashtags is a phenomenal way to find brand influencers, ambassadors, and inspiration. Now, if only there was a master list of the best performing and most popular tags.
We'll give you that and more. We'll go over the different types and uses of hashtags, then wrap up with a list full of Instagram fitness hashtags to choose from to start using on your posts.
Let's look at the different types of hashtags first.
Types of Hashtags
There are two different types of hashtags that people use on Instagram. Instagram doesn't sort or even recognize the different types of hashtags, but they are helpful to know when looking for new ones or trying to create your own.
Branded Hashtags are unique to your business like your business name, tagline, product(s), or campaign. Under Amour's #IWILL tag is a great example of a hashtag that users and influencers alike use to brand their post and tie it to Under Amour.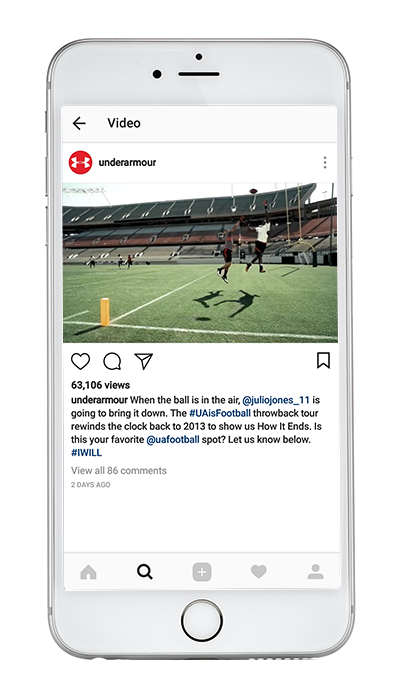 Community Hashtags connect like-minded users around specific subjects, usually not created by your business. These are all the other hashtags out there that don't necessarily belong to a brand, but are what people use to connect, like #transformationtuesday.
Hashtag Strategy
You can throw all the hashtags imaginable on your next post but it won't do you much good. Just like everything we do, we like to have a plan and strategy behind using hashtags.
While you may think using the most popular hashtags is your best bet, that's not always the case. You want to use hashtags that have an engaging community behind them and are still specific to your audience.
For example, #fitness has over 200 million posts, while #healthy has over 100 million and #workout has 88 million posts. So when you're choosing the hashtags for your next post, don't forget to use ones that may have a smaller, yet more engaged following.
You do have the ability to use up to thirty hashtags per post, but we like to keep that at a happy medium of around 10-15. Here's a great breakdown on how to best use those hashtags. Remember, you don't just want all of them to be super popular tags that have little to no engagement.
We recommend following this formula for each post:
1-3 top hitters – 20M plus post
1-2 big hitters –1M-20M posts
3-4 quality hitters – 100,000 to 1M posts
5 to 10 minor hitters – 10,000 to 100,000 posts
The List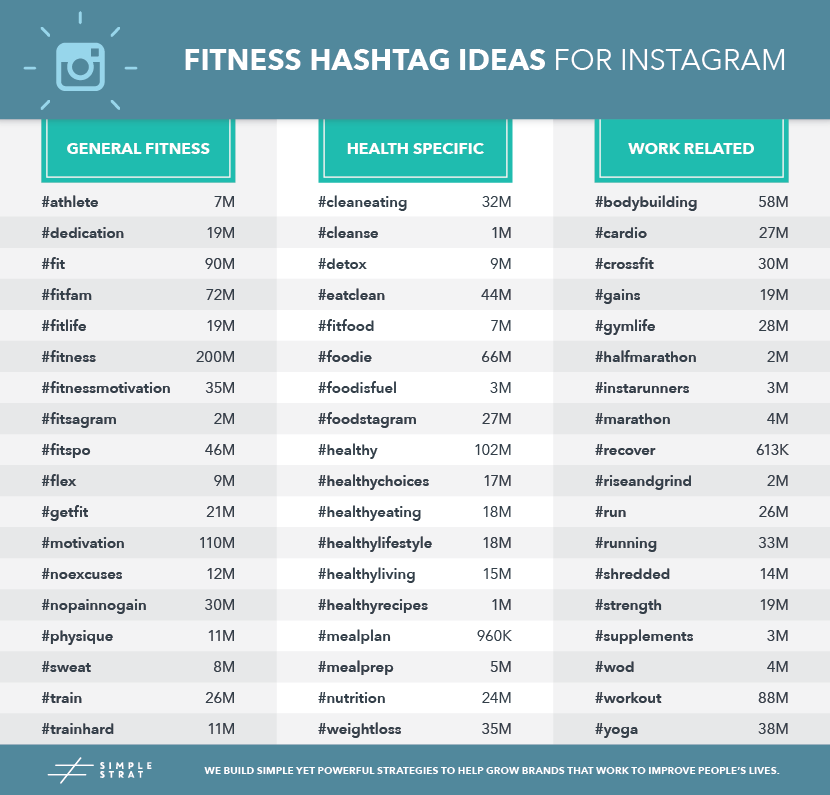 We searched and searched for the top fitness hashtags so that all you have to do is pick the ones most relevant to your post without having to do all the work! We've even put the number of posts (at the time of writing) next to the tag so you can see where the most engagement could be!
General Fitness
#fitsagram 2M
#fitness 200M
#fit 90M
#fitfam 72M
#fitnessmotivation 35M
#fitspo 46M
#motivation 110M
#fitlife 19M
#trainhard 11M
#noexcuses 12M
#flex 9M
#athlete 7M
#nopainnogain 30M
#sweat 8M
#train 26M
#dedication 19M
#physique 11M
#getfit 21M
Health Specific
#healthychoices 17M
#healthy 102M
#nutrition 24M
#weightloss 35M
#cleaneating 32M
#healthyeating 18M
#healthylifestyle 18M
#eatclean 44M
#detox 9M
#healthyrecipes 1M
#fitfood 7M
#mealprep 5M
#foodisfuel 3M
#mealplan 960K
#foodie 66M
#cleanse 1M
#healthyliving 15M
#foodstagram 27M
Workout Related
#workout 88M
#gymlife 28M
#run 26M
#running 33M
#instarunners 3M
#marathon 4M
#halfmarathon 2M
#bodybuilding 58M
#riseandgrind 2M
#crossfit 30M
#yoga 38M
#gains 19M
#strength 19M
#shredded 14M
#wod 4M
#supplements 3M
#recover 613K
#cardio 27M
Now that you've got more than plenty of hashtags to use on your next post, get out there and start getting new followers!