Whether you're just starting to manage a Facebook page to market your health club or you're looking for ways to up your game, you've come to the right place. Let's be honest, getting your health club's Facebook page to actually drive revenue to your gym is tough work these days. Gone are the days where Facebook was free and easy.
Over the past few years, Facebook has made quite a few changes that limit how many people see posts from business's Facebook pages. Facebook's algorithms are pretty complex so we won't get too deep into them here. But, if you follow the seven tips below, more people will see your posts. More importantly, more people will actually enjoy your posts. That's the secret to making Facebook work for your health club's marketing.
So let's get to it.
Tip #1: Commit
Like any effective diet or workout plan, you've got to commit for it to work. How much you want to commit is up to you, just don't create a Facebook page and then let it sit there with no activity. That will end up doing more harm than good for your health club's marketing.
We recommend starting small and documenting a process for handling your Facebook page. Write down who's responsible for what, how much time they'll need to spend, and when it all needs to happen. Make sure you factor in time for writing and scheduling your posts as well as responding to people's messages, comments, and posts to your page. If you're looking for a way to do that last part well without spending too much time, check out our ebook: Health & Wellness Marketing Guide: How to Monitor Social Media in 10 Minutes a Day.
Tip #2: Stop Selling and Start Helping
Out of all the tips in this article, this is the one that will make the biggest impact on the success of your Facebook marketing. Unless you're a crazy marketing lover like us, you probably don't go out of your way to look at advertisements. Your potential customers don't either.
Why then do most business's Facebook pages look like a never ending list of ads?
Put yourself in your potential customers' shoes and think about the things you'd actually be interested in looking at on Facebook. As the owner or marketer for a health club, you've got a huge advantage. You hold the secrets to things people really care about - like how to lose weight, get healthier, or look better. Share those secrets on your Facebook page. For example, you could post about workout tips, how to use a new machine in your gym, or healthy recipes.
A great way to come up with ideas for these kinds of posts is to think about the kinds of questions your customers ask you in your gym. There's a good chance your potential customers are looking for the same information. If you can give it to them on Facebook, you'll establish yourself as an expert and they'll be more likely to think of you when they're ready to pick a new health club. A good rule of thumb is to post about yourself 20% of the time and use the remaining 80% to post content that isn't trying to sell anything.
A good rule of thumb is to post about yourself 20% of the time and use the remaining 80% to post content that isn't trying to sell anything.
Tip #3: Use Authentic Visuals
Posts that feature images and videos will almost always be shown to more people than posts that only have text. For that reason, it's important to include visuals in every post that you can.
Images and video also allow you to forge a stronger connection with the people looking at the post. You can give them an idea of what it's like to work out at your gym and get them to start thinking about your health club as a group of real people rather than just another company.
To do this well, you'll need to avoid the stock photos and get real. Chances are that you have a few people in your gym that don't mind getting their pictures taken. Don't be afraid to pull out your smartphone and snap a few pics of your staff and customers or grab a quick video of a fitness class. Just make sure you have your customers' permission first.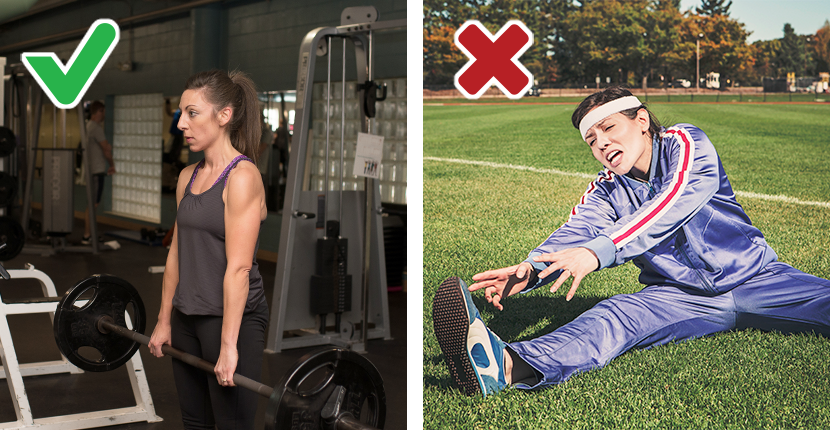 Tip #4: Go Live
Facebook is pushing live video hard right now. They want to become THE platform for live video, and that's great news for you. Their strategy is basically to reward anyone who's posting live video to Facebook. How? By giving you more exposure.
For now at least, every time you go live on your health club's Facebook page, everyone who likes your page will get a notification (unless they manually turned off this setting) and your live video will be shown at the top of more people's newsfeeds than any other kind of post.
Hitting that go live button is nerve wracking, we know. Our advice here is: just do it. Your first few live videos won't be perfect, but that's okay. This will actually make your brand feel more authentic to the people who watch the video and you'll get much better at it once you've watched yourself on camera a few times.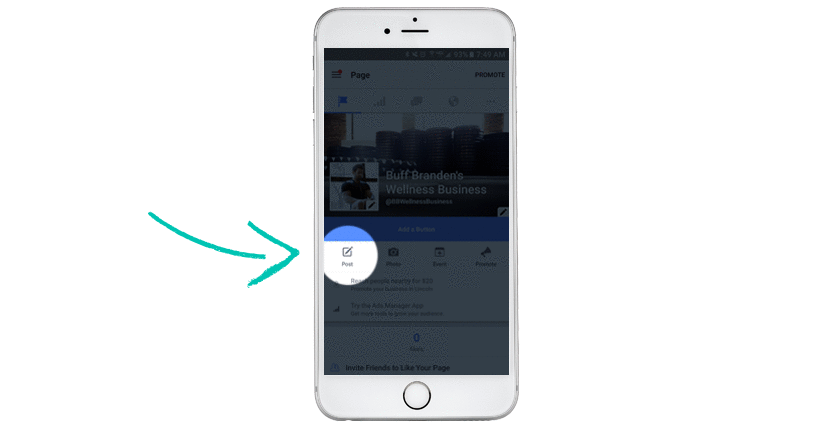 Tip #5: Engage with Customers
Though organic reach has been drastically decreasing for business pages, posts on personal pages can still get quite a bit of exposure. So, if you can get someone to share your post on their personal page, a lot more people will see it.
The easiest way to get someone to share a post is to tag them in it. We all love to be recognized by name, especially if it's by a company or a famous person. It makes people happy and proud, and they'll likely want to tell other people about it by sharing the post.
Think about customers you have that you can call out by name. Did someone recently win a competition at your gym? Is there someone that you've noticed making big improvements? Has someone been a member for a long time or is celebrating a membership anniversary? Tell them you'd like to give them a shout out on your Facebook page and see if they'd be okay with you tagging them. There's a good chance they'll say yes and share your post once you've published it.
Tip #6: Leverage Your Staff and Trainers
Just like your customers, most of your staff will love being publicly complimented on Facebook. By doing things like employee or trainer spotlights and tagging the people you're highlighting, you can get your staff to start sharing your posts. If your staff is willing to write their own posts on their pages and tag your health club's page, that's even better.
Tip #7: Set Aside an Advertising Budget
If you follow the tips above, your normal posts will be seen by more people. But let's face it, most of us aren't going to go live every day. The only foolproof way to make sure your gym gets seen by a good number of people on Facebook is to buy ads. We strongly recommend that every business with a Facebook page set aside a small budget to spend on Facebook ads, even if it's only $50/month to get your feet wet.
In the beginning, you can start by promoting or "boosting" a post from your page. Once you're comfortable with that, move up to the ads manager and test some different audiences and ad formats to figure out what works best for your health club. To learn more about Facebook ads, check out Facebook Blueprint for information, courses, and eLearnings.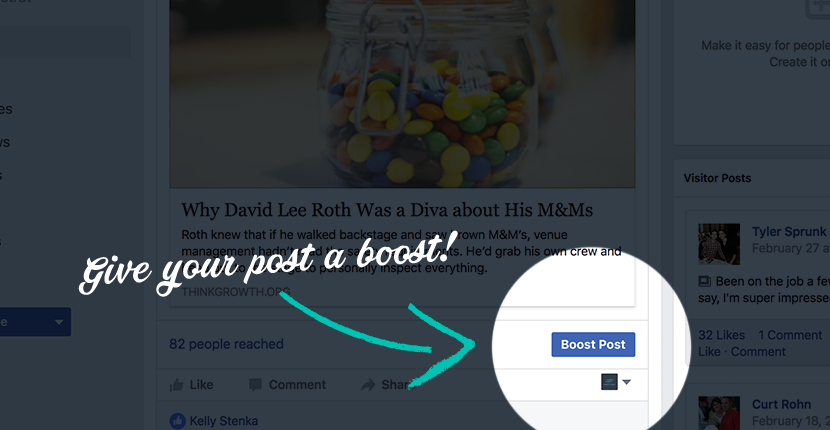 Conclusion
So there you have it, seven ways to get gains for your health club marketing on Facebook. Commit, stop selling and start helping, use authentic visuals, go live, engage with your customers, leverage your staff and trainers, and set aside an advertising budget.
Feeling overwhelmed? Excited? Nervous for your first Facebook Live video? Don't worry, take it one step at a time and you'll be a Facebook whiz kid in no time.
If you have any other ideas for marketing health clubs on Facebook, or you want to share a success story you've experienced at your gym, we'd love to hear about them in the comments section below!