"I wish I knew that when I started!"
Who hasn't said those words at least once before? Today, we're taking that statement to Instagram. Whether you're just starting your account or looking for new ways to improve, we've got you covered!
We dug through our own experiences with Instagram and came up with what we wish we would've known when we started our own accounts. Tag along for a few tips from some semi-pro Instagram junkies who want to make sure that you get off to a great start!
Tyler
From testing hashtags, content types, and posting times, Tyler is always looking for new ways to attract new followers and optimize his Instagram content. Although, right now he's got a freebie since he can post puppy pictures all the time! Check out a few Instagram tips from Tyler.
Your Profile Picture is More Important Than You Think
When you like a post, leave a comment, or follow someone, the only thing other people see about your profile is your name and photo. So, if you think about it, people are often making a decision about whether they're going to follow you or not solely based on that photo. Make it count – ensuring that it's high quality and eludes to the type of content you usually post.


Stay Consistent
If you want to grow beyond friends and family, you have to stay consistent. Random posts about your life are just fine if you only care about connecting with people you already know. But, if you want to attract new followers, it's much easier to do if you find a niche topic to post about and only post about that topic.


How Often You Should Post
You need to be active daily. If you let your account go dormant, you'll quickly lose followers. It may seem like a lot of work, but if you plan out your content or keep a reminder in your phone, you'll be way less likely to miss a post.


Take Full Advantage of Photo Ops
Let's face it, most of our lives are pretty boring on a day to day basis. So, when you do go on vacation, get out in nature, or have a really exciting day at work, take LOTS of photos and post them over time on the days that you feel like you have nothing to post.
Ali
CEO + Marketing Strategist | Instagram Nerd
If there's ever anything to learn about Instagram, or all things social media for that matter, Ali probably knows about it! She's constantly reading articles or listening to the latest podcast on how she can get the most from her Instagram account. Here are a few of her favorite tips!
Which Notifications To Turn On And Off On Instagram
Social media thrives on engagement, which is why you should have at least the basic push notifications enabled as you grow your tribe. However, it's best to know which notifications will help, and which you could turn off. Here's a quick overview on how to keep it manageable:
In your Instagram app, navigate to the screen where you see your profile and posts. Then click on the settings (gear) icon.
From there, click on Push Notification Settings. Here you can limit notifications for the following. Keep in mind that all of the notifications are set by default to give you the most amount of notifications possible – so we highly recommend jumping in here and setting it up so it works best for you with the least amount of needless interruption.
Likes: Anytime someone likes your photo:
@alischwanke liked your photo
Comments: Anytime someone comments on your photo. And yes, this includes the bot comments.
@alischwanke commented: "Love this photo!"
Comment Likes: When someone likes your comment on a photo
@alischwanke liked your comment: "Love this photo!"
Likes and comments on photos of you: If you're tagged in this photo, you'll get notified when they like or comment on it, even if it's not your post.
@alischwanke commented on a post you're tagged in
New followers: Whenever someone new starts following you.
@alischwanke started following you
Accepted follow requests: When someone who has a private profile has accepted your request to follow them.
@alischwanke accepted your follow request
Friends on Instagram: When Instagram tries to connect you with people you're Facebook friends with.
Your facebook friend Ali Schwanke is on Instagram as @alischwanke
Instagram Direct Requests: If you'll allow direct requests from people you don't follow.
@alischwanke wants to send you a message
Instagram Direct: If you'll allow messages to be sent directly to you from people you follow.
@alischwanke wants to send you a message
Photos of You: Notifies you when you're tagged in a photo.
@alischwanke tagged you in a photo
Reminders: These just remind you if you have unseen notifications. Consider this a notification for notifications!
First posts and stories: These alert you to when someone jumps on the app for the first time or uses stories for the first time.
See @alischwanke's first story on Instagram, etc.
Product Announcements: Get notified of Instagram's new features or partner apps.
Support Requests: Get notified of the message you sent regarding support, whether that be reporting an account for inappropriate content or reporting a post or account for spam.
Live Videos: Get notified when someone starts a live video.
@alischwanke started a live video. Watch it before it ends!


Experiment with Posting On Instagram, And Instagram + Facebook
Social media is one giant science experiment. The way to utilize each platform often varies based on industry, time of day, age of company, age of audience, etc. But the best social media marketers have discovered ways to cross promote platforms and utilize them together for the best results.
To test this, link your Facebook page and your Instagram page together. You can do this in the settings area of your Instagram app.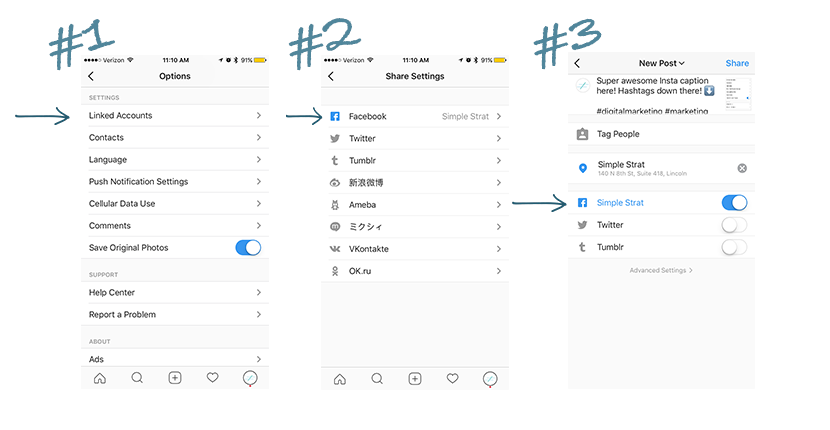 Next time you post, flip the button that says "Facebook" and have it cross post to Instagram as well.
Many businesses report higher engagement when they do this.
Keep in mind that if you utilize Instagram hashtags in the body of your caption, then they will show up on Facebook too – a telltale sign that you used one platform to hit multiple. This may turn people off as Facebook is not the land of hashtags --- so, instead…. when you post to Instagram and Facebook, simply write your caption and post. Then go back into your Instagram post when it's published and add hashtags, or add them in a comment.
Branden
Branden is a new member of the Instagram club, woo! Branden has been soaking in all the Insta-knowledge that flows through the office as he started his account. But the designer and photographer in him has a few pointers to share when it comes to getting the right photo to post.
Please Don't Ruin a Good Photo With a Bad Filter
I knew Instagram was known for having a variety of filters to choose from to create a mood with your photos. However, until I started using Instagram (or, "The Gram" as the cool kids call it) I never realized how many filters were available. On top of that, I didn't realize that Instagram gives you the ability to edit your photos manually by adjusting brightness, contrast, hue, etc.
Instagram filters have gotten so popular and overused, the hashtag #nofilter actually became a thing - a photo so beautiful that digital makeup was not needed. Which makes me wonder, "If your original photo isn't nice enough to show off to your followers, why are you posting it?"
Instagram filters and editing tools shouldn't be used to MAKE a photo, they should be used to ENHANCE a photo. You can give your stepfather's rusted out 1978 Ford LTD a wash and wax, but under the shiny coating it's still a piece of sh*t.
Filters and adjustments, used the right way, can bring out the beauty in any great photo. But remember, there is no substitute for TAKING a great photo, which we can also help you with!
Jason
If you've ever stumbled across Jason's account you'll notice it's full of awesome shots and videos from projects he's worked on, as well as a few personal posts sprinkled in the mix. As a videographer, producer, director, and photographer, he's got a slight advantage over the rest of us when it comes to finding the perfect shot, But your content is only half the story when it comes to your post.
Hashtags Matter
When I first started Instagram, my hashtags were mostly inside jokes about a photo or just one hashtag that wasn't that specific. There was no strategy or research into what I needed to be hashtagging to gain traction. To be fair, this was before you could see what hashtags were popular by auto-filling.
Now there's plenty of research and examples for people to check out when they're trying to come up with hashtags for their post. Try to use 10-15 tags per post and do your followers a favor and drop your hashtags in the first comment on your post. You'll still get the same amount of traction but it won't clog up your caption.


Two-Factor to Be Safe
I'm a big proponent in account security, especially with social media. Besides the basic password tips ("1234321" is not a good password) you should enable two-factor authentication to add that extra level of security. You don't want someone hacking into your account and then lose that precious account handle and all your information.
Emma
Whether it's client accounts or her own, Emma is constantly looking for ways to grow audiences and reach new people through Instagram. Posting intriguing content and captivating captions are a great start, but there's more to getting new followers than just uploading a photo or video.
Engage with Your Audience
Everyone always wants more likes, comments, and views on their content, but other than using hashtags I didn't know how to get people to see my post. On Facebook, when you tag someone, their network is notified of the activity. But on Instagram, you don't get that luxury. The biggest thing I've learned is if you want someone to interact with your posts, you've got to interact with theirs.
Actively go through your newsfeed and comment or like photos that interest you. It's not creepy or weird to engage with a post if it interests you. That's the reason people share their content, they want to know that you saw it and liked. I know if I see a post that I like from a follower who has interacted with my content, I gladly interact with theirs.


Use The Explore Tab
For quite a while I would only go through my home newsfeed and only see content that I already followed. While I followed quite a few people I was naïve to the fact that there was an entire additional feed of content that was just waiting to be scrolled through. The Explore tab on Instagram is where some of the most popular photos and videos get featured. Of course I knew the Explore Tab existed I just wasn't using it properly.
The Explore Tab is a great place to get new ideas, find new followers, and grow your own audience. The photos that are shown here are picked for you according to the photos and videos that have been liked or commented on by people you follow. You don't have to follow everyone you see in the explore tab, but you should interact with accounts that you find have interesting content.
Conclusion
Instagram is one of our favorite social platforms and one that we're always looking to improve on. For anyone who isn't sure quite where to start, these 11 tips are a great playbook to use!
Remember to have a great profile picture, turn on notifications, use your hashtags, don't ruin good photos with bad filters, and engage with your audience. Now get out there and start rocking your Instagram account!